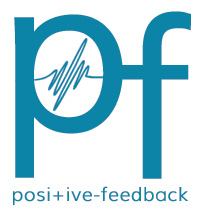 You are reading the older HTML site
Positive Feedback ISSUE 79
may/june 2015
Impressions: AXPONA 2015
by David W. Robinson
[All photographs and processing by Robinson; cartoons by Bruce Walker and Dan Zimmerman]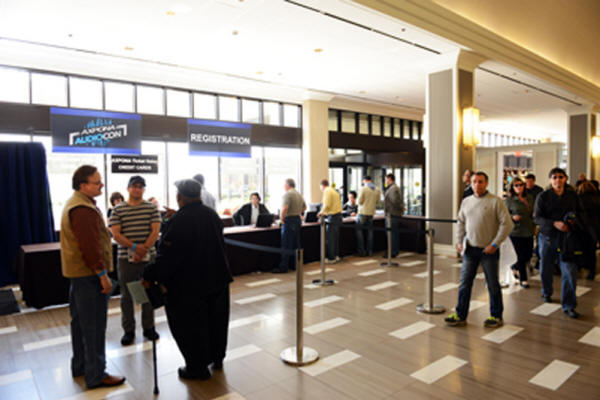 The Lobby at the Westin O'Hare Hotel during day one
Chicago. Not my favorite city.
Mainly it has to do with O'Hare Airport, though its long and well-known history of political corruption and crime doesn't do much for me either.
O'Hare Airport is the only air hub that I have been stranded at in all of my years of travels. The weather is generally iffy for planes: Stormy in the winter, stormy in the spring, summer, and fall. Delayed flights. Cancelled flights. Overnight stays. Cursings. Etc.
Then there's the current proliferation of high-end audio shows all over the planet. Nobody can possibly stay up on all of the action: Big shows, little shows, regional shows, DIY shows…we've long since passed the point of "gimmee a break!" My calendar would explode if I tried to attend half of the shows out there, and my budget would be a complete bust.
So I had to think it over when I was personally invited by the new management of AXPONA to visit the 2015 show while I was at the LAOC Gala Banquet last December. I decided to go, despite the proximity to THE Show Newport Beach (a show that I will always attend) on my calendar, just to see how this one would turn out.
And, as it turns out, this was a good decision.
The weather was great this year, and so flight schedules weren't an issue. The attendance in 2015 was up over 2014 by all the reports that I heard, but these varied widely enough that I suspect that most of this information is rumor plus wishful thinking. At the time, I guesstimated that there were somewhere between 3,000 and 5,000. I checked with the AXPONA team, and they informed me that the actual paid attendance was 5,137 in 2015, an increase of 18% over the attendance at AXPONA 2014. That's a pretty impressive number. And it's a tribute to the quality of the Westin that the crowd didn't overwhelm the facilities.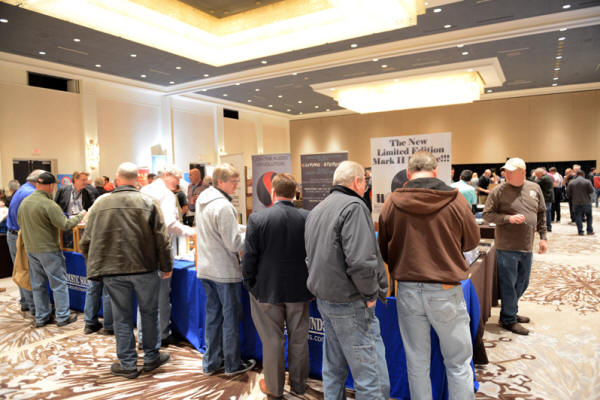 There was steady action going on in The Marketplace, where various booths were located
The Westin Hotel was a very fine setting, with excellent spaces (including the largest amphitheater-style seminar room that I've seen), great service, and a sufficient number of elevators (6), for once. Reasonably quick, too. No breakdown of elevators, either, to my everlasting relief.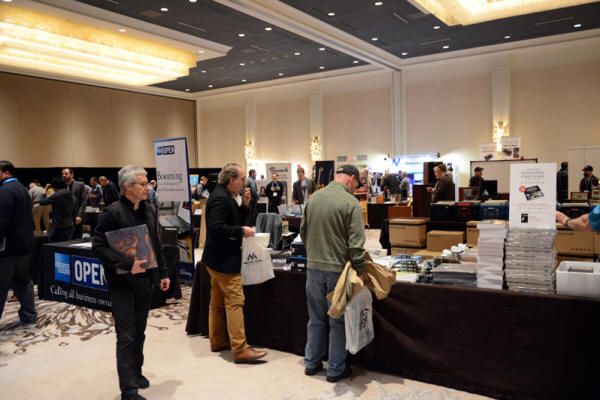 A photograph from the other end of The Marketplace shows that there were plenty of show-goers, enough for all
On Friday, the first day of the show, there seemed to be a pretty fair turnout of audiophiles registering for the event. To check this, I cruised The Marketplace, where the booths with music (LPs, SACDs, CDs) were on display. That's always a magnet for attendees, who may not have thousands of dollars to drop on big-ticket systems, but who can always afford a few hundred bucks for some LPs or SACDs.
Me too.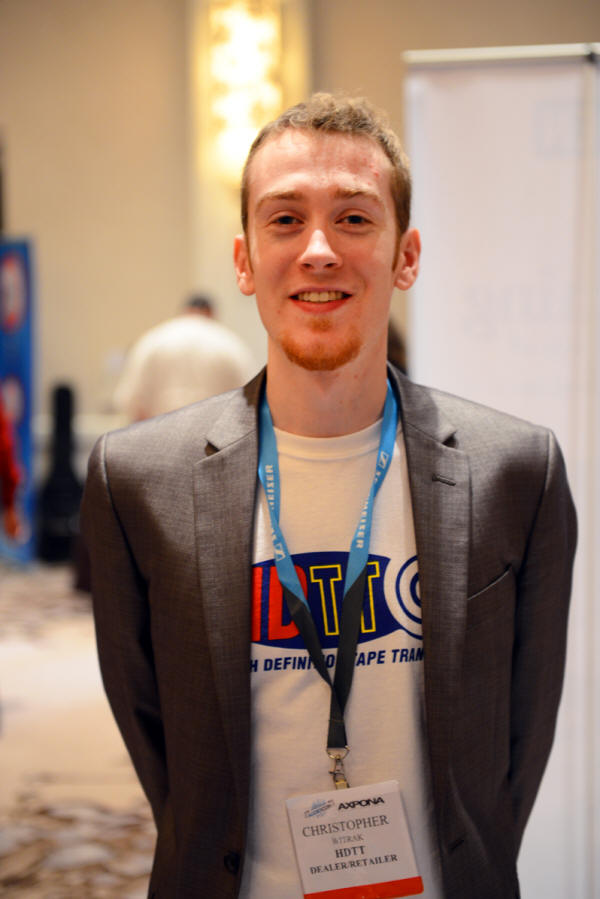 Christopher Witrak of High Definition Tape Transfers (HDTT) getting some experience in the trenches! HDTT produces exceptional DSD downloads of great classical and jazz recordings…HERE for some real DSD treats.
This year, I didn't spend as much time shopping for music as I usually did, though. I was in unfamiliar show surroundings, and so spent more time hitting the rooms. I did run into my good friend Chad Kassem of Acoustic Sounds and SuperHirez.com, though; he's always got the righteous new music rolling.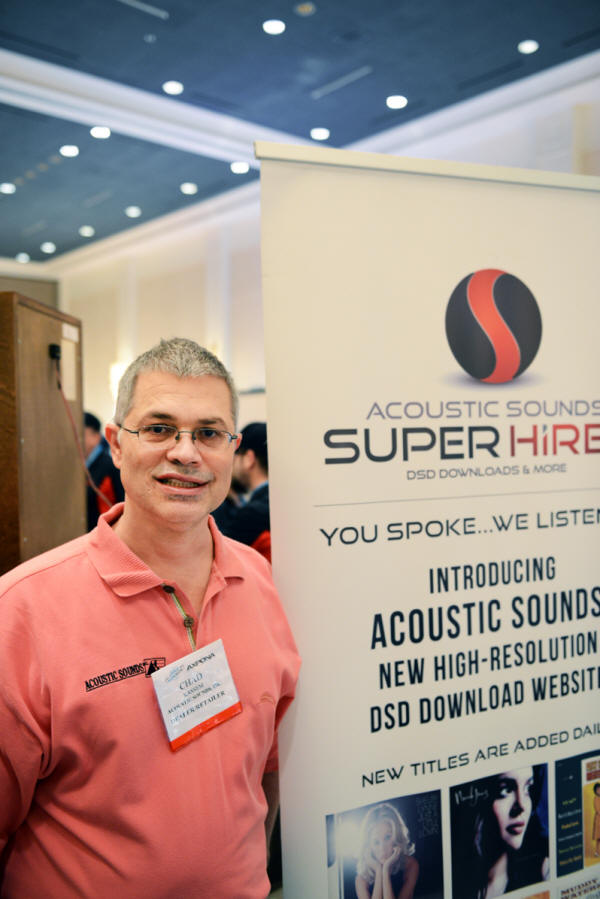 Chad is unique in our world of fine reissues of great recordings, and trustworthy provenance. There are a lot of reissue companies and record outlets, but only Chad does the deed of full righteousness in providing us with the best stuff, done right, and at reasonable prices…in high-end audio terms, anyway.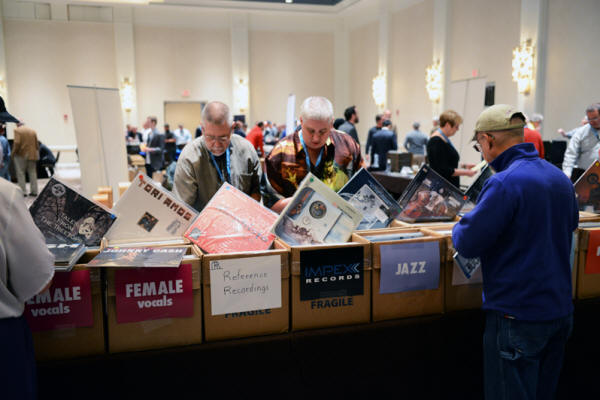 Record buyers were out in force at The Marketplace, as usual…great to see them in action!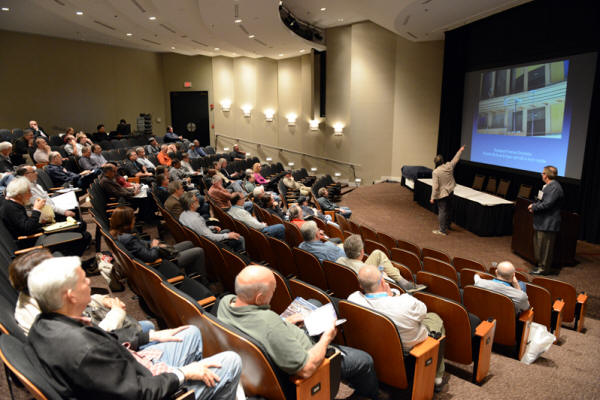 As you can see, the Westin seminar room was the real deal, with room for several hundred people.
I was able to get to a couple of the seminars during AXPONA. One was the DSD discussion that Jared Sacks and Ted Brady of NativeDSD.com hosted, with a number of updates about what that excellent site has been doing to extend Single, Double, and Quad DSD downloads to the rest of the world. It was well attended, I'm pleased to say. There were some cogent questions from the audience, and I considered the event to be quite educational.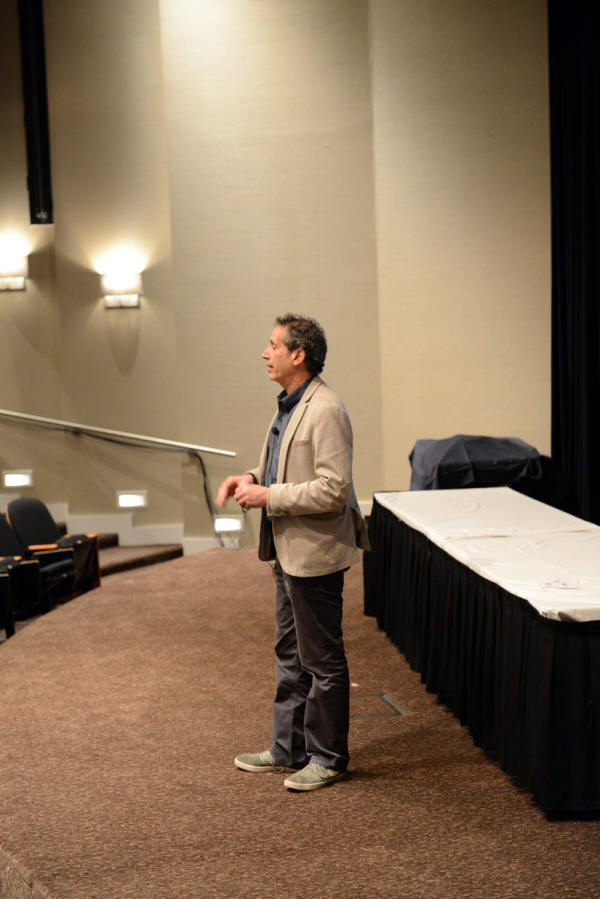 Jared Sacks addressing a large turnout for a seminar on DSD
Myles Astor did a seminar on reel-to-reel tape playback that I had wanted to attend very much, but I ended up getting hung up in a room, and didn't get to make it. Major league bummer.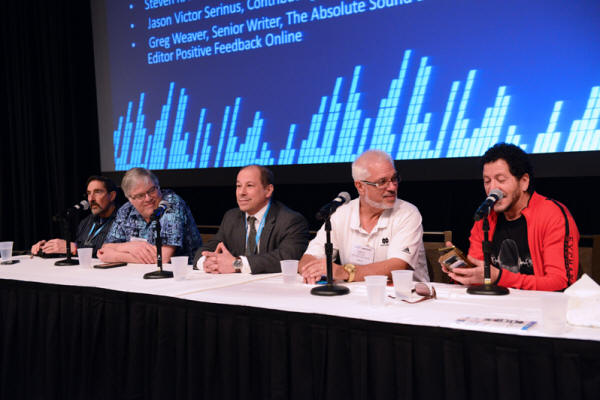 The editors in action…less yours truly, behind the lens….
The other seminar that I attended was the "Meet the Editors" session that I moderated. We had a great group of editors in place: Jason Serenius of Stereophile (and many other publications, including Positive Feedback), Tyll Hertsens of innerfidelity.com, Myles Astor of Positive Feedback, Greg Weaver of The Absolute Sound and Positive Feedback, and Steve Rochlin of EnjoytheMusic.com. Normally these seminars with the editors are well attended, since it's a rare opportunity for audiophiles to ask questions and engage in discourse directly with various key figures in audio publishing.
Unfortunately, the attendance was very sparse, due to the fact that AXPONA had made a mistake in the scheduling of this seminar. Rather than putting it in the middle of the event…Saturday, late morning to very early afternoon is best, in my experience…the decision was made to put it at the very end of the show. When I asked about this, the reason given was that the organizers thought that it would be a great way to round out the show. Bad choice, unfortunately: By the end of the show, most attendees are running around trying to catch their last-minute rooms or score that last-minute album or SACD. They aren't really very interested in the editors by this time.
I explained this immediately after the session to our AXPONA contact. Lesson learned. This will be scheduled quite differently next year.
My Audio Oasis! Award winners
Other than that, I spent my time during the days looking for candidates for my PF Audio Oasis! Awards. I've explained this award a number of times before, but should do so once more for readers new to Positive Feedback. It's a different sort of thing, and not like some of the other hoo-hah handed out elsewhere.
Here's what I said when I launched my Audio Oasis! Awards after CES in the year of our Lord 2006:
"True confessions time: I've given up on "seeing everything" at CES/T.H.E. Show. You just can't do it and maintain your sanity. In my opinion, the best person writing that kind of show report was PF's Dave "Iron Man" Glackin, who finally hung up the proverbial towel a couple of years ago. He offered to transfer the title and function of "Iron Man" to some other worthy at PF, but got no takers. (Knowing the work load, I wasn't surprised.)
And I can sympathize. If you haven't been to a large audio show with the responsibility of trying to do the whole thing—and report on same—well, brother, you just haven't lived. The pace is frantic, keeping the notes both straight and sufficient is a major pain, and photographing people/gear/settings is a feat in itself. Having attended many of these events since 1994, and having engaged in the pain of the long distance runner, I've reached the point of picking and choosing in order to avoid frustrating myself and jading my senses.
To that end, I concentrated on CES's "Performance Audio" (the recent euphemism of choice by CES) Show at the Alexis Park, and let my PF colleagues do the elsewhere places this year. (See their reports elsewhere in this issue.) The liberty of a more leisurely pace is a real blessing, and it gave me the opportunity to re-visit some superior rooms and confirm their quality, which is not something you can do if you're trying to see "everything." (Steve Wright: "You wouldn't want to have it all—where would you put it?") Instead, I spent a couple of days browsed various settings, looking for the ones that pulled me in, and had me coming back for more.
The result of this approach is a new PF show honor, which I'm dubbing the "Audio Oasis!" awards. This is my personal recognition of the rooms that, even under show conditions, really connected with me, and refreshed me in the midst of the tyrannous urgency of CES. If these systems can connect emotionally at CES, I reckon that you can count on them doing great things in your listening room at home. That's a good thing to know if you're looking for guideposts on your audio quest.
A word of warning for my readers: the "Audio Oasis!" awards should not be viewed as a variant of the nearly worn-out "best of show" recognitions that are all too common in audiodom. I did not see every room at CES and T.H.E. Show, and can have no idea of how what I didn't hear sounded like. Furthermore, there aren't nearly enough days at CES to do that properly in the first place, and its hotel-based environment is marginal, at best. "Best of Show" is only a legitimate designation if the listener: a) heard every room at CES/T.H.E. Show, and b) knows what he or she is talking about. Think of it as the combination of opportunity and sensibility. I don't think that these conditions are met very often; if they were, there would probably be fewer of such pronouncements. Enough said." (You can see my full essay all the way back in PF Issue 23.)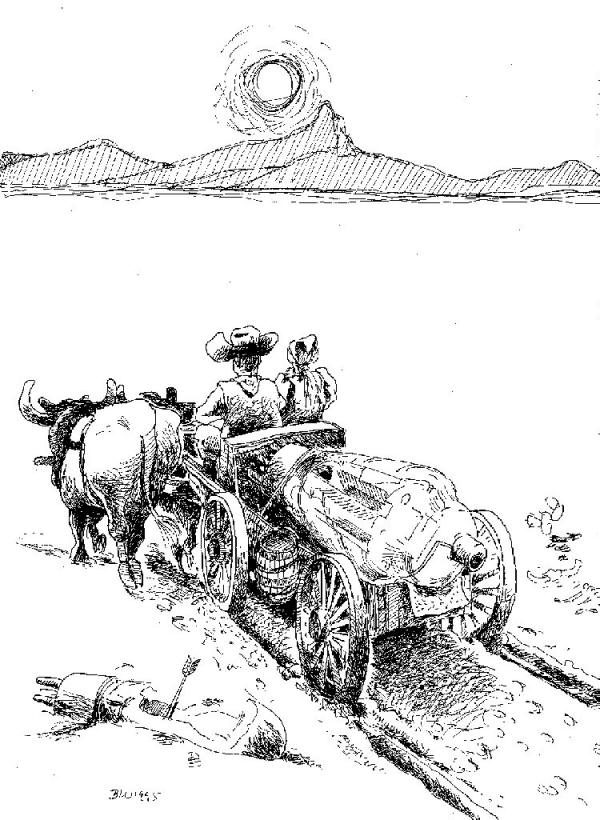 So, there you have it: Me, back in 2006. Too many rooms were desert patches for me…dry, dusty tombs that didn't help me to connect to the music emotionally. That's what this award is about…the rooms that really drew me in, and made me sit down, stretch out my legs, and float away on the music. Real "audio oases," don'tcha see?
Anyway, here are the results of my three days of audio journeying, in no particular order, and with no ranking at all. I'll supply prices when I have them…otherwise, you'll have to look that up. Onwards…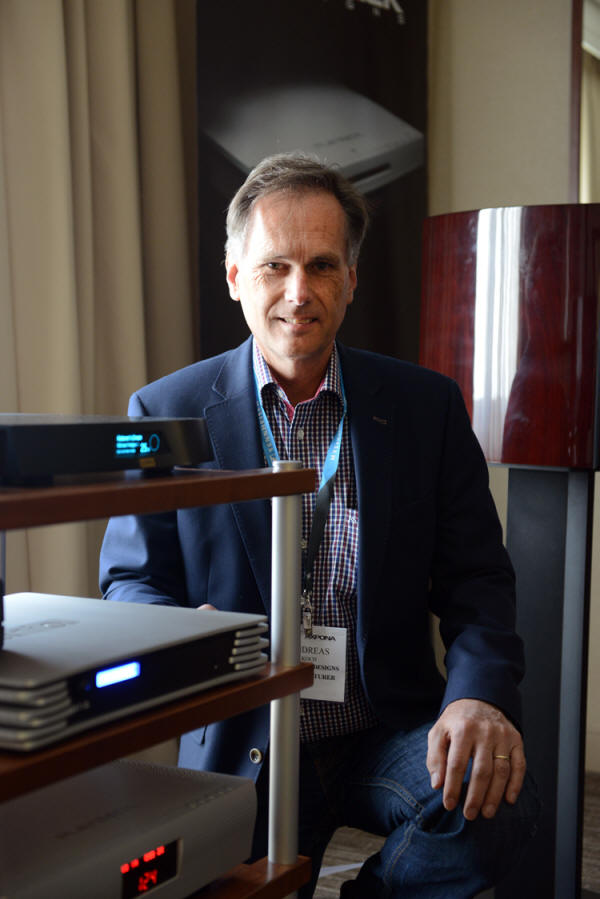 Andreas Koch of Playback Designs
Well, yeah! As usual, the Playback Designs room was sounding really great when I first visited it on Friday. Andreas was hosting the room, assisted ably by Mark Gurvey of Source Systems, Ltd. At the heart of the room's system was a combination of the Playback Designs IPS-3 integrated amp plus DSD DAC ($13,000), and following components:
Aria Audio Server ($7,999)
Aria-Mini Audio Server ($3,800)
LUMIN S-1 Audio Streamer ($12,500)
LUMIN T-1 Audio Streamer ($5,000)
LUMIN L-1 Media Server ($1,200)
M2 Tech Marley Headphone preamp ($1,699)
M2 Tech Young DSD/DXD/PCM DAC preamp ($1,699)
M2 Tech Van der Graff power supply ($1,199)
Apertura Kayla Loudspeakers ($13,000)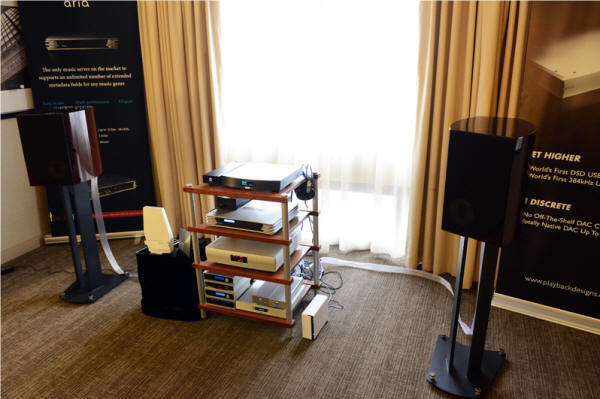 The sound in this room in the early part of the show, while DSD was playing was very fine: Transparent, detailed, and a very fine presentation of the music via Kaylas, which are both beautiful and quite seductive in their performance. I was impressed by the coherency of the recordings here.
Later in the show, a problem developed with one of the servers which hampered the use of DSD files, but I had already heard more than enough to know that this was an Audio Oasis! Award room.
Done!
The ModWright/Daedalus/WyWires room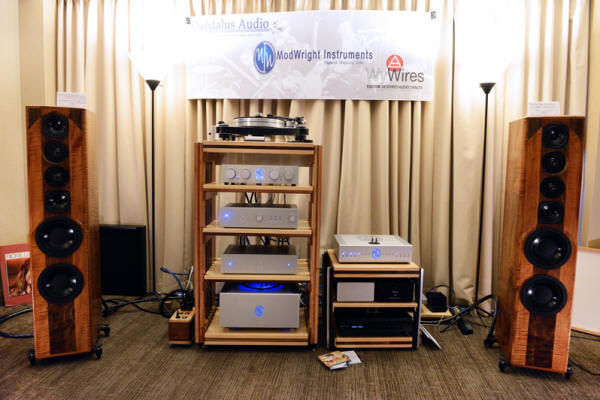 Year in and year out, the combination of companies in this room has made music that pulled me in.
On the menu:
ModWright KWA 150 Signature Edition Power Amplifier ($8,495)
Elyse DAC ($6,900)
LS 36.5 DM preamp ($9,995)
PH 150 Tube Phono Stage ($7,900)
ModWright "Truth" modified Oppo BDP-105D ($2,500 for the modifications only, plus price of the Oppo BDP-105)
Daedalus Audio Poseidon V.2 full range loudspeakers in baked flame maple ($21,450)
Daedalus Audio custom rack ($4,995)
WyWires Diamond and Silver series cables (prices vary)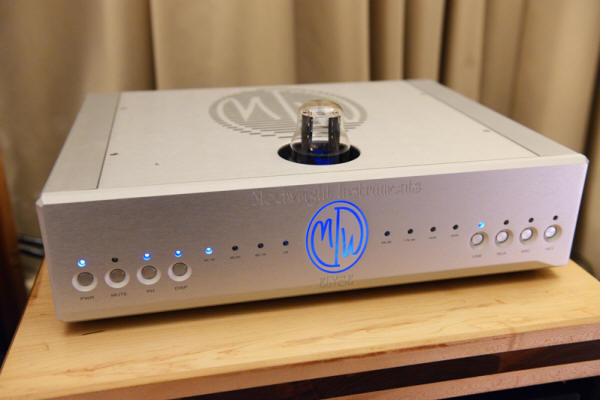 Dan Wright's audio art on display: The Elyse DAC
The ModWright electronics did their usual amazing job of driving the big and beautiful Daedalus Poseidon V.2's, with their amazing flame maple finish. The sound was musical and rich, but never tubby or overly lush. This combination of companies really does work and play well together; Dan Wright, Alex Sventitsky (WyWires), and Lou Hinkley (Daedalus) have hit a synergistic groove, and have wisely maintained it for years now.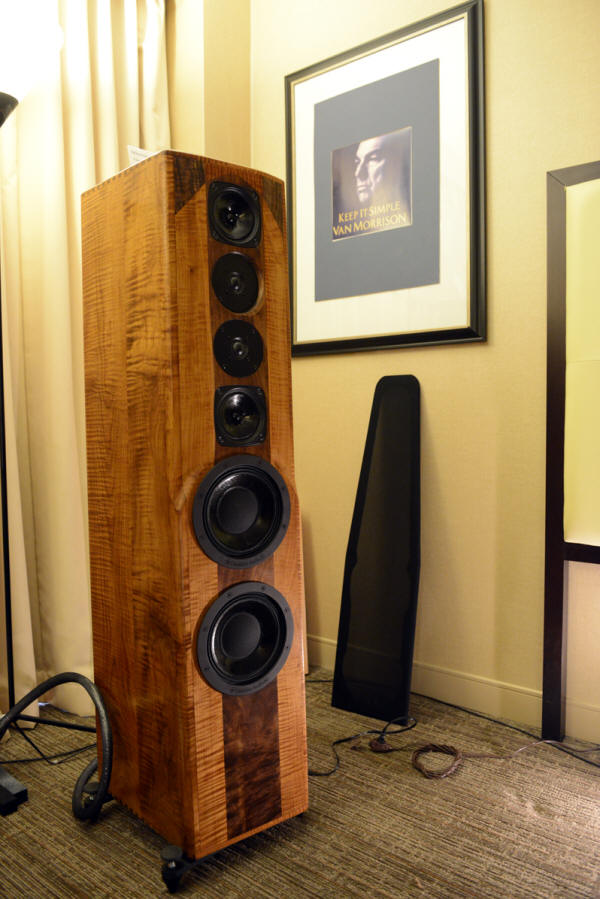 The Daedalus Poseidon V.2 loudspeaker in flame maple: Pleasing to both eye and ear!
I sat here for a while, just taking in whatever the gents wanted to put on. It didn't matter…the sound soothed my soul.
In fact, the only thing that I'm waiting for now is for Dan Wright to integrate DSD into his very fine Elyse DAC. Yes, he knows how I feel. Yes, I know that this will happen sooner or later.
Meanwhile, here's my Audio Oasis! Award for a room that always seems to please me.
The Voice That Is/TIDAL/Bricasti Design/Purist Audio Design/Aurender/Stillpoints room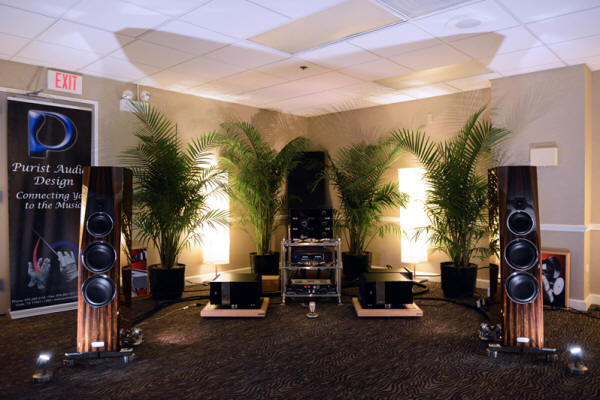 In the impressive The Voice That Is suite…
There were several rooms that were at the larger-scale end of the audio continuum. One of them was from a dealer that I wasn't familiar with: The Voice That Is. Doug White, the owner, had an excellent collection of equipment together that was sounding very impressive in what was a large room…that's always hard to do.
The TIDAL gear that he featured so prominently were all new to me, and that was for a reason: This was their North American premiere.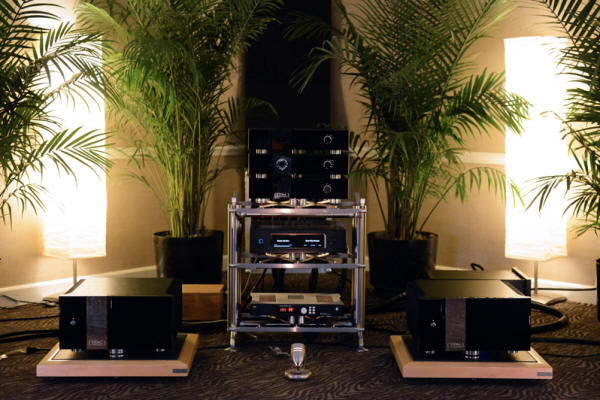 In the room:
TIDAL Presencio Preamplifier, $77,990
TIDAL Contriva G2 Speakers, $69,690
TIDAL Impulse Monoblock Amplifiers, $64,990 (per pair, I assume, but you'll want to check this)
Bricasti Design M1 DAC, $8,995
Purist Audio Design 25th Anniversary Cables, price varies
Aurender W20 Reference Music Server, $17,600
Stillpoints ESS Racks, Ultra SS, Ultra 5's, Ultra 6's, and Aperture Panel, price varies
I have to say, first of all, that the TIDAL equipment was radically beautiful to see, and a smokin' knockout to hear! What workmanship in both domains…a real reference standard for how things should be.
Sonically, the sheer scale and dynamics of the music in this room was bloody extraordinary. The electronics might have been new to North America, but the effect was "Audio Oasis! Award material" all the way. The sound was effortless, fluid, natural, organic, and had the sort of transparency that I associate with only the finest sort of designs that I've encountered on this planet. Detail without edginess; dynamics without loss of control; full-frequency-range presentation without humps or valleys.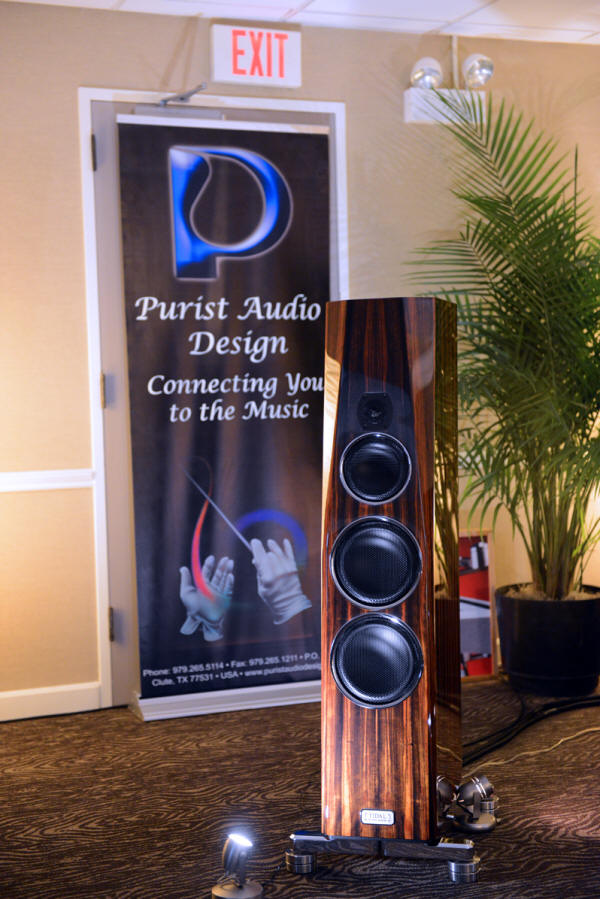 Damn! This is great stuff, with an obviously very high degree of audio symbiosis. TIDAL, Bricasti, Purist Audio, Aurender, and Stillpoints link up very well, and seem made for one another. Doug was sure and confident that he was getting great results, and frankly, I have to agree with him.
In fact, this room was undoubtedly the biggest pleasant surprise of the show for me when it came to "new stuff." I was really gobsmacked by what was happening in The Voice That Is suite, and will have to think about talking with Doug about doing a major TIDAL project here at Positive Feedback Central sometime soon. (Doug…give me a call!)
Meanwhile, give all the folks in this special place an Audio Oasis! Award…it's richly deserved!
The Lampizator/Lamm Audio/Vapor Audio/VH Audio/Verastarr room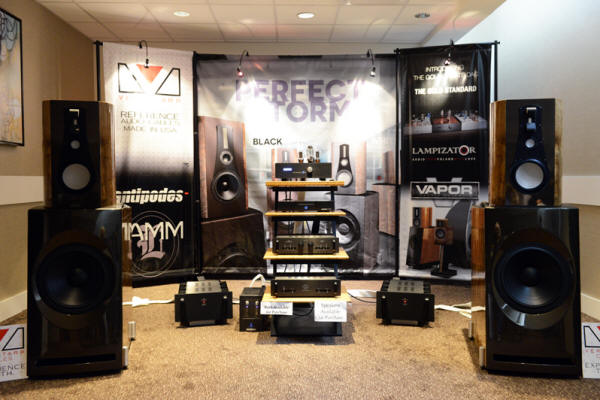 Old friends are good friends. This was another room that offered great new surprises, but it did so on the foundation of an excellent old friend, Lamm Audio. The presence of the Lamm ML 2.1 Signature Preamplifier and (especially) a pair of the ML 1.2 Reference Monoblocks made the output electronics a deeply familiar zone for me. I had reviewed a pair of the 1.2's a good while back for Positive Feedback (see Issue 34), owned a pair of the 1.2's for years, and have reviewed a couple of different Lamm preamps and phono amps. Viktor does very fine work, and his preamps and amps always make great music. Like I said, an excellent foundation.
The room list:
Lamm Audio ML 2.1 Signature Preamplifier, $16,000
Lamm Audio ML 1.2 Reference Monoblock Amplifiers, $27,000 per pair
Lampizator Golden Gate DSD DAC, $17,600
Vapor Audio Perfect Storm Loudspeakers, $26,995
Vapor Audio Rack System, $6,500
Antipodes DX Reference Music Server, $7,500
VH Audio Plasmatron 3 power conditioner, $3,999
Verastarr 1.5 meter Grand Illusion Statement Power Cord, $3,899
Verastarr 1 meter Reference USB Cable, $799
Verastarr 3 meter Grand Illusion Signature Speaker Cables, $4,999
Verastarr 1 meter Grand Illusion Signature RCA Cable, $1,599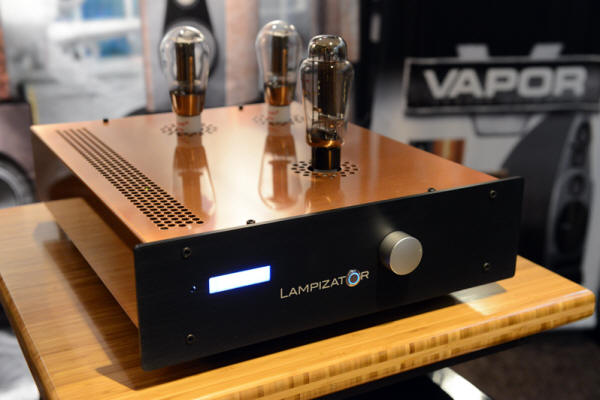 Most of this was new to me; only the Lamm gear was well known. The thing that really caught my eye and ear, though, was the new reference DAC on bold display: the Lampizator Golden Gate DSD DAC with volume control. My Associate Editor Brian Moura, a DSD specialist like me, has been covering Lampizator with raves over the past year, and had strongly encouraged me to make the connection while at AXPONA. Given the regard that I have for his take on things audio, I made sure that I did so.
And I'm delighted that I did.
Certainly the rest of the system sounded very well while I was there, and filled the rather large Higgins Room fully with quite satisfying music. The Lamm ML 1.2 monoblocks are 110 WPC, but they are definitely quite beefy Watts, and the Vapor Audio Perfect Storm Loudspeakers certainly sat right up and paid attention to the quality signal that the Lamm system was passing.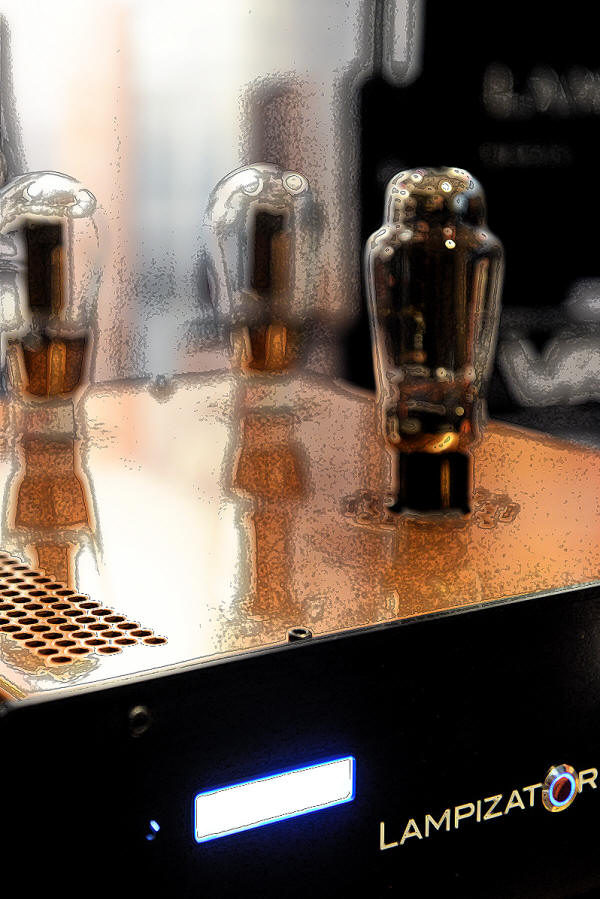 But the source feed via server (PCM) and notebook computer (some sample Double DSD recordings) to the Lampizator Golden Gate really lit up the room. Capable of up to Quad DSD (and high-rate PCM) playback, and outfitted with no-holds-barred components at all stages of design execution, the Golden Gate DAC represents a unique and highly artisanal assault upon the challenges of DSD. Theoretically DSD can be done in the analog domain, without recourse to a DAC chip or even a FPGA array. Lampizator has now done this. What has been done is to take their already splendid Big 7 DAC, and outfit it with the best at all stages. According to Lampizator's Web site, this includes the following elements that were requested by their customers in a survey for the Golden Gate:
1. Silver WBT solder used throughout
2. Furutech IEC inlet AC socket
3. WBT gold/silver RCA output sockets
4. Furutech RCA digital input
5. ATOM Vishay first capacitor after the tube
6. Mundorf M-Lytic HV electrolytes in second stage of PSU
7. Mundorf Foil MKP capacitors in third stage of power supply just before the tube anode
8. Metal-Film laser cut resistor MLT in Anode Load
9. Teflon sockets for all 3 tubes
10. Output capacitors are the huge Jupiter-Copper 1uF caps, bypassed by Duelund Pure Silver caps. Yes, a hybrid, best of both worlds, supposedly beating even pure silver one-cap solution.
11. All wiring is 26 GA stranded silver in Teflon
12. Rectifier tube is Emission Labs monstrous Mesh Plate 5U4G
13. Music Tubes are Western Electric Replica 101D / Metal base Psvane
14. Digital input SPDIF capacitor is Jupiter Wax Copper 100nF
15. Packing in a special customized stage case
16. Chassis/box is made of pure copper stamped and powder clear-coated for 100 years of immaculate shine. Copper provides also head dissipation and the best EM shielding possible.
17. A set of ceramic/steel roller-block feet supports the DAC
Quite a remarkable list!
At last I was able to hear the full glory of what Lukasz Fikus and team have developed over in Poland, with their use of analog filters and tubed output for DSD. Eschewing digital DACs, Lampizator is attempting that very thing: To tackle DSD without digital chips.
The results were simply extraordinary. Even though we had to settle for Double DSD recordings from Lukasz's own Apple notebook, and even though I must make allowances for show conditions and very unfamiliar speaker and cables, the quality of the sound that I heard was as good as I've ever heard Double DSD sound…and I've heard a lot of it.
To say that the Lampizator Golden Gate is "really good" would be a sin of terrible understatement. It was simply superb.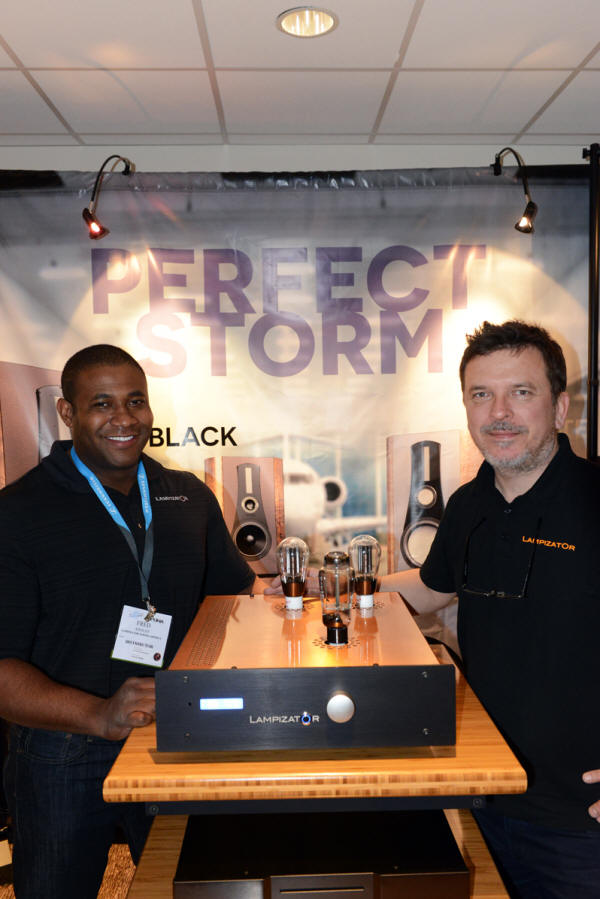 Fred Ainsley (left) of Lampizator North America and Lukasz Fikas of Lampizator with the Lampizator Golden Gate DSD DAC
I got to talk with Lukasz and Fred briefly after our listening. Lukasz is a very intelligent designer with a deep commitment to great tube designs, but also a person who has come to a real conviction about the excellence that DSD has to offer audiophiles everywhere. It was a pleasure to talk with him, though our time was necessarily limited by show circumstances and various interruptions. If you would like to read a recent PF interview with Lukasz Fikus by Brian Moura, check out Issue 74. It will give you a sense of the man.
The good news is that Lukasz and Fred have agreed to ship me a Lampizator Golden Gate within the next few weeks. I'll have an opportunity to hear the GG in the intimately-known confines of our reference listening room here at PF Central. Then things will certainly get very intriguing!
But there's no gainsaying the fact that one of my Audio Oasis! Awards belongs to the companies in this room.
So let it be written; so let it be done.
The United Home Audio/Jolida/MBL/Synergistic Research room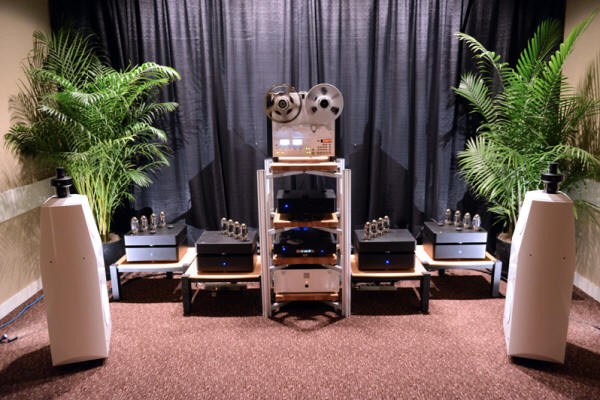 The UHA/Jolida/MBL/Synergistic Research room was another one in which a comfortable groove, achieved over several years, was in play…though there was a dash of salsa this year. Greg Beron of United Home Audio has been a very big fan of MBL over the years, and uses their solid-state gear quite commonly, including in his own system. Jolida is the tube-based option that he likes quite a lot, and so has paired up with them pretty regularly, as well. The dash of salsa was the addition of Synergistic Research cabling and room treatments this year. Ted Denney's designs always add flair and help to bring out the most in a system.
The room list:
United Home Audio Phase 12-PB-OPS (two-unit design with separate outboard power supply), $25,000
Jolida Fusion DAC Transport, $5,000
Jolida Luxor Preamp VTSP, $8,500
Jolida Luxor Monoblock VTM100 Amplifiers, $9,000 per unit; four amps driving the MBLs
MBL 116F Radialstrahler speakers, $32,500
Synergistic Research components:
HFT High-Frequency Transducers, $299 per 5-pack
Atmosphere Wave Generator, $2,250
Atmosphere Tuning Module, $495
PowerCell 10 UEF Power Conditioner, $5,995
FEQ-PowerCell Equalizer, $995
Galileo LE AC Cords, $5,600 each five feet; additional $500 per foot thereafter
MIG Equipment Footers, $150 per set of three
Atmosphere Cables, Level 4:
Interconnect 1 meter RCA/RCA, $2,495; each additional 0.5 meter $350 thereafter
Interconnect 1 meter XLR/XLR, $3095; each additional 0.5 meter $625 thereafter
Speaker Cable 8 foot pair, $4,995; each additional foot $500 thereafter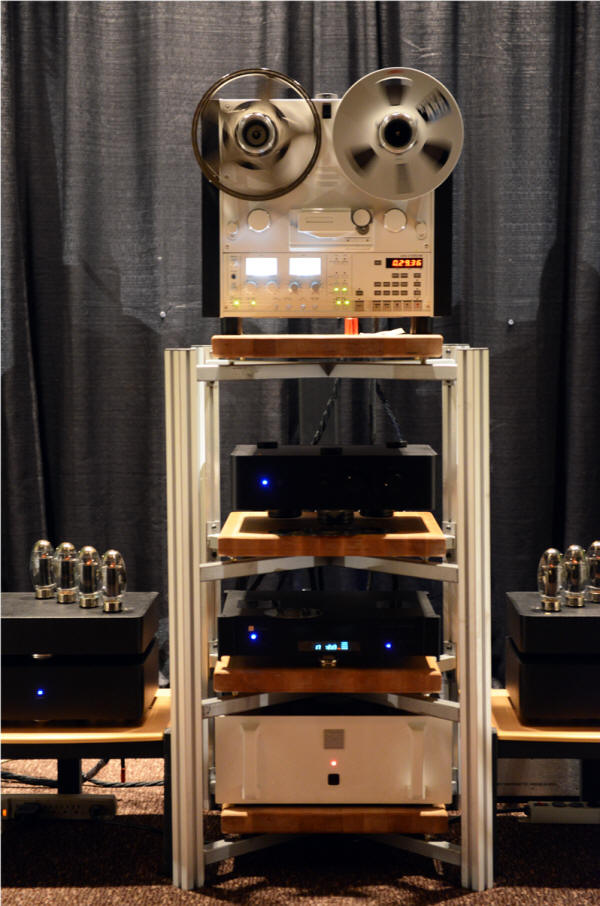 As usual, UHA's reel-to-reel tape machines were in play as the main source. Greg's Phase12-PF-OPS machine was in operation in this room, and sounded absolutely wonderful. Greg has a great collection of 15 ips half-track quarter-inch tapes that he brings to his room at shows, and one of the great treats in the UHA room is sitting in on one of his "after hours" sessions, with wine and hours of fantastic open reel tapes. Naturally, I sat in on one of these; naturally, I was a very happy man when I left. Analog tape has a way of doing that.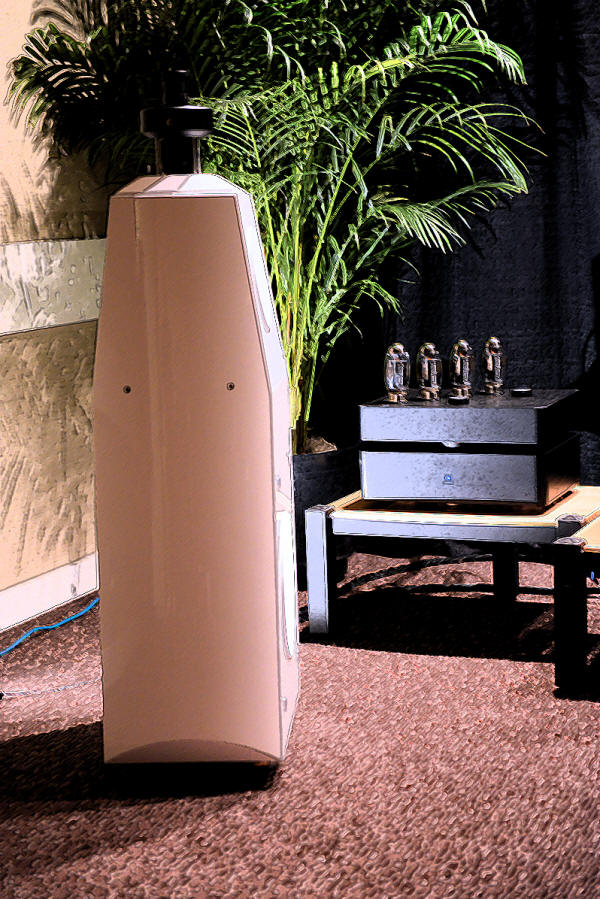 The MBL 116F and Jolida Luxor in action: In ink outline
How was the sound? No surprise: the combination of analog tape, tubes on the preamp and four monoblock amplifiers, the clear openness of the 116F's, and SR's always rewarding cables and enhancements led to a room that I just wanted to kick back and listen to reel after reel of tape. Greg's got a treasure trove of the really good stuff, and it was kicking some serious ass.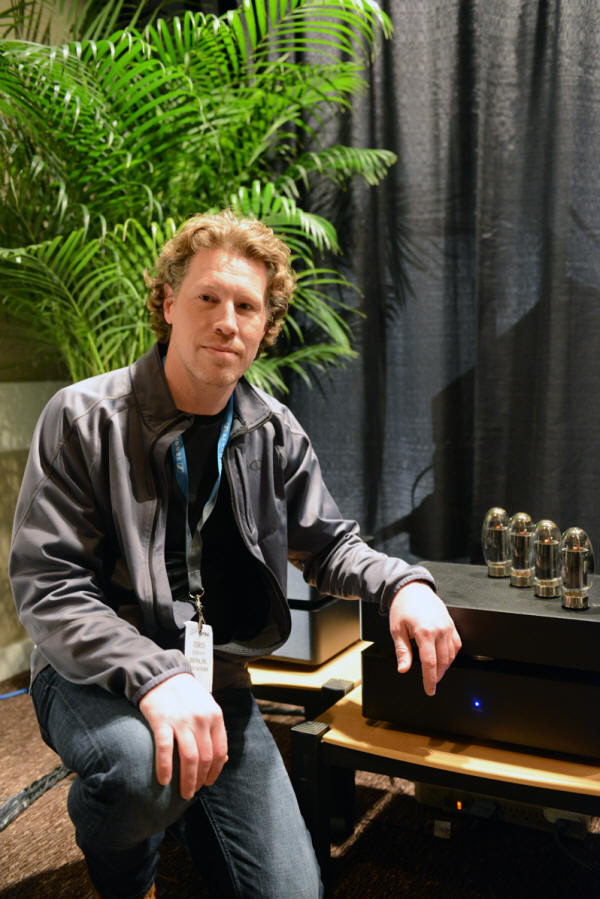 A portrait of Jerred Dunkerson of Jolida
The music was smooth, organic in feel, rich, yet nicely detailed. No faults here; just closed eyes and tapping toe.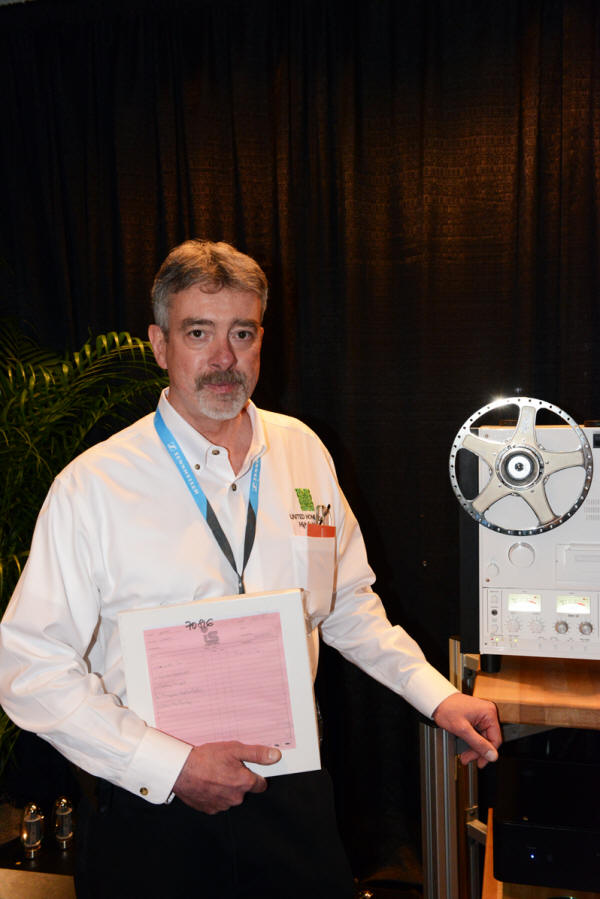 A portrait of Greg Beron of UHA with his Phase12 PB-OPS reel-to-reel tape recorder
No doubt about it: This room really had it, just as it has for the past several years.
Another Audio Oasis! Award winner, without any doubt at all….
The Gingko Audio/DanaCable/Wells Audio/Lampizator room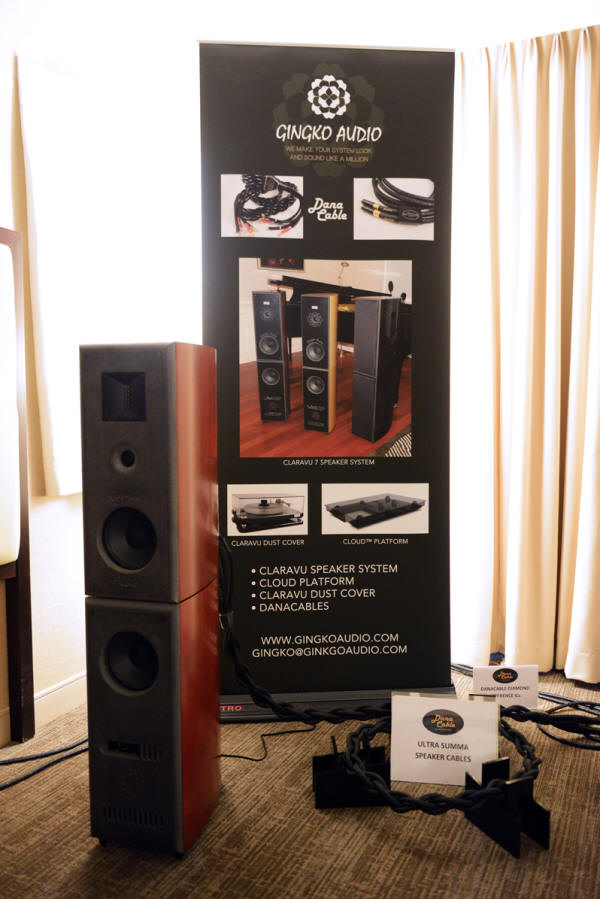 In the Gingko Audio/DanaCable/Lampizator/Wells Audio room
Vinh Vu and company put together a room that was a very pleasant surprise for me. I saw the room, and Vinh was in there, so I stepped in to say hello. Good move on my part!
A social moment turned into an audio session. I was taken by the good mojo in this room immediately.
The room list:
Gingko Audio Claravu 7 Mk. 3 Loudspeakers, $9,000 per pair
Well Audio Innamorata Signature Amplifier, $15,000
Lampizator Big 7 Preamp/DAC, $13,500
JRiver Media Center 20 playback software, $49
DanaCable Ultra Summa Speaker Cables, $8,900
DanaCable Diamond Reference Interconnects, $1,500
DanaCable USB, $895
Wells Audio Power Conditioner, no price given
Gingko Audio Platformula Rack, $1,900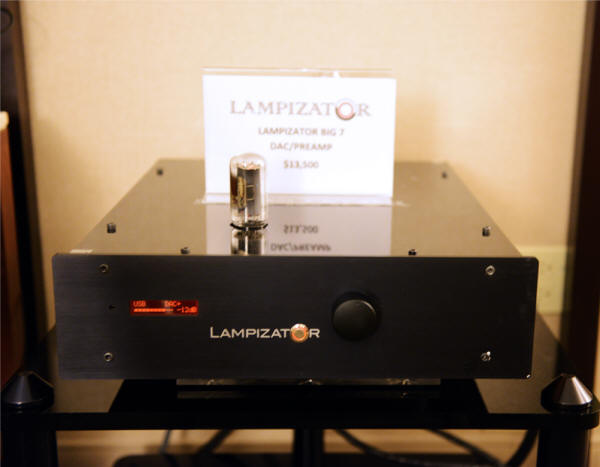 The Lampizator Big 7 DAC with volume control
My attention was drawn once more by Lampizator, this time the Big 7. This is their top-of-the-line model in its baseline configuration. The previously mentioned Golden Gate DAC takes the Big 7 and upgrades it at the parts quality level to the max, to the tune of an additional $4,000 on the list price.
Playback was sounding excellent. Clear and transparent presentation of the music; superior detail; great dynamics; and a full-range feel in a small room. The Claravu 7 Mk. 3's were good-looking, and were definitely kicking some air around in the room. Given the moderate price point of these speakers, and of the Wells Audio amplifier, the results were far more than I would have expected.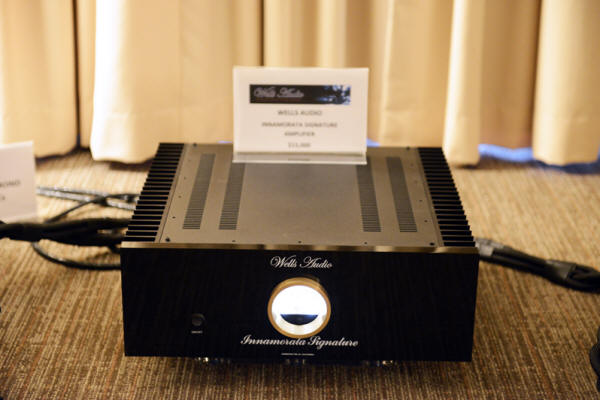 The Wells Audio Innamorata amplifier: at 150 WPC, a very solid performer with the Claravu 7 Mk. 3 loudspeakers
Certainly the Lampizator sent a feed that was superior, and the rest of the components worked and played very well together. Vinh and company are definitely on to something here, and at a price tag that is more reasonable than some of the other rooms that I've praised here.
A real price-point winner! And a winner of an Audio Oasis! Award, too.
The Bricasti Design/TIDAL/Silver Circle Audio/Stillpoints/Essential Audio room
One brand that I discovered last year at THE Show Newport Beach was Bricasti Design. I had been unfamiliar with Bricasti, even though Brian Zolner, the president of the company, had a strong connection to, and regard for, DSD. Since then, I have been keeping an eye on what Bricasti is doing…Brian does get it.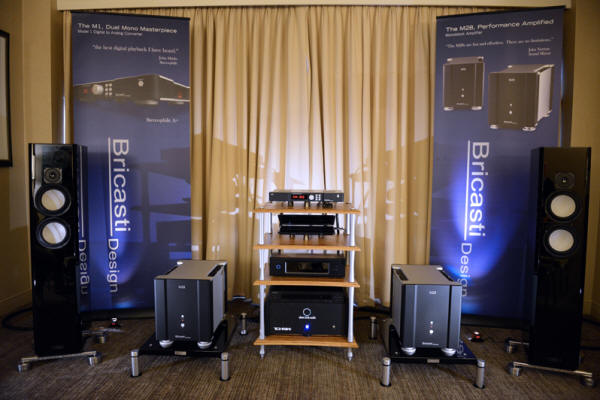 In the Bricasti Design room
The room list:
Speakers: TIDAL Piano Diacera (with diamonds)
Stillpoints Ultra 5 under the speakers and Ultra SS under the M1, Utra mini under the PC
Power: Silver Circle Audio Tchaik 6 power conditioner
Cables: Purist Audio Design
Source: Windows 7 PC with JRiver Media Center 19 for all DSD playback.
Preamp/DAC: Bricasti Design M1 DAC
Amplifiers: Bricasti Design M28 power amps
The electronics were all Bricasti Design, powered by the Silver Circle : The very fine M1 preamp and DSD DAC, and a pair of the M28 monoblock amplifiers. Music feeds were DSD from notebook to the M1, with a diet of exceptional Channel Classics recordings in pure DSD providing the grist for this audio mill. The results were really spectacular, fed to a pair of TIDAL Piano Diacera diamond speakers. Incredible detail, and a very transparent, incisive presentation of Jared Sacks' brilliant DSD recordings of orchestral music. This is an addictive experience!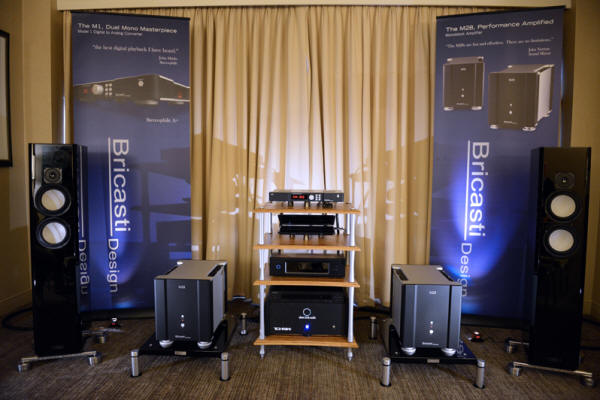 The Bricasti M28 monoblock amp and the TIDAL Piano Diacera: A winning combination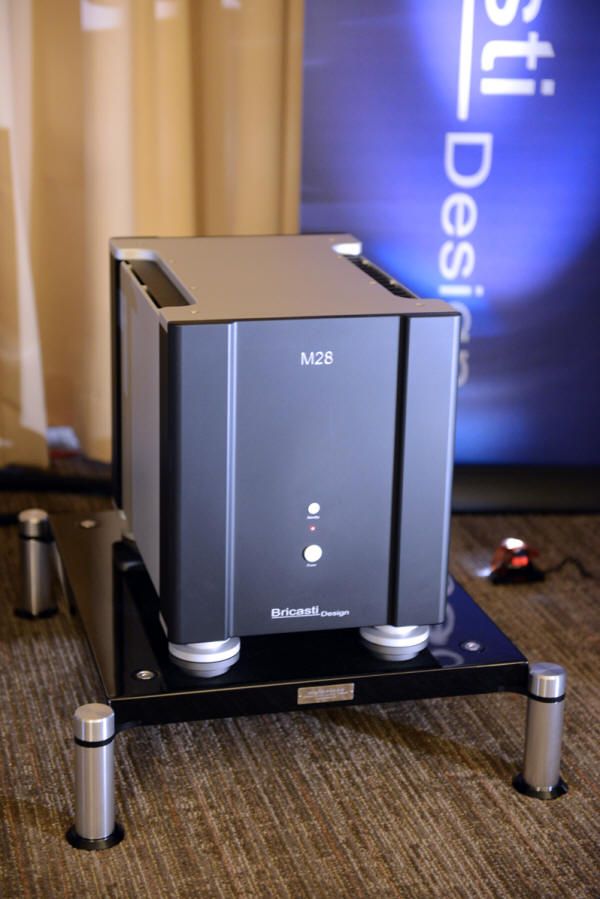 At 200 Watts into 8 ohms, the Bricasti Design M28 monoblock (here on its Stillpoints stand) had no problem whatsoever in driving the TIDAL speakers full tilt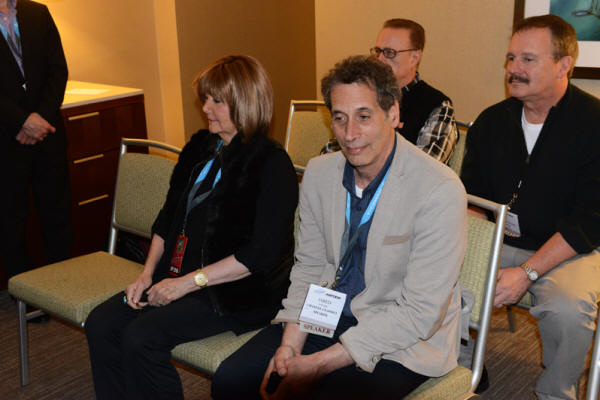 Jared Sacks of Channel Classics and NativeDSD.com listens to a not-yet-released pure DSD Channel Classics recording…it sounded splendid!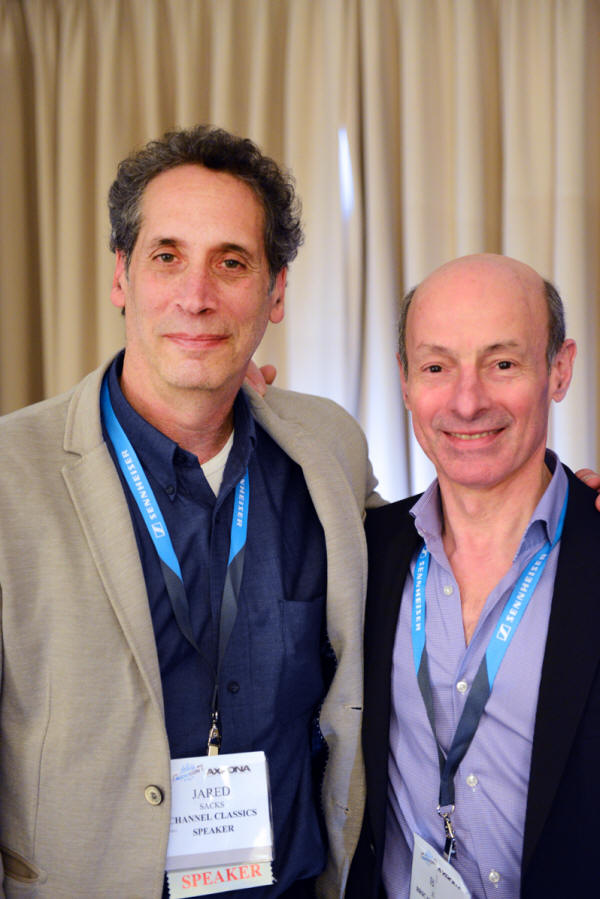 Jared Sacks of Channel Classics (left) and Brian Zolner of Bricasti Design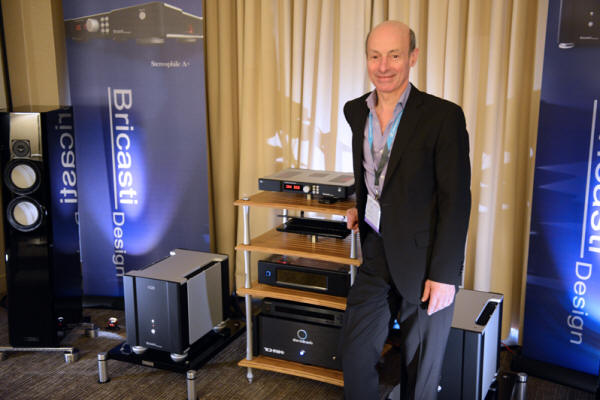 Brian Zolner of Bricasti Design
Within a few minutes, it was clear that this room was a natural for an Audio Oasis! Award. DSD really lit it up here…done!
The exaSound/Pass Labs/Magnepan room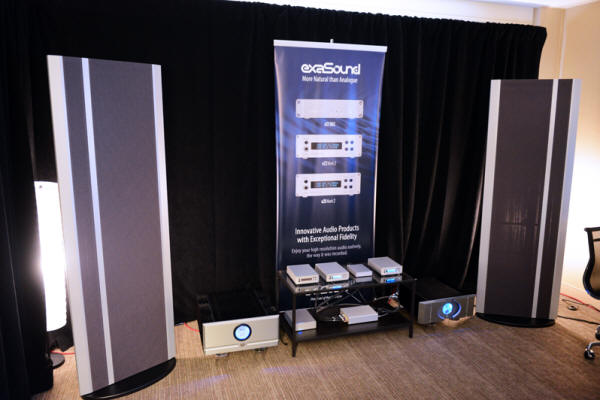 exaSound, Pass Labs, and Magnepan made beautiful music together
George Klissarov's exaSound room was sounding its usual superior self at AXPONA 2015. He had used Magnepan speakers before quite successfully, and so I wasn't surprised to see them together again. These looked like Maggie 3.7's. With the superb Pass Labs monoblocks (160.8's if I recall correctly…sorry, no room list for this one) in place, the sound of DSD via the exaSound DAC was knock-out quality. Certainly the Magnepans like being treated this way!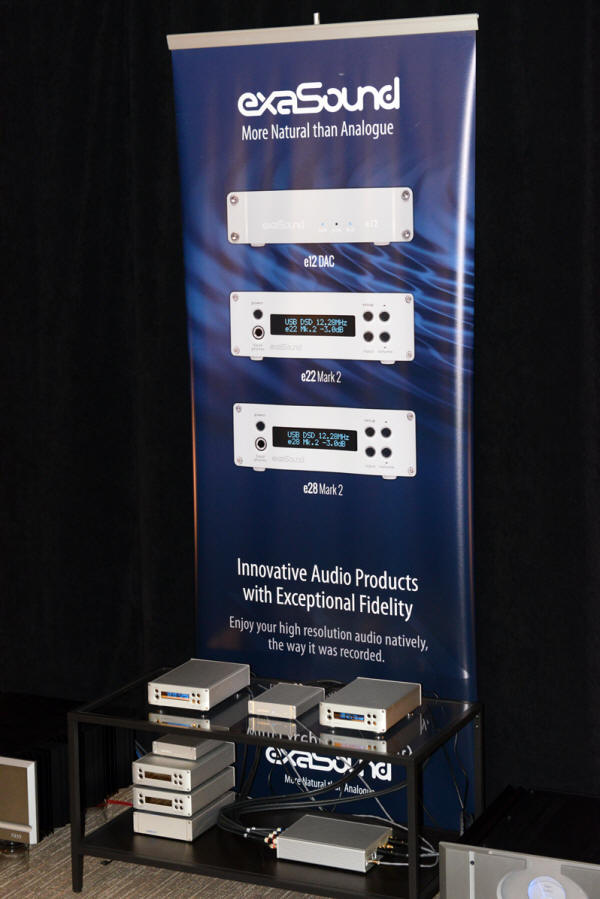 A stack of exaSound DSD components!
George was showing off his new Mk. II series of DSD DACs, both with the ability to handle up to Quad DSD flawlessly. The new e12, priced more moderately so that we can spread the blessings around, was also in evidence.
The quality of the DSD music being played was first-rate…no surprise at all with George. Frankly, I would have to say that Pass Labs + Magnepan is a helluva synergy…we've reviewed it before at PF (see Scott Robertson's review in Issue 71, and I got to spend time listening to that system. Like the room here at AXPONA, I'd have to say that these two brands really shake hands.
And fed by exaSound and DSD recordings…case closed!
Another Audio Oasis! Award winner, for sure.
The MBL room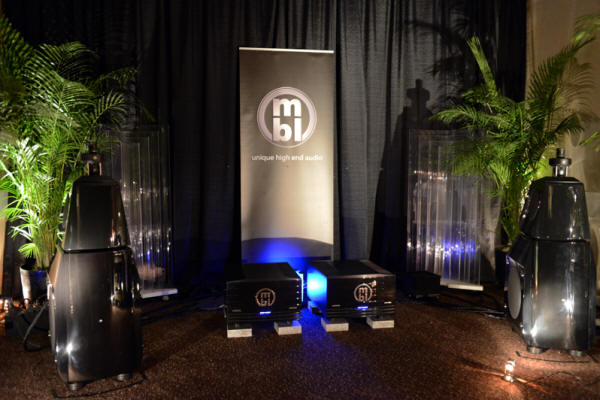 In the MBL room: Magnificent beauty for both ear and eye!
I always stop by the MBL room at all shows.
Always.
All.
Why? Because I will always hear great music sounding amazingly fine. Jeremy Bryan, head of MBL North America always goes the extra parsec or three to make sure that the MBL room sounds incredible…no detail is too small for him…and this year was no exception, I'm delighted to report.
This year MBL employed the following list of equipment:
mbl 111 F Radiastrahler Hybrid Loudspeaker Pair, $42,000.
mbl 9008 A Mono Amplifier pair, $60,600.
mbl 6010 D Stereo Preamplifier, $26,500.
mbl 1611 F D/A Converter, $28,700.
mbl 1621 A CD Transport, $28,000.
UHA supplied an HQ Phase 12 OPS 1/4", 15IPS, open reel analog tape deck, from $20,000
Synergistic Research supplied:
PowerCell 10 UEF, $5,995.
PowerCell FEQ-PowerCell Equalizer, $995.
Element CTS-Analogue AC Power Cord, $ 2,800.
Element CTS-Digital AC Power Cord, $3,000.
Element CTS Digital Interconnect AES/EBU, $2,300.
Atmosphere Level 4 Speaker Cables, $4,995 per 8 foot pair.
Atmosphere Level 4 Interconnects, $2,495 / 1 Meter Pair.
"Wings" room treatments from SMT Sweden (diffusor.com), from $850.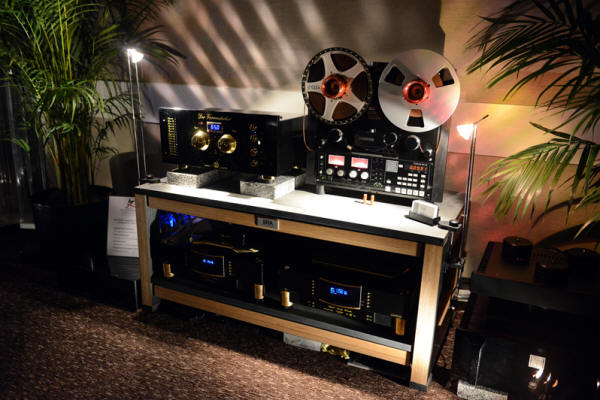 The world-class mbl 6010D preamp (top left) and the UHA Phase12-PD-OPS reel-to-reel machine; the bottom shelf holds the mbl 1621 A transport and 1611 F D/A
Once again, the use of an exceptional analog source really helped to highlight the many excellences of this room. It's hard to go wrong when your sources are of this quality; the only thing that I missed was hearing Double and Quad DSD in a setup like this! But the audio presentation was hard to fault, showing effortless authority in all types of music…dynamics, great transparency, superior soundstaging, and top-flight connection to the music.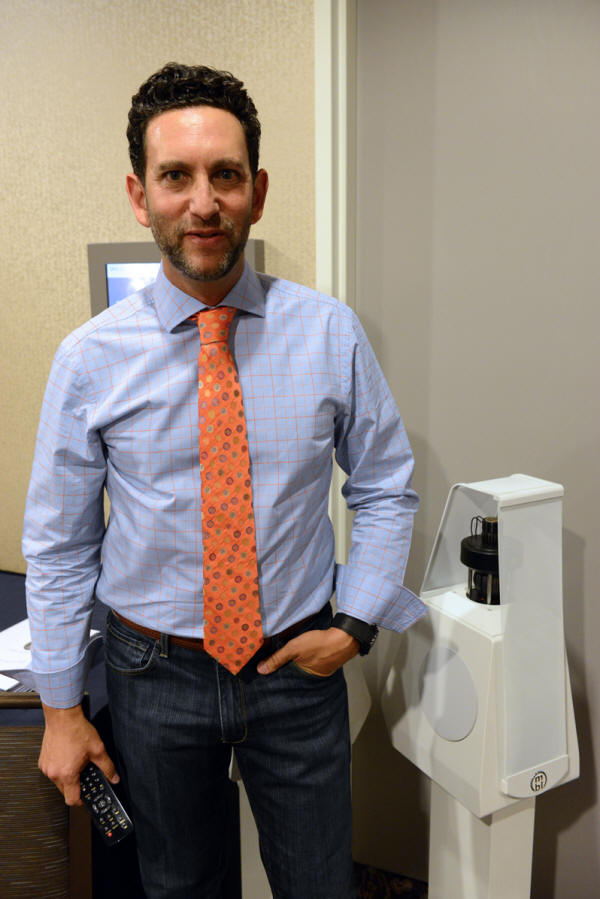 A portrait of Jeremy Bryan, president of MBL North America
I've been a huge fan of MBL for many years now, and I heard nothing in this room that would make me change my mind about that fact. MBL is one of the greatest high-end audio companies in the world, as was made clear once more at AXPONA 2015.
An Audio Oasis! Award once again for MBL…richly deserved!
The GTT Audio/Audionet/YG Acoustics/Kubala-Sosna room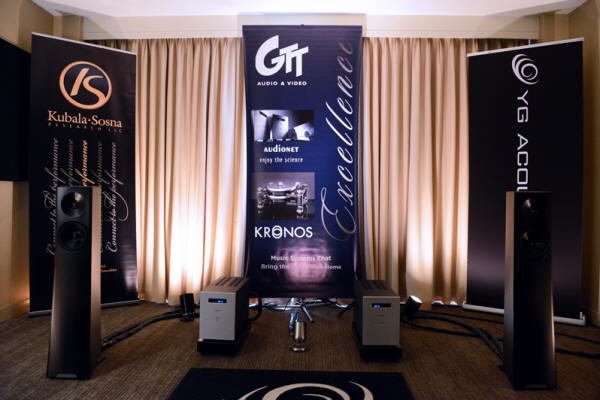 The GTT Audio/YG Acoustics/Audionet/Kubala-Sosna/Kronos room
I'll wrap up with a room that I spent quite a lot of time in during AXPONA 2015. Year-in and year-out, I have been able to count on the GTT Audio room with all of its associated gear to put on a helluva great room. I always check them out, not only because of the music, but also because of the fact that there is a terrific community of people who have coalesced in long-term friendships around their love of fine audio and great music. Bill Parish, Joe Kubala, Yoav Geva, and Dick Diamond are all the sort of folks that remind you of why you enjoy high-end audio, and why you stick with it despite some of the buttheads that you meet.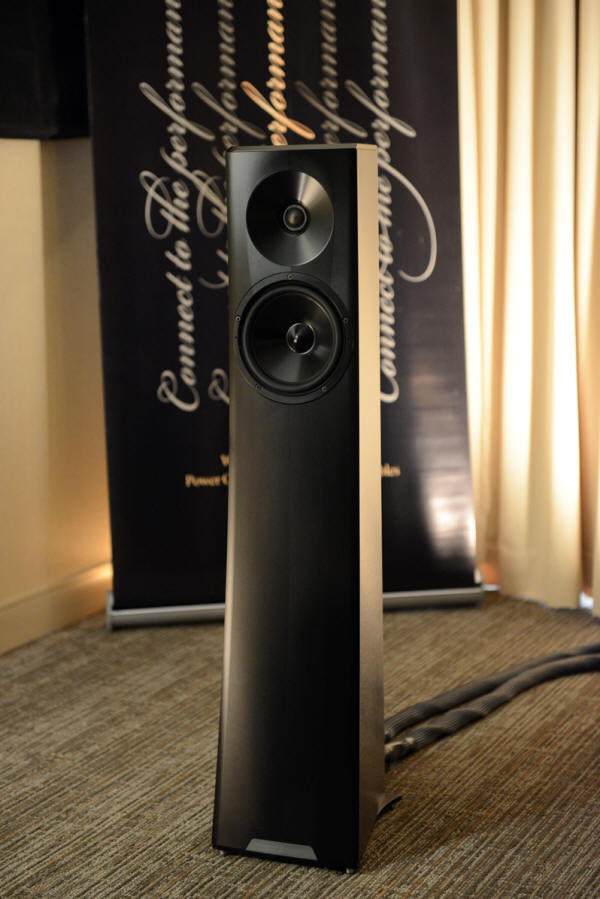 The surprising and lovely YG Acoustics Carmel II loudspeaker: Glory in a small place!
Quite often, the main GTT/et al. room is a large one. This time around, Bill stuck to a compact room, and appropriately deployed a new floor-standing two-way speaker from YG Acoustics that fit the space quite nicely. The Carmel II is a trim and gorgeous speaker, looking sexy as hell, and sounding even better. When I first saw them, I wondered at how they would handle the room. Would it be a home run, or a bunt?
I needn't have worried.
Starting out sounding very good on the first day, by the third day, the Carmel II's sounded like speakers 2-3 times their size. They vanished completely into the room, and projected detailed transparency, and a surprising amount of bass for their size. I was really struck by the quality of the sonics as we listened to LP after LP after LP (after LP after LP…!) over three days.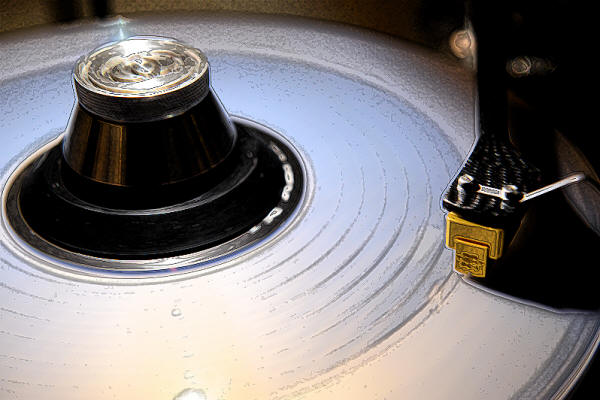 The Kronos Pro turntable and the Airtight PC-1 Supreme: A great team!
The source during the show in this room was LPs fed by the Kronos Pro turnable. A revolutionary counter-rotational design, the Kronos has impressed me greatly over the past several shows in the GTT Audio room. As with all truly world-class turntables, the Kronos melts into the music, giving no sense of "This is an album on a turntable!" Instead, there's an organic flow, a closer connection to the underlying tape that is conveyed with an ease that's really remarkable. Great linearity; exceptional isolation from vibration; championship-level soul. And it certainly favors the Airtight PC-1 Supreme: The two sound like they were made for each other.
The very good news is that I'll have the Kronos Pro and Airtight PC-1 Supreme combination here at my own reference listening room, to see how really good they are! Should be a real treat!
But wait! There's more!
I can't go any further without mentioning the two other huge components in the room: Audionet, and Kubala-Sosna.
Anyone who's paying attention to my reviewing already knows what I think about these two. My major rave about Audionet is still warm over at Issue 77. And the Elation! cables are my current top-of-the-heap-fave-rave and winner of one of my Brutus Awards in 2014…what more can I say? The combination of Audionet and the K-S Elation! cables is like a great cigar and Port…like a fine pipe and an Islay single-malt whisky…like [censored!].
In fact, this room had the same PAM G2 phono amp with EPX power supply, the same PRE G2 reference preamp, and a pair of the same MAX monoblocks that I have in my current reference system here…the one that's the subject of the review in Issue 77 above. Given the feed from the Kronos and PC-1 Supreme, the Elation! cabling, and the Audionet electronics, it's no wonder that the YG Acoustics Carmel II's were transformed, and set the room on fire!
I could have listened in here for hours…and did.
And that's always a sure sign of an Audio Oasis! Award-winning room.
"Make it so, Number One!"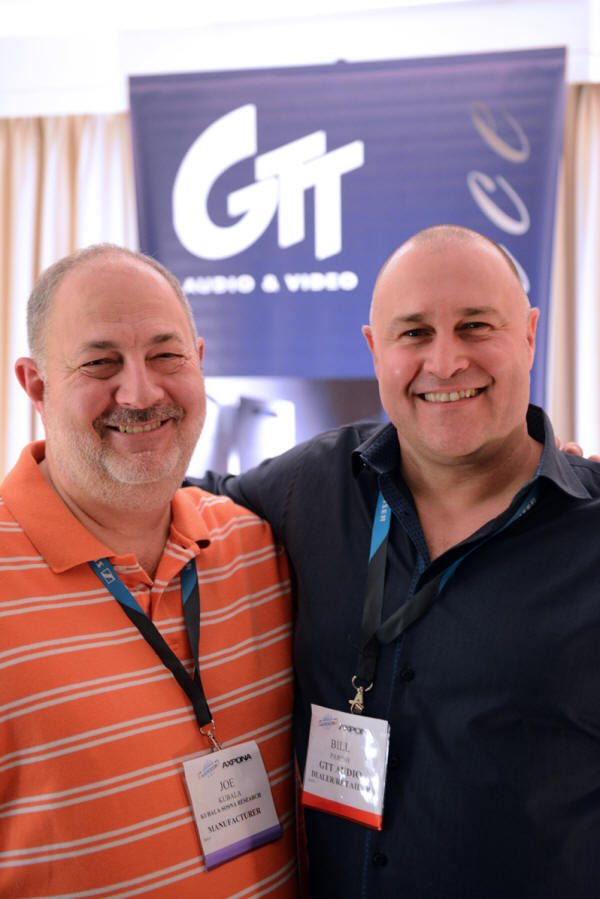 Joe Kubala of Kubala-Sosna and Bill Parish of GTT Audio: Winners of yet another PF Audio Oasis! Award
Conclusion
In sum, AXPONA 2015 was my first trip to this show. Overall, it was a good experience, and showed that Chicago could host a high-end audio show that was quite promising. The main problem right now is the scheduling issue: We simply have too many audio shows clustering around the calendar between the last week of April and the first week of June. AXPONA, Munich, and THE Show Newport Beach are all in play here. I can probably do two of the three each year, but I really can't do all three and report on them properly. Two is hard enough.
We'll see how next year shapes up. AXPONA again, or maybe Munich 2016…at last!