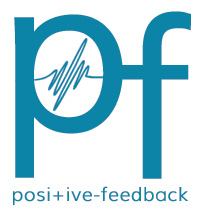 You are reading the older HTML site
Positive Feedback ISSUE 8

august/september 2003
Livin' With the Blues in Salina: 2002
by Dave Glackin
(photos by Dave Glackin except where noted; image processing by David W. Robinson)
You know, I have to say it: Chad Kassem continues to outdo himself in the world of blues. He has shown an unflagging commitment to bringing exceptional blues musicians out of relative obscurity and to a broader audience. He has provided these musicians with a world-class venue in which to play, and the opportunity to be recorded with state-of-the-art techniques. Several of the musicians with whom I spoke during the Fifth Annual Blues Masters at the Crossroads festival expressed how genuinely glad they were to be there, in a place where they are so deeply appreciated.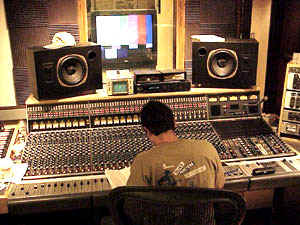 Chad Kassem at the controls in Salina
Chad's concept for this year's Fifth Annual Blues Masters at the Crossroads festival was inspired. He showcased revered, traditional musicians that represent the roots of the blues, such as Robert Lockwood and John Hammond, and he also featured a more recent star, Tab Benoit.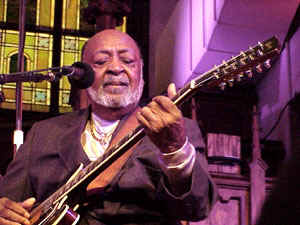 Robert Lockwood in action...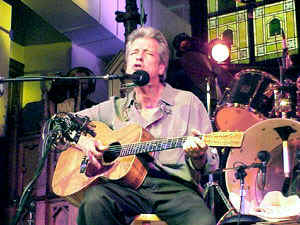 Hammond goes inside... music emerges.
Much of the theme of the festival centered around Louisiana musicians, especially those who recorded for Excello Records in the 50s and 60s. But he also featured the Kansas City legend Myra Taylor.
It especially warmed my heart to see Chad bring back three outstanding musicians from the 2000 festival, namely Henry Gray, Lazy Lester, and the irrepressible Harry Hypolite. In all, there were about 20 musicians spread over two evenings, with the concerts running from about 7:30 pm until past midnight. I applaud Chad and his staff at Blue Heaven Studios for all the work that it took to make this festival happen.
John Hammond kicked off Friday night with an extended dose of high-energy acoustic guitar, harmonica, and vocals, accompanied by foot taps and slams. Talk about a one-man band. Hammond is a phenomenal, multi-talented headliner who just sits down and bursts forth with music. He really projects his classic blues to the crowd, as you can probably tell from these photographs, and he works up a real sweat doing it. The man has tremendous coordination and displayed some facile, phenomenal picking. It's no surprise that he has won numerous W. C. Handy awards. He has been recording since 1962 and has played with Muddy Waters, Howlin' Wolf, and many other luminaries. His was an amazing performance that drove the crowd wild.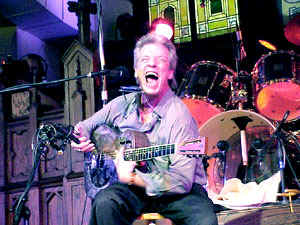 John Hammond doin' that howl thing again!
Robert Lockwood kicked off Saturday night with a set of acoustic, authentic, old-time blues. His performance was lyrical and flowing, and just demanded attention. And he got it, from a very rapt audience. Lockwood's performances were mesmerizing. Following an especially riotous response from the crowd, he intoned: "This damn sure ain't Japan, it ain't Europe, this is Kansas. I know why I'm in Kansas." This 87-year-old first learned to play from Robert Johnson. I had the definite feeling while listening to him that this was as close as I would ever get to hearing and seeing the roots of blues in person. Lockwood has been recording since 1941, has been inducted into the Blues Hall of Fame, and has received many other awards. He showed us why on this night.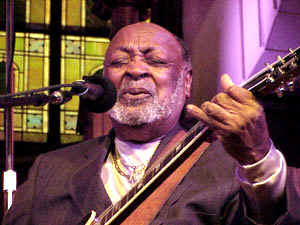 Robert Lockwood hittin' the groove!
Those who only saw Harry Hypolite play a couple of numbers on Friday night really missed something, because on Saturday night he got the place rockin' in a much more extended set. It's a true joy to see this former sideman get his just dues, especially since he's as great a performer as Chuck Berry (in my opinion). Harry has been nominated for a W. C. Handy award for his recording with Chad's Analogue Productions label entitled "Louisiana Country Boy." All I can say is, it's about time. Harry looked like he was having a blast, and he wowed the crowd with his behind-the-back guitar playing. Harry has had a lot of hard luck in his life, and he is as deserving of acclaim as anyone I know. Godspeed, Harry.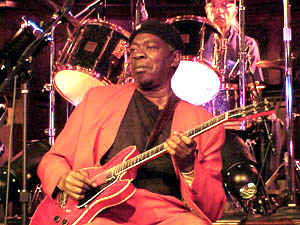 Harry Hypolite is definitely definitely in that place...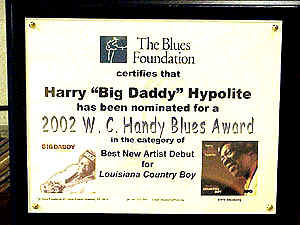 ...and there's that nomination to make it official!
Henry Gray had a solo segment on Saturday night. Resplendent in piano-tie-key and suit, Henry just effortlessly rolled off the tunes like he'd been doing it for decades, which he has. Henry made his mark in Chicago in the 50s, playing with many of the greats such as Jimmy Rogers and Little Walter. He is now in demand internationally, and is about to go to Norway, Holland, Switzerland and Paris. I just wish he'd smile a little more while he's playing...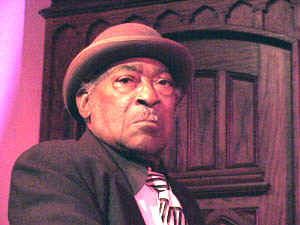 Henry Gray with his "serious look"!
Lazy Lester is funny, disarming, and totally unassuming, as he demonstrated to a wildly appreciative audience in an extended set on Saturday night. His fluid, dancing harp lines and his frequent jokes established an instant rapport with the crowd. Quipped Lester: "Next year I'm gonna come back, 'cause I'm not gonna leave. If I don't leave, I don't have to come back." I guess he likes it at Chad's. And ... "I was here two years ago... I think... it was so many beers ago, it's hard to remember." Those of us who were there two years ago can hardly forget.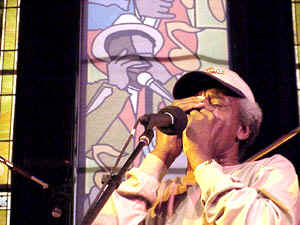 Lazy Lester 'n harp, beers later...
Myra Taylor was slowly helped to the stage on Saturday night for a not-to-be-forgotten performance. Although not among the official roster of artists, once she got going she forgot about her somewhat frail physical condition at age 86, and let loose with some real crowd pleasing numbers. At one point, Myra pulled some tissues out of her dress, then did an uncanny Louis Armstrong impression, growling voice and all. Myra is a famed Kansas City singer who went unrecorded since the 1940s, until Chad's recent recording on his Analogue Productions Originals label.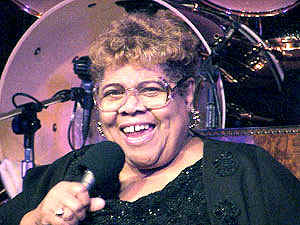 Myra Taylor beltin' it out!
Myra sang on stage for the first time with Carol Fran, who has been recording, singing and touring since the late 50's. Carol was completely uninhibited (the photo will give you some idea), and proved she still has thoroughly amazing vocal chops. This pairing really had the crowd's rapt attention, and sometimes had them doubled over with laughter as well.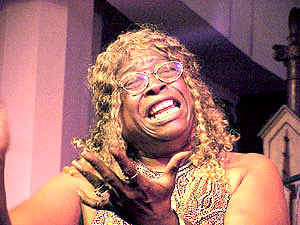 Carol Fran in the middle of "I got what it takes!"
Jody Williams showed that he still know his way around a guitar, after many years of avoiding the music business due to having been cheated out of royalties once too often. His performance was one of the highlights of the festival. The blues world is lucky to have this man back after an extended hiatus.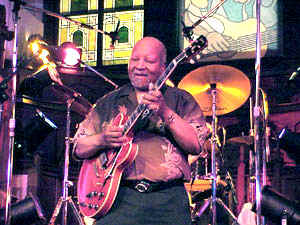 Jody Williams givin' it all...
Vee Jay recording artist Billie Boy Arnold got a big, honest sound from his harmonica. Arnold, who appeared on some of Bo Diddley's earliest hits, proved himself to be a no-nonsense performer. He was like a train rolling down the tracks on Friday night, and a truly captivating performer.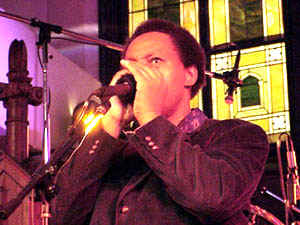 Billy Boy hits the harp like "a train rolling down the tracks"...
Outside the church, I was introduced to Warren Storm, the "King of Swamp Pop." His steady hand at the drums provided the foundation for the Louisiana Legends, a group of musicians who have all recorded for Excello Records. Pictured from the group are Lil' Bob, Guitar Gable, King Carl, Major Handy, John Hart, and Bob Stroger. These musicians played in various combinations on Friday and Saturday night, giving the audience a rare glimpse into Louisiana-based sounds of the '50s and '60s. Some of the Louisiana musicians told me that they are under-appreciated in their own state, playing to crowds who "sit and listen to them like they are in church." Well, they sure saw the flip side of that in Kansas (even though the crowd was, well, in a church).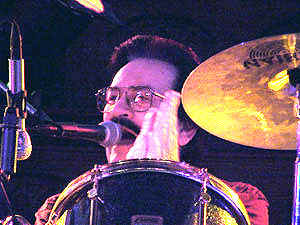 Warren Storm providin' the foundation once again...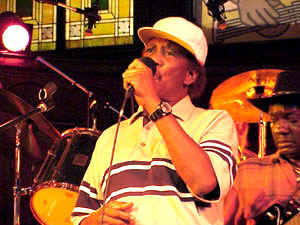 Little Bob with his buddy, Mike Rophone!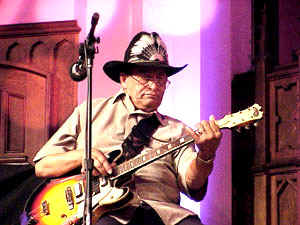 Guitar Gable doing things with strings...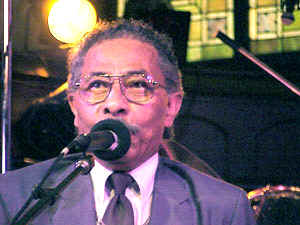 King Carl, up close 'n personal...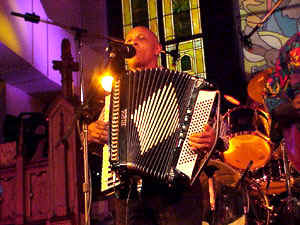 Major Handy squeezin' that box!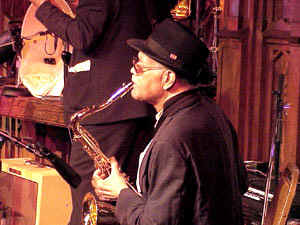 John Hart smokin' that sax...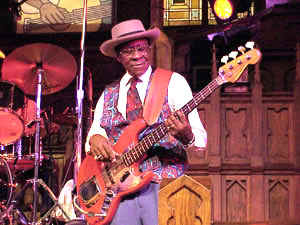 ...and Bob Stroger on bass.
The whole shebang was brought to a resounding climax on Saturday night by Tab Benoit. Tab, born in 1967, represents the new generation of Louisiana blues musicians, and he showed the crowd that there's still a lot to look forward to from that great state. Tab was masterful, direct, intense, loud, and physical. At times he seemed to be channeling Stevie Ray Vaughn, and he did a great live rendition of my fave "Nice and Warm." Partway through his set, he revealed how much he enjoys performing when he said that "This is not the job part of the job. The job is getting here. After that, it's all good." He absolutely blew the crowd away with his guitar pyrotechnics, and turned them into a jumping, dancing mob.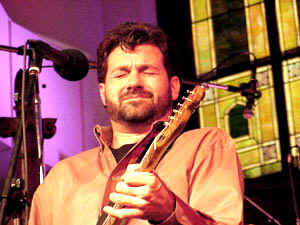 Tab Benoit goin' to that place that blues folks go...
Every member of the audience should send his or her undying thanks to Chad Kassem of Acoustic Sounds and Blue Heaven Studios for making all this possible. Chad continues to follow his vision, and for those who love the blues, that's very good news indeed. The opportunity to sit in on rehearsals, to eat lunch and dinner with the musicians, and to chat with them and get to know them better is one that I will always treasure. Here's to many more years of Blues Festivals at the Crossroads!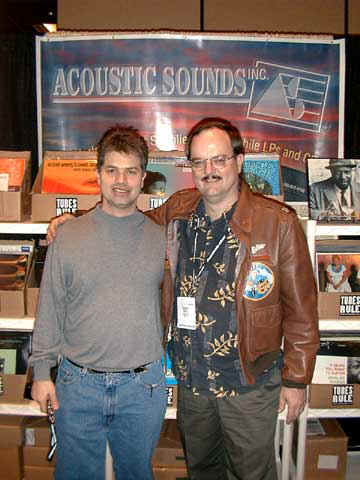 Chad Kassem (left) and Kevin Gray at CES 2003. Now that you know what he looks like, next time you see Chad you can thank him for his terrific work with our blues artists—and all of his very fine reissue work. (Photo and image processing by David W. Robinson)