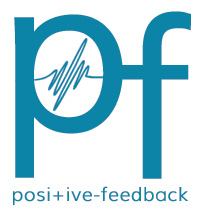 You are reading the older HTML site
Positive Feedback ISSUE 9

october/november 2003
My recollections and thoughts on recording The Window and on DSD/SACD for independent musicians like myself...
by David Elias, Oct 25, 2003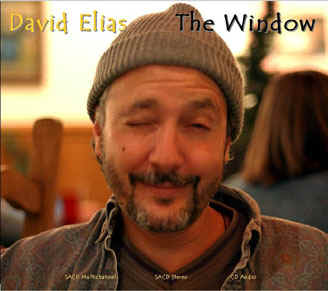 Not Qualified Here...
First of all, I can't find my notes on The Window recording sessions. I'm not sure if that is all bad, as far as these paragraphs are concerned. I had written down a lot of technical detail about what mics, preamps, mixing and other equipment were used to capture The Window recordings, prior to feeding everything to the Meitner converters and recording to DSD on the Sonoma DAW. No matter how many notes I may find, I believe this description will be more accurate if I just explain things from my layman/musician's point of view. I am not technically competent enough to write any heuristic justification for DSD recording, SACD productions, SBM Direct processing and the like. What I do have are my experiences as a music lover and a musician since I was 8 years old.
I have been a DSD believer since I first heard bits of 2-track remasters on an early Sony prototype workstation at least 5 years ago. I am not used to listening to analog tape masters; but then again, I have trained my ears to listen to a lot of detail, having recorded my own songs and some other projects for 20+ years. To give you a timeframe reference, the first multitrack recordings I made were on Teac 4-track machines in an electronic music lab in 1977 where Ron Pellegrino helped introduce me to the world of Moog components and controllers, the acoustic foundations of music, and the art of synthesized music. I've recorded myself on everything from a 4-track cassette, to 2-track DAT, to 8-track Hi-8, to even a Waveframe, and worked within the limitations and benefits (to my ears) of each.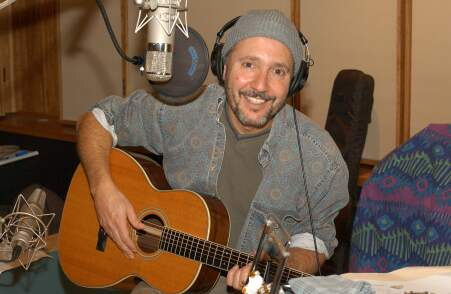 Breaking Homegrown Ground...
I began writing, performing and recording my acoustic music for CD presentations in 1994. I released my first independent CD in 1995 which is called Lost In The Green. It was recorded on a Tascam DA88 loaned to me by Roger Powell along with some other gear. I mixed it myself on a Mackie 1202 using the 2 bands of EQ and nothing else more than L/R pan. I created a master DAT tape on a Sony TCD-10 also loaned to me by Roger. I created a website at that time and begain communicating with radio DJ's all over the world via e-mail. They played songs from Lost in the Green on their folk and acoustic shows; most of them were public and college stations such as KALW in San Francisco. Shortly after that, I listed Lost In The Green and my second release Time Forgets on a brand new online CD store run by a crazy and loveable musician named Derek Sivers. I've been selling my discs on CD Baby ever since.
The true instigator for all of the CDs and other audio projects I have worked on is my good friend Gus Skinas who has been part of the Sony SACD Project. I met Gus in a coffeehouse on the coast south of San Francisco in 1994. He heard me playing my music early in the morning one Saturday. I was accompanied by only an occasional espresso machine. I have always loved playing acoustic guitar in the morning. Many of the places I have performed in had no live music prior to me starting it up, usually because nobody had ever wanted to play that early in the morning!
Anyway, Gus heard me playing for an hour or so and when I stopped, he asked me who wrote some of the songs he'd just heard. When I told him they were mostly mine, he seemed relieved! Maybe that's because he thought he should have known the songs, given his background in recording and popular music in general. Maybe it was because he was glad to hear something new that he liked, I'm not sure which is correct. But from that day, Gus became a regular member of my small or non-existent audiences. He encouraged me to record my first CD within that same year and was soon mastering it on an Studer-Editech Dyaxis II workstation. Gus even did the layout for the insert, disk and tray card in PageMaker. We worked with Discmakers at the time to get the homegrown art and DAT production ready and printed. It was all pretty new for everyone involved. The first disc was recorded and produced in the summer of 1994 and released at the beginning of the year in 1995.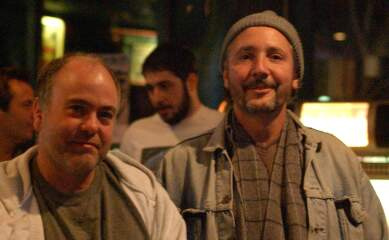 Why DSD...
Maybe none of this matters or relates to why DSD is the right media to record and master to, but I think it does. Since that first CD release, and throughout 4 other full releases and numerous compilations and informal projects, I have been recognized as the creator of authentic, honest, acoustic music. I can point you to tons of quotes and reviews that affirm this, written by all types of people either in or out of the music business. I'm always happy, no, ecstatic to receive this type of recognition because it is the entire source of desire for me to record and perform in the first place. I strive to create an authentic portrait of lyrical images mixed with acoustic backgrounds and accompaniments. I am always interested in discovering how poetic lyrics can be strengthened and supported by the instruments and vice versa.
The only way I know to achieve this in a recording is to create the right space in it, working with the musicians involved. Space and texture are the two words that immediately come to mind for me when I think of Direct Stream Digital (DSD). After years of recording at 44.1 and 48KHz in 16 and later 24 bits, I breathed MY big sigh of relief when I first heard Gus's first DSD recordings of me solo, being played back. Finally there are no limits or boundaries on the audio spectrum's edges. The ringing of a guitar string continues until your ear can no longer hear it. The resonance of the wood and other vibrations created from that string continue to reverberate in the same fashion. Each note's decay is as natural as the attack. The vocal quality is startlingly accurate. Breath is heard as breath. You can easily locate the parts of the anatomy being used from nose to throat to chest. All this is summed exponentially in a way when you record a true stereo image.
The very first DSD experimental recordings I did with Gus a few years back were in Boulder at "Wind Over The Earth", a place for pro audio gear and other services. The founder Mickey Houlihan was kind enough to help with this. The idea was simple: set up a few good mics and preamps and see if we could recreate the original performance of an acoustic guitar with singing and a harmonica using the DSD recorder. We ended up using 3 mics positioned from a listener's point of view and recorded directly to stereo. Those recordings were brutally honest. Perhaps too honest. They are startlingly "close" and intimate. There were no EQ or effects added. It didn't need any. Perhaps DSD recording will create a common acronym WYHIWYG, who knows... I've heard bare-bones creations similar to this by great songwriters and players like Dylan, Springsteen, Dwight Yoakum, Norman Blake and others played back on standard CD. Neil Young's newest release "Greendale" has a great 5.1 DTS Surround mix on a DVD of his show in Dublin, Ireland. It is almost frightening to consider the impact of SACD stereo or surround presentations of these types of works.
Open the Window...
Having had the experience of playing bare-bones acoustic into the DSD recorder a few times in a few different studio environments, I was convinced that the right acoustic band could be recorded in the right studio in an "audio verite" live fashion with amazing results. Those results would be the synergistic summation of what an audience in the studio would hear if they had attended the recording sessions. But instead, the audience would be spared a lot of casualties if they didn't have to sit through a lot of tunings, retakes, wisecracks, and technical timeouts. This is the basis for The Window as a 5.1 surround sound recording. The musicians were physically arranged in a wide semi-circle, as they might be presented on stage at a performance. I am used to performing my music live with anywhere from 3 to 7 or more people. Some people have asked me if I always have a different band every show. The truth is, I am always working at matching the venue with the right kind of band and the right kind of set.
So with Gus again as the instigator, the extremely talented songwriter and musician KC Groves helped me prepare the two ingredients I mentioned above for combining the right musicians with the right studio setup. KC became familiar with my music by listening to all my earlier CDs. With that, she did a miraculous job connecting me with the best musicians I could possibly hope for to back me in the project. Even more chemically-correct was the fact that these people had all worked together many times before in bands and in the studio.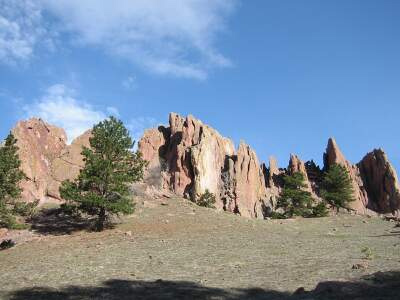 The band consisted of:
Sally Van Meter - dobro, weissenborn, lap steel
Matt Flinner - mandolin, bouzouki
Ross Martin - electric and baritone guitars
Eric Thorin - upright bass
Marc Dalio - drums
John Magnie - accordion, keyboards
Matt Flinner drove out to Boulder from Nashville. I drove a similar distance from California. Everyone else was local to the Boulder/Denver area. In addition to the musicians, KC contacted Jeff Shuey to be our studio engineer. A live mix was critical to the project since we were going to record the ambient front and rear stereo images on 4 tracks for direct use in the final mix. Jeff had done a lot of great work with live acoustic acts and we were lucky to have him join us.
On Learning to be a Prep Cook...
We planned to rehearse in the afternoon on November 23rd, record for 3 days, and "get out" for the Thanksgiving weekend coming up. I had made a reference recording of a number of songs, at least 15, some weeks before and mailed it out to each of the musicians. KC and I had spent a lot of time in preparation discussing the song list and what instruments we considered appropriate for each song. Then we booked time at Immersive Studios in Boulder for 3 days and tried scheduling each of the musicians' time around those days. Everyone except Matt and Jeff (don't go there) had other commitments mixed in with the days we were to record. I knew we weren't going to overdub anything, so getting the schedule right was critical.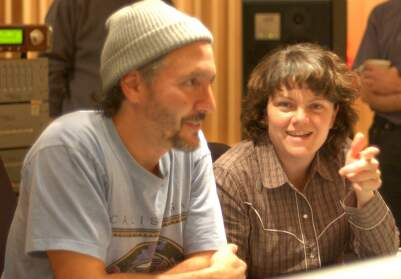 The day before rehearsal, KC and I spent an afternoon of coffee (and COFFEE) and discussions with Sally Van Meter. This was invaluable in laying out how we were going to approach the different songs, once we got in the studio. Sally has an incredibly wide peripheral vision for this and raised many issues that were best confronted before attempting the recordings. The three of us worked further on arrangement issues, mostly regarding instrumentation for each song, as well as the importance and priority of each song. I wanted to get 15 songs recorded in 3 days from a possible list of over 20. There were a lot of reasons to assume this would not be possible, so we had to set them up in an acceptable conditional order.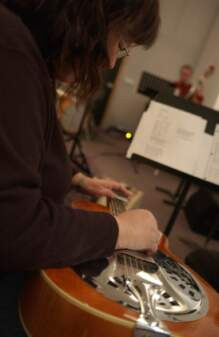 Leap of Faith...
The real truth test for our recording project was the evening of rehearsal (there was only one!). This was the first encounter with reality in terms of actually performing the songs. I had never met any of the other musicians before! We arranged the band in an audition room in the same type of semi-circle we planned to record in (at least the way I planned to record). From there we jumped into the first song planned for the next day and proceeded to learn and arrange the songs as a band...We went into the night on this as it began to snow 8 inches or more outside. I don't remember how far through the list we got but by the end of the session, it really felt like the good old days to me, whatever that means to you. The only way to describe it is to say I believe we all felt ready to record.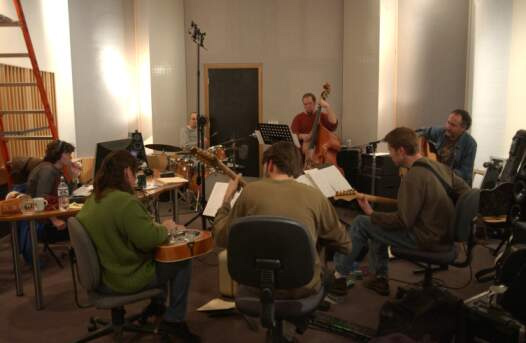 Close Encounters...
We met with Jeff Shuey the next morning and proceeded to setup the studio. The first hard question I heard was, "How are we going to isolate the drums?" I said that I didn't want to isolate the drums. I'd prefer that the drummer sit behind me like he does in a live show. There were a number of perspectives on why this would or wouldn't work. Since there was no complete agreement that it wouldn't work, I suggested we try it with no isolation and see what happened. If necessary, we could move the drummer, setup panels, or put him in another room. My goal for the recording was still to recreate the band with spatial accuracy. We spent quite a few hours setting up the room to record in the semi-circle fashion we had rehearsed in. The 2 front channel stereo mics were setup in an MS Stereo arrangement in a central position. The rear channel stereo mics were positioned higher and further back about 4 to 5 feet apart. All instruments and amps were then mic'd once or twice and fed to the Euphonix analog desk console. It is interesting to note that analog mixing was required. The digital conversion occurs at the last stage in the path where the Meitner Mark IV ADC-8 converters fed a digital signal to the DSD recorder.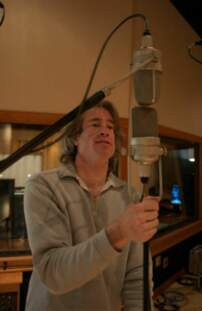 The Sonoma DSD recorder has 8 tracks to record on. 4 tracks were used for the front and rear stereo mixes from the Euphonix board. The remaining 4 tracks were used to isolate these instruments: vocal, mandolin/bouzouki, bass, dobro/weissenborn. That was it. Our live mix was the main feature for obvious reasons. There was no potential for overdubs, punch-ins, etc. We had to do each song as a complete take and either use it or lose it.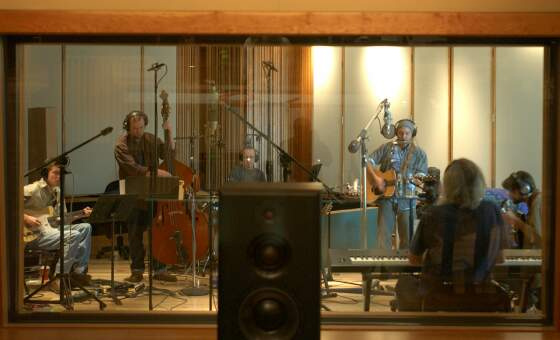 We recorded in this fashion for 2 full days and most of a 3rd day. We spent time in between takes listening to our performances to determine whether we wanted to try the song again, or move on. I believe there was a group consensus throughout every step, starting with the final arrangement decisions, through the choices to repeat the previous, or play the next song. I have to say, it was invigorating to be surrounded by that much talent.
Into the Future...
I can't speak for anyone else who was there, but my impression and recollection of those days is one of growing awareness on everyone's part of the power and potential of the medium we were working in. DSD teaches artists, listeners, producers, engineers, doubtlessly everyone connected to it, to re-learn or at least re-think their listening skills. It can deliver a pure, unprocessed sound. Even more revolutionary is that it can return to you exactly what you put into it. In fact, it's likely the artists will hear more of what they actually recorded than they remember. Amazing but true!
That is not necessarily what a large part of the market has catered to for the last few decades. It is both new and wonderful. It restores the act of listening to audio recordings as one of pure enjoyment and fascination. I know there have been countless great recordings made since the 80's! This is the next step people... For that reason, I believe DSD will, over time, affect the way musicians write and the way studios and producers arrange and record popular music. This is equally true for stereo SACD as it is for multichannel SACD. It is an extraordinary sensation to allow your ears to go beyond the limits of conventional audio processing. I have heard this excited and animated response to DSD recording, if I paraphrase, from nearly every person who has spent time listening to The Window, regardless of their musical affiliations. It has already been expressed to me many times with words like: "unbelievable", "stunning", "amazing", "superb", "silky and spacious", "nice air", "spectacular art", "reference quality".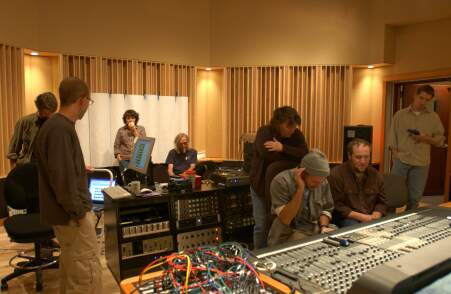 PCM & DSD Bedfellows...
Another crucial layer of this onion to me is the CD layer of the hybrid disc. The Window used the Sony Super Bit Mapped Direct (SBM Direct) process to convert the DSD recording to a PCM equivalent for playback on standard CD players. I was fully aware that the majority of listeners to this recording would not hear it anytime soon, if ever, on an SACD player. Believe it or not, I don't think that detracts that much from the total impact of the quality of the recording. I think all the "work" was done here by DSD as the native recording media, and SBM Direct as the magic translator to PCM for the standard CD layer of the hybrid SACD.
If you remaster a good analog tape or any good recording to DSD, you will experience the same result. The stereo image of the hybrid layer is stunning! In my opinion, Sony has nailed the consumer transition puzzle from standard CD to SACD with a sledgehammer. A quality DSD master recording can be produced today as a high quality hybrid SACD. That SACD can be played anywhere on good and bad audio systems alike. It will sound excellent relative to any other recordings played on the same system. Over time, more and more consumers will be buying hybrid SACDs with this quality without necessarily even knowing or caring about the details. They will immediately benefit from the virtues of DSD regardless of whether or not they are playing them on SACD systems.
When the time comes for a consumer to upgrade to a new CD player, he or she will have the option to choose an SACD player. Who wouldn't? It can play all your standard CDs as well or better than your older player (money is the issue here). In addition, it will add dimensions to the hybrid SACDs you've collected that you might not have imagined (recording quality is the issue here). There's even a third free bonus wildcard called 5.1 Surround Sound for those interested and for those SACDs that are multichannel. I think this brings huge value to the entertainment and enjoyable aspects of listening to music. Bravo Sony and Philips!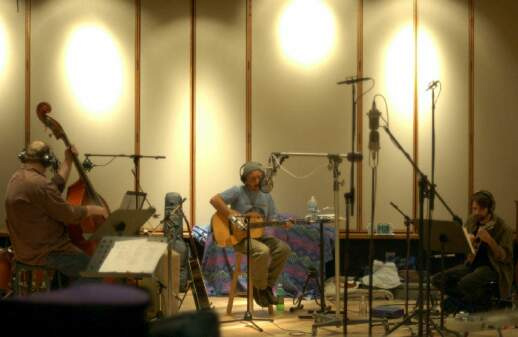 Out the Door...
The Window started as an idea to record a good live band in a good studio and see if the playback could be realistic to the original session. It went from this idea to becoming among the first, if not the very first independently released hybrid multichannel SACD in the world. There were more than 6 months of elapsed time between the recording sessions and the final SACD mastering and authoring. Gus Skinas worked on this on his own and with me in Boulder and San Francisco. We got opinions from some very helpful and knowledgeable people. We gave it time to sink in and resurface. I think there were at least 3 different mixes on most of the tracks before we were happy with the resulting images. Dawn Frank helped us QC each round of masters. Additional assistance came from others in the Sony SACD Project team including Dr. Andrew Demery and Colin Cigarran. In that time, I also prepared the package layout, working with Oasis CD Manufacturing to provide the Digipak template design which I preferred but did not yet exist, as well as endless details for the color accuracy and quality of the printing of the disc, package and insert booklet. When people ask me what type of music I play I have to say "Independent Acoustic" which is the closest description I can come up with for what goes on in my world as a musician producing my own CDs and performing each week without a label, manager, booking agent, PR person and so on.
I'm proud of the work that went into The Window and very proud to be associated with each and every person involved in the project. I believe in DSD as a source of inspiration to artists and producers looking for a holy grail called honesty, space and texture in their recordings.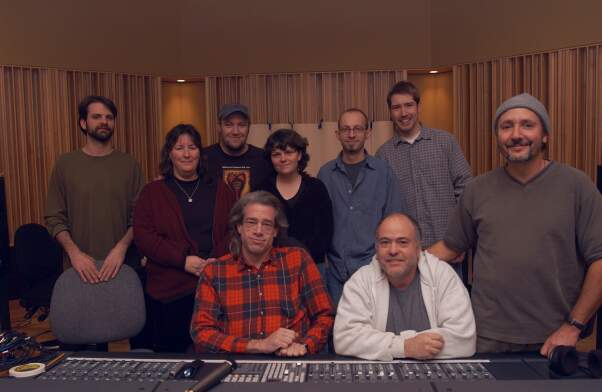 Matt Flinner, Sally Van Meter, Eric Thorin, KC Groves, Marc Dalio, Ross Martin, David Elias, Jeff Shuey, Gus Skinas
Visit CD Baby for a copy of David Elias' release The Window at http://cdbaby.com/cd/elias5
Article by David Elias, copyright 2003, All Rights Reserved
Photos by Gus "Guinness" Skinas, copyright 2003, All Rights Reserved
Web Site: http://www.davidelias.com
See photo gallery at http://www.davidelias.com/boulderphotos
David email about this article WindowInfo@davidelias.com