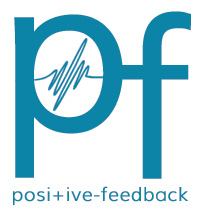 You are reading the older HTML site
Positive Feedback ISSUE 9

october/november 2003
VSAC 2003: Micro-watt Amps, Music and Microbrews
by Dave Glackin
(Photographs by Dave Glackin; image processing by David W. Robinson)

The Vacuum State of the Art Conference (VSAC) 2003 was held at the Red Lion Silverdale Hotel in Silverdale, Washington. Perched right on Puget Sound, it proved to be a scenic, relaxing locale in which to spend three days among a peculiar sub-cult of high-end audio, namely, that of flea-weight amps, high-efficiency loudspeakers, and DIYers. CES this was not! This was a regional audio show, attended by a mix of exhibitors, the press, and a rather motley ensemble of serious hobbyists and experimenters, none of whom are likely to be found on the cover of GQ any time soon. The chance to hang out with my audio friends, especially David Robinson, Stan Ricker, Dave Clark, and Bruce Edgar, in a relaxed and informal setting was most welcome.
(A special thanks to David Robinson and Lila Ritsema while staying at their home inPortland before and after the show, where I sampled some fantastic Washington state wines, not to mention the best SACD reproduction I have ever heard.)
Now let's get to it...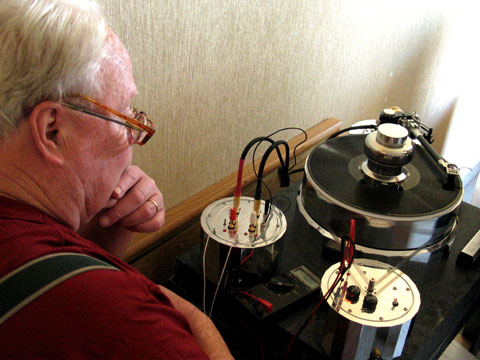 Mastering maven extraordinaire Stan Ricker contemplates the unusual design of the Redpoint turntable. If you haven't read it, be sure to see our interview with Stan in Issues 1, 2 and 3 of Positive Feedback Online (http://www.positive-feedback.com/Issue1/ricker1.htm, http://www.positive-feedback.com/Issue2/ricker2.htm, and http://www.positive-feedback.com/Issue3/ricker3.htm.)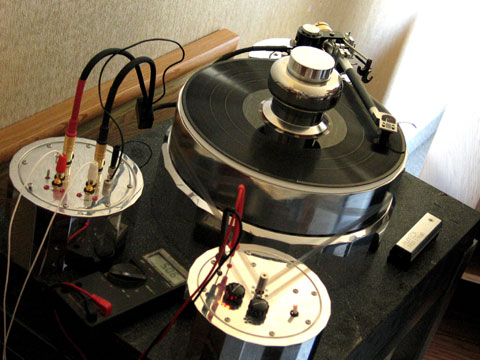 The edge of the Redpoint Audio Design Testarossa's platter, rather than being circular, consists of multiple flat segments. The drive belt being used here is clear leader tape. The Best Quip of the Show came from Alan Kafton when he noted that "This is what you use to record Schubert lieder."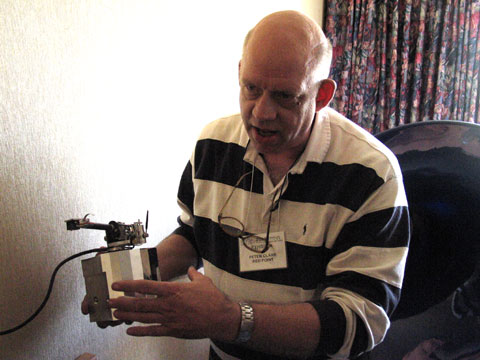 Peter Clark of Redpoint Audio Design patiently explains to Stan Ricker that, no, this arm cannot be used to cut LPs.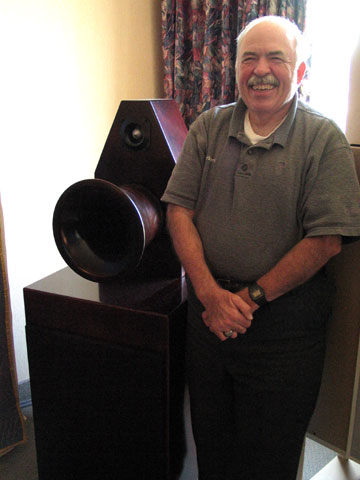 Dr. Bruce Edgar of Edgarhorn proudly shows off his Titan, the Best Sounding Horn Loudspeaker in the show. See our interview with this modern-day horn giant in Issue 4 of Positive Feedback Online (http://www.positive-feedback.com/Issue4/edgarinterview.htm.)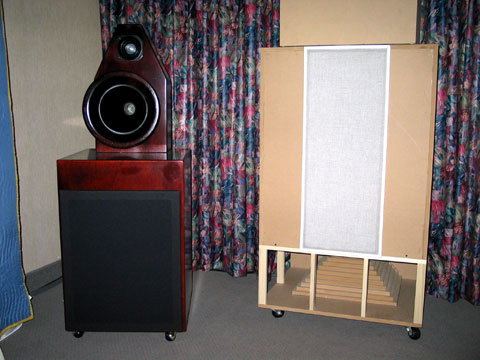 Dr. Edgar's Edgarhorn Titan and the ready-to-finish subwoofer. The round tractrix midrange, the very effective subwoofer, and Bruce's attention to driver selection has helped to make this system a leading contender in the wild world of high-efficiency loudspeakers.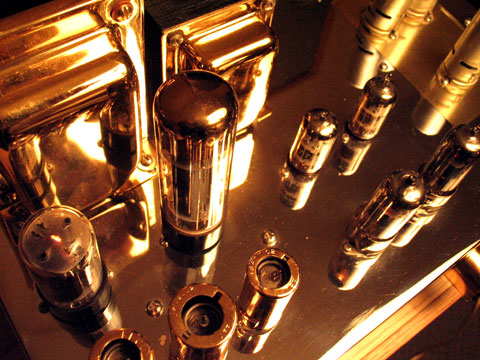 Gorgeous amplifiers from Cyrus Brenneman Audio were used to power the Edgarhorns. Talk about your gold-plated audio designs ...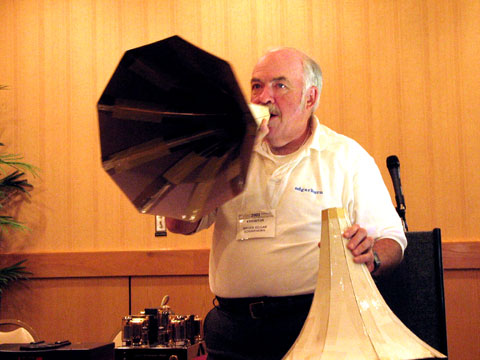 "Calling all horn lovers!" Dr. Bruce Edgar explained his philosophy of modern horn design to a standing-room-only crowd during Sunday's first seminar session.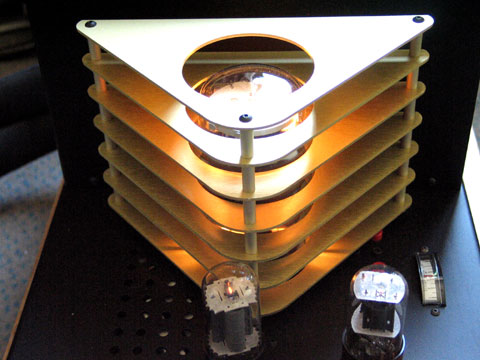 The gorgeous looking and sounding deHavilland GM70 amplifier. I love 845-based amps, and this was my favorite in the show (this version uses the Soviet GM-70 equivalent tube).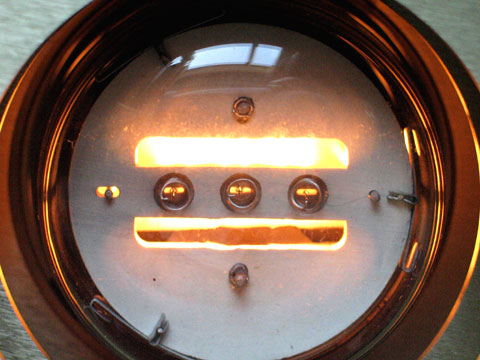 A view down the throat of the GM-70 tube. You can almost count the electrons.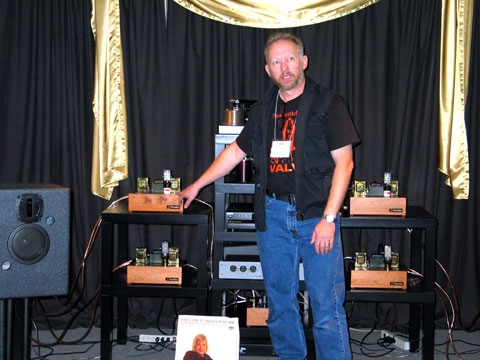 Dan Schmalle (Doc Bottlehead) holding court in his room, which I judged the Best Sound in the Show. Kudos to Doc B. for founding VSAC and for hosting VSAC 2003!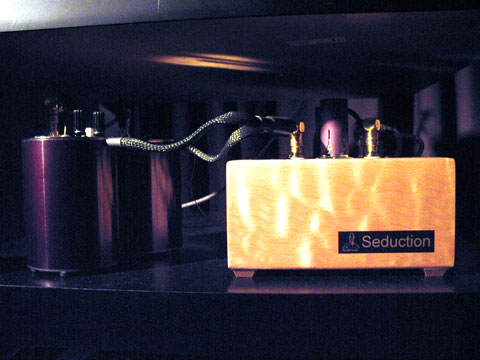 The lineup of products in the Bottlehead room included a Progressive Engineering turntable, electronics from Bottlehead, step-up transformers from Bent Audio (used with the Bottlehead Seduction phono preamp — see photo above), high-efficiency Climax speakers from Bottlehead, and a modified Sony universal player from Exemplar Audio. Paul Stubblebine of Paul Stubblebine Mastering provided some wonderful 30 ips half-track analog tape sound (tape deck is out of frame; see photo below).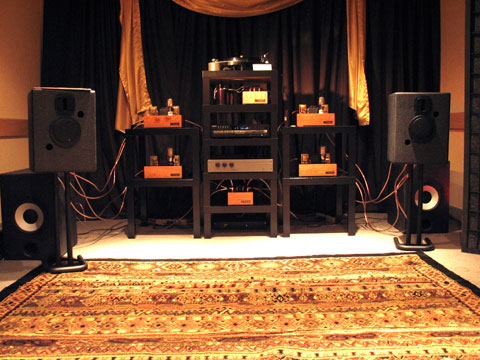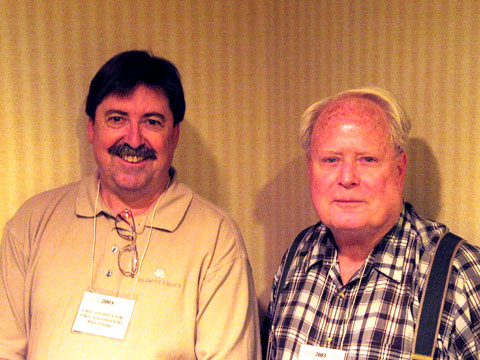 Paul Stubblebine kept Stan Ricker up late one night, having a blast listening to 30 ips tapes. Things sound better late at night when all the Seattle-area breweries shut down and stop hogging the power grid ...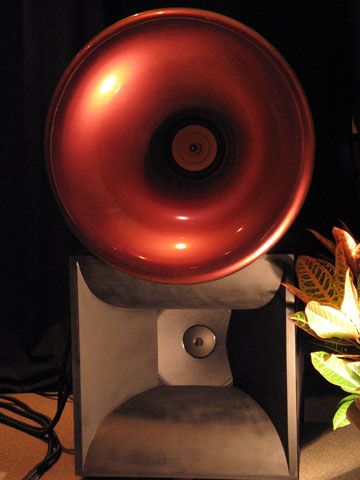 Ron Welborne of Welborne Labs was the Marketing Director for VSAC 2003, and helped greatly to make this show the success that it was. Ron was exhibiting a system built around a pair of stunning Oris horns, reproducing some very nice sound from both LP and CD.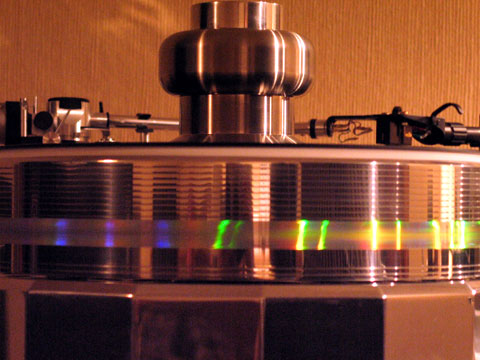 Here's another Redpoint turntable sporting two arms in the Bent Audio room. A spectral analysis of the atmosphere in a typical VSAC room was demonstrated, reflecting the fact that the blues were being played, and that show-goers were green with envy over this gorgeous new vinyl spinner. Meanwhile, manufacturers of solid-state electronics were too yellow to show their sorry faces at VSAC.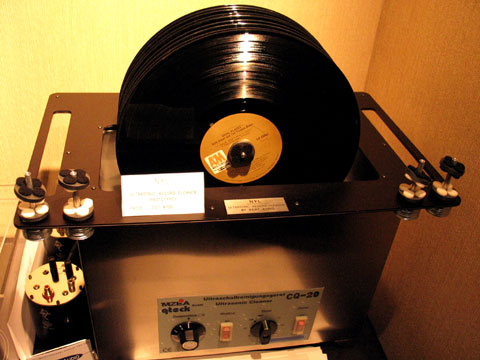 Another eye-popping product in the Bent Audio room was this prototype NYC ultrasonic record cleaning machine. Using sound to clean your sound seems somehow fitting, eh? Put your dogs at the other end of the house when you crank this baby up!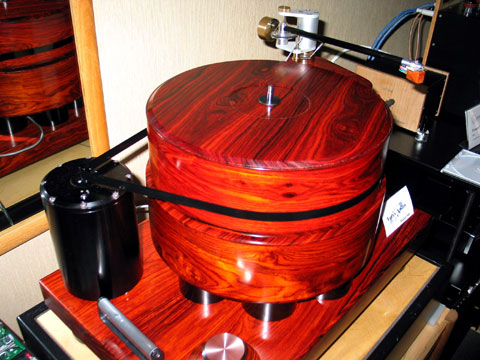 Sporting its own interpretation of the "Wood effect" was this symphony in cocobola by Teres. And no, it didn't sound grainy. (By the way, note the tonearm — it's magnetically suspended!!)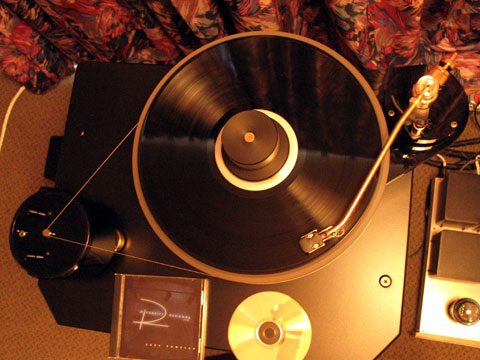 Hudson Audio Technologies was featuring the Eurolab Premiere turntable with Morch tonearm and Allearts phono cartridge. These are all products that deserve wider recognition within the US.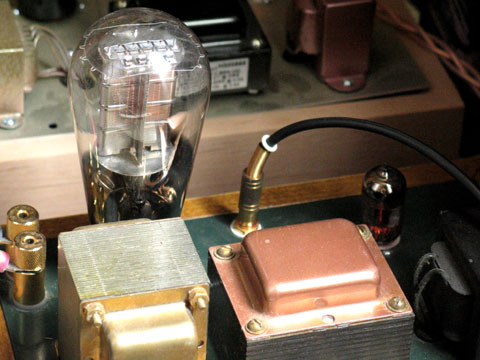 The 2A3-based amps in the Firefly Audio room were cranking out some nice tunes.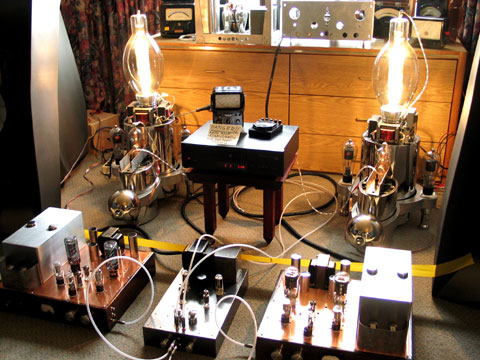 Josh Stippich of Electronluv was at it again, sporting a pair of monster amps that would make Thomas Edison drool.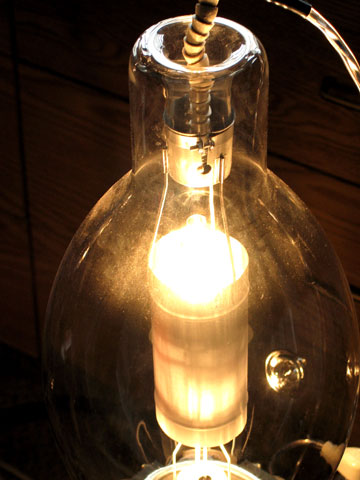 The pervasive glow from these GM-100 Russian transmitter tubes and the prominent "Danger" sign kept this reporter, who had several run-ins with 15 kV neon sign transformers as a mad kid scientist, at a respectable distance.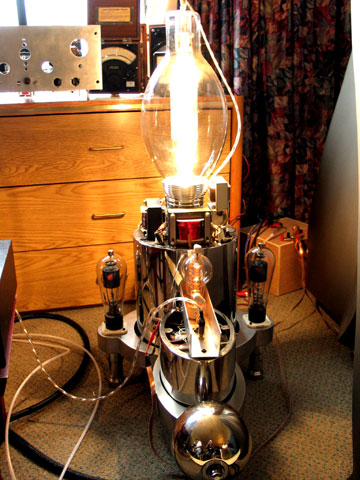 The sheer artistry and originality of Josh's work was evident — in spades!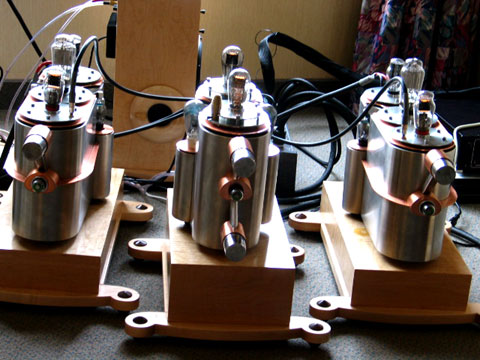 Meanwhile, next door more of Josh's amps were being put through their paces in the Cain & Cain room.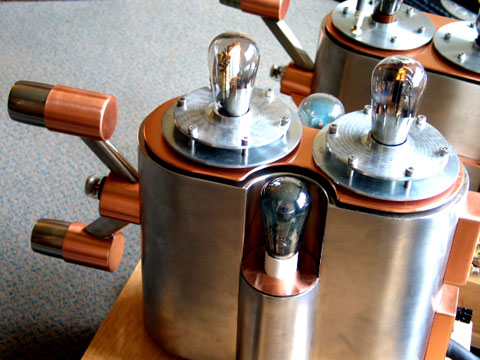 Another view of Josh's exquisite craftsmanship.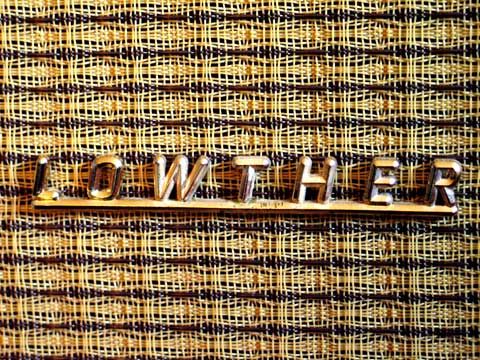 As you might expect, Lowther-based loudspeakers were much in evidence at the show. A pair of vintage Lowthers was spotted in the Lowther America room.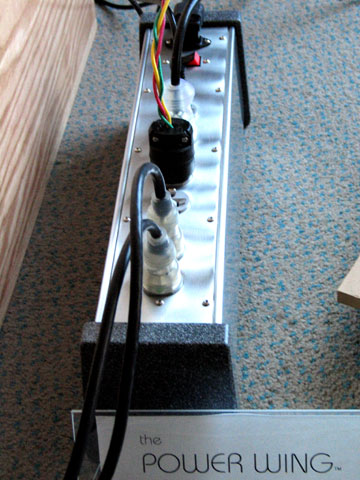 The Power Wing from Alan Kafton of audio excellence az is reportedly a truly excellent power line conditioner, and was being used in several rooms in the show.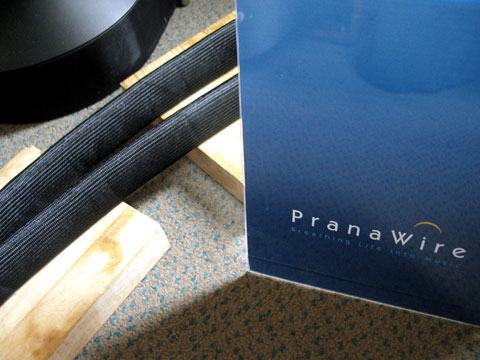 I missed getting a good shot of Joe Cohen of PranaWire, but did find his rather enormous cables prominently featured in the show and getting a good buzz.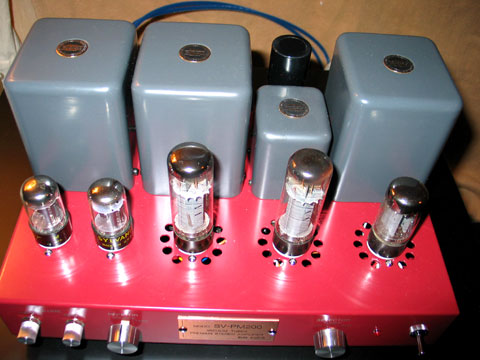 The Two Bald Guys Audio room was one of the best sounding in the show, and featured Sun Audio amplifiers.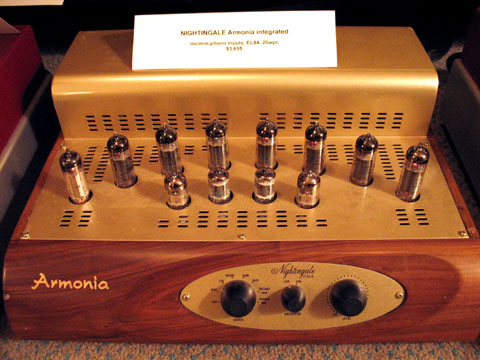 Amplifiers from Nightingale and Audion were featured in the O. S. Services room.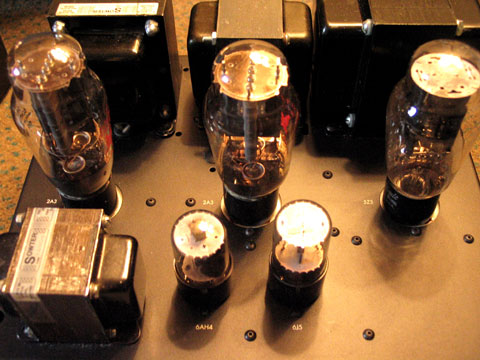 The Wright Sound room featured a dizzying array of designs from George Wright.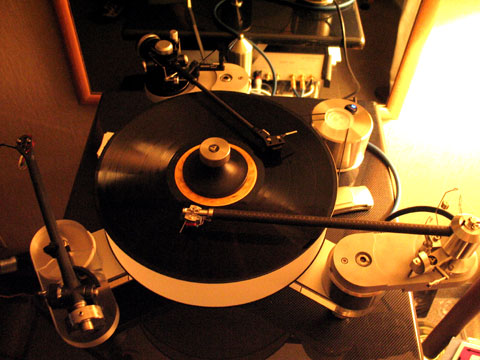 I experienced something in Garth Leerer's Musical Surroundings room that I have not had the pleasure of experiencing before. A Clearaudio turntable with three tonearms was set up, sporting a Benz LP cartridge, a Clearaudio Harmony Magnesium cartridge, and a third whose provenance I did not ascertain (this isn't my usual CES report, OK?). A remote-controlled preamp was being used, and the phono inputs could be switched at will. This is the way to audition phono cartridges! (Yes, the arms were different, but the differences I heard were clearly revealing of the distinctive "house" sound of the cartridges). My preference was for the brand I own. Thanks, Garth, for this ear-opening demo.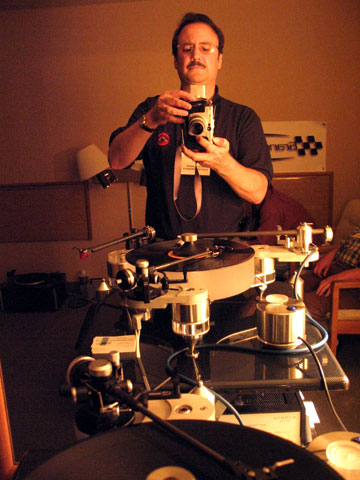 Here's a self-portrait of your author hard at work in Garth's room, struggling mightily to bring you the very latest in the audio state of the art. Or something.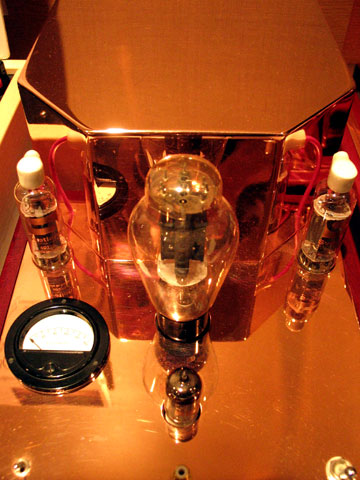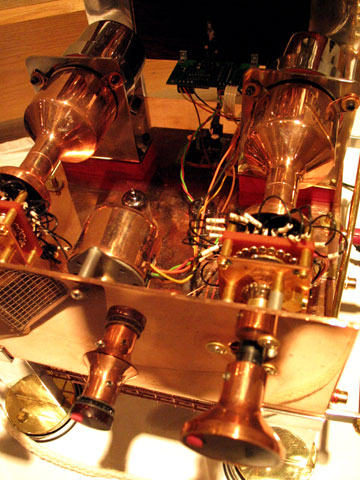 Efforts from the DIYers at the show were exhibited in the Craftsman Room. Above are two efforts that really caught my eye, done by some talented amateurs.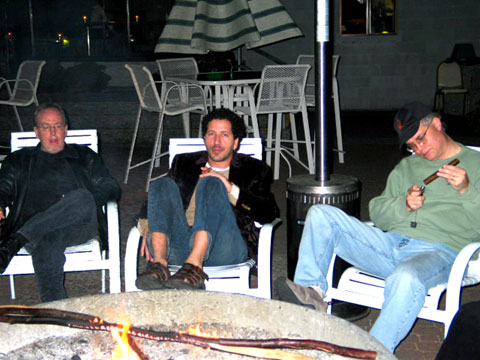 My trio of editors was found hard at work around the campfire one evening. From left to right are pictured Dave Clark, Steve Rochlin, and David Robinson, enjoying various personal vices. Who said size doesn't matter?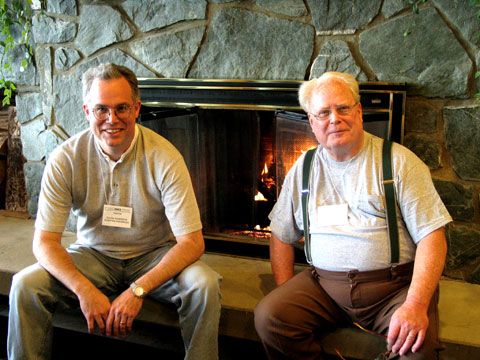 When finally it came time to bid adieu to old friends, I spied David Robinson and Stan Ricker warming themselves by another fire.
Farewell from VSAC 2003!