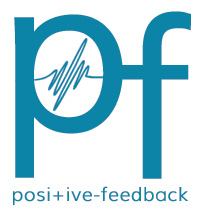 You are reading the older HTML site
Positive Feedback ISSUE 9

october/november 2003
VSAC 2003 - A Terrific Regional Fine Audio Show!
Photo Essay, Part I: The First Day
by David W. Robinson
(All photographs and image processing by Robinson)
Sometimes I'm amazed at how quickly time goes by. It wasn't that long ago that I was reporting about the Vacuum State of the Art Conference (VSAC) 2001, a regional fine audio show based in the Pacific Northwest. I had attended VSAC 1998 (which was the second iteration, as I recall), had an excellent time, and had reported very favorably on the event in Positive Feedback all the way back in Vol. 7, No. 6.
When an opportunity had presented itself to reprise that experience in September of 2001, I had no intention of missing out! Once more, Doc B. and the Bottlehead gang (http://www.bottlehead.com) had somehow managed to find the time to put VSAC together again, a feat of heavy lifting that I can appreciate all too well. The 2001 gathering turned out even better than 1998 had been, as I reported in Positive Feedback, Vol. 9, No. 3. Frankly, that show was one of the best times that I've ever had at an audio bash… I have nothing but fond memories of the people and the music that year.
So I was really pleased to hear that Doc B. and Ron Welborne of Welborne Labs (http://www.welborne.com) had teamed up to put VSAC on one more time at the same site as it had been in past: the Silverdale Hotel in Silverdale, Washington.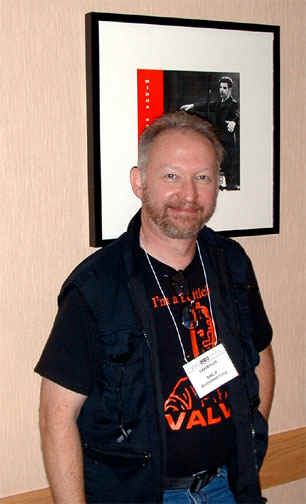 Dan Schmalle (AKA "Doc B.") of Bottlehead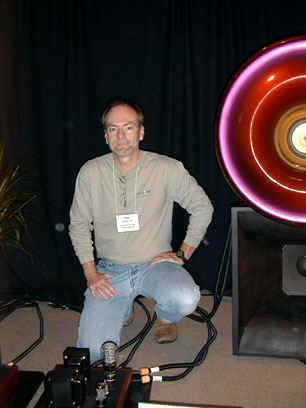 Ron Welborne of Welborne Labs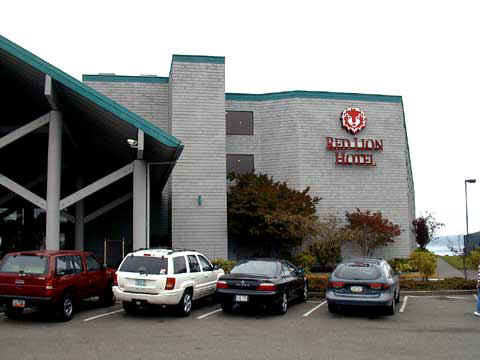 The Silverdale Red Lion Hotel, site of some bloody lively audio bashes!
Several of us with Positive Feedback Online decided that we absolutely had to attend: Dave Clark, Carol Clark, Dave Glackin, Stan Ricker and Roger S. Gordon all flew up from the LA area, and joined Lila Ritsema and yours truly to share the good times, and check out the new audio designs. We also knew that my good audiobuds Steve Rochlin of http://enjoythemusic.com and Srajan Ebaen of http://sixmoons.com were also planning to be there, and I had heard that another friend, Rod Morris of http://www.audioasylum.com, was going to show up as well. (I missed other very good friends like George Cardas, Mike Pappas, Rick Gardner, Ed Meitner, and Scott Frankland this time 'round; here's hoping that they are able to make it next time!)
VSAC is about the people, great food and drink, choice cigars, and enjoying your friends just as much as it is about fine audio—which is the way things should be, I think.
And the fun started right after we arrived on Friday, October 3, our first day there…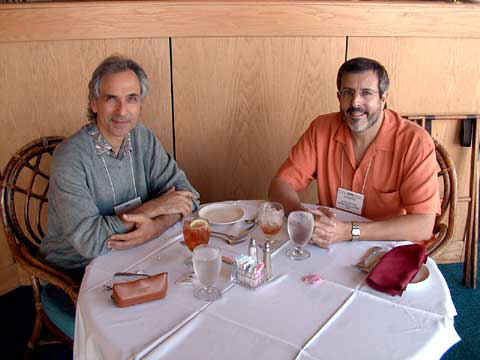 Joseph Cohen of PranaWire and Alan Kafton of Audio Excellence
Dave Glackin, Lila and I ran into Stan Ricker, Dave Clark and Carol Clark as soon as we walked into the lobby. After getting checked in, and it being late afternoon, we decided to head to the restaurant for a quick libation… and immediately encountered Joseph Cohen and Alan Kafton. We've known these fine gents for a long time… so we had a table next to theirs, and proceeded to get into the "good times groove" immediately!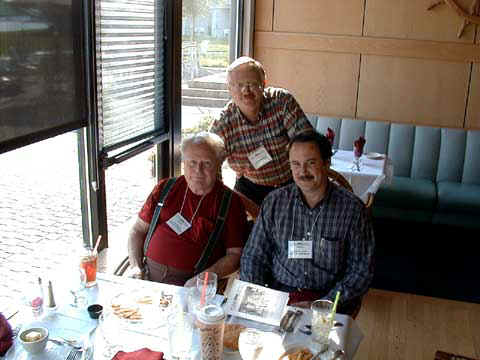 Stan Ricker, Roger Gordon, and Dave Glackin of Positive Feedback Online — great friends, all…
After finishing a quick bite, and before we went outside for the evening festivities, the group of us grabbed a few "in between" minutes, went upstairs to the third floor, and squeezed in an advance peek at the first open room we came to: the Lowther America/Experience Music/Redpoint Audio room. (It was irresistible; I couldn't see snagging an adult beverage without just one look at some of the great equipment that I knew just had to be hiding. I was right; it was.)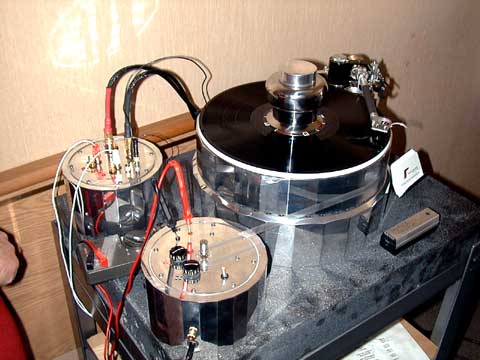 Peter Clark's Red Point turntable—a real work of art!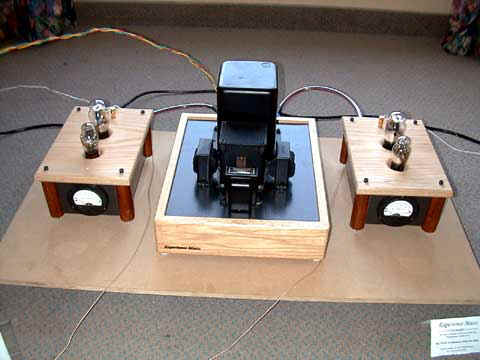 The Experience Music Amplifer setup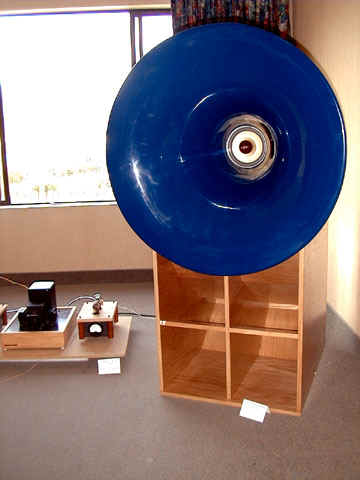 Now that, my friends, is a Lowther horn! And frankly, this Lowther sounded better than any Lowther that I've ever heard: deep, clean, dynamic… and no evidence of honkiness with the Experience Music amps.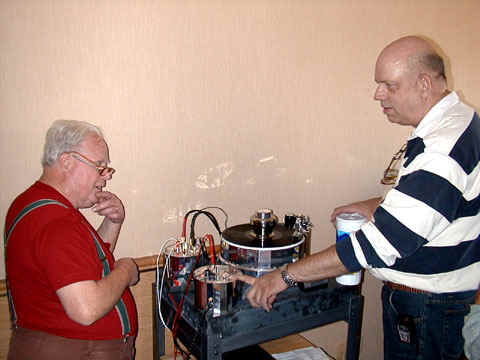 Stan Ricker (left) checks out notes from Redpoint's designer, Peter Clark (right). Note the hefty record clamp… don't drop that on your foot!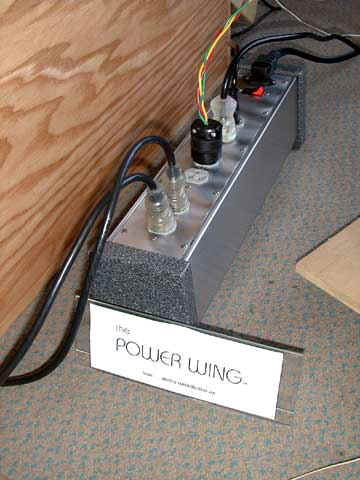 Power conditioning was provided by audio excellence's Power Wing; the sound was clean and detailed in this room, and in the other rooms that the Wing was used.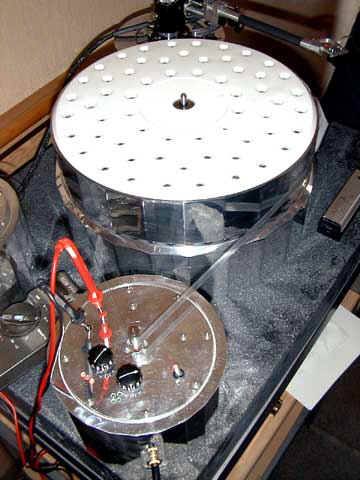 The innovative Redpoint platter: A Teflon platter with oil and shot on Aluminum substrata and mount… dig the multi-faceted design and the broad drive band! Very cool…and it sounded great. (Perhaps work like this will shake some of the lethargy out of fine turntable manufacturing; some of the established firms are sleepwalking!)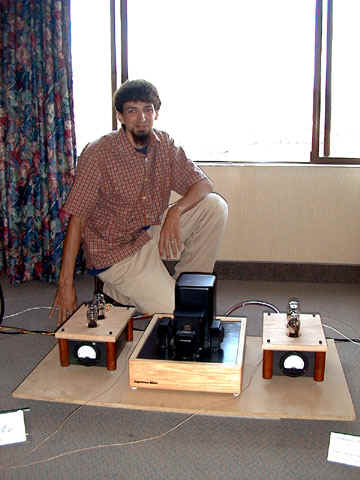 Jeffrey Jackson of Experience Music—a great fellow, and passionate about SETs. The world could use more of that!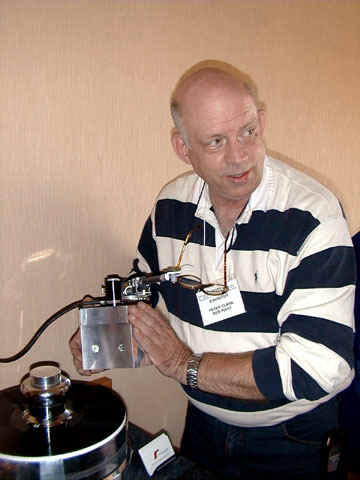 Peter Clark demonstrates his innovative arm pod…no attachment needed! Want to have two or three tone arms and cartridges available whenever you like? No problem! 9", 10", 12" tonearms… heck, go for it, eh?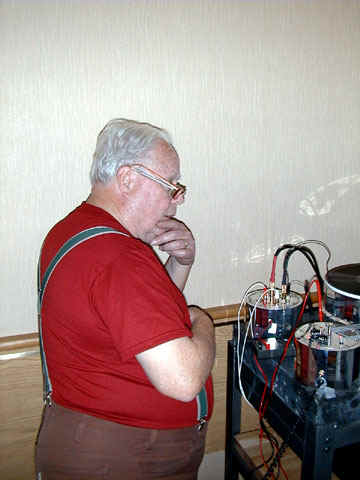 …all of which left Stan "The Man!" Ricker pretty impressed….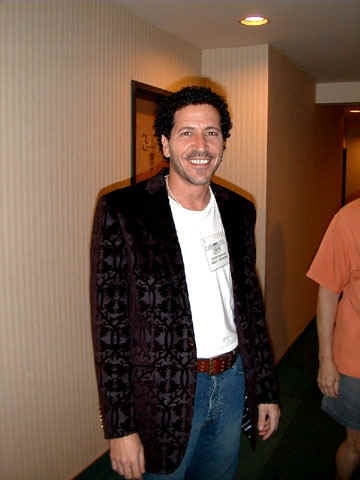 On our way out, we ran into our good audiobud and lover of fine cigars and great cars, Steve Rochlin, editor of enjoythemusic.com… a great guy! And that is definitely a spiffy looking smoking jacket, my man!
Naturally, all this gear gandering left us a bit thirsty and ready to sit down…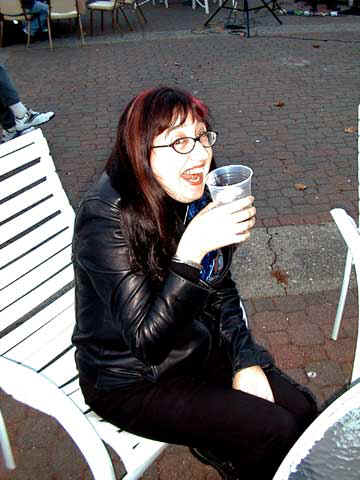 Carol Clark of PFO shows off her microbrewski technique! Ongawa!
…which meant going out onto the back patio overlooking Puget Sound, having a few drinks, and meeting friends. Doc B. and Ron had arranged for some live music… a good three-piece blues group…who served up some very decent tunes.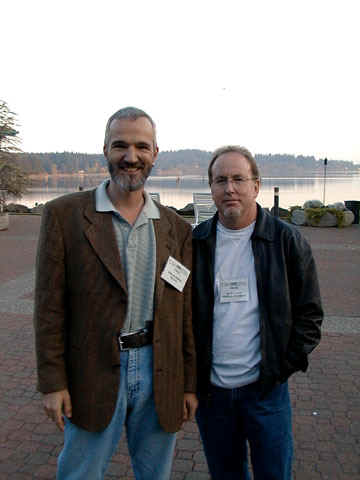 Srajan Ebaen of http://www.sixmoons.com and Dave Clark of PFO on the back patio. (Yep, this is how they look before they've had a few drinks!)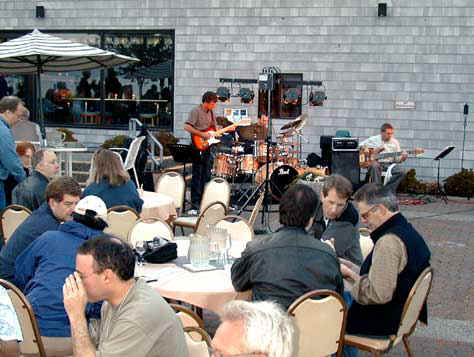 …while audio lovers gather!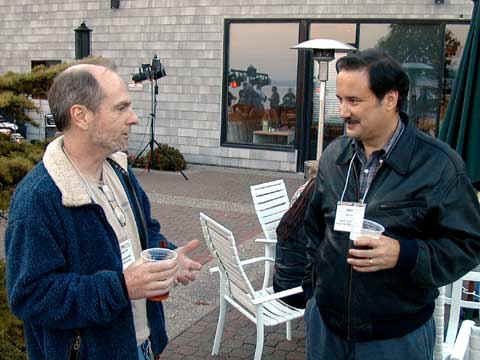 Ron Welborne and Dave Glackin converse over some fine Alaskan Amber.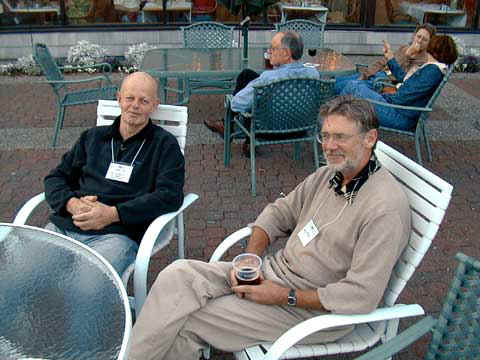 Allen Wright of Vacuum State Electronics (left) and an unidentified 'phile taking it easy…
After listening to music for a while, the PFO gang, enjoythemusic.com, and sixmoons.com decided to duck out early for dinner at our local "surf and turf" restaurant. This is what fine audio shows are really about: getting together with people who care passionately about music and audio reproduction.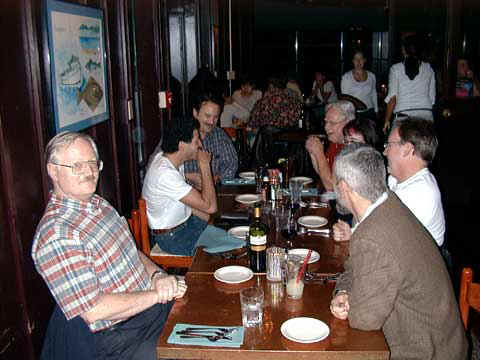 Chow time! From left to right at our table: Roger S. Gordon, Steve Rochlin, Dave Glackin, Stan Ricker, Carol Clark, Dave Clark, and Srajan Ebaen.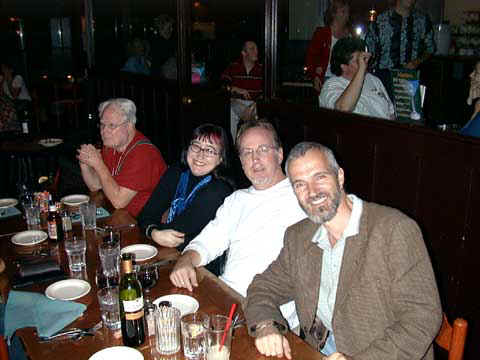 Stan Ricker, Carol Clark, Dave Clark, and Srajan Ebaen… good times a-plenty at VSAC!
After a late cigar, we went to bed early; Saturday was going to be a long day….
(Stay tuned.)