The Flying Mole Digital Amplifier
If moles can't fly, then, how about an audiophile quality amplifier that weighs less than 2 lbs.? That's the concept of Flying Mole Amplifiers. Trying to make something that nobody has done before... as in moles being able to fly. When Y. Sasahara and a few other veteran engineers took early retirement from well-known audio giants, that became the theme for establishing Flying Mole Corporation in Hamamatsu, Japan. Their first goal was to make a digital amplifier that not only sounded hi-end but one that exemplified the new digital lifestyle market—compact, lightweight, portable, and efficient—as in cell phones, PDAs, MP3s, etc.
Indications are that they have succeeded. Several recent reviews attest to this fact.
Elements of Flying Mole's Proprietary Circuitry (APS-M160IIG)
Bi-Phase Fusion Technology: Fully integrated power supply and amplifier sections resulting in extreme efficiency (85%) eliminating cooling requirements while enabling size and weight reduction of components using only custom developed ICs.
Dual Negative Feedback: Real-time negative feedback circuits applied to both analog and digital stages, before and after the low-pass filter, to virtually eliminate voltage fluctuations from the power supply resulting in high-fidelity sound and low distortion.
Bi-Phase Pulse Width Modulation: PWM signal is converted into two opposing phase signals (+ & -), then the two waveform signals are compared and corrected, overcoming square waveform to become rounded, thereby, reducing distortion in the analog output.
Proprietary Switching Power Supply: The Flying Mole Power Supply alone is unique:
Built-in Line Filter - removes common mode noise of AC power lines

Rush Current Limiter Relay - prevents excessive rush current

200 kHz Switching - ultra high frequency allows miniaturization of key components

Auto Control Full Resonance Type - significantly reduces electrostatic noise and electromagnetic radiation

Synchronous Rectifier - minimizes rectification loss, achieving low noise and high efficiency

Floating Power Supply - prevents the problem of excessive power voltage increases
In essence, it could be said that Flying Mole Amplifiers have eliminated the weaknesses of traditional digital amplifiers while maintaining the compact, lightweight and efficient qualities of new 21st Century digital products.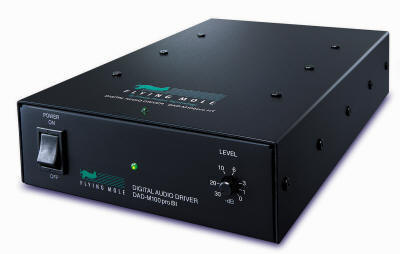 The Mono-Block Digital Audio Driver (DAD-M100pro) MSRP $500 ea
At less than 6" x 10" x 2" and weighing slightly less than 1.5 lbs., this "miraculous miniature" will drive most 4 - 8 ohm speakers with characteristics of amplifiers costing not only hundreds but thousands more. Rated at 100W @ 8ohms, THD 0.03% at 1 kHz 50 Watts, with residual noise of 25uV (400Hz - 30kHz BPF), while using a mere 20 Watts of AC Power, there is simply no competition (for more complete specifications, try http://www.flyingmoleelectronics.com/products/m100proseries.html), currently stocked in HT (RCA in, 4mm Binding Posts out) or BB (XLR Balanced in, Binding Posts out), other input and output terminals can be special ordered with the factory.


Ideal Usages:
Hide next to your speakers or in your cabinet - make people wonder where the amp is.

Mount directly on your speaker with our optional L-brackets (M100-1L)

Put up to 3 amps on our 1u rack mounting (M100-1u) or up to 8 amps vertically

Bi-amp your hi-end speakers for more power and definition

Shorten your speaker wires, run your audio line directly to your speakers

Make your own portable, audiophile quality system, light and compact

Think of the expansion possibilities, develop multi-channel capabilities with ease

Add power and definition by bypassing your processor/multi-channel amplifiers
Two Easy Ways to Order:
1. For a 15-Day Trial of the DAD-M100 in either HT or BB, log on to: http://store.flyingmoleelectronics.com/dadm100pro.html
2. Or email us at info@flyingmoleelectronics.com for a special rate as Positive Feedback Online readers or just call us at (310) 787-7280 and mention you read us on Positive Feedback Online.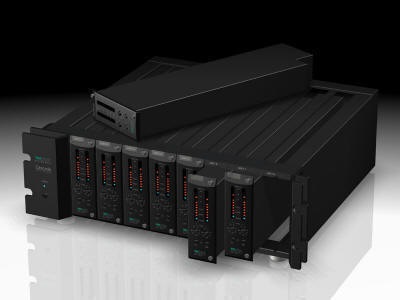 The Cascade Multi-Channel Series from Flying Mole
As a 2004 CES Innovations Award Winner, the Cascade Series is another innovative product from Flying Mole that offers up to 16 channels of audiophile quality performance. The 3u rack mount or stand-alone unit has 8 spaces where modules can be inserted and is powered by one AC outlet embedded in the Chassis/Power Distributor (DPA-M1600).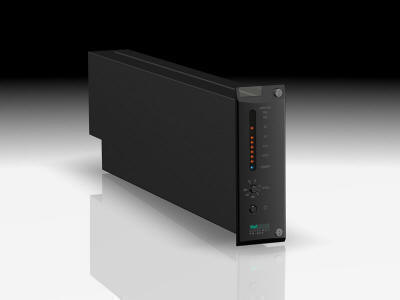 The Modules are currently available in two formats:
PM-162d - 2ch x 100W@8ohms in HT (RCA input with dual-binding post outputs) or in BI (Balanced XLR input with SPEAKON speaker outputs)

PM-301d - 1ch x 300W@8ohms in HT or BI (as above)
MSRP of either module is $850 each.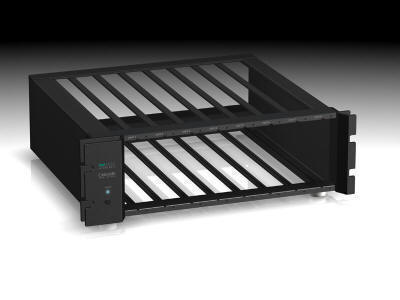 DPA-M1600 - Chassis/Power Distributor (EIA 19 in., 3u rack mount, 18.5 in. depth)
MSRP: $ 950
The technical breakthroughs and proprietary technologies used in the DAD-M100pro are identical in the modules that make up the Cascade Series. Thus, audiophile quality performance in a multi-channel system along with an upgradeable or expandable format is the heart of the Cascade modules. For example, want a high performance system in the 3u rack... think about it, a full 7.1 channel home theater system with 2.4K Watts (8ch x 300W) of power can be yours for less than $7,000!!
For further info, please log to: http://www.flyingmoleelectronics.com/products/cascadeseries.html
And for purchasing on-line, log on to: http://store.flyingmoleelectronics.com/dddm.html
Or, email us at info@flyingmoleelectronics.com for a special rate as Positive-Feedback readers or just call us at (310) 787-7280 and mention you read us on P-F.
The Future for Flying Mole
OEM engineering for some major manufacturers in Japan has spearheaded our current developmental directions. Obviously, the low heat, efficiency, sound quality, and compact qualities of our amplifiers have made an impact in incorporating our circuit boards into their equipment. However, in the next few months, we will complete engineering of our new amplifier boards in 50, 300, and 500 Watt power ratings, maintaining the same characteristics of our now proven 100 Watt board. The plan is to expand our product breadth using these new boards into a variety of products aimed at the audiophile and home theater enthusiast as well as for use in the custom and commercial installation market.
U.S. Office

Flying Mole Electronics Corp.
1872 Del Amo Blvd., #B
Torrance, CA 90501
TEL: (310) 787-7280
FAX: (310) 787-7380
web address: www.flyingmoleelectronics.com

Japan HQ

Flying Mole Corporation
Waji-cho, 5199-1, Hamamatsu
Shizuoka, 431-1115, Japan
TEL: 81-53-486-6030
FAX: 81-53-486-6033
web address: www.flyingmole.co.jp