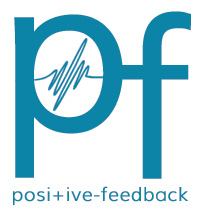 You are reading the older HTML site
Positive Feedback ISSUE
10

october/november 2003
The Higher End: Announcing the Premiere of the Brutus Awards and the Gizmo Award, part 2.
by Dave Clark
I would like to thank all of our readers, who for the past year and half, have allowed PFO to grow from an initial 34,000 readers into a webzine that now averages a readership of well over 90K a month—and growing! We are continually working to make PFO a better place for the audiophile and music lover to visit—your thoughts and opinions are always welcome.
Okay so on to the awards. Hopefully you have already read David Robinson's list and the idea behind the Brutus and Gizmo awards, but if not, let me quote from DR the man:
We at Positive Feedback Online are going to have two main categories of annual awards. The first will be our Brutus Award. This will be recognition given to "the best and the brightest" products that we have experienced in various categories in a given year. In hardware, these will range from "best bang for the buck" to "the best period, and hang the expense!" designs. In recordings, we'll be paying tribute to the best that we've found in various formats. In addition, we'll have a "Lifetime Achievement Award" that will recognize individuals whose contributions to fine audio in various respects has been both superior and sustained.
All products that are so recognized by PFO will be work that has been reviewed by us personally; no design will be recognized that we do not have experience with in our listening rooms. This means that you, our readers, may disagree with our selections, wondering why this or that component, recording or individual was not mentioned. Quite apart from differences in taste/opinion, the answer is simple: we won't be mentioning any design that we haven't spent time with in our own listening rooms. If a product does not win a Brutus Award in a given category, this does not signify lack of merit—we just may not have gotten to work with it. You're certainly welcome to write to us and bring worthy components to our attention."
Long-time readers of PF and PFO know that Harvey Rosenberg (AKA "Gizmo") was a close friend of mine, and a valued member of the PF writing community for a number of years. His untimely death a couple of years ago was a real blow to fine audio, the loss of a uniquely creative writer. In Harvey's memory, we have created an annual award that (like Harvey!) will be unique: a one-only-per-year recognition of a person/design that is surfing the edge of audiomania, going all-out to push the frontiers of fine audio. There will be no multiples of this prize…no hard-and-fast categories…and if nobody floats our boat in a given year, it won't be awarded.
Hence the new award: the Gizmo.
Terry Cain, a good friend of Gizmo, a gifted designer in his own right, and a long-time acquaintance of PFO, is working up a brief article to explain the meaning of the Gizmo Award. He's done an excellent job of summarizing what we want to do with this award, so see Gizmo.
I will concur with David as to individuals named for the lifetime achievement awards, as his list includes those who have, for many a year, been instrumental in either advancing the audio arts or at the very least, getting the art a 'moving. But to his list I would like to add the oh-so debonair Alan Kafton who has shown a never-tiring exuberance for promoting and championing the industry and its participants. I would also like to thank Alan for bringing David and I together, for without his intervention, PFO, or more specifically the merging of Positive Feedback and audiomusings might never had become a reality. Thanks Alan!
The awards for 2003
Electronics: Cary Audio 211 Anniversary Edition, and Final Labs Music 5 preamplifier and Music 6 amplifier. Both for showing how things can be done when one is out to make a real difference—and not just another me-too product. Either of these will bring a shit-eating grin to your face as they are my clear favorites in terms of sheer fun! See Final Labs for more.
Analog: The Sutherland PhD. Another, "Why didn't someone do this before" product. Easy to use and no hassle with AC! Heck it even sounds good too! Runners up would include the E.A.R. 324 and Art Audio Vinyl Reference—two different phono-stages that get you there but from different perspectives!
Cables: Prana Wire Nataraja interconnects and Audio Magic Clairvoyant 4D interconnects and speaker cables. Again two vastly different approaches to the same idea, but with the same results—beautiful music. Neither is inexpensive, but you clearly get your monies worth with what you hear from either cable, though each will impart the designer's "idea" as to what a cable should sound like—neither wrong, just different. See Prana and Audio Magic for more.
Powerline conditioning: World Power's Power Wing and Audio Magic's Stealth Power Purifiers. The Power Wing, for an elegant and thoroughly thought-out design that leaves nothing to chance, and the Stealth, while coming from a slightly different mindset, for simply getting my system that much closer to where I think it should be—meaning are we ever really happy!? See Audio Magic and World Power for more.
Biggest Bang for the Buck
Shakti Hallographs – if you are serious about getting the best from your system and room, you got to have a pair of these. Not voodoo or snake oil, just reality! They work and if you are not treating the room as part of the system, you are not anywhere close to where you could be in terms of hearing what your system can sound like! See Hallographs for more. See Shakti for more.
Marigo Audio VTS Tuning Dots – want to hear what a component can really sounds like? A no brainer and if they don't work for you, you can get you money back! Try them on speakers to get for a way more open and transparent sound. See Marigo Dots and More Dots for more.
ERS paper – fun, fun, fun! Cheap and easy too!
Bybee Quantum Purifiers – gets you oh-so-closer to the music and not the noise. See Bybee for more.
Townshend Audio 2D and 3D Sinks – a clever approach to isolation that has yet to not make a serious improvement—not just a difference—to any component they sit under, especially speakers!
Eichman Bullet RCA phono-plugs – simple and obvious. A next-generation to cable connection while not being just a rehash of what's already going on!