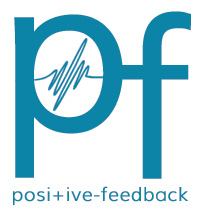 You are reading the older HTML site
Positive Feedback ISSUE
11

january/february 2004
2004 CES "blur" of a show... Part 2 of many to come!
by Dave and Carol Clark
Page 2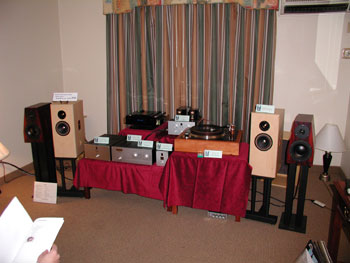 Kondo Audio Note of Japan. Not the best display, but nice to see at CES!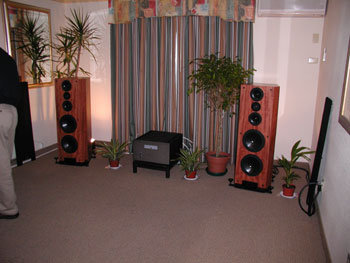 PBN showing their electronics and speakers.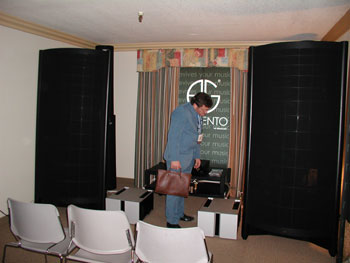 The Argento Audio cabling and Vitus electronics with some rather large Sound Labs sounding big and tall. Hear-through and transparent as all get out! The Vitus stuff is really gorgeous.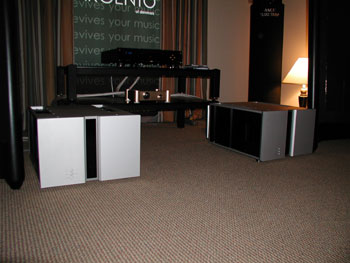 The Vitus SM-100 amplifiers ($45,000)!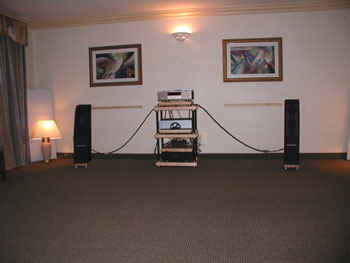 The new Gallo Reference III sounded rather, well... not what I expected at all. I expected a much bigger speaker as one sees in the literature and found the Reference to be a bit smaller in stature. even so, they sounded big and musical. Real killer product that should put Gallo over the top!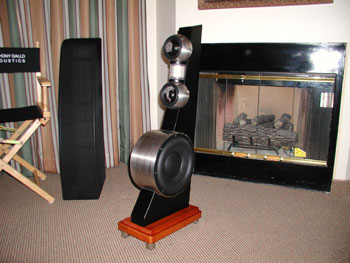 The Reference III at $2599 standing a little over 3 feet tall.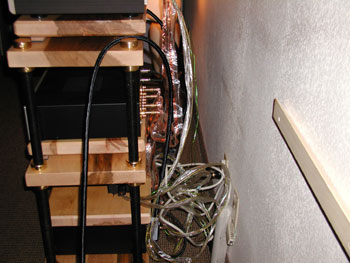 A snake infestation of cables in the Gallo room.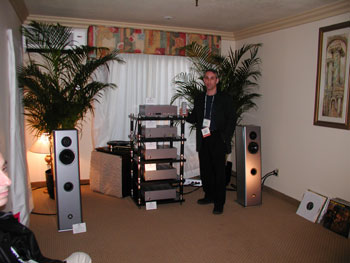 Brian Ackerman of Artistic Audio with a very musical Ensemble system.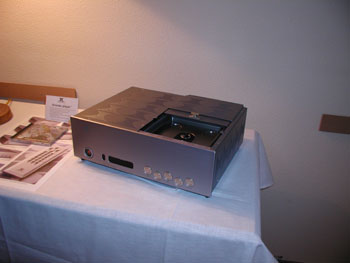 The new Ensemble CD player—pushing the enveople in terms of design and price ($10K).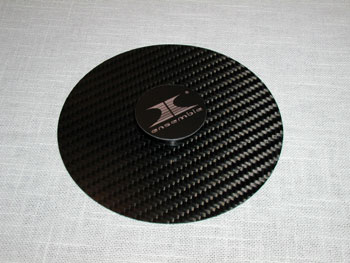 Cool carbon-fiber CD "mat" for the Ensemble CD player.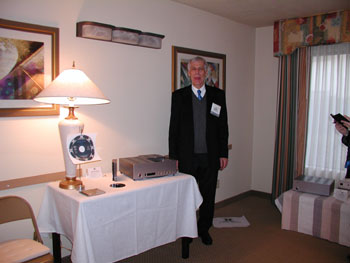 Urs Wagner of Ensemble as a proud papa.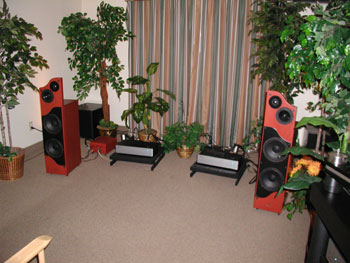 The Herron room sounded like it usually has in the past—really wonderful. Keith always seems to pull it altogether and has a very musical and relaxing room. The Alons were found in many a good room as well—gee I wonder if there is a connection here?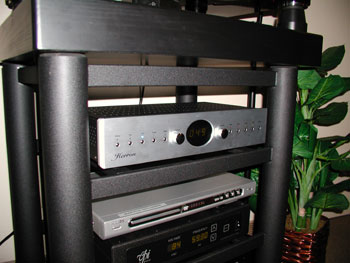 The new Herron preamplifier. Really sweet!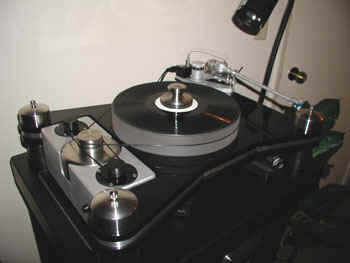 A big VPI spinning vinyl.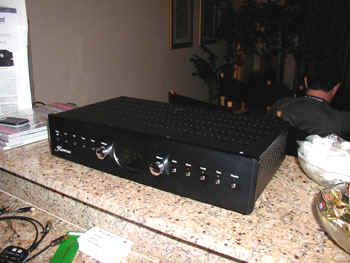 The Herron preamplifier in black and below, with the tubes! The preamplifier comes either as in your choice—solid state or vacuum.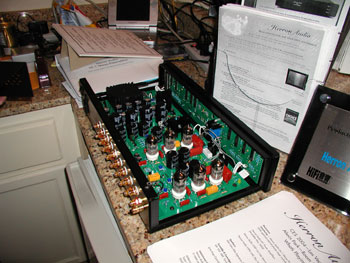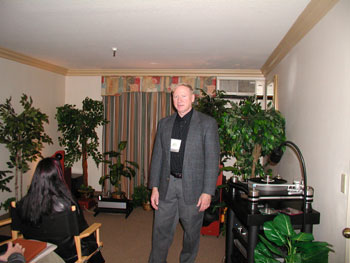 Keith Herron himself.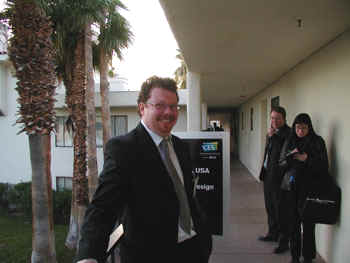 Leif Olofsson of Marten Design—what a nice guy too! Get the right spelling Carol!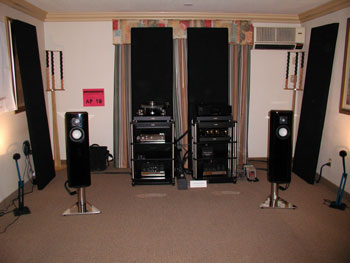 The E.A.R. and Marten Design room with the new Coltrane Altos ($22,000/pair) sounded fast and clean with a much bigger and robust sound than one would expect from a three-way speaker. Cabling is from Jorma Design ($6500 for speakers and $2500 for interconnects—which is pushing the price barrier a bit!). Also in residence was the Power Wing from World Power and plenty of Shakti Hallographs to address room issues.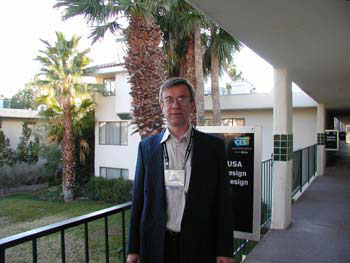 Jorma Koski of Jorma Design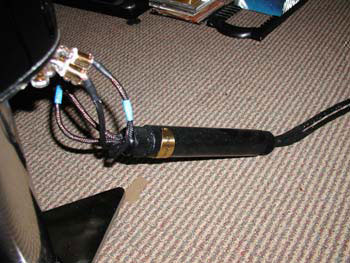 The speaker cables with the secret module—can you say Bybee?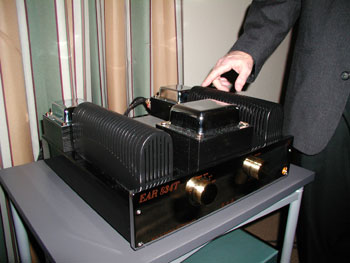 The new E.A.R. 834T integrated amplifier that features a tube input, but a transistor output ($3595).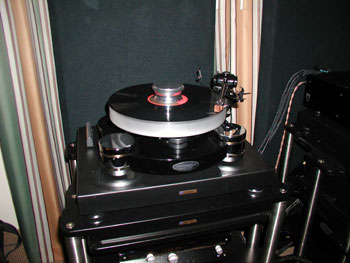 The Origin Live Sovereign table with a Koetsu Rosewood cartridge.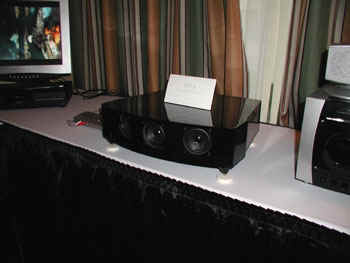 Bubble sound from Kentech. Really neat sounding surround from one speaker for well under $200!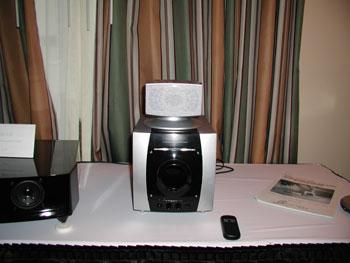 Another Kentech speaker, coming soon to a Radio Shack near you. Killer sound for a gamers!