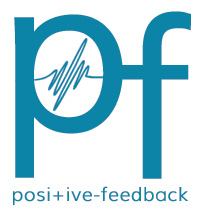 You are reading the older HTML site
Positive Feedback ISSUE 15
september/october 2004
Rocky Mountain Audio Fest 2004 - A Photo Report, Part 2
by Dave and Carol Clark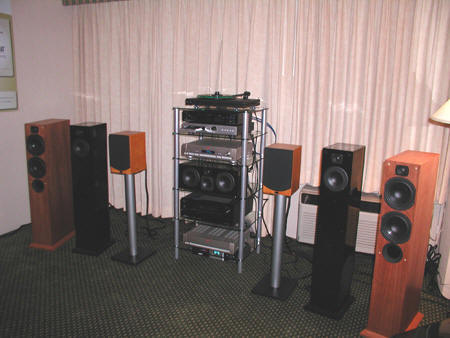 Aperion Audio, new company selling direct to the consumer, showed their very affordable line of high quality/biggest bang for the buck speakers (the stand units sell for $180 each and sounded like they should be at least twice the price). When one considers that for under $1k you can have a complete HT system that is both musical and while going BOOM with your choice of video nirvana, this is the way to go if you are looking to go the HT route without going into debt. Small room for stereo? Office system? Son or daughter off to college? A no brainer!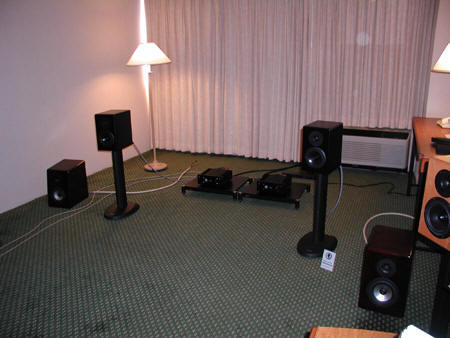 The Roan Audio room showed of their speakers with Monarchy Audio amplifiers. The system sounded nice though I was not able to get pricing (their site is not quite ready as well).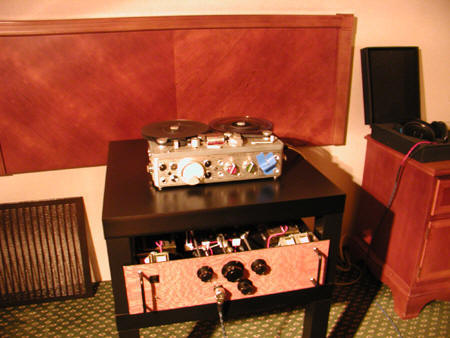 Doc B. showed off his new foray into the world of serious headphone listening with a prototype amplifier being feed by a Nagra tape unit. Really cool, but not for the faint of heart. The presentation left little to find fault with—the music was just there!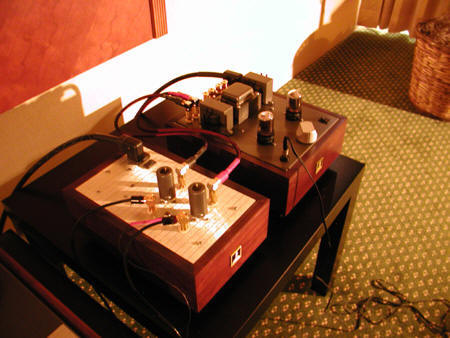 More from Doc B. in terms of headphone amplifiers.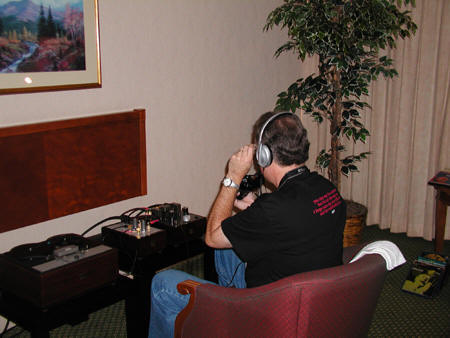 David R. seeing the truth within the tape.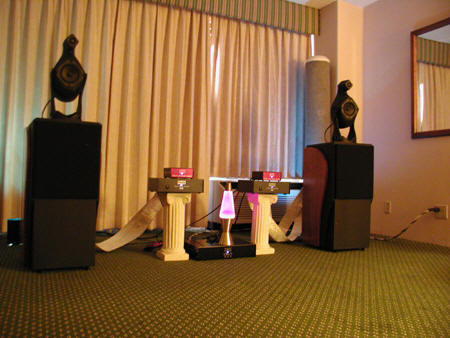 Green Mountain showed their stellar Continuum 3 speakers with the new Stealth 250 digital amps from Audio Magic (see the review in this issue). Audio Magic used their Clairvoyant cabling throughout, as well as enough XXX and Eclipse filtration units to clean-up the whole hotel. The music was very, very nice in this room—coming across as clean, dynamic, and utterly musical without a hint of harshness aor edge. Really a great sound! On Sunday I heard the new Callisto speakers from Green Mountain and they were a real eye opener—tons of music from a smallish stand-mounted speaker.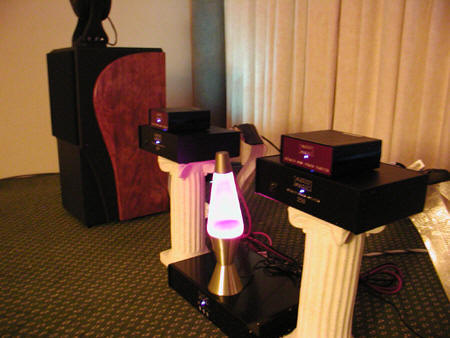 Groovy.... and they played Lambchop! Now that is really cool!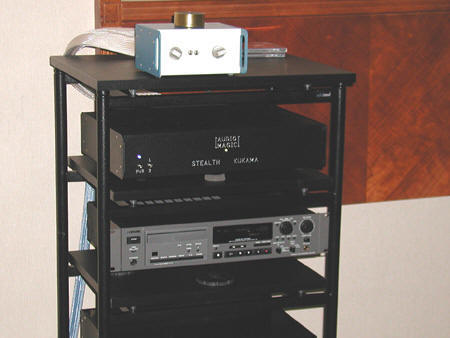 The Audio Magic Kukuma DAC and passive preamp.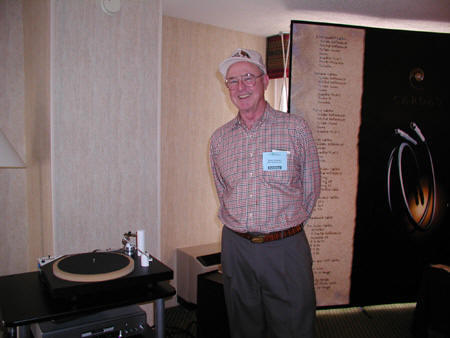 William Firebaugh with his new table (as in Firebaugh of Well Tempered). The table features everything he has learned from his past designs and is expected to retail for under $1k.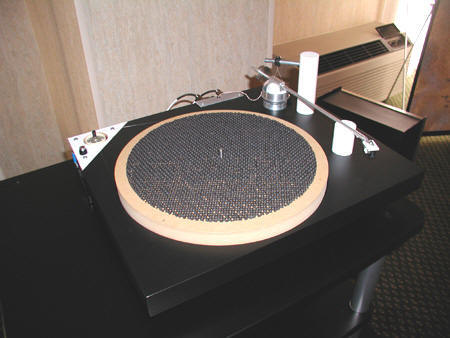 A close-up of the table.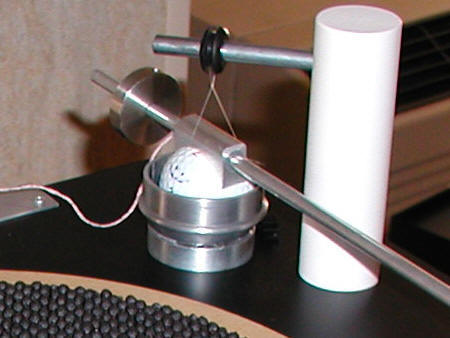 A real close-up of the arm. Golf ball included. A really novel design that adds a bit of fancy and humor while being sound in its approach. William was a hoot to talk to as well!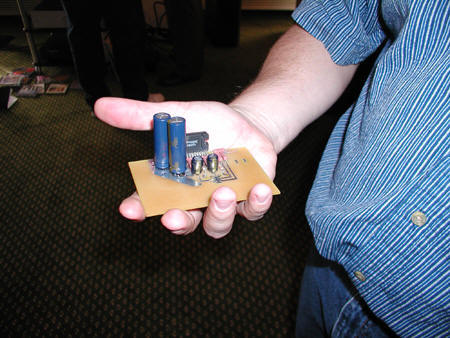 Kevin Haskins of DIYcable with his new amplifier. Really cool, literally! Funny thing is, our room was right next to their room. Late one night we could easily hear them in their room talking and listening to music. It was at this point that Carol and I realized that if we could hear them... then they could hear us! Uh.... Carol? We better find something else to do...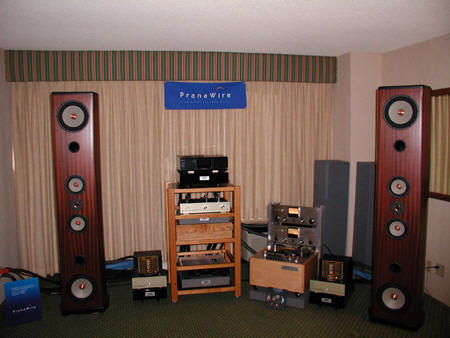 The deHavilland room showed their usual line of great sounding amplifiers and preamplifiers with some of the bigger speakers at the show. These are the Tyler Woodmere Ultimate loudspeakers and while big, they never seemed to overpower the room. I did feel that being further back (in a bigger room) would have allowed the drivers to integrate better, but hey, it is a show and sometimes things are just the way they are. Prana Wire held everything together and did so quite well.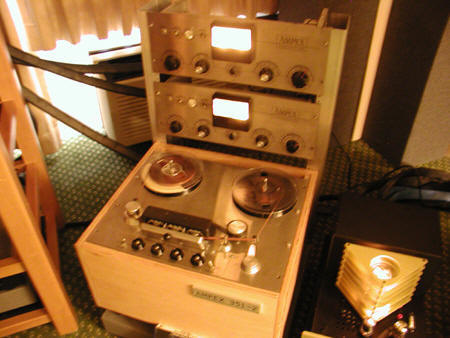 Ahhhh... a real tape machine.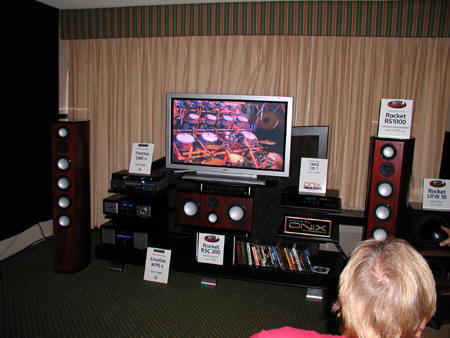 The AV123 room had some excellent, but way inexpensive products that came across as another big bang-for-the-buck. Sounded great with the video tracks they showed and another way to get great sound for an HT set-up without going too crazy.