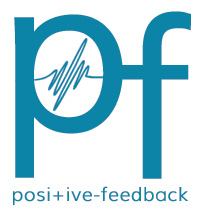 You are reading the older HTML site
Positive Feedback ISSUE 16
november/december 2004
Rocky Mountain Audio Fest: Photo Essay, Part 2 (page 2)
by David W. Robinson
All show photographs and image processing by Robinson.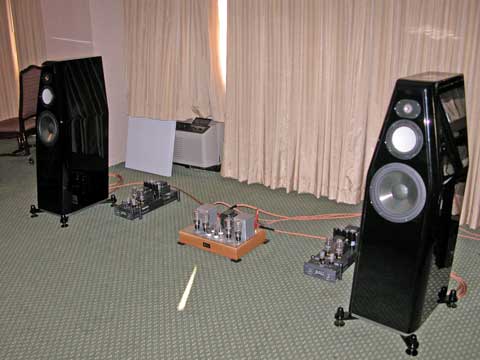 In this neck of the woods was the Kharma/Manley/Nola/Alon/Colorado Audiophile Sound and Design room. I always enjoy Kharmas… they are exceptional speakers… Manley's are always scrumptious...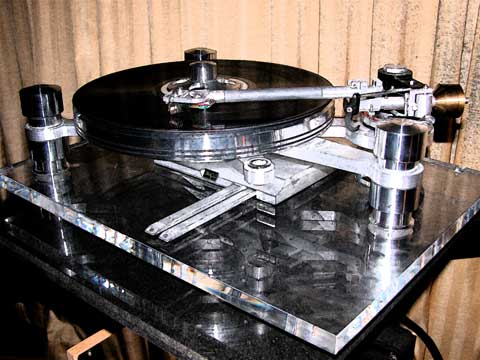 …and with an Oracle turntable with Triplanar tonearm feeding the signal, this was one of the better-sounding rooms, for sure.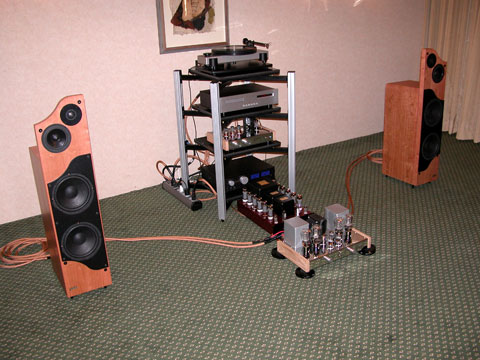 Next door, a beautiful Cary Audio stack was feeding some Alons. To be quite frank, the Alons have never done much of anything for me; nevertheless, I was impressed with the improvement that the Cary gear brought to them.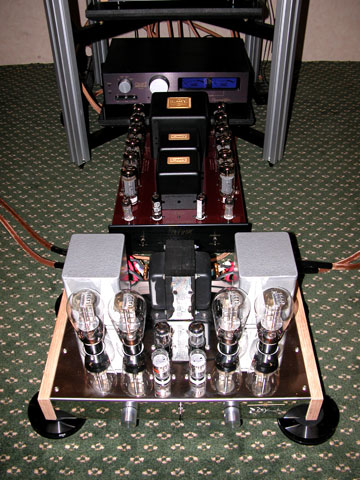 And how can you not like kit that looks like this, eh?! Pretty hard to argue with Cary Audio on parade!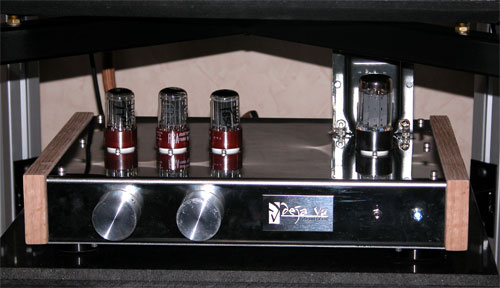 Also on the rack: a Déjà vu preamp, classic and clean looking.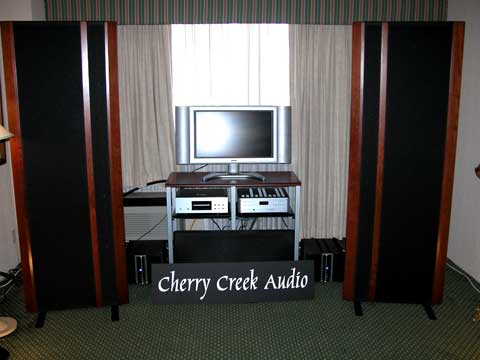 There were also some bigger, well known names at the RMAF. The Cherry Creek Audio room featured Krell, Theta and Wilson, for example.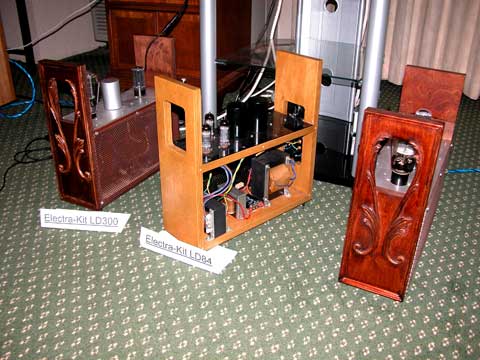 At the other end of the audio spectrum from the likes of Krell, Theta and Wilson were the ultra-retro DIY projects from our friends at Electra-Print. Wouldn't Gizmo have gotten a kick out of this!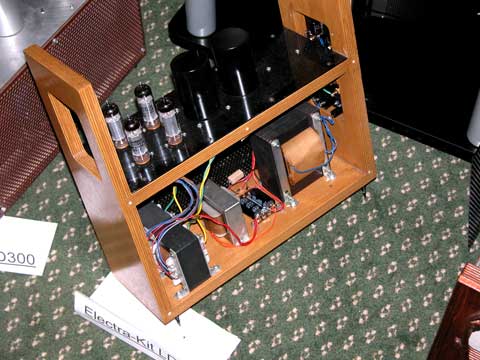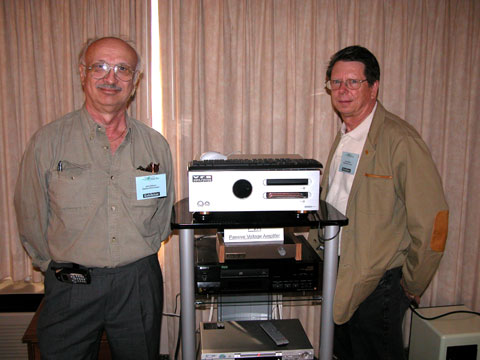 I got to chat for a moment with Jack Elliano and Ray Burford of Electra-Print. The Electra-Print gang are a bunch of real audio enthusiasts, with a pleasant pragmatism and some pretty intense engineering going on at the transformer level. Many thanks for some excellent designs, gents!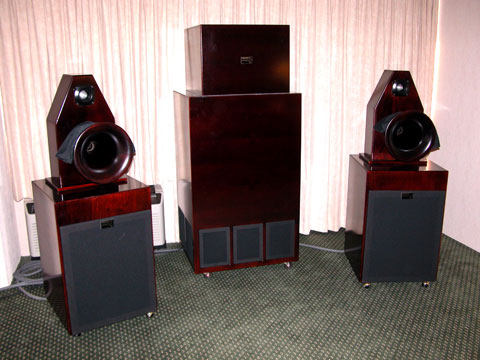 You can't miss these: a gaggle of Edgarhorns on display! The eminent and ever-friendly Dr. Bruce Edgar, subject of a long-past Positive Feedback cover (way back in Vol. 6, No. 5) was also ever-busy talking with listeners every time I was by, so I didn't get my usual chance of a portrait of this passionate and interesting audio designer. Next time, Bruce!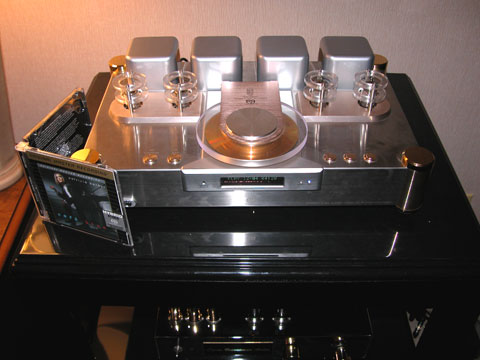 Also in the Edgarhorn/Cyrus Brenneman room was another work of fine audio beauty: the Shanling SCD-200 Valve SACD player. It's hard not to be attracted by the sheer appearance of the design.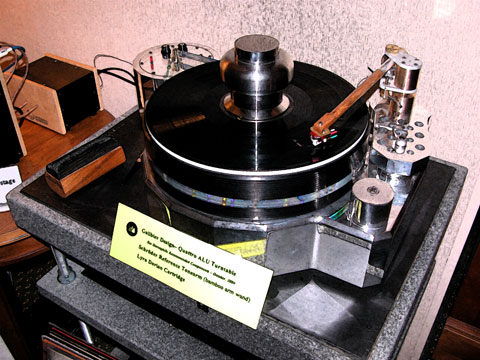 The next stop was in the Hagerman Technology/Galibier Design/The Horn Shoppe room. As always (and as you can see from the fresco above), the Galibier Design turntables are eye- and ear-popping! This particular model sported the luscious Schroder tonearm, one of the best European designs currently being made. I certainly wouldn't mind reviewing this combination!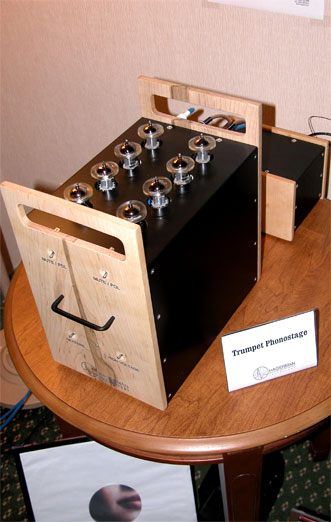 Also on display was the Hagerman Technology Trumpet phono amp, reviewed during the past year at PFO. Lotsa tubes in that section!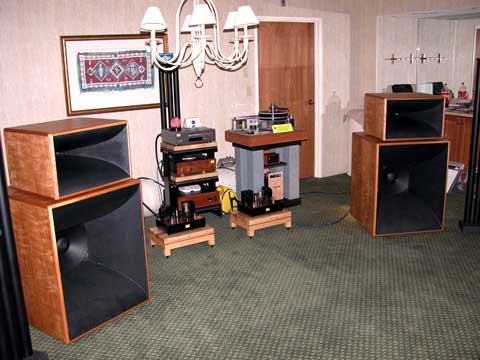 Another room with a Galibier turntable: the Exemplar Audio/Galibier Design space.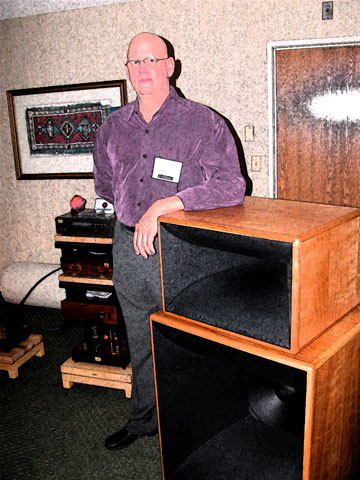 While speaking of Exemplar Audio, here's a fresco of Mr. Exemplar himself, John Tucker. Another worthy resident of the Pacific Northwest, John is an exceptional audio engineer and designer, with a number of truly intriguing products to his credit.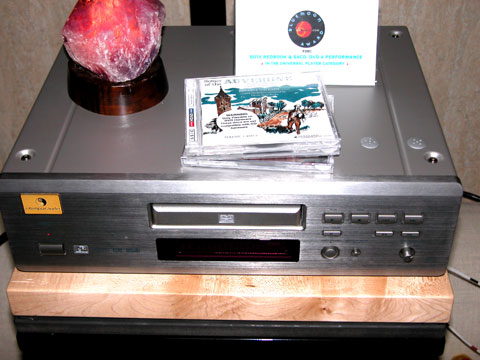 For example, here's the Exemplar Audio SACD player, with a lot of wonderful custom stuff happening under the covers. Like a lot of us, John knows that we're just starting to get a feel for what DSD can do when SACD players are done right.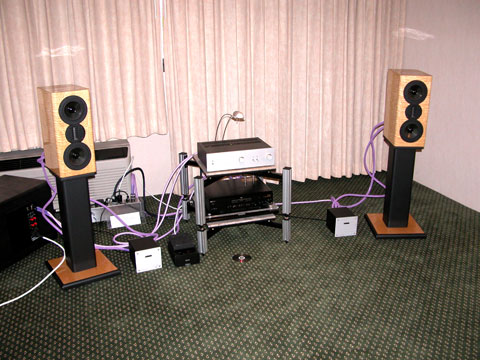 The work of another well-known Pacific Northwesterner was in evidence at the RMAF… this is the ModWright/Revelation Audio/GR Research room. Dan Wright of ModWright is respected for the many contributions he's made to modifying a number of different SACD players, and coming up with new output sections for same…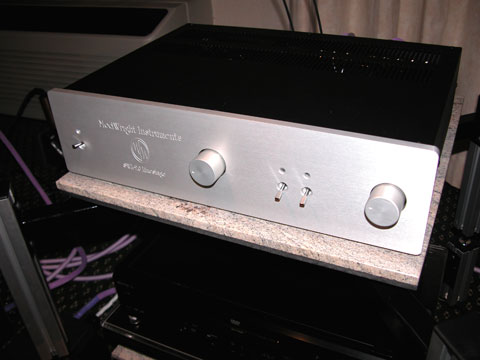 …but this was the first time that I'd seen his preamp. Didn't get to hear it, but it was definitely easy on the eyes.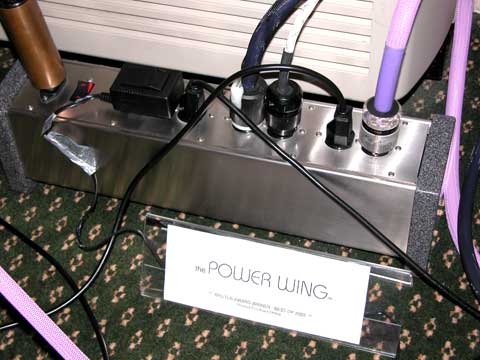 Worthy of note is the fact that the ModWright room was using an audioexcellenceaz Power Wing to provide clean AC. I saw Power Wings in several other rooms, as well.