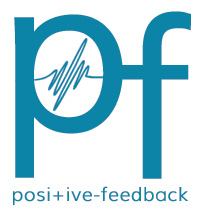 You are reading the older HTML site
Positive Feedback ISSUE 16
november/december 2004
Livin' With the Blues in Salina, 2004
by Dave Glackin and John Volk
Text by John Volk (guest writer and musician) and Dave Glackin; photos by Dave Glackin; image processing by Robinson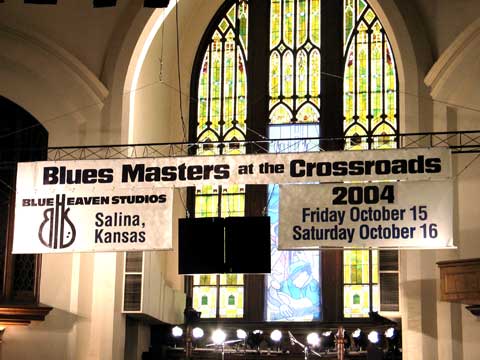 Blue Heaven Studios
The Sixth Annual Blues Masters at the Crossroads festival was held in Salina, Kansas, on October 15 and 16, 2003. Once again, Chad Kassem opened the doors of Blue Heaven Studios so that approximately 400 lucky fans of the blues could see and hear some phenomenal artists perform a tremendous range of blues styles each night. The intimate setting and great acoustic of the wooden interior of this old cathedral is unique among blues festival venues. The concerts started around 7:15 each night, and Friday's concert ran past 1:00 am, while Saturday's concert ran until midnight. The wildly enthusiastic crowd got the chance to meet the artists up close and personal in the basement of the church throughout the two evenings.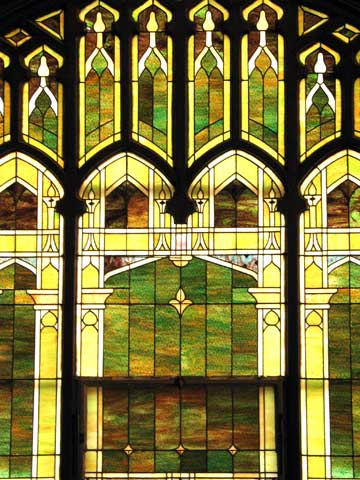 One Gorgeous Church Window
Chad Kassem continues to be an unwavering supporter of the blues, pouring some of the proceeds from his Acoustic Sounds mail-order business into a world-class concert hall and recording environment. At Blue Heaven, Chad has recorded aging black blues musicians, many of whom have been under appreciated and treated poorly by the industry, in state-of-the-art analog and digital sound, preserving their artistry forever. The meaning of his work has become especially poignant, as many of these artists have since passed away.
One of the artists whom Chad brought out of obscurity is the much beloved Harry "Big Daddy" Hypolite, who won a W. C. Handy award as a result of the album that he recorded at Blue Heaven Studios. A painting done for Harry by Earl Hebert of New Orleans was prominently displayed in the basement of the church. Here's hoping for more, Harry!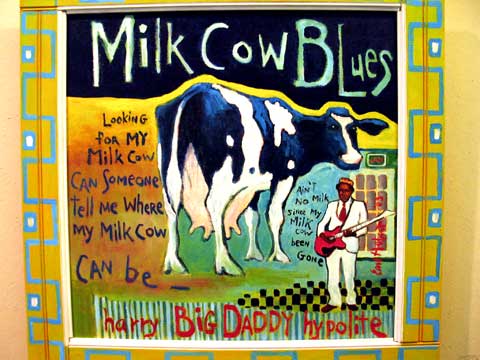 Earl Hebert Painting for Harry Hypolite
Friday's Show
Sonny King provided a great opening to a great show. The one-man marvel managed finger style and slide guitar, drums, vocals and harmonica. Sonny traded down-home Alabama guitar licks with a thumb and index finger picking style, interspersing drum fills on the tom and snare with a stick grasped in the remaining fingers of his picking hand, all while maintaining a steady beat on bass drum and high hat! Sonny's classic performance and self-made style set the stage for a night of great performances.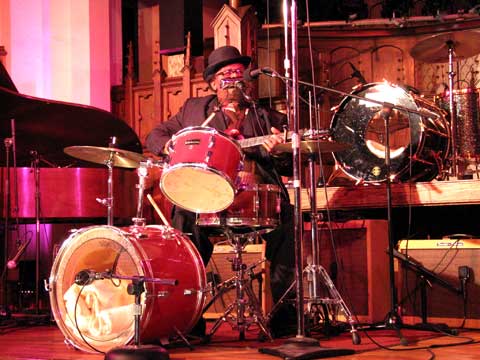 Sonny King, the One-Man Band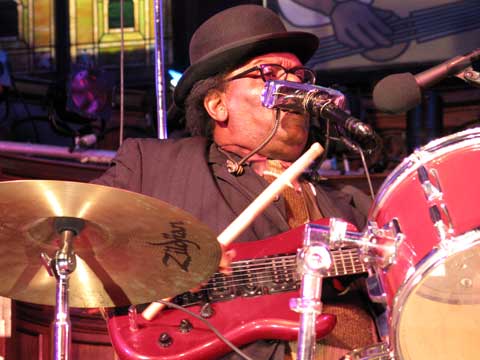 Sonny King Smokin'
Essie May Brooks is the true spirit of spiritual vocals. This gospel legend was like a steady moving locomotive powering through heart-felt numbers. She was accompanied by Dave Keyes, who did a masterful job on piano, with just the right touch to complement Essie. According to Essie, Dave had accompanied her previously at a performance in Switzerland. Unfortunately, Essie was limited to four short numbers, due to the crowded bill of 9 performers that evening. In the authors' opinion, allowing her another number or two would have been advised.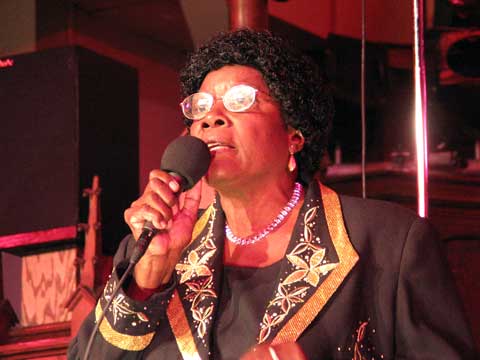 Essie Mae Brooks Belts Out Her Gospel
The elderly statesman of the Piedmont blues style, Cootie Stark, was a real crowd favorite. The first few numbers were solo with a traditional vocal style and gritty guitar accompaniment. It was not clear whether the guitar was out of tune or Cootie was intentionally bending the strings off key, but the effect worked and gave a real authentic feel to the sound. For the last few numbers Cootie was accompanied by electric bass, keyboard and drums, which added nice variety to the set. Cootie is an enthusiastic and warm performer who hit all the right notes with the crowd. It's just too bad that Cootie couldn't see the standing ovation that the crowd gave him after the set, but he could undoubtedly feel it.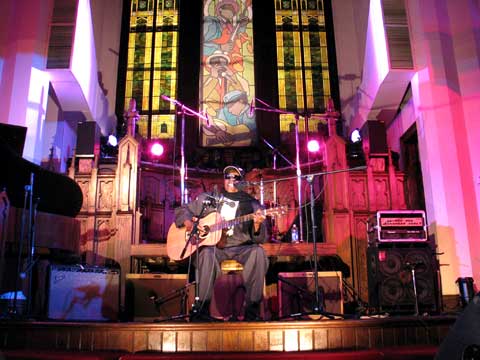 Cootie Stark Wows the Crowd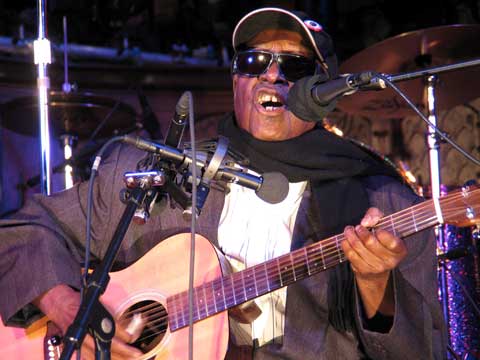 A Growlin' Cootie Stark
Lee Gates is a cornerstone of the Milwaukee blues scene, with an individual style somewhat reminiscent of Chicago-style blues. Lee played a nice set of mostly well-paced tunes. Dave Keys expertly accompanied Lee on the Hammond organ, along with his regular sidemen on bass and drums and tenor sax icon Kaz Kazonoff. Lee was adept at what might be called the "talking guitar" technique, with his guitar sound emulating the human voice singing in an indefinable language. Lee cleverly melded this guitar technique with his own endearing vocal style.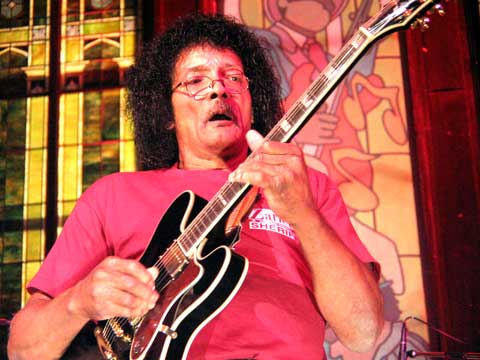 Lee Gates and His Talking Guitar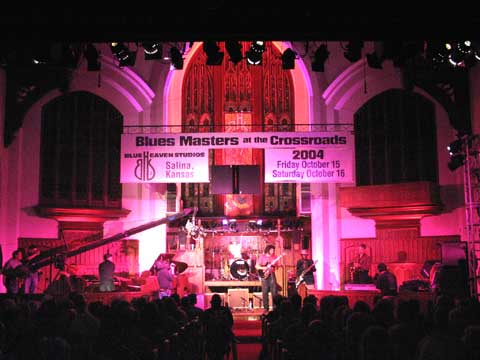 Lee Gates & His Band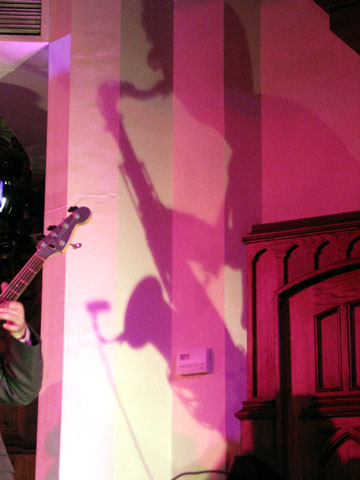 Only Kaz Kazanoff's Shadow Knows
Homesick James, the cantankerous 94-year-old blues legend, was only able to give a hint of his past, historical abilities. Homesick was initially befuddled by forgetting his bottleneck slide, and a hastily found replacement was not to his liking. His disappointing backup band was unable to coax him into following even the most basic of blues progressions. Billed as one of the world's greatest slide guitarists, he was barely able to noodle on the fundamental chord elements. Homesick's endearing vocal styles did give a glimpse into his past, and the audience pretty much forgave the legendary blues man for an embarrassing performance that was never able to establish a groove. A competent backup band could have helped spark this legendary performer.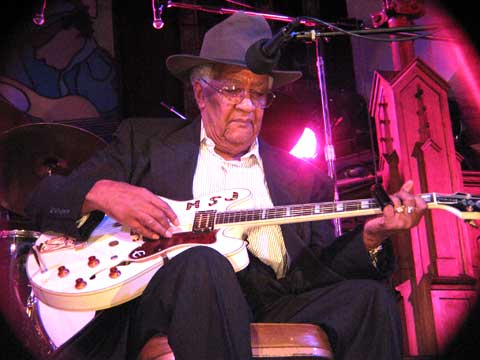 Homesick James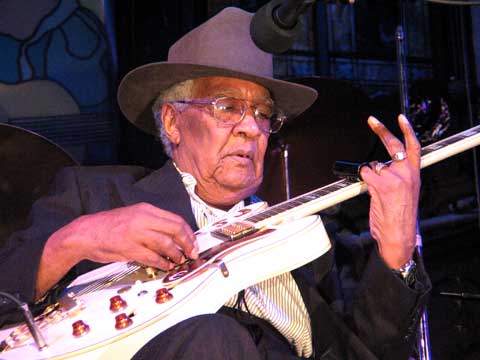 Slide Guitarist Homesick James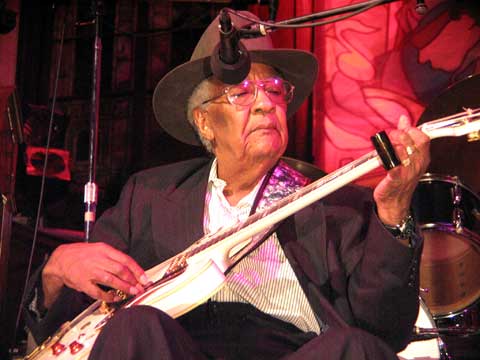 A Pensive Homesick James
The Kansas City blues man Millage Gilbert was one the highlights of an overall night of great performances. Millage's stinging electric blues guitar virtuosity was well demonstrated, coaxing rich tones and biting licks out of his Stratocaster. After several numbers, Millage was joined by legendary vocalist and blues persona King Alex. King Alex is a grand performer who captivated the audience before he sang his first note. It was all uphill from there. Following a few upbeat tunes with King Alex, Millage performed an exceptionally fine version of 'Rainy Night in Georgia,' with as fine vocals as the author (JV) has heard on this tune, interspersed with guitar phrasing nothing short of incredible. These two performers were backed up by a bass player who was the essence of cool.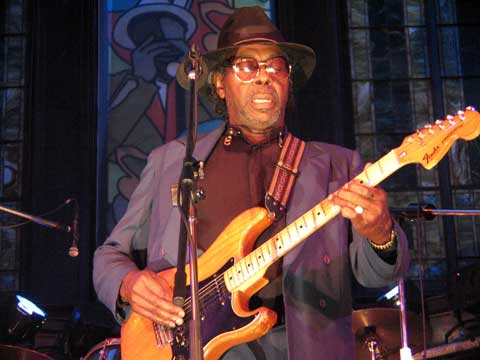 Millage Gilbert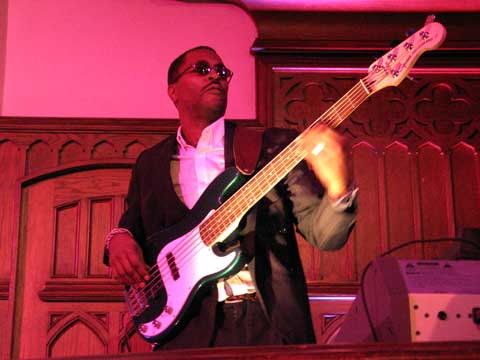 One Ultra-Cool Bass Player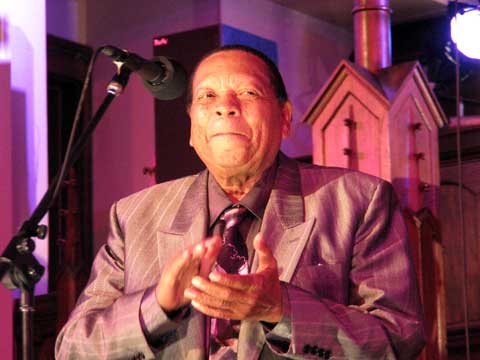 King Alex
Texas Johnny Brown gave the crowd lotsa good time Texas blues, proving to be yet another guitar virtuoso and talented vocalist who made his Les Paul electric sing beautifully. Brown is clearly a real professional and perfectionist. Texas Johnny captured all with frequent trips into the crowd, stabbing one incredible guitar lick after the other at the audience. Shifting to a bit of soul, Texas Johnny delivered a terrific medley of "Just My Imagination" which flowed perfectly into "My Girl." The set shifted back to a few more standard blues progressions to complete the somewhat lengthy set, which garnered several standing ovations.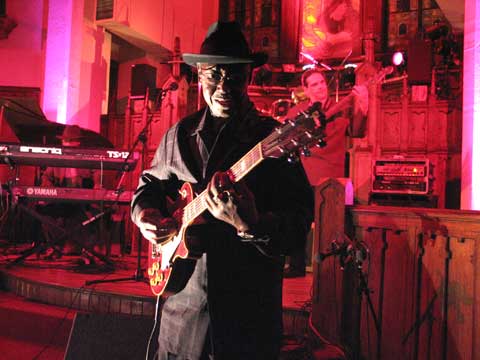 Texas Johnny Brown — Up Close and Personal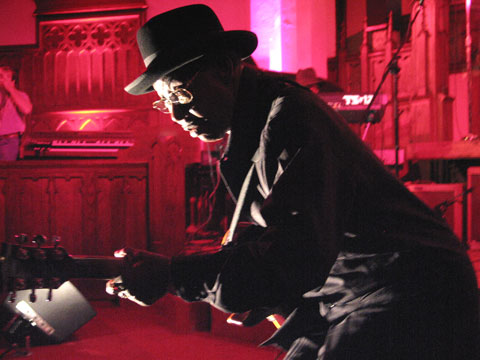 Texas Johnny Brown Plays to the Crowd
Sweet soul and heavily R&B flavored blues were presented by a great closing act, Carl Weathersby and a very fine band backup band. This group established a really nice groove with a clean, concise set. Carl established a fabulous rapport with the audience with heartfelt story telling, vocals and relevant songs. Carl really shined with very strong songwriting, not to mention yet another fine display of electric guitar work. If a Motown revival comes to be, Carl is sure to take Detroit by storm!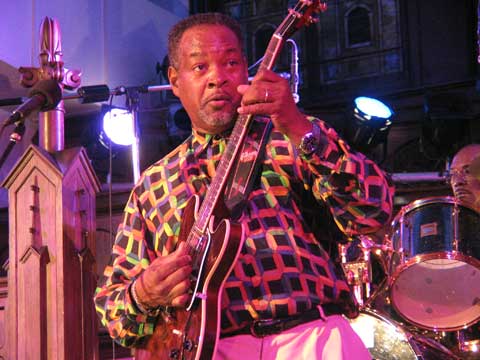 Carl Weathersby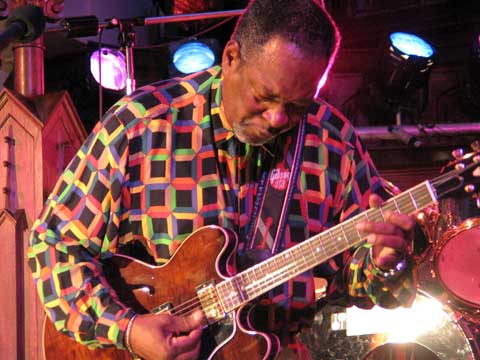 Carl Weathersby Gettin' Down