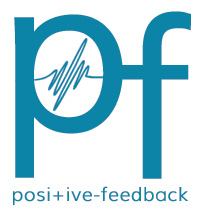 You are reading the older HTML site
Positive Feedback ISSUE 17
january/february 2005
CES 2005 - page 2
by Dave and Carol Clark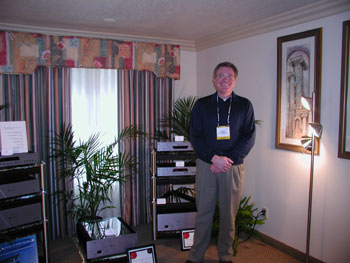 Steve McCormak. Nice guy. He gets it big time!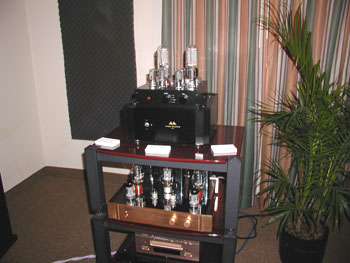 The Antique Sound Labs Leyla 845 DT ($3495) in the Divergent technology room. Always good stuff to see and hear. Like the De Capos and Dulcets from Reference 3A. Tash is a good guy too. Nah, make that a true gentleman. Always nice to see him and hear how about his family. Perhaps we will see them all again in Montreal.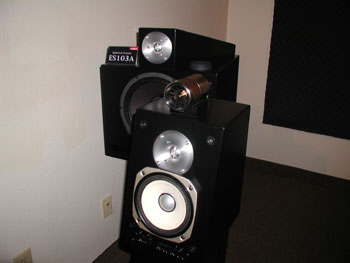 The Fab Audio Model 1 speaker was something new form Divergent-Tech. Small and very well made they exuded elegance and style.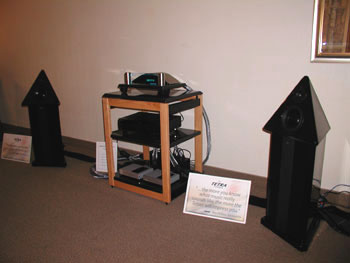 Birdland Odeon PT and Tetra's Live 405s in the Magnan, Birdland Audio, Tetra room. Nice sound though we were unable to talk to anyone. Too bad as we always enjoy seeing Giles, and Magnan makes some really good product. Ditto Tetra who we have reviewed in a previous issue. These are good people to hang with, but they were occupied with other distractions as the room was quite popular.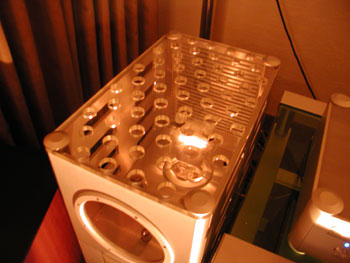 American Acoustic Development T833m single ended tube mono-black power amplifier. Big tube. Nice sound. Nice people.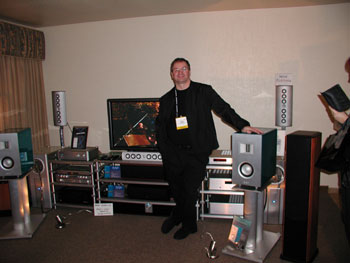 Phil Jones of American Acoustic Development (AAD). Nice guy who has been the man behind many a speaker (Platinum, Soliloquy, and a few others.). This is his own company and AAD pretty much does it all. From electronics, to speakers, to the pro side, AAD has it covered.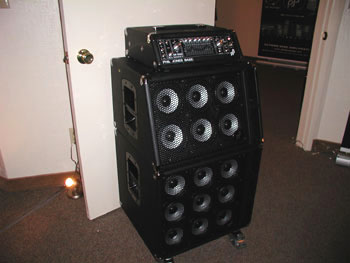 Phil Jones Bass amp. Small speakers, but big and fast.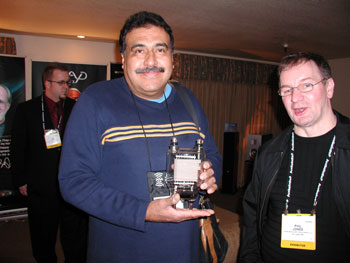 Frank Madrid and Phil Jones with the VERY large tube used in the T833m.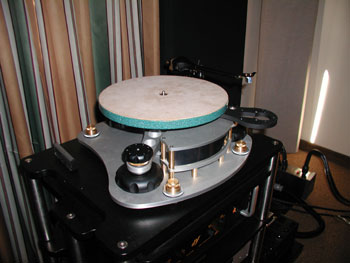 The new turntable from E.A.R. Really cool idea using a cog-drive system.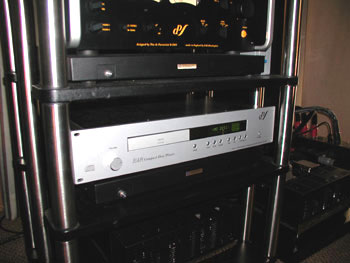 The new E.A.R. CD player. Also sounding quite good with Marten Design speakers and Jorma cabling.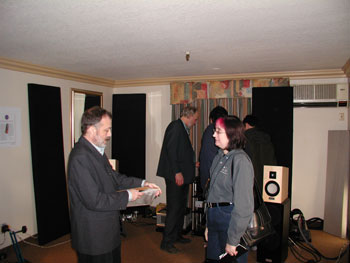 Dan Meinwald with Carol. Tim de Paravicini in the background explaining the genius behind his turntable design.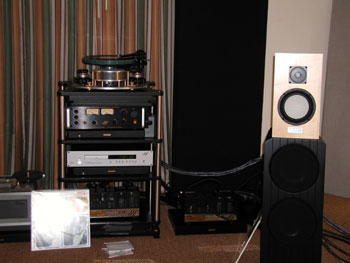 The new Marten Design loudspeakers. A two-piece affair that uses a powered woofer module (ICE power) and a satellite based on ceramic drivers. Very nice sound and quite effortless too. Always nice people who go out of their way to make attendees feel welcome.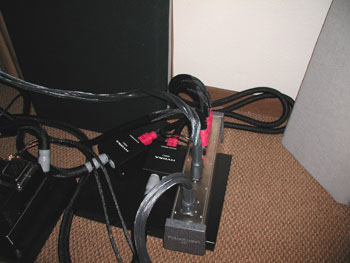 A WorldPower Power Wing handling the AC in the E.A.R./Marten/Jorma room.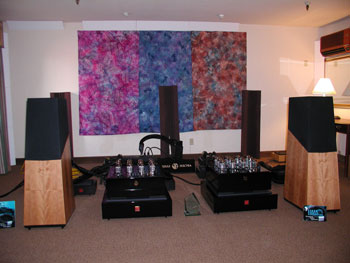 Joule Electra Rite of Passage VZN-220 OTL Monoblocks ($28,000 pr), Vandersteen Model 5A Speaker ($14,700 pr), and Elrod cables. This room showed once again that the Joule/Elrod was the place to be for music and fun. Great Southern hospitality that made everyone feel welcome and just glad to be there listening to whatever was spinning..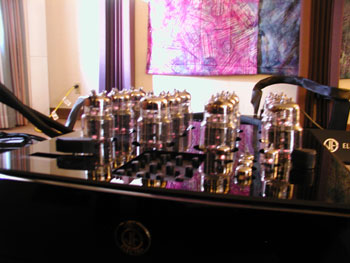 Joule Rite of Passage amplifiers. Need tubes?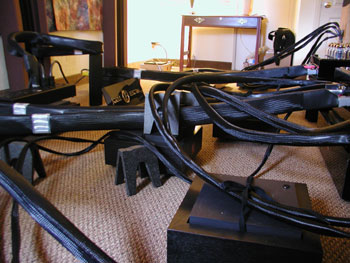 Elrod EPS-2 Signature and EPS-3 Signature power cords ($1600 ea), EPS-Statement and Statement II ($2700 ea), EPS-Signature interconnects ($1500), EPS-Signature speaker cables ($3000). Watch your step.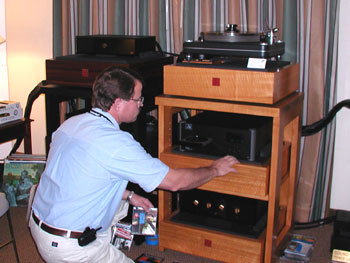 David Elrod of Elrod Power systems getting things a'cookin. Pictured is the Joule Electra LA-150 Line amplifier ($5250) and OPS-2 Phono Stage ($4000). All the racks and isolations devices (see those boxes under the cables up above) were part of the extensive offerings from Critical Mass Systems. The rack was very impressive simply in terms of the craftsmanship of the woodworking. Very cool indeed!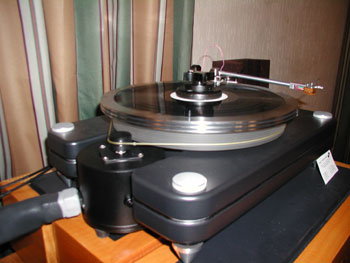 VPI Scout Master ($3100) with Basis Model 1 Arm ($2475) in the Joule room.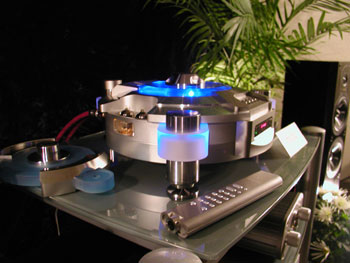 Shanling CD-T300 CD Player ($6500) in the Music Hall room. Simply out of the world in appearance. Thanks for the fine scotch Roy! A nice pick me up early in the day.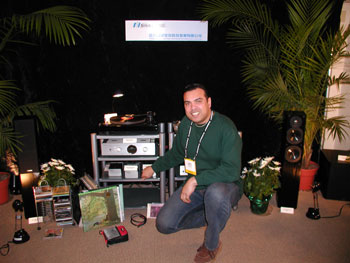 James Henriot from Whest Audio with PS.20 phono stage ($2595) and the DAP.10 ($1750). Really cool stuff that suggests we may have some new challengers to what one can expect in getting the best from our LP payback. Nice guy from England who gets it.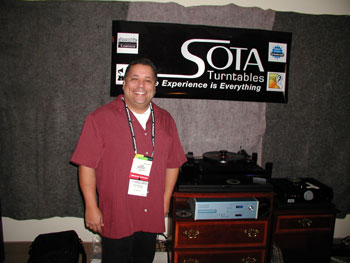 Kirk Bodinet from Sota with the Millennia turntable ($7500). Kirk also gets it. A VERY nice guy and great products too. Sota gets it.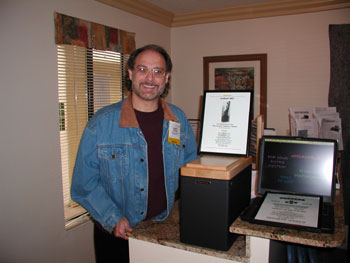 Barry Kohan from Bright Star with the IsoRock GR3 speaker stand for the Gallo speakers. Barry gets it too.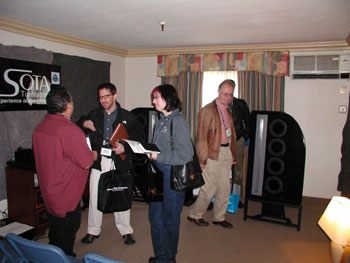 Carol and Bryan with Kirk Bodinet. Gilmore Speakers were used in this room to produce good sound.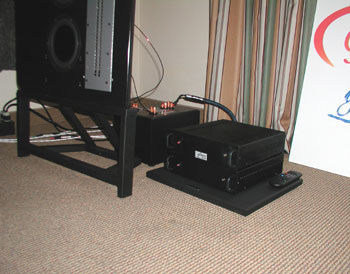 Gilmore speakers and their own line of electronics.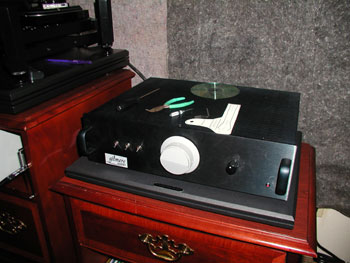 The new Gilmore preamplifier. Clean and neutral.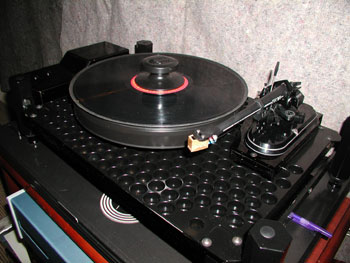 Sota Millennia table with SME 4.5 arm and Benz cartridge.