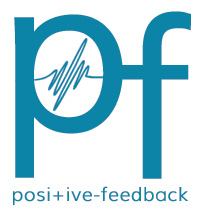 You are reading the older HTML site
Positive Feedback ISSUE 17
january/february 2005
CES/T.H.E. Show 2005: A Photo Essay, Day One
by David W. Robinson
All images and image processing by Robinson
In our last exciting episode of "Ye Olde Editor goes to CES," edition 2004, Ye Olde Editor… didn't. "The Great Ice Storm of 2004" hammered the PDX Gang, and our heroes never made it to Lost Wages.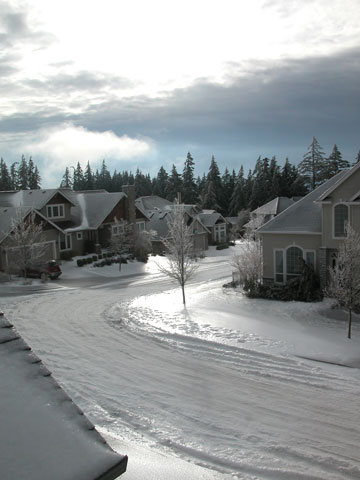 This is what we saw for nearly a week at the top of Mt. Scott in Portland in January of 2004… grim!
This year, the weather was much better—no ice storm until mid-January this year—so PFO Portland was able to make the trip to CES/T.H.E. Show without all the excitement. Our schedule allowed 2.5 days in Las Vegas this year, which meant that CES and T.H.E. Show were going to be whirlwinds, at best. Soooo… an uneventful flight and a quick taxi ride to the Alexis Park… toss the luggage in the room… and head out for a quick afternoon survey of the 'phile scene! Hurry!
What follows is a photo essay of sights and impressions from Las Vegas. I make no pretense of being comprehensive in this report; it would take a large crew of meticulous obsessives to have a prayer of covering everything that you could see during CES week. The good stuff, and the good folks… you'll see them here.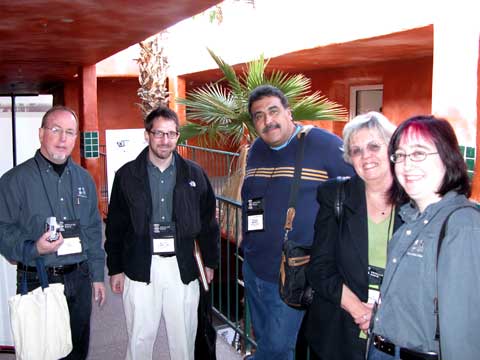 Shortly after Lila and I checked in at the Alexis Park, we connected with some key members of the PFO community: from left to right, Dave Clark, Editor and my fellow unindicted co-conspirator, Bryan Gladstone, our National Advertising Manager, Francisco Madrid, one of our hard-working contributors in LA, Lila Ritsema, our Business Manager, and Carol Clark, writer and web designer extraordinaire. A way cool group, and no end of fun at fine audio gatherings….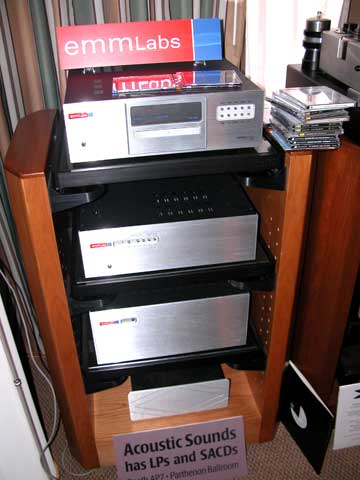 After strategizing for a while, Dave, Carol and Bryan went one way, while Lila and I went another. I started out by concentrating on CES at the Alexis Park. It normally takes several hours to walk around and get a sense of where everything is. I concentrated on getting the layout in mind, and dropped in on some rooms with interesting gear/people. The first place I stopped at was the EMM Labs SACD front-end (top to bottom, CDSD transport, DAC6e 2/6 channel converter, Switchman-3 preamp, all PFO Brutus Award winners) in Chad Kassem's Acoustic Sounds room. Chad knows good gear when he hears it, sports fans.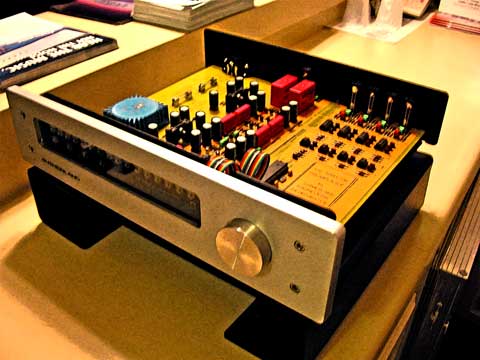 Also in the Acoustic Sounds room: The new Sutherland Director preamp, sans chassis (fresco by Robinson). Static display only, but intriguing, since it uses all electronic switching of inputs. "Look Ma! No mechanicals!" Didn't get to hear it, though…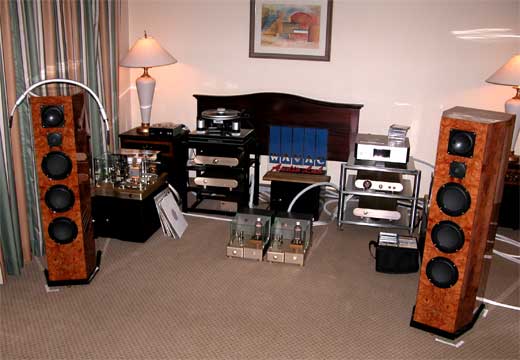 The next space that caught my eye and ear (as it always does) was Jim Ricketts' tmh audio room, featuring the ne plus ultra Wavac line, including the superlative HE-833 v1.3 monos (150 Watt[!!!] SET) and MD-805m monos (55 Watt SET). Every time I hear the tmh audio room, I get to hear exceptional music, even under tough show conditions. This year was no exception; the tmh audio room was one of the "Top Five of the Show!" rooms at CES 2005 for me.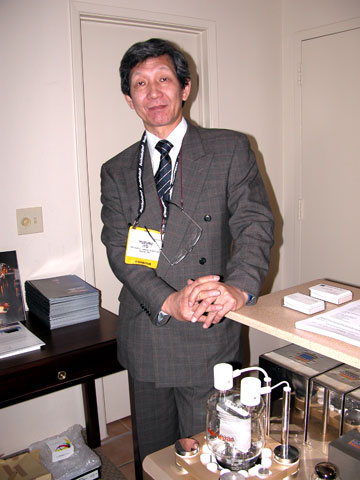 The design genius behind Wavac, and a person that I esteem most highly: Yuzuru Ito ("Ito-san!"), posing next to the Wavac HE-833 v1.3 monoblock. This man is gracious, and a world-class audio artisan… Harvey "Gizmo" Rosenberg would be smiling big-time if he were in this photo!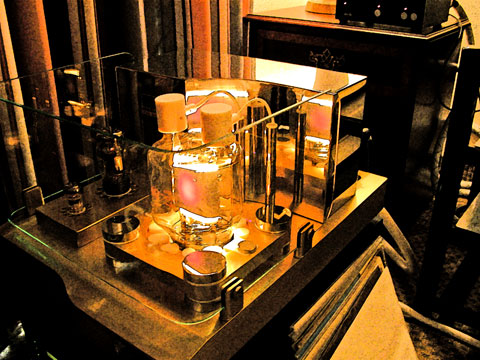 The Wavac HE-833 v1.3: 150 Watts of SET, glowing magical fire! Irresistible! Fresco by Robinson…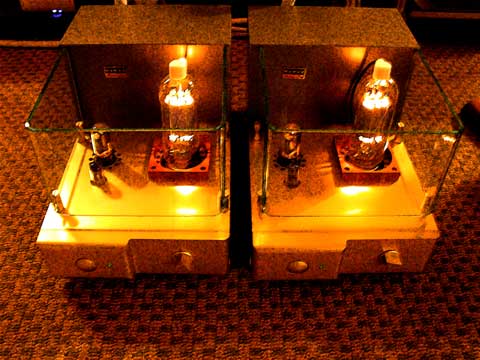 More tube beauty: the Wavac MD-805m SET monoblocks, in fresco by Robinson.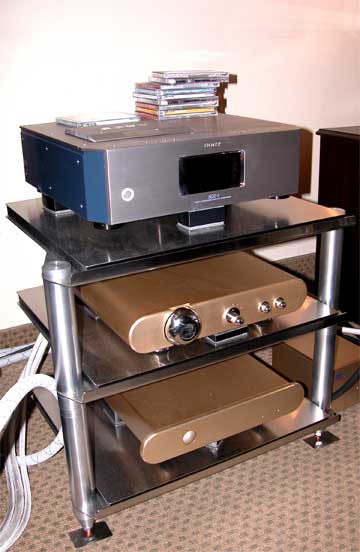 On the digital side, Jim was feeding the Wavac amps with a modded Sony SCD-1 SACD player, talking to the Wavac PR-T1 reference preamp (review forthcoming in 2005).
Jim Ricketts himself, holding one of the interconnects that he distributes—do believe that must be an Argento. Sounds terrific with the Wavac gear, too!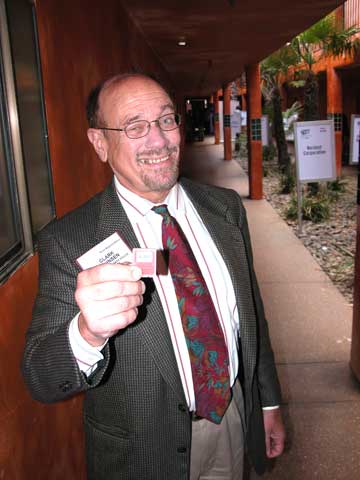 Immediately after exiting the tmh audio room, whom should I run into but my long-time audiobud and PFO master columnist, Clark Johnsen! After handshakes and huzzahs! all around, Clark introduced me to the mysterious and now-controversial "Intellichip." ("Introduced" = "waved it in my face, chuckling all the time!") Don't know what it is… haven't heard it… check out the General board on Audio Asylum (http://www.audioasylum.com) for iterations of the weltanschauung wars. Meanwhile, if Clark says there's something here, I'd strongly advise that you listen up: on tweaks and system enhancements, I've not known him to be wrong.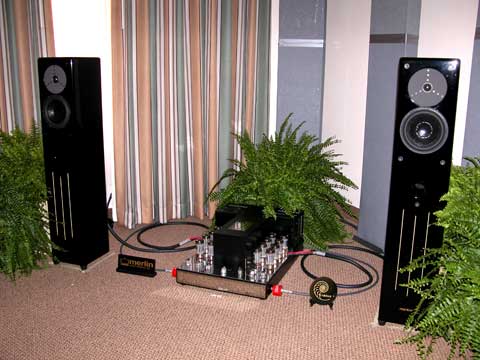 The next room that I stopped at was one that, like tmh audio, I visited more than once: Bobby Palkovic's Merlin Music/Cardas Audio/CAT space. As always, Bobby makes superior music; year after year, his speakers, usually paired with Cardas cables, get better and better. And dig that CAT amp… very luscious when paired with the Merlins!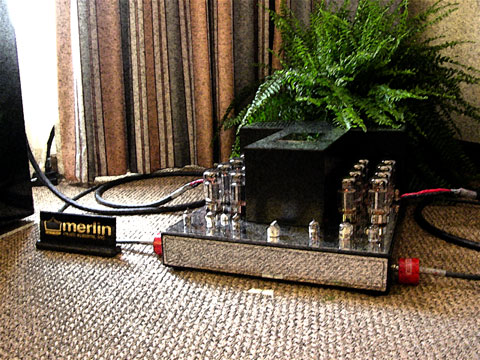 As a matter of fact, the CAT was so attractive that I couldn't resist doing a fresco… tasty, tasty!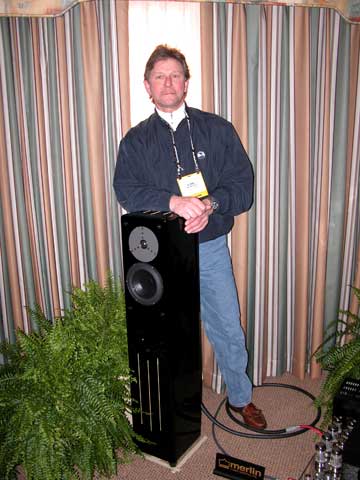 Here's Bobby in the flesh, with this year's edition of his reference design. No CES is complete without Robinson's annual "portrait of Bobby and his masterpiece"…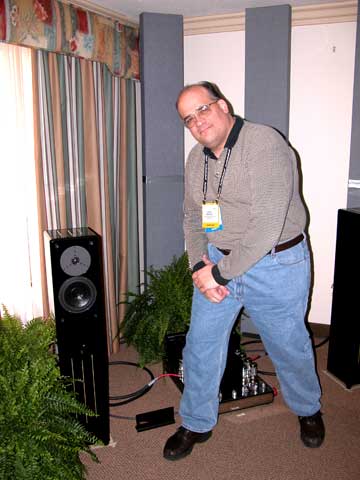 This year, good audiobud and Signature Sound (http://www.sigsound.com) owner Rich Brkich shows the "mighty man" stance next to the Merlins. Yo! Don't get too close to those pecs! Rich is one of the truly excellent folks in the fine audio biz, and a long-time friend of ours. This is a highly recommended dude!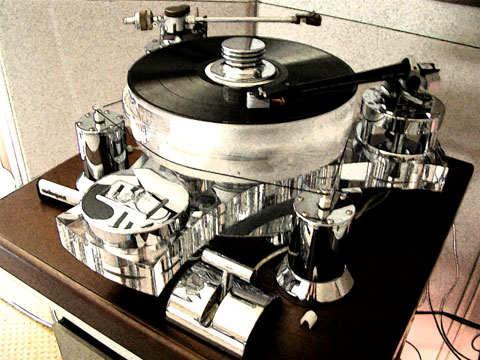 I was able to drop by the Axiss Distribution, Inc. room (http://www.axiss-usa.com), but missed seeing Art Manzano. Instead, I got to catch this splendid Transrotor Turbo dual tonearm 'table, a cool $40K+, which is quite splendid as a fresco. (Art begets art…)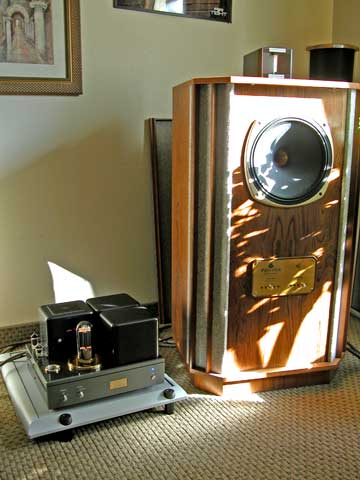 Cool classic audio art: an Airtight monoblock paired with a Tannoy Yorkminster speaker.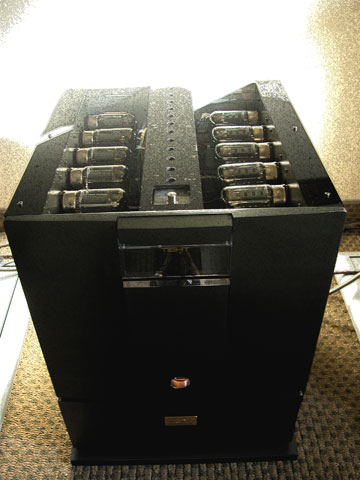 Brooding 200 WPC power: the Airtight Reference stereo amplifer, in ink outline.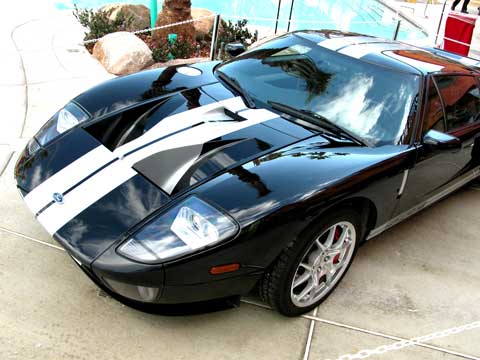 It was time for a break; the Transrotor and the Airtights were potent audio aphrodisiacs so early in the show! So I stepped outside for some fresh air near the pool… and lo! and behold! The new Ford GT on display!! Here's the alternative, see… don't buy that new system upgrade; instead, plunk the $150K that you were going to put into your listening room into what's in your garage, instead! ("Doh! I could'a had a V-8!!")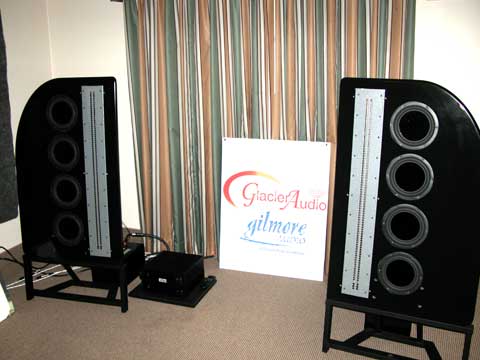 I stuck my head in the Glacier Audio/Gilmore Audio room, but missed Maestro Gilmore…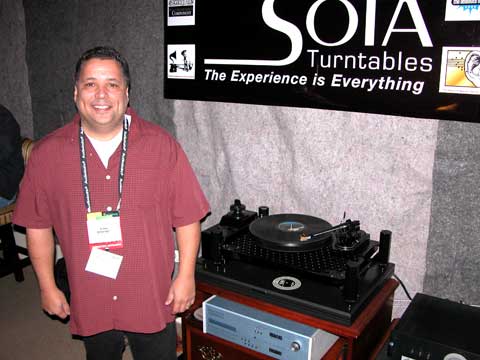 …but I did run into Kirk Bodinet, lead designer and honcho over at SOTA. (Yes, they're still in business!) Kirk and Donna are cool folks, and their reference table the Millennia is a serious piece of work when paired with the SME 4.5i tonearm and the Cardas Myrtle Heart MC cartridge. As a matter of fact, that combination was so good when played by through the EAR 324 phono amp that I gave SOTA a Brutus Award for 2004! (You can see our Brutus logo there, just above Kirk's shoulder on his wall banner.)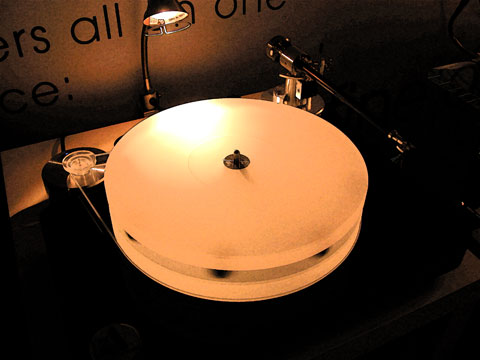 Next stop: a veritable gallery of Clearaudio turntables in the Musical Surroundings/Clearaudio room! Garth Leerer handles this line, and I have to say that every one of them is a visual treat. Design beauty like this is irresistible to a photographer who loves fine audio. Here's a Clearaudio Solution in fresco…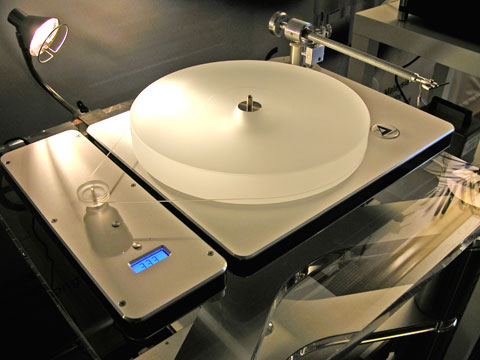 Here's one of the Clearaudio Champion line.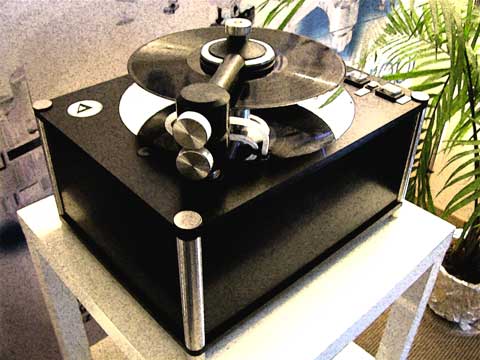 Garth was also displaying the Clearaudio Matrix record cleaning machine—formidable design, this. It features bi-directional platter action and two vacuum speeds. If it's quiet enough, I could be tempted to replace my trusty-rusty VPI 17F!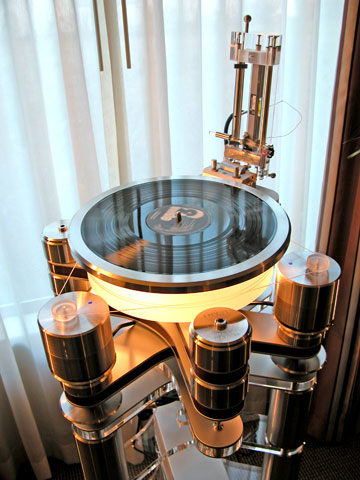 Here's the very impressive Clearaudio Maximum Solution turntable and Master TQ-I linear tracking tonearm (retracted into the vertical position for LP access). The stand is the imposing Clearaudio Everest structure, which integrates perfectly with the associated turntable.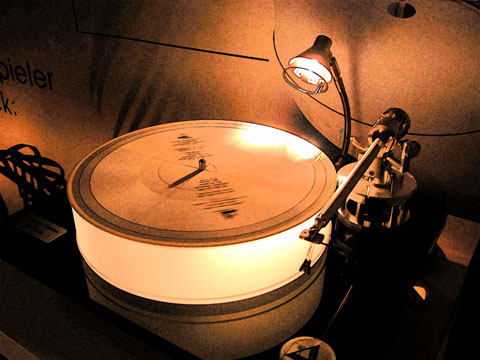 A fresco of the Clearaudio Champion Level II turntable (without the cartridge): relatively affordable, and quite eye-catching.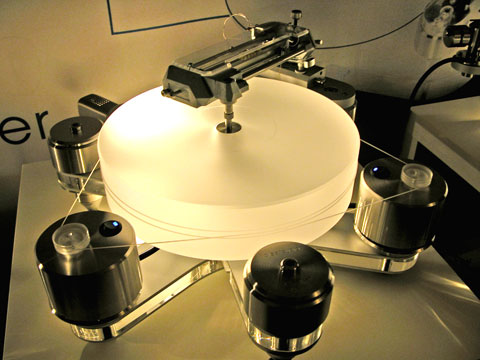 Completing the Clearaudio gallery is the Maximum Solution turntable with TQ-I linear arm. Clearaudio majors in precision engineering and massive execution, without a doubt.