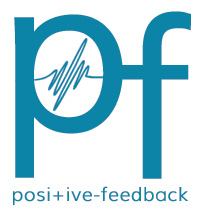 You are reading the older HTML site
Positive Feedback ISSUE 17
january/february 2005
CES and T.H.E. Show 2005 - Part 1
by Fown-Ming Tien
Although I attended CES last year, this was my first time attending CES as a member of the press and it sure was a new learning experience! Since conditions are not ideal for doing any critical listening anyway given unfamiliar rooms, associated gear and the like, I discovered that it is best not to spend too much time in each room. Of course, by the time I learned this it was already Sunday evening and there were so many rooms that I still did not visit because I had dawdled too long in others. Some of the rooms made it so easy to lose myself in with all the eye candy available every which way I turned. Oh well, at least now I will be better prepared for next year!
In the meantime, let's take a look at what I did see!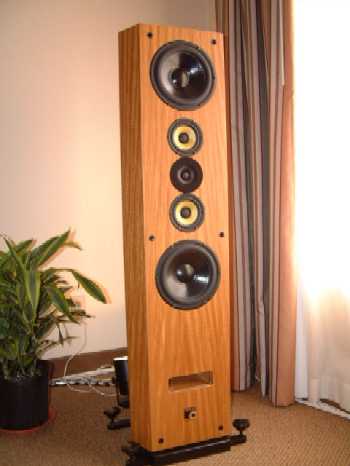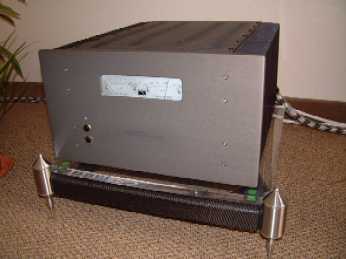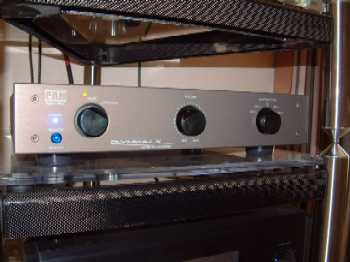 Peter Noerbaek of Montana Loudspeakers and Sierra Audio brought his new $8.5K EPS2 speaker driven by his new Sierra Audio Olympia preamplifier with outboard power supply (not shown) and amplifier.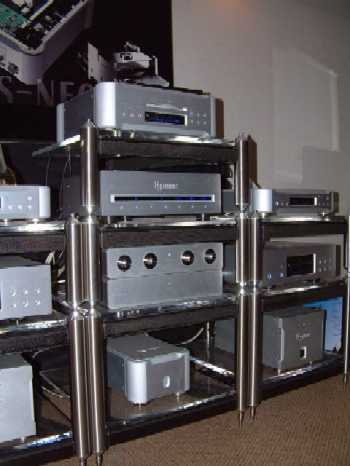 The TEAC room was loaded with beautiful Esoteric gear. The new G-0s Master Clock Generator, Esoteric preamp, UX-1 universal disc player and A-70 Mono amps were on display.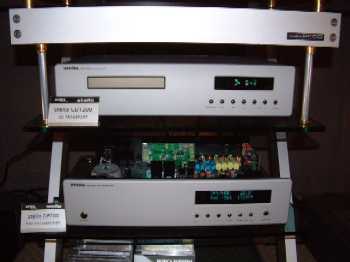 Stello was showcasing the $1195 CDT200 CD Transport and the $1995 DP200 DAC/Pre. Their higher end Eximus line was being displayed in the Dali room.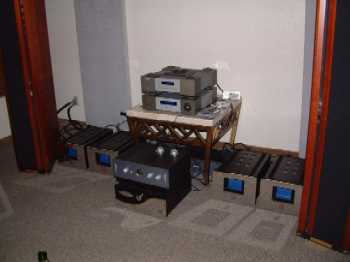 The Eximus line consists of the T1 CD Transport (shown on the table), the DP1 DAC-Preamplifier (also shown on the table) and the S1 Power amplifier which will be priced at $6K each.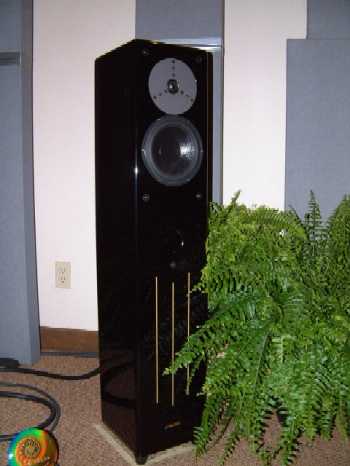 The $10.5K Merlin VSM-MX loudspeaker.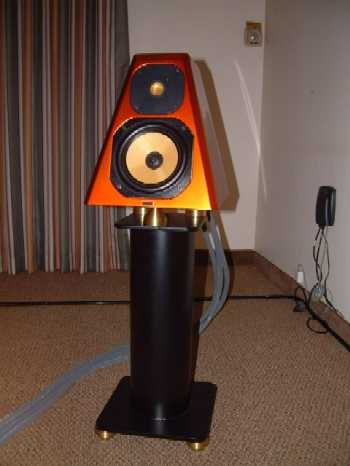 Von Gaylord "The Legend" speakers ($3995) driven by…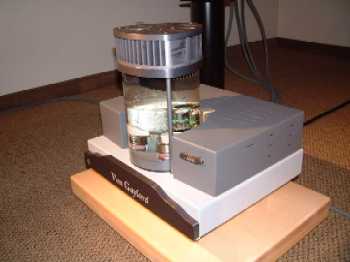 Von Gaylord's $48K/pair Uni liquid cooled tube amplifier. I wonder if it can also serve as an aquarium?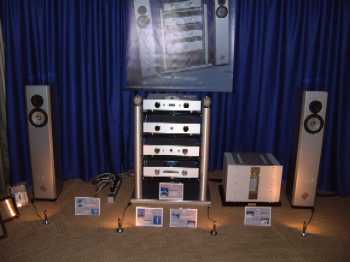 The Accustic Arts room featured the Classic-Mk2 speaker, the Drive 1 CD Transport, the Preamp1-Mk2, the DAC1-Mk3, the Surround-Player 1 universal player, and the new Amplifier III. Audio jewelry at its uber-best!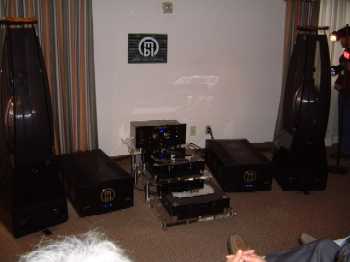 Here is the super, duper, uber-esoteric and hugely dynamic sound system showcased by MBL! The $45.9K 101E Radialstrahler speakers fed a steady and clean diet of music and power from the $18.8K 1621 A CD Transport, the $19.5K 1611 E DAC, the $17.2K 6010 D preamp and a pair of 9011 monoblocks ($33.4K each).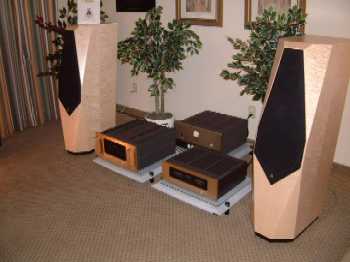 The Avalon Eidelons being driven with Accuphase electronics. As good as the Eidelons sound in stock form, just wait until you hear them after they have been corrected for the room!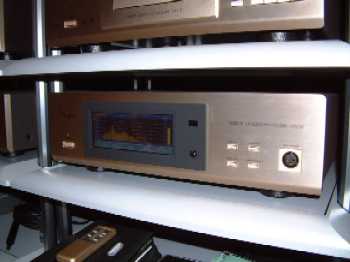 The $8.5K Accuphase DG-38 Digital Voicing Equalizer that handles both speaker and room correction. This is the most flexible and easiest to use interface I have seen to date for speaker and room correction. Simply plug the supplied microphone into the jack located on the front panel and use the stylus to navigate on the touch screen. The end result is nothing short of astounding!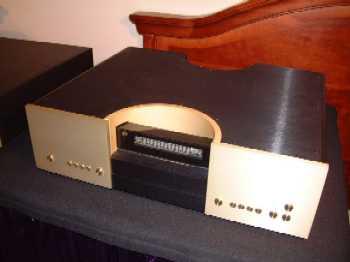 Conrad-Johnson debuted 3 new products. Above is the $8.5K AVP1 vacuum tube universal player that will be available in late summer or early fall of 2005.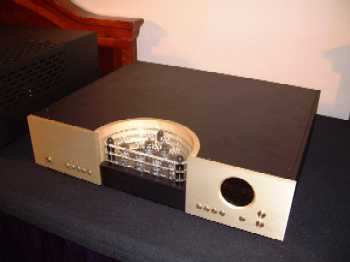 Next is the $8K MET1, a 6-channel triode analog preamplifier. The MET1 will accommodate 2 multi-channel inputs and 3 stereo inputs. Stereo sources can be played in 2 channels or in 6 channels using an analog ambience retrieval circuit.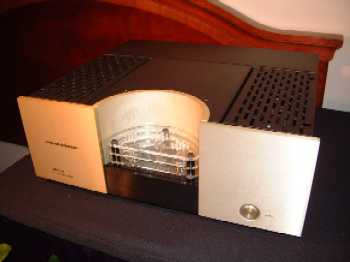 Finally, above is the new top of the line LPM142 linearized-pentode monoblock amplifier employing the new Teflon CJD capacitors used with excellent results in the ACT2 and Premier 17LS2 preamp and in the Premier 350 solid-state amplifier. It also features an improved power supply topology and can be ordered to be configured for 2, 4, 8, or 16 ohm loads (4 ohm is standard). Conservatively rated at 140W, the LPM142 will retail for $6.5K each or $12K per pair and is expected to be in production in April.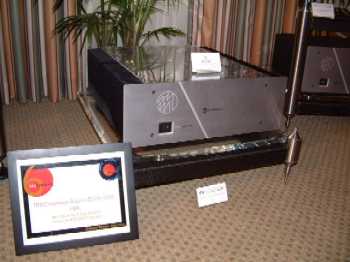 McCormack Audio's wonderful 500 watt DNA-500 stereo power amplifier ($6995) supported by a high tech Grand Prix Audio amplifier stand ($1175).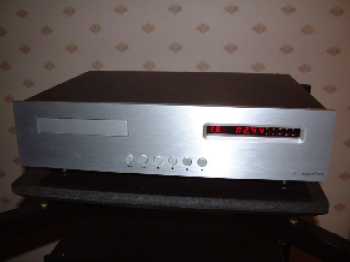 Acoustic Partners, LLC., the US distributor for the affordable Berendsen Electronics line brought the $2295 CDP I CD player.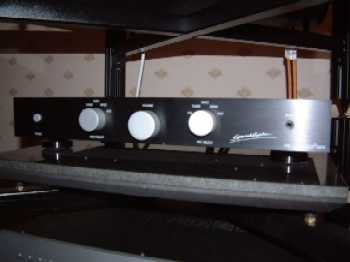 The Berendsen PRE 1 SE preamplifier retails for $1895.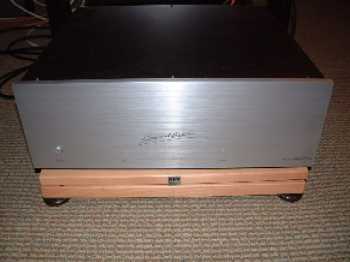 The $3495 Berendsen STA 150 SE power amplifier delivers 150W into an 8 ohm load or 240W into 4 ohms.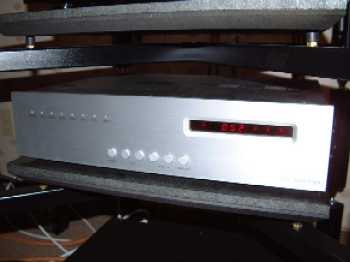 The $2295 IPA 80 integrated amplifier delivers 80W at 8 ohms.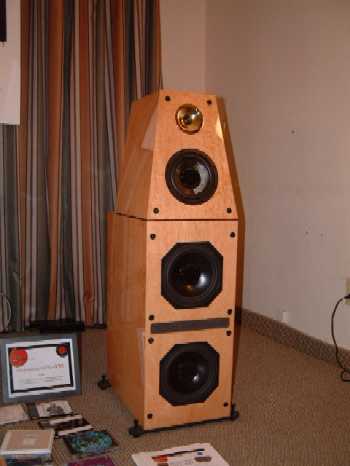 Hyperion Sound brought their award winning $3995 HPS-938 speaker in a new high gloss birds-eye maple finish.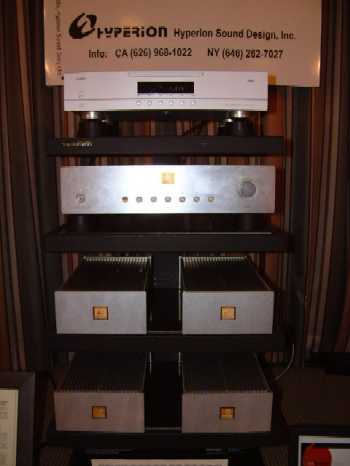 Below the C.E.C. TL 51 Z CD player resides the new Hyperion BE-P25 solid-state preamplifier capable of handling 5 inputs (1 XLR and 4 RCA). Outputs consist of 2 RCA and 1 XLR. Price is $1,495 and comes with a remote control. The 4 identical boxes are the new 100W BEC-Mono amplifiers which sell for $1600 per pair.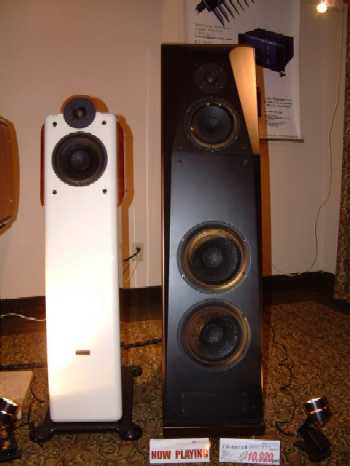 Usher Audio was playing the CP 8871 II (left) which uses the new 1" beryllium-coated dome tweeter and sounded quite wonderful. All of the Usher speakers shared one thing in common—gorgeously built cabinets!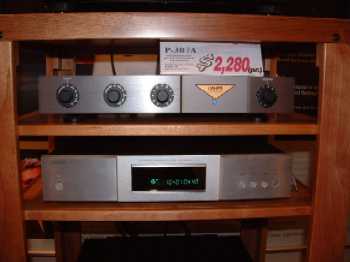 The Usher P-307A preamplifier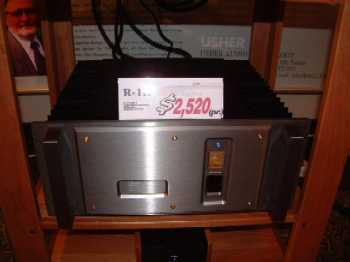 and the Usher R-1.5 power amplifier. If Usher's electronics deliver like their speakers do, then expect to get a lot more performance than their price tags indicate!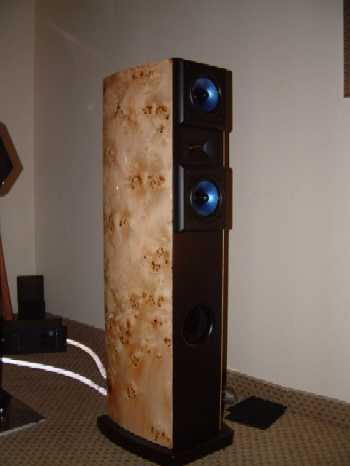 Robert Lee, designer of the excellent Acoustic Zen cables, has launched his own line of AB OVO Technologies speakers. Above is the Sunrise speaker which incorporates two 5.25" ceramic coated paper bass/midrange drivers grouped in a D'Appolito configuration with Acoustic Zen's own exclusive ribbon tweeter. The gloss wood veneer work was stunning! Price is a mere $2198/pair!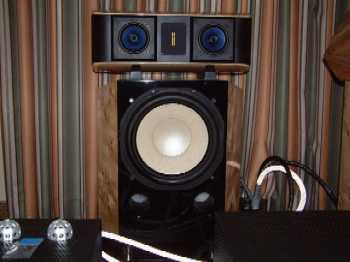 Also available is a matching center channel and a complete line of subwoofers ranging from $848 for a 200W 8" push-pull sub up to $4498 for the Enlightenment, a 15" 1000W push-pull sub.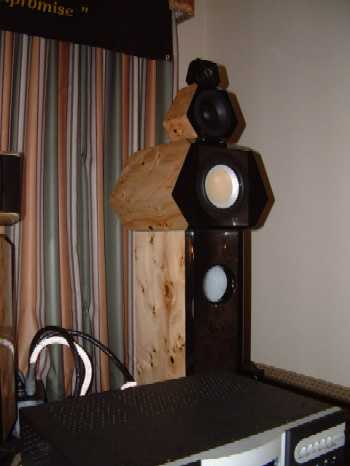 The top of the line $4998/pr Grand Vista speaker is a 3-way push-pull bass reflex system.