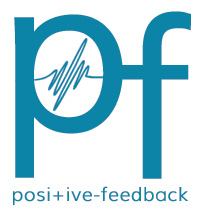 You are reading the older HTML site
Positive Feedback ISSUE 18
march/april 2005
CES/T.H.E. Show 2005: A Photo Essay, Day Two
by David W. Robinson
All images and image processing by Robinson
Day two at CES for yours truly; as always, this day is much longer than the first one. Get up early, snag some joe at the local restaurant at the Alexis Park, get rolling. The days were gray, and—wonder of wonders!—it was snowing in Las Vegas! I've been going to CES for over a decade now, and have never seen this. The waitress was convinced that I was wrong when I pointed it out to her… then she got the whole kitchen crew out to catch the spectacle. Guess that means it's unusual…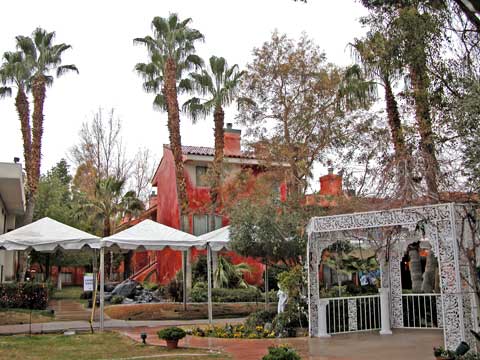 It's a good thing that the walkways were covered; with the constant dribble of rain, there would have been a lot of soaked show goers. In past years, the covers were for shade… .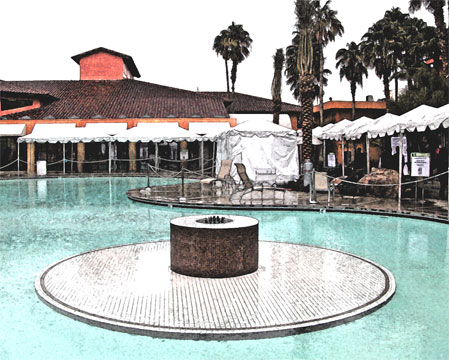 This is about as forlorn as I've ever seen the Alexis Park main pool. Then again, I'd probably have the blues too if I had the paint job that the hotel was sporting during the show. It's obvious that CES caught the AP with its pants southwards; the weather just contributed to the effect.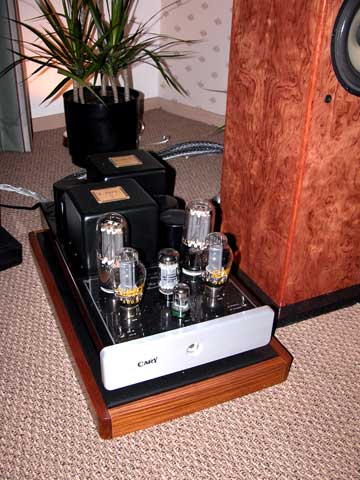 Back to the rooms! The first one that caught my eye was the Cary Audio room, where the beautiful Cary CAD-805 monoblocks were hanging out (so to speak). Dennis Had and company are certainly producing some elegant kit these days.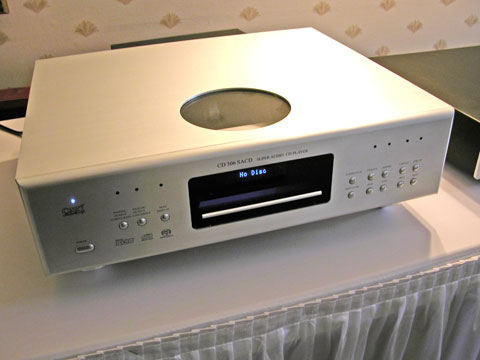 Now here's a sight to create longing in the heart of every SACD-lovin' 'phile: The Cary CD 306 SACD player. It does CD and SACD… and HDCD to boot! As far as I know, Cary is the only company to include HDCD and high speed upsampling in an SACD/CD player. Cary expects to release this player later this spring… Positive Feedback Online has been promised a review sample (and we aim to collect on this promise, Dennis!)… so you can expect our evaluation later in the year. This one looks like a real winner, though; the build quality is quite striking. Kudos to Dennis, et al.!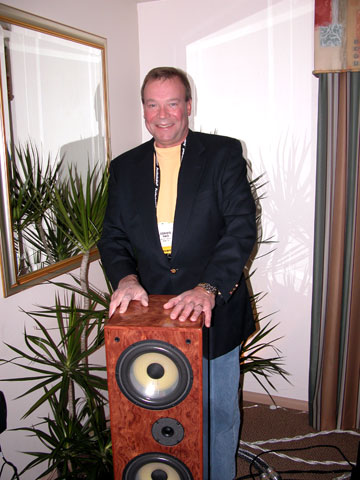 Speaking of Dennis, and speaking of speakers, here's the man himself, with the delicious Cary Silver Oak speaker in all its woodworking glory. It's always a pleasure to talk with him about his work; this year was no exception.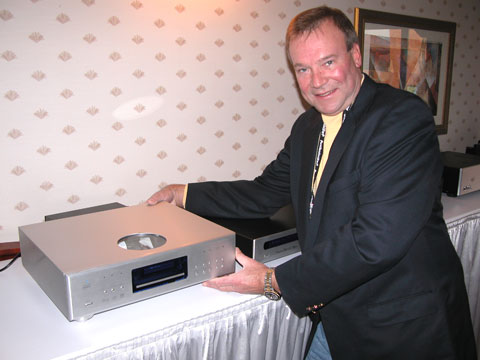 Being the SACD hound that I am, I couldn't resist taking a photograph of Dennis with the new Cary CD 306 SACD. A great moment… Dennis is quite enthusiastic about this design, as he should be.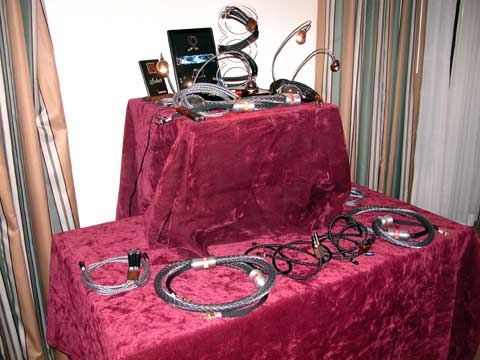 Next stop was the Kimber room. I was hoping to get a chance to meet Ray, and compliment him on both his reference generation cables (fine stuff!) and his forays into DSD recording (Ray is doing superb and groundbreaking work in this realm). Unfortunately, he wasn't in; I had to content myself with a couple of product display shots, showing the diversity of his current offerings. The Kimber line has progressed noticeably over the years…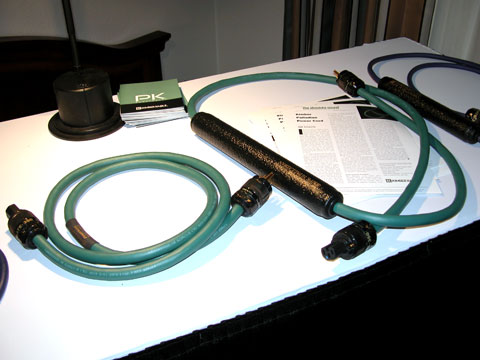 … something that is particularly apparent in his Palladian power cables. I'm listening to the Wavac HE-833 v1.3's (150 WPC SET) being fed with a yummy diet of SACDs via the EMM Labs CDSD/DAC6 front end, with Ray's hefty Palladians providing power to the Wavacs. It's an outstanding combination.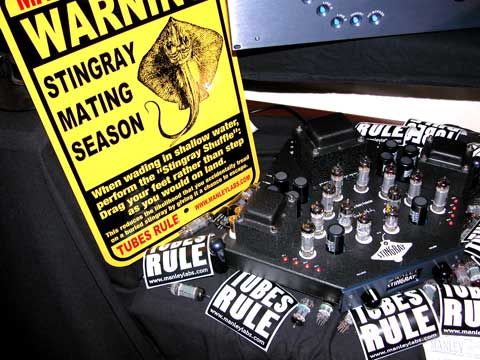 From Kimberland I proceeded to EveAnnaland: Manley Labs is another CES stop that I have to make at every show. I struck out again, though… EveAnna herself wasn't in, and I wouldn't catch her until a party later that night (see below for the incriminating photo!) Her room was a treat… toobs by the score, and lotsa attitude. Wouldn't be my audiobud EveAnna's place if it were any other way, eh?!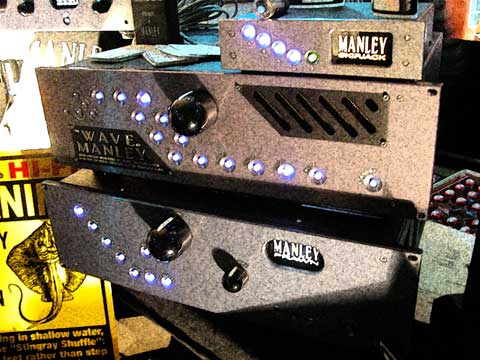 Couldn't resist doing this fresco of some of the new Manley kit: the Prawn, the Skipjack, etc. EveAnna's got this fish mojo going… .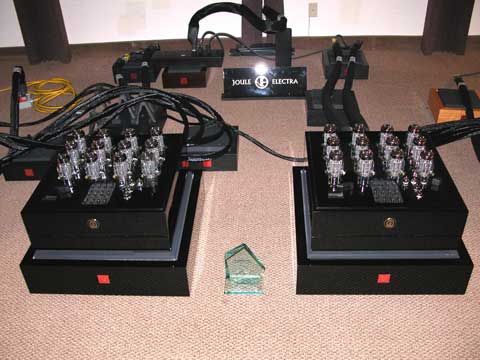 Nothing fishy here in the next room: Jud Barber's marvelous Joule Electra Rite of Passage monos (220 Watts per of pure OTL delight!) were in action. God's half acre of 6C33's on parade! Isolation stands by Critical Mass; cabling by Elrod. Altogether a nicely synergistic nexus: the sound was marvelous… authoritative, clean, and detailed. I love the sound that Jud gets from OTLs, a devilishly difficult topology to do well; I really enjoyed the Joule Electra VZN-100 Marquis Mark III's that I reviewed for PFO back in www.positive-feedback.com/Issue6/joule.htm. Hearing Jud's big boys has been a long-term goal of mine. The good news is that these amps and stands are slated for shipment to me here in Portland in the very near future; the review will be appearing by this summer.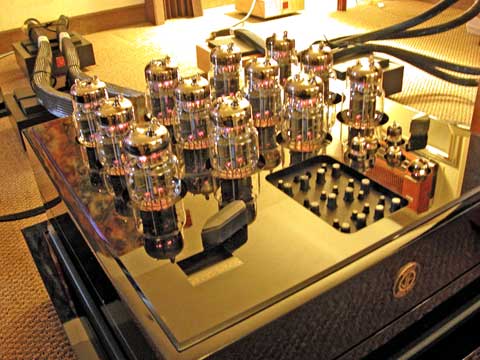 A closer look at the Joule Electra Rite of Passage: glorious, glorious!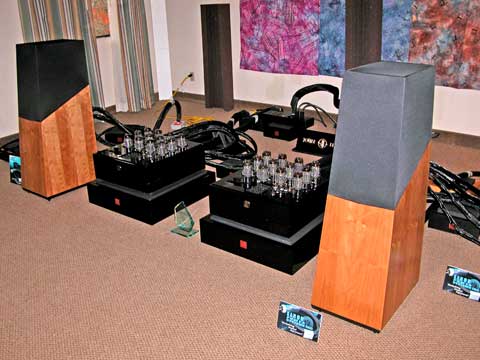 A longer-range shot of the Joule Electra room layout… great sound here!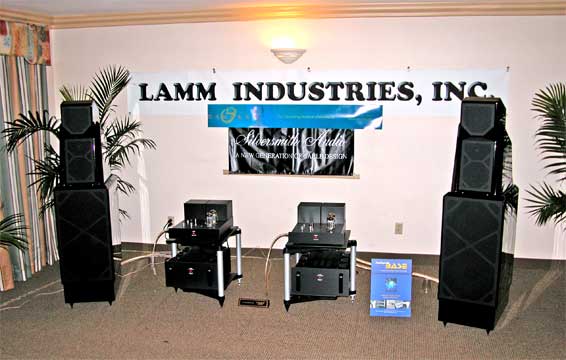 From Joule Electra I wandered on to the Lamm room. Didn't get to meet any of the Lammskys, but did get to see a very good room.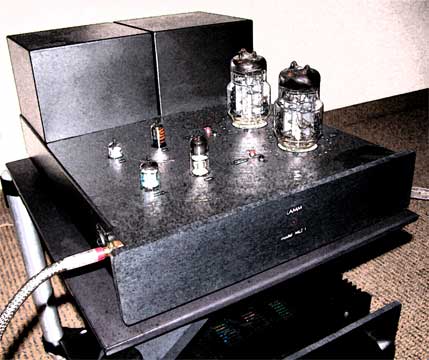 Jud Barber does the 6C33 tubes one way; Lamm goes a different direction. A fresco of the understated Lamm ML2.1 heating up some electrons.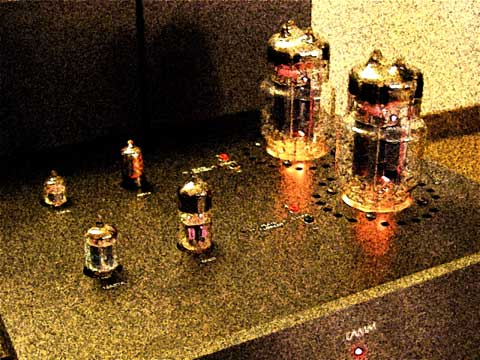 Lamm ML2.1 dreamscape by yours truly; tubes do have an irresistible beauty.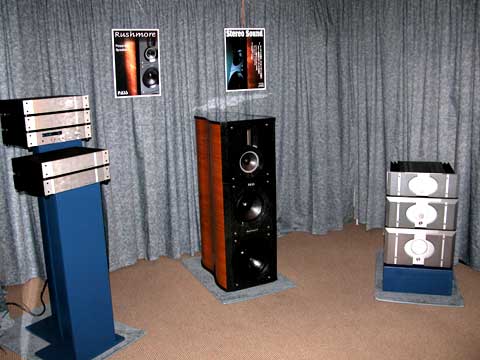 From one world to another: the Pass Labs room. Solid-state in piles, bunches, oodles, and stacks! The Rushmore powered speaker on display. I would have liked to have heard this with an SACD front-end, but didn't see one about the place.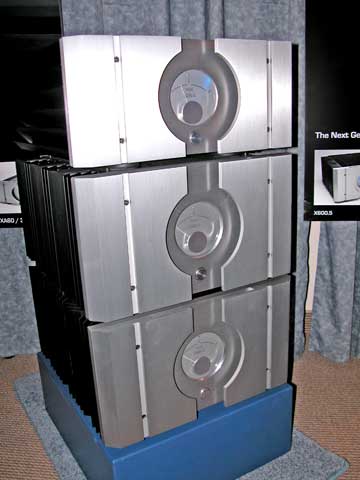 The Pass Labs X600.5 amp in a stack. Big guns! It would be interesting to give these a listen some time… Nelson, you out there?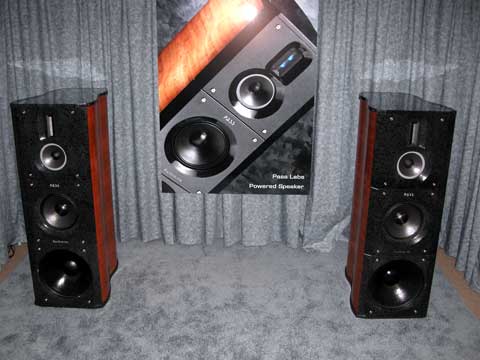 The Rushmore powered speakers in stereo formation…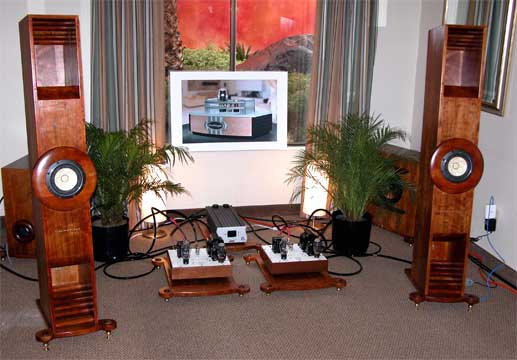 …which meant that I was really changing worlds and paradigms… big time… by going directly from the Pass Labs room to the Wavelength/Nirvana/Cain & Cain place! (I'm still amazed that I didn't get the bends.) I've known Terry Cain, a fellow Pacific Northwesterner, for a long time know. He's an absolute master craftsman; his new IM-Ben double horn loudspeakers above are gorgeously finished, and provide efficiency levels of near 100 dB/Watt/meter for those who prefer their tubes to be on the SET purist side of the street. If you look carefully, you'll see the Cain & Cain Bailey subwoofers camped in the corners of the room. I finally got to hear the new Cain & Cain system with Wavelength's Napoleon monos. I am delighted to say that I was very impressed with the results.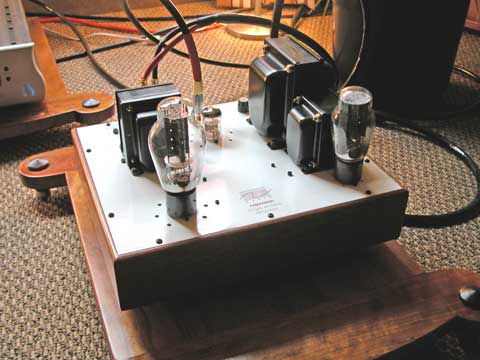 Gordon Rankin's Napoleon V3 monoblock SETs were making lovely music, and had a simple and elegant design that matched the Big Bens in a striking way, both visually and aurally.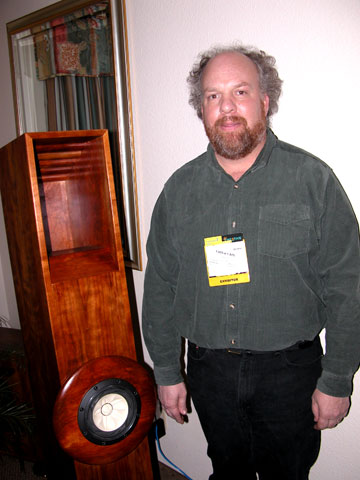 Here's my audiobud Terry Cain, next to his IM-Ben.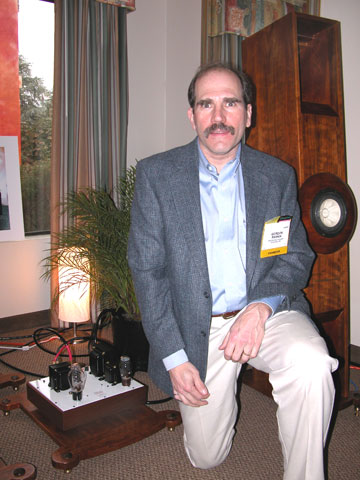 Gordon Rankin and I got to talk for a few minutes, for the first time. Gordon clearly loves what he's doing, and is passionately committed to a vision of what's possible with SETs. Gordon's a good man, and his designs bear watching.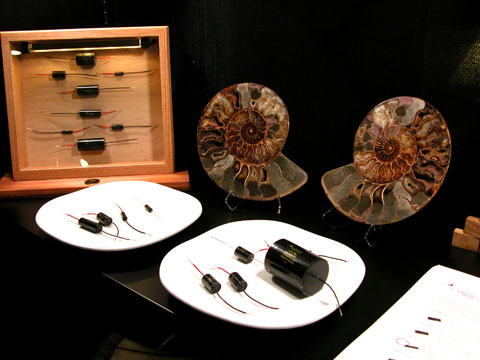 From new audio acquaintances to very dear long-time audio friends: the Cardas room at CES 2005. George's room is always at the top of the artful list, year after year. His displays and layouts reflect a superior aesthetic sensibility, to my extreme pleasure.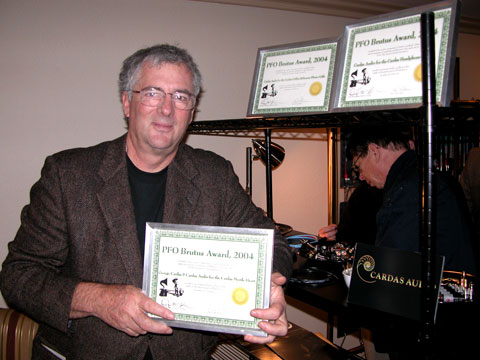 A great moment! George Cardas with his three Positive Feedback Online Brutus Awards for 2004. These complement his PFO Brutus Lifetime Achievement Award of 2003 (which I was not in attendance to give him personally). George is in the charter group of the PFO Lifetime Achievers—as it should be. There is no finer person in fine audio than George Cardas.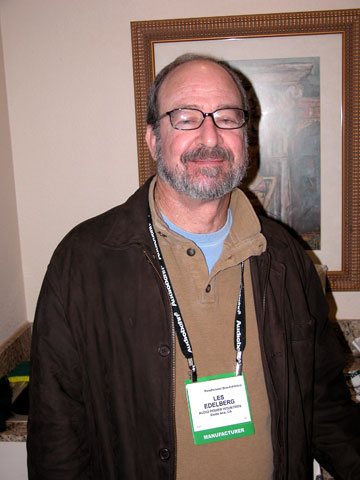 While I was visiting with George, who should drop in but Les Edelberg of Audio Power Industries. I hadn't seen Les in a number of years; it was good to say hello once more.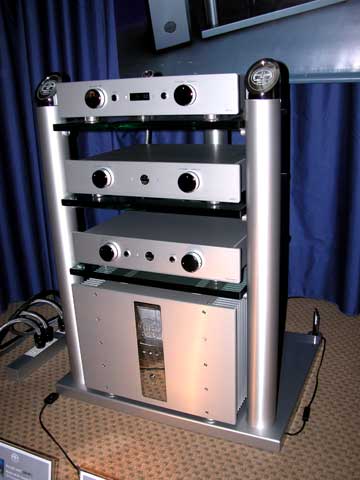 My next stop was the Aaudio Imports/Accustic Arts room. There was an eye-catching solid-state stack going…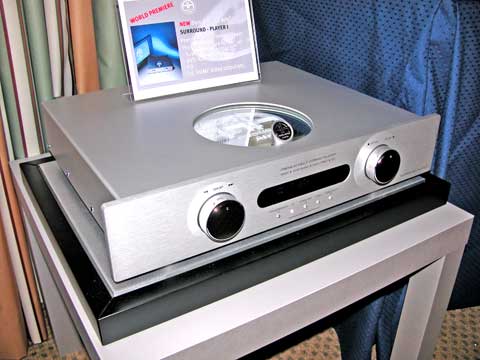 …but of even greater interest to me was an SACD player that I had not seen or heard of before: the Accustic Arts Surround Player I. It does universal playback, and has HDMI for video. I'd like to hear this one, for sure.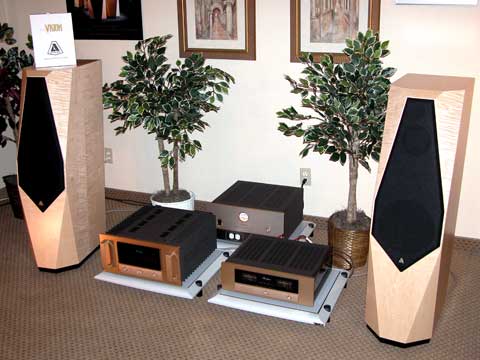 The next room in my wanderings was Art Manzano's Axiss Distribution space, featuring Accuphase/Blue Electric/Shelter/TAOC Rack Systems/Transrotor. Pictured are an Accuphase amp and preamp on TAOC stands, with Accuphase line conditioning, driving Avalon Eidolon speakers.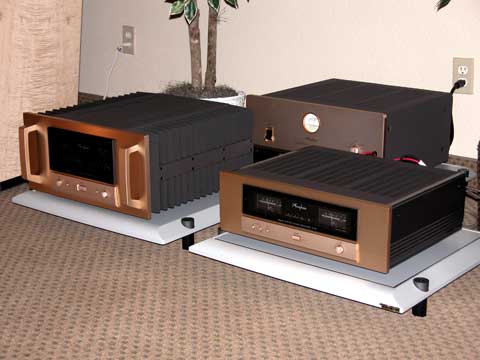 A closer view of the Accuphase system: to the right front is the Class A Stereo Power Amplifier A-30 (30 Watts per channel, 8 ohms, Pure Class A); to the left front is the A-60 (60 Watts per channel, 8 ohms, Pure Class A). In the rear is the Accuphase Clean Power Supply PS-1200V. These triple parallel push-pull MOSFET-based amps are generating quite a rave in Europe.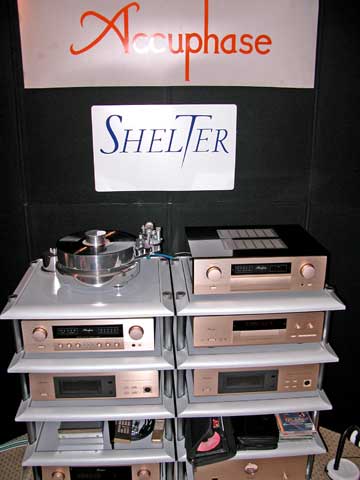 I've got to hand it to Art: the Accuphase/Transrotor/Shelter front end stack was pretty appealing!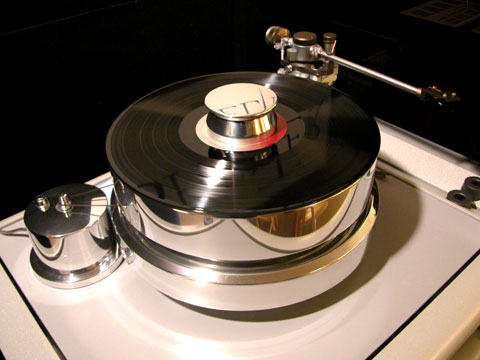 A seductive Transrotor Fat Bob on display.