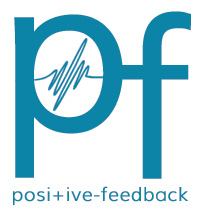 You are reading the older HTML site
Positive Feedback ISSUE 21

september/october
2005
RMAF - the People's Show, Part 1
by Dave and Carol Clark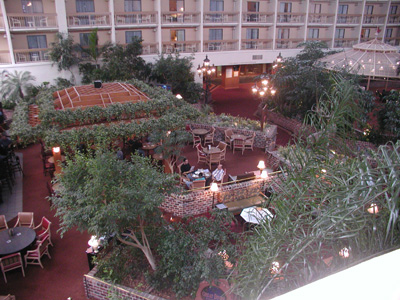 A room with a view—the bar and nightly hang-out as seen from our 3rd floor room. This is (was) a very nice place to have an audio show. Good service and great beer, easy to get around (except those floor numbers!). But, the evenings saw us hanging way too long at the bar with friends (old and new) making the morning a way-too-soon encounter. Got coffee?
We need to learn to pace ourselves—getting too old to party that hearty! Anyhow we found this show to once again be a great place to see people and hear music—kudos Alan and crew. A fantastic event that was very well organized. Never heard a complaint or saw an unhappy camper. Thanks for all the time and effort, you guys are the greatest! By the way, this is THE Show for the public (and industry) to attend. If you did not make it this year (and/or last), you are really missing a great time. I can not think of any public show that offers this much value and kick for so little cash. Be there next year or consider yourself off the island.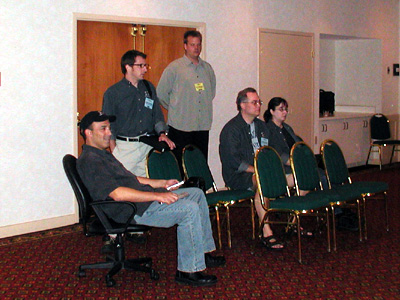 Jonathan Tinn, Bryan Gladstone, Kevin Malgrem, David Robinson, and Carol Clark soaking in the music in the Blue Light Audio room (Von Schweikert VR9 SE speakers, DarTzeel amplifiers/preamplifier, Meitner (EMM) dac, GrandPrix rack, Jena Labs cables). A very big sound, that on the first day of the show, really got Carol hot, but left me cold. Played Brian Eno's "This" from Another Day on Earth (we used this disc and specific cut throughout the show, so I will refer to it as our reference cut when commenting on the sound in the rooms that we auditioned) and I felt the vocals to sound too metallic and coarse. The sound was effortless and BIG, but for me at least, it did not gel as it I hear at home. Not to my liking in the least. But ...came back on Sunday and VOILA! Way better mon! I mean WAY BETTER! Now the track sounded very musical and simply sumptuous. Carol though preferred the sound on the first day! Go figure ...Carol likes her music in her face and oh so, visceral—way more than I. Even so, nice to see that good things happen to those who wait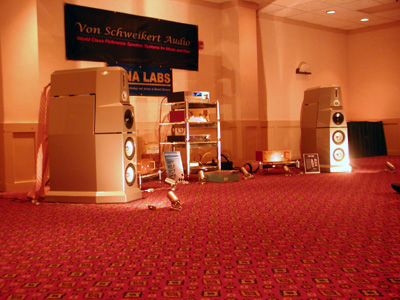 The system from not too afar.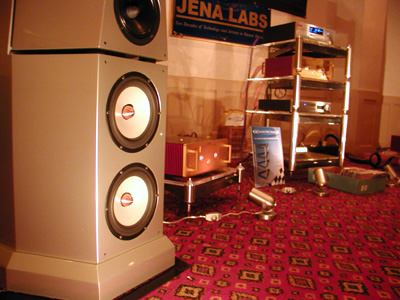 A wee bit closer... these are not small speakers!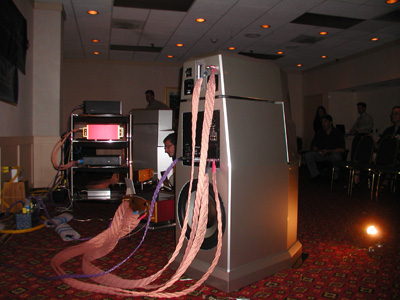 A mass of Jena Lab cables feeding the signal to the VR9.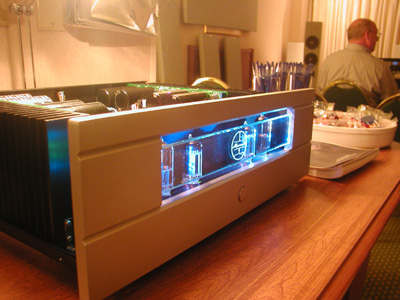 Moscode 401 HR stereo amplifier. Cool blue. The front flips down to change tubes and turns the unit off when done so, now that is even WAY cooler!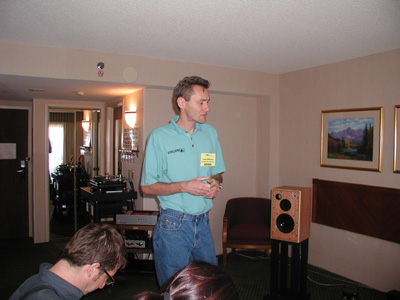 Clark of Acoustic Sounds with the VPI Super Scout Master, JM9 signature tone arm, Nordost wiring, Lyra Titan cartridge, Sutherland PhD phonostage, Sutherland Director linestage, KM860 Mono amplifiers $3000, Harbeth Monitor loudspeakers, Sound Anchor stands, and AudioQuest cables.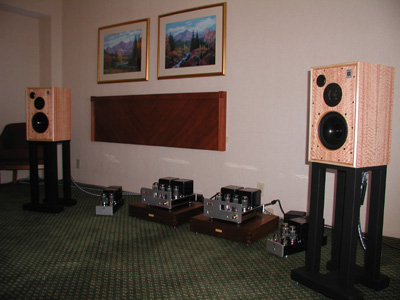 Harbeth Monitor loudspeakers.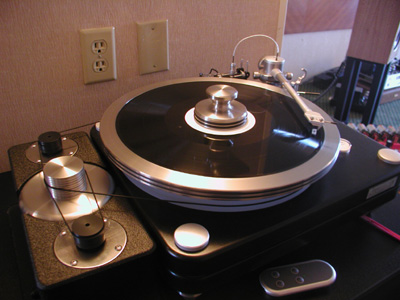 VPI Super Scout Master and JM9 signature tone arm.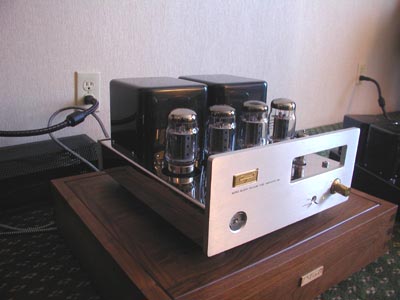 KM860 amplifiers $3000/pr. Very cool for so little dinero!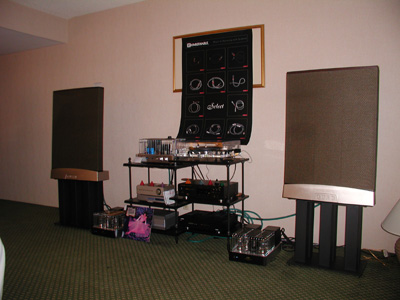 Kimber Kable with Gold Sound. Tube Magic System featuring a Marantz SA8260 CD player, Antique Sound Lab AQ2006dt preamplifier, Monsoon amplifiers and Quad 988 electrostatic speakers, and a Pro-ject Xperience turntable.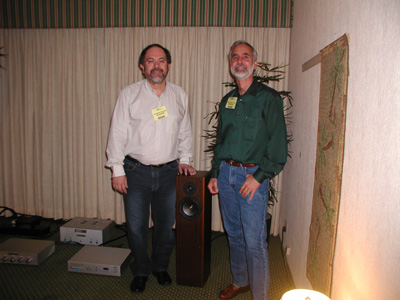 Eduardo di Lima and Gordon Burkhart-Schultz of Audiopax.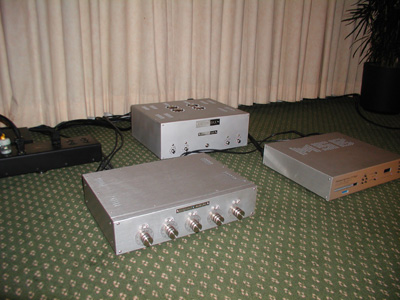 The Audiopax Model 5 preamplifier $4990, Model 98 Singe Ended Tube amplifier $8990, and L350 loudspeakers $3490 pr. Always making good sound. I did find too many rooms opting for the floor-stand, er ...rack ...er platform to hold their gear. Not sure that this it the optimum arrangement to get the best our of what they had, seems it would be rather easy to ask around for a loaner of some sort to maximize their sound.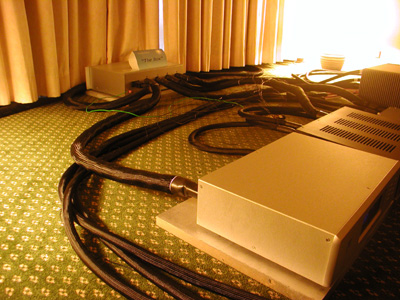 A mass of Sunny Cables. This room was not playing music at the time and the set-up and environment did not entice us want to sit and listen when they did. Too bad as I heard good things about these very $$$ cables.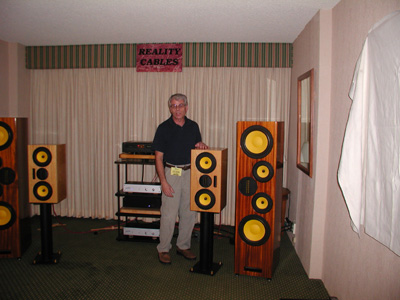 The return of Rick Reimer, of Reimer Loudspeakers. Best sound ever in a small box! Nice guy and boy genius... oh I own his speakers! Not a fan of the yellow drivers though, time to go back to basic black Morels!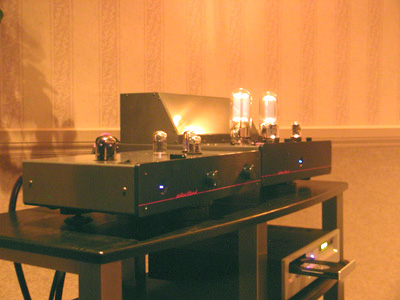 Sounds Real Audio featured the deHavilland GM-70, deHavilland Mercury 2, Wilson Benesch A.C.T.s, Cardas Golden Reference cables, Art Audio Vinyl One Phono preamplifier, Audio Aero Capitole CD player, EuroLabs Premier Turntable, Morch DP-6 tonearm, and a Dynavector Karat cartridge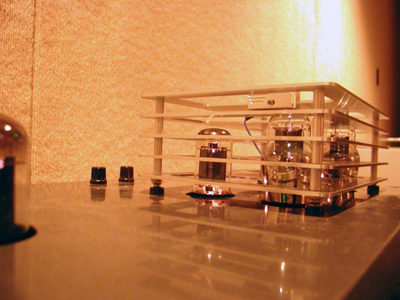 A close-up of the deHavilland Mercury 2 preamplifier. Very industrial and very musical.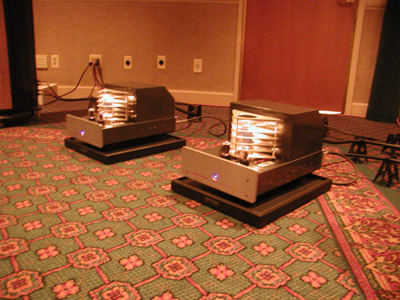 The deHavilland GM-70 giving the typical deHavilland sound, meaning very nice.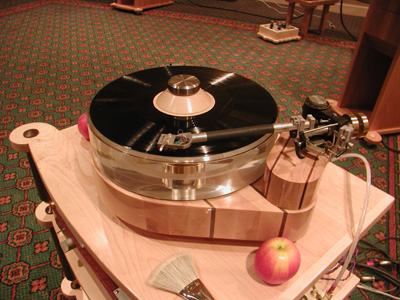 Cain & Cain Studio Single Horn speakers with sub, Wavac 811 amplifier (below), a Teres turntable (Terry's), and a Berning ZH270 preamplifier.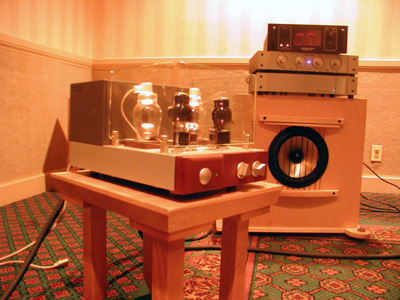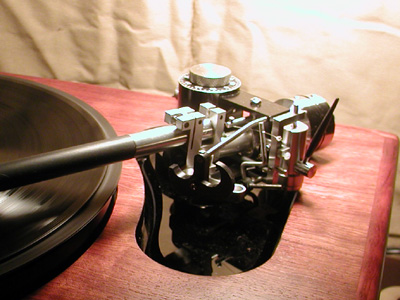 Sota turntable with TriPlanar arm. Had several delightful conversations with Trei Mai—the world needs more people like Trei.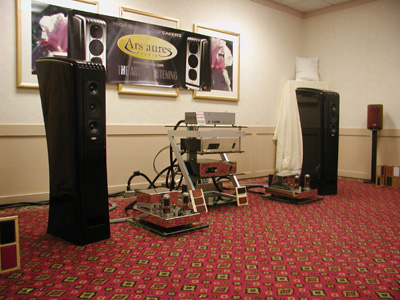 Ars/Aures loudspeakers, Art Audio Quartet amplifier, Ensemble/Gill Audio electronics, Dynamic Design cabling. Nice sound, that with our reference disc, was very warm and rich. Nah, make that musical.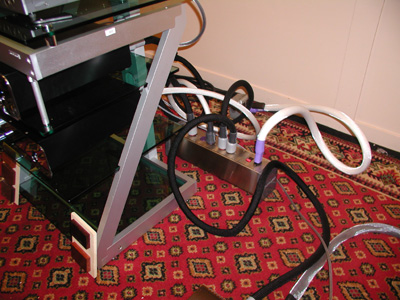 The World Power PowerWing was being used in several rooms to very good effect. AC was an issue as some rooms were running under 115 volts. No doubt in terms of the additional noise and crap, getting the best AC possible was a serious issue.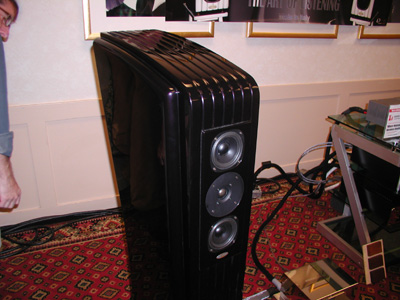 Very nice speakers though not inexpensive at a little under $20k.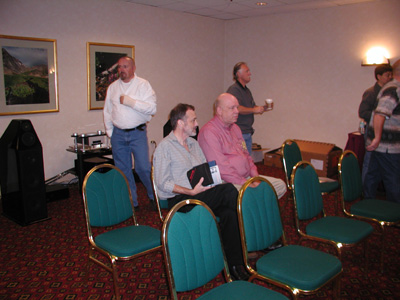 Dan Meinwald of E.A.R. USA and Peter Clark of Redpoint discerning the subtleties of a specific analog pressing. You hear that? What, that? Yeah, that?!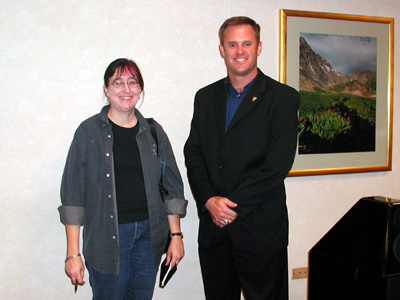 Carol with the dashing and oh so debonair Jeff Smith of Silversmith cables. Which were to be found in several good sounding rooms.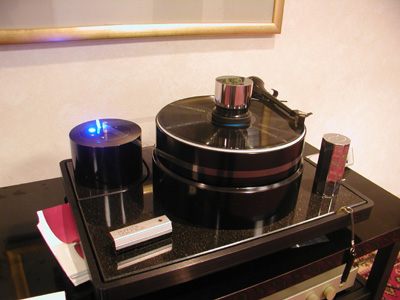 A Redpoint turntable with a Helius Omega tonearm.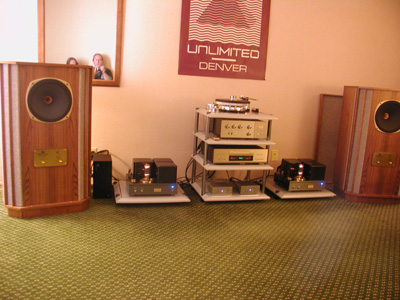 Tannoy speakers, AirTight amplifiers, Transrotor, Koetsu, and Accuphase CD player in the Audio Unlimited room (along with Axiss and Audio by Meyer). I can see myself! Very nice to be hanging with Ronnie of Audio by Meyer—once of the guys with white hats. Have know Ronnie for like ever, and really appreciate his friendship. See you at CES!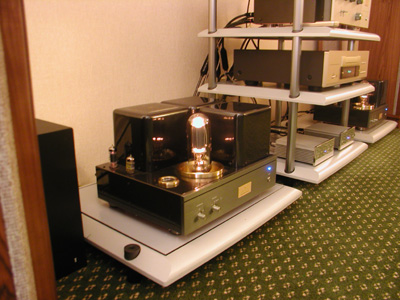 AitTight doing what it does best—making music. Last year this room really under whelmed us, but this year they had it right and the system sounded very nice indeed.