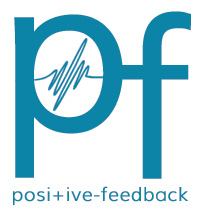 You are reading the older HTML site
Positive Feedback ISSUE 23
january/february
2006
CES 2006 - Part 1
by Dave and Carol Clark
Ah yes, another CES. Used to be fun walking around and seeing friends, listening to music, and checking out all the new gizmos! But, ma, now it is WORK! After four days of hitting as many rooms as we could, taking a gazillion images, and copious pages of notes, it is nice to be home where we can listen to the best system ever—ours!
Whazat you say!? Yours? You got to be kidding... yeah, seriously shows are shows and to get real good sound (like we have here) is about as likely as winning big at a casino. New room, different components, poor AC, whatever, will all raise their pointy little heads to wreak havoc and push the exhibitors' to the limits as to what they can do in a day or two of set-up. On the other hand, there are a few who simply use the same gear from year to year (Manley and a few others come to mind) and avoid this issue altogether. But for many it is simply a crap shoot. Well, as well orchestrated one, but even so it is difficult to make magic in only a few days.
So what do we expect at CES? Not much really. Hey, after 12 years of attending CES, we can work the show with our eyes closed! But, we have come to find that if we can stay in the room and not run out wincing in pain, it would probably sound good at home. This year we found that many rooms were decent to good, and sometimes very good. Not so sure why this year would be different than any other, but we really enjoyed more rooms then usual—assuming they were not playing music we would avoid; insipid female vocal warblings or old white-man-has-no-clue rock, jazz, blues, bang-the-drum-tap-the-cymbal shenanigans ...ah, you fill in the blank sort of crap. Okay, Carol and I are from a different place, but come on man, give some of this stuff a rest—enough Patrica Barber, Eagles, etc.—try something new! Like using Morphine's "Buena" from the Best of Morphine disc, we found that many systems simply rocked. True some rocked slower or with less whatever, but they still got the message across.
There are some people we simply missed. Not so sure why as we made every attempt to hit every room that offered something interesting to either see or hear, or that we knew from previous years. If we missed you, our most sincere apologies.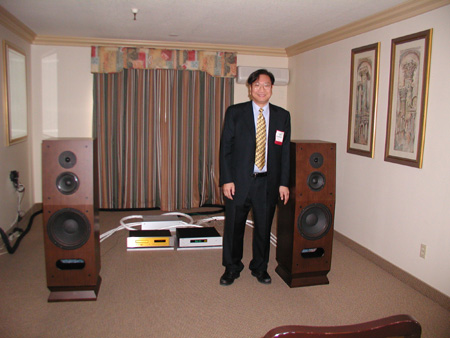 Sunny Lo, Sunny Cable Technology with Model 3 Loudspeakers ($7000) pair made in US. They showed the 1000 series cables ($1500/meter) and the Supreme cables ($5000/meter). A big, BIG sound that was very dynamic and did I say big? We felt this system to be more "forgiving" as opposed to neutral. Even so, it sounded musical.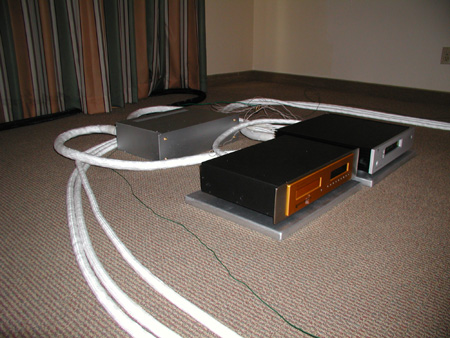 Sunny Cable Technology's top-o-the-line! Very nice.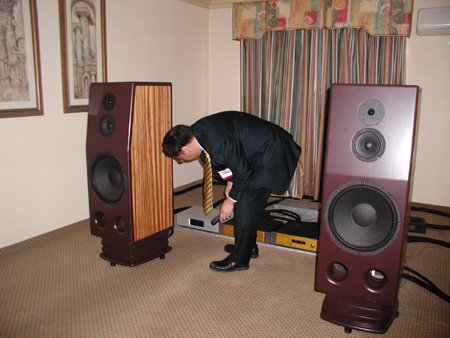 Sunny Cable Model 2 Loudspeakers ($8000 pair, 94dB). Not as BIG as the Model 3.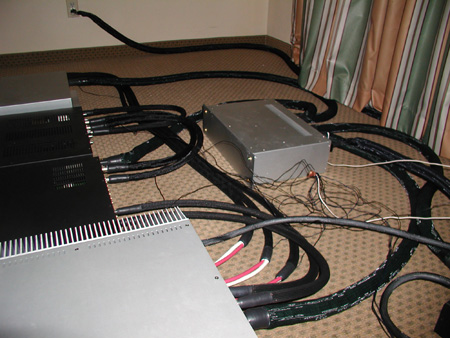 More of the Sunny Cable Technology, but their middle-o-the-line cables.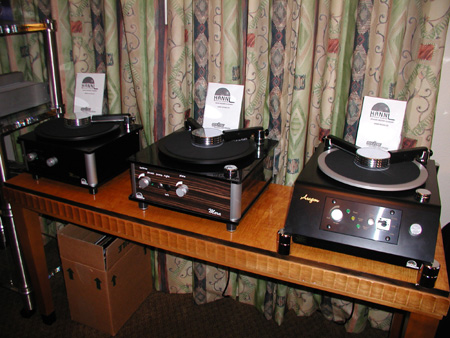 Elite Audio Video Distribution featured 3 record cleaners. The Mera, the Micro, and the Aragon all from Hannl.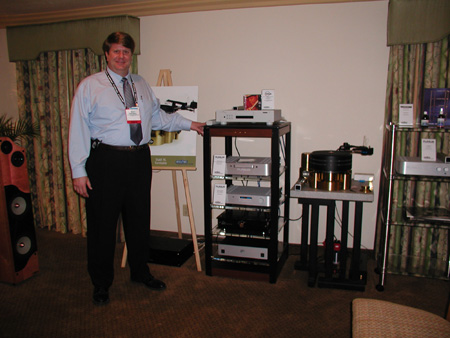 Scott Markwell of Elite Audio Video showing the Kuzma Stabi XL turntable with the Airline tonearm, Muse Polyhymnia, Plinius CD-101, ASR Basis Exclusive phono section, Equitech power conditioner, Arcici Suspense rack.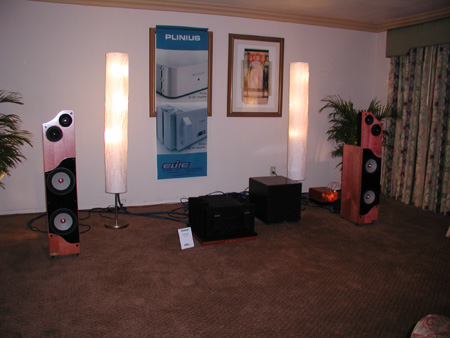 Nola Viper Reference ($12,000 pair) with Plinius SA Reference ($14,500), Eichman cabling, and the Alon Thunderbolt subwoofer, in the Elite Audio Video room. Always liked the Nola stuff and these new Vipers (shown at the last RMAF) really sound good!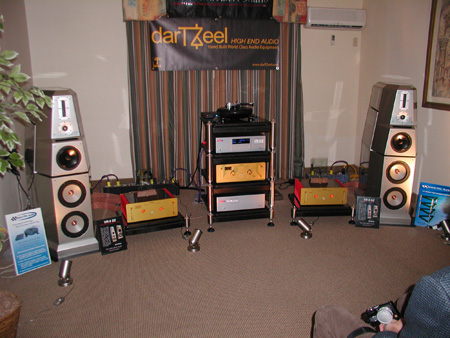 Von Schweikert VR-9SE loudspeakers, Dartzeel NHB-18NS preamplifier, NHB Model 8 amplifiers, EMM Labs CDSD and DAC6 in the Jonathan Tinn's room. Killer sound! Liked this better than at RMAF even though the room was about a fourth the size! Morphine kicked ass!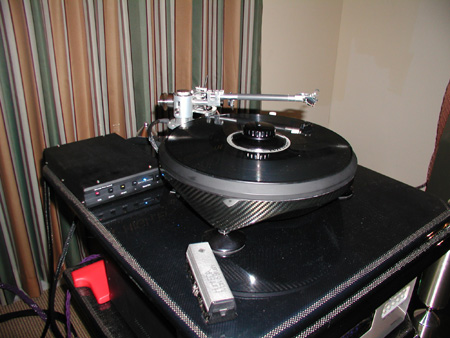 The new Grand Prix Monaco turntable ($15,000). Very nice and very simple direct drive. Using their experience with carbon fiber and composites, this table was sweet!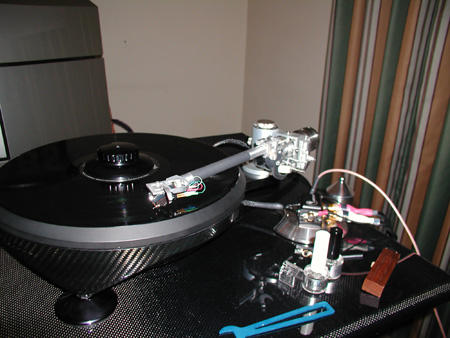 Grand Prix Monaco with a Triplanar arm.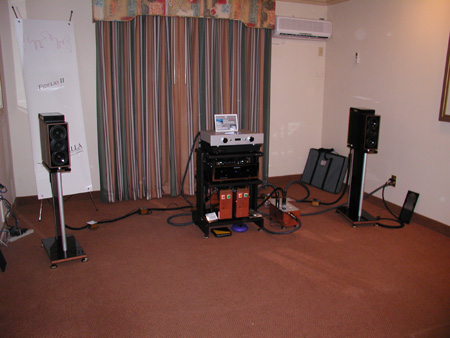 Aaudio Imports featuring Acapella, Einstein, and Isoclean. Nice and clean—Isoclean!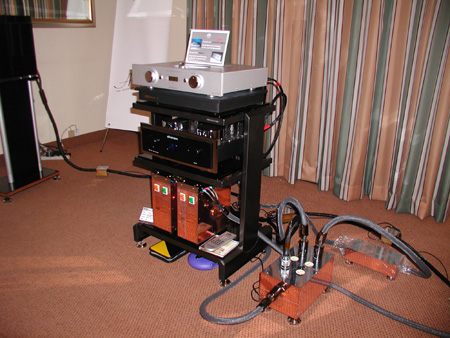 Accustic Arts' CD Player 2 CDP 24bit/192kHz ($7700).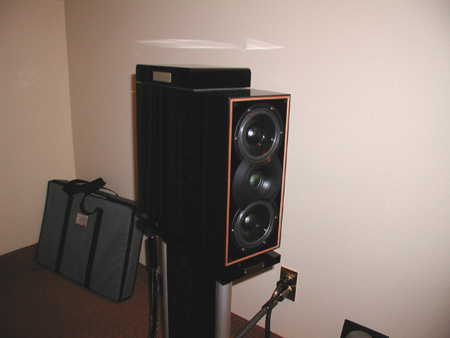 Acapella Fidelio 2 loudspeakers ($6800 pair). Sounded bigger than they looked.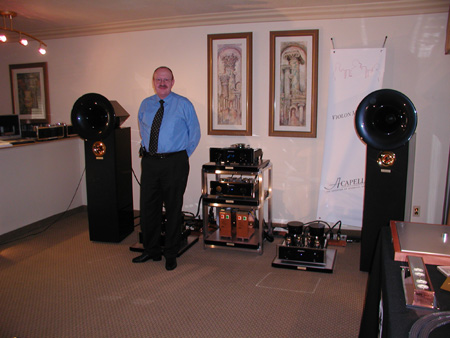 Hermann Winters of Acapella with High Violon MK3 Loudspeakers ($48,000) pair, Einstein The Last Record Player MK-2 ($7490), Einstein tube preamplifier ($13,850), Symposium Precision Aluminum Frame ($6000), and various Isoclean products. Have been very impressed with their rooms in the past and this year was no exception. Nice people too!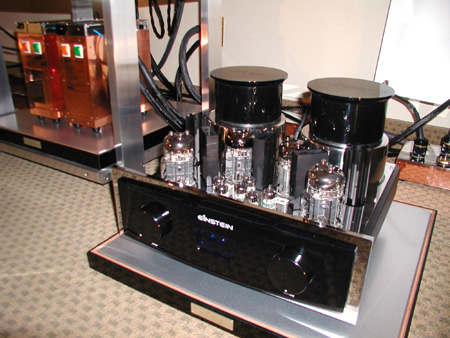 Einstein The Final Cut MK60, OTL monoblock amplifiers ($25,250 pair). Gorgeous stuff! Simply wunderbar!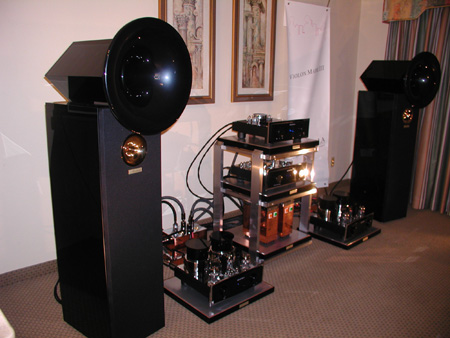 Another shot of the Acapella High Violon MK3 Loudspeakers with Einstein monoblock amplifiers.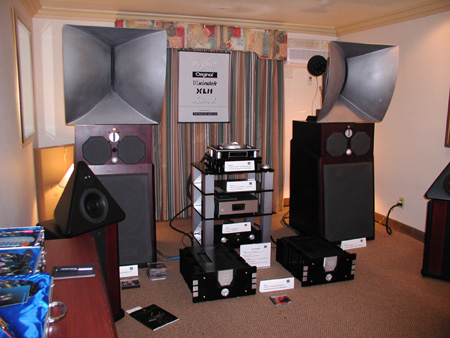 AAA Audio XLH Reference 1812 Loudspeakers ($50,000 pair), XLH SL-11XS balanced dual mono preamplifier ($5000), XLH M-2000 self-analyzing balanced mono amplifiers 600 watts at 8 ohms ($25,000 pair), XLH custom designed interconnects and speaker cables, Original Leonardo CD-A9.3 CD player balanced dual 24 bits/192 kHz ($3000). While one would expect these speakers to sound ...well like they look, truth is they sounded rather nice and not like they looked at all! No hint of a giant-metal-horn-staring-you-down thing in the least. We will have a review of this system soon...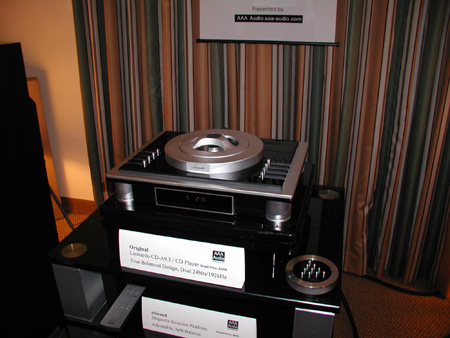 The Original CD-A8T CD player, HDCD, tube, and solid state—you make the call! Very elegant and very cool!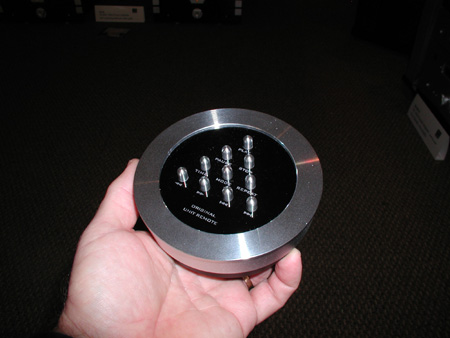 The Original CD-A8T CD player remote. Take me to your leader!
Also in the AAA Audio room were the Dussun V8i integrated amplifier dual mono hyper class-A 250w per channel at 8 ohms ($2898), V6i integrated amplifier dual mono hyper class-A 150w per channel at 8 ohms ($2098), D9 multi channel integrated amplifier 5 channels 130w per channel at 8 ohms ($2298). Tetra loudspeakers showed along side the stuff from AAA Audio to good effect.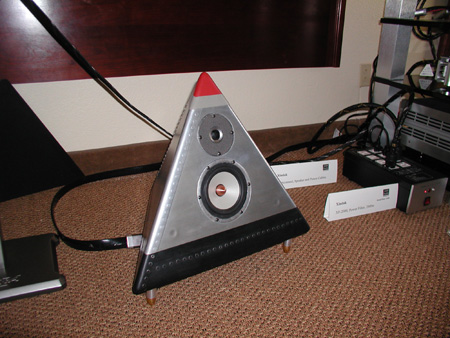 Tetra 306 loudspeakers. Amazingly good and BIG sound from something that looked like it belonged somewhere else. Perhaps a sci-fi flick or something from the Middle East ...a sci-fi move from the Middle East!! Even so, with a downward-firing port, these played BIG.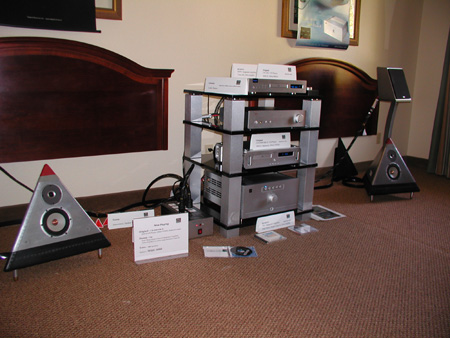 An Original CD-2008 MK II HDCD/CD player, Dussun V8i integrated amplifier, Tetra 306 loudspeakers—MSRP is $8500 for KILLER system.
Gershman Acoustics Black Swan loudspeakers ($30,000 pair) showing with a Manley Shrimp preamplifier and M250 amplifiers.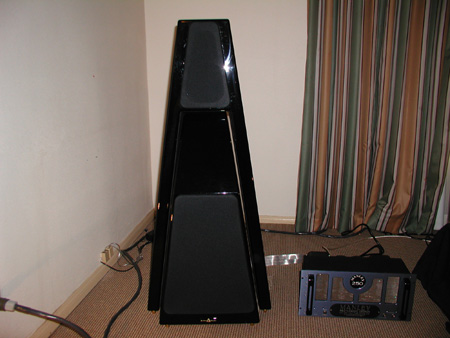 Hard to see, but the bottom part of the Gershman Black Swan loudspeakers (the woofer module) is isolated from the mid-tweeter module mitigating resonances and such. Cleaner, faster ...more music, less crap. We can all use less crap.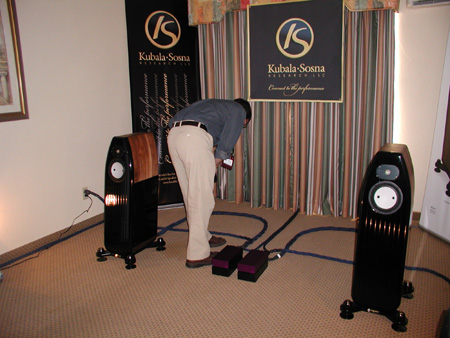 In the Kubala-Sosna room, we found Bryan Gladstone looking at Kharma Mini-Exquisite Speakers ($45,000 pair), the Kharma MP150-SE monoblock amplifiers, with Kubala-Sosna Emotion Single Wire ($3500 2.0m ), Emotion 15Amp power cords ($1200 ea, 2.0m ), and Emotion XLR ($6700 6.0m ).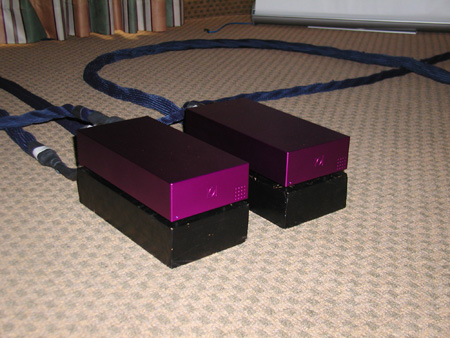 Kharma MP150-SE Mono-block amplifiers ($6800 pair). The black boxes beneath the lavender amplifiers are not part of the amplifiers, just black boxes beneath the lavender amplifiers. The room sounded really, really good though I thought the amps ran out of steam on a few occasions.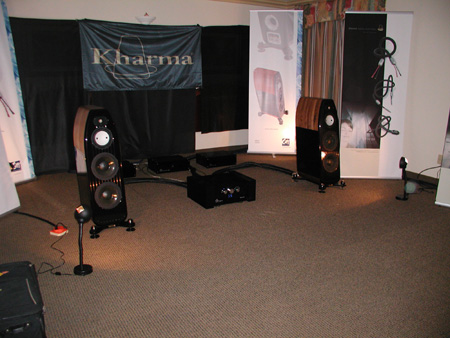 The GTT/Kharma room with the Kharma Midi Exquisite loudspeakers ($75,000), Kharma Enigma cables ($6000 for first meter!!), ASR Emitter II Exclusive Blue amplifier with its three power supplies ($27,000), ASR Basis Exclusive preamplifier ($5950). Very, very nice sound. A Kuzma table, Shelter cartridge, and MBL CD player rounded out the package.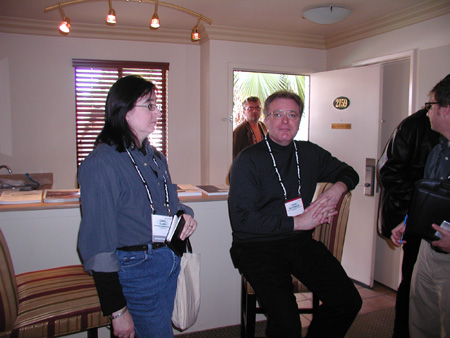 In the McCormack room we found none other than ...Steve McCormack. Carol Clark and Steve McCormack striking the poise.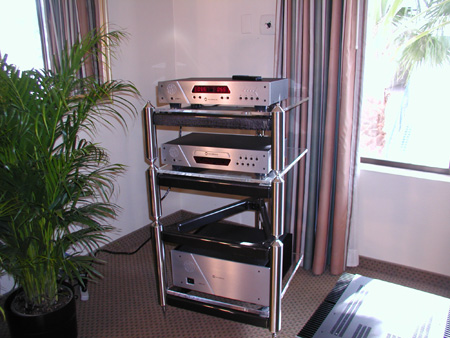 McCormack Audio MAP1 multi-channel analog preamplifier, UDP1 Universal Disc CD player, and HD5 amplifier.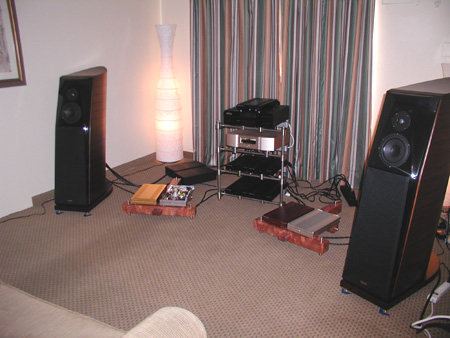 In the NuForce room was the Reference 9.02 amplifiers and Usher CP8571 loudspeakers. Nice and natural with no hint of stridency or the digital-amplification-demons!
The Reality-Check CD duplicating machine... Clark?
Jason Lim and Seth Schalet from Nuforce. Good guys who enjoy good music.