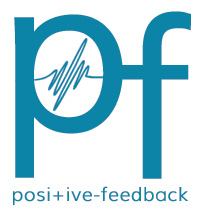 You are reading the older HTML site
Positive Feedback ISSUE 23
january/february
2006
CES 2006 - Part 2
by Dave and Carol Clark
And here we have the final installment, Part 2. Whew! Well over 200 images and, well ...glad this is done! Like I said in Part 1, the 2006 CES was a great show with lots of very good sounding rooms and people to see. Like the good fellows in the picture below.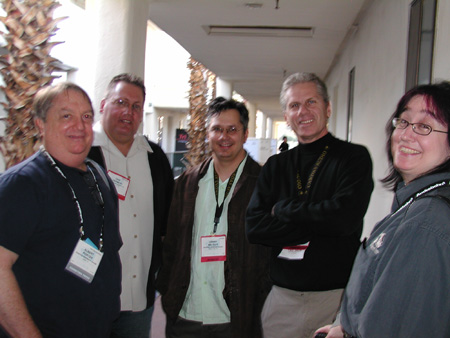 Ran into Albert Porter and Running Springs collective on a bleary-eyed third day! Too much late-night partying ...Albert (left) and Carol (right) with Dan Babineau, Catfish Mayeux, and Dan Harmon of Running Springs. Good stuff and nice people too... lots of nice people in this industry and that makes attending CES the joy it is ... and for the food and drink!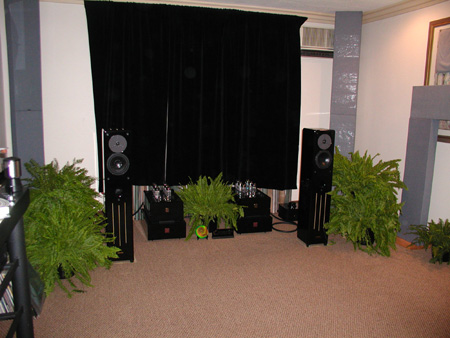 In the Merlin room, the VSM-MX loudspeakers with the new Super Bam played music with Joule Electra electronics and all Cardas cabling. Bobby's room always sounds great. Music, music, and more music. This is a system I could live with―a desert island sort of thing. Nice to see and talk to Bobby again, a good man he is!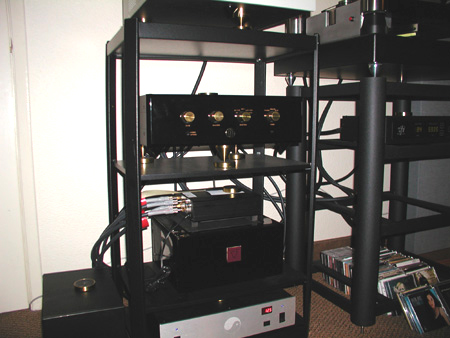 More Joule-Electra gear with the redone Super Bam module. Way better says Bobby, and he would know!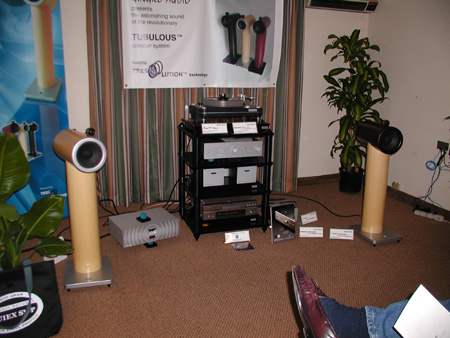 The Gingko Tubulous loudspeakers ($2450) pair with Cantare speaker cables, VPI Scoutmaster, Modwright SWL9.0SE preamplifier, Channel Island Audio D-200 monoblock amplifiers, audience AC conditioner, and a Denon CD player. These speakers are now in production mode (we have some in for review) and they sounded very good. Great people too. Love their isolation products.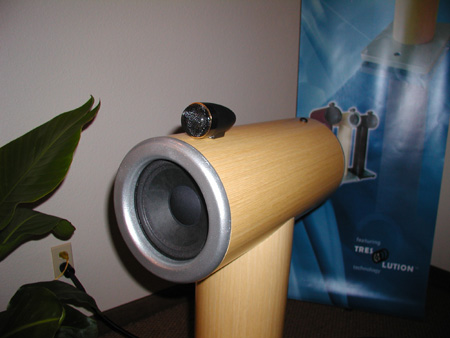 Gingko Tubulous loudspeakers―cool idea. Sounds good too. And not that pricey at $2450! These speakers play music.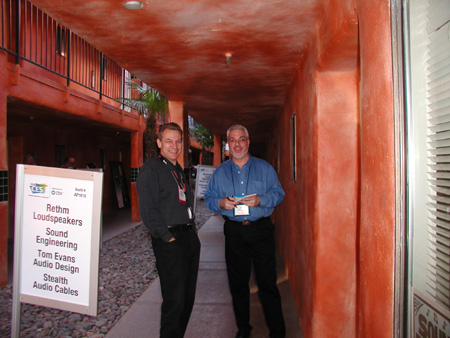 Greg Weaver with Serguei Timachev from Stealth Audio Cables shooting the breeze and enjoying the show. What a lovely color scheme!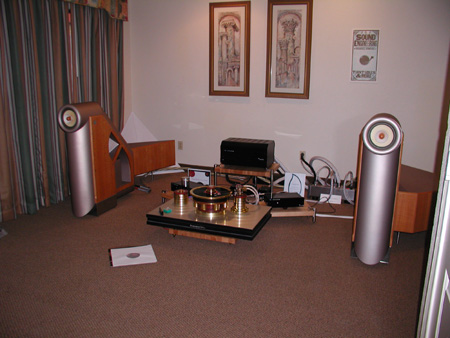 The Second Rethm loudspeakers and SE-1 Record Playing system by Sound Engineering, along with Tom Evans electronics and Stealth Audio cabling. A very nice sound with exquisite nuances, dynamics, and expressiveness. There was none of that single-driver coloration―the new-ish Rethms in this system were quite amazing.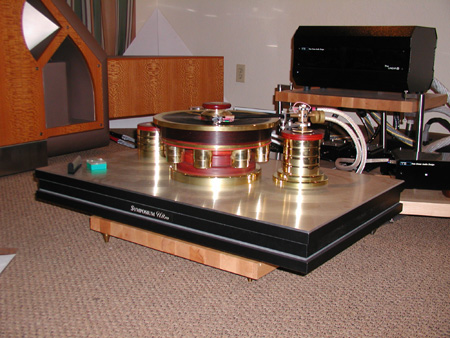 Sound Engineering turntable ($7500) on a very big Symposium platform. This was one of the more beautiful tables at the show. A real beauty that is elegant and well-thought-out design! Gorgeous!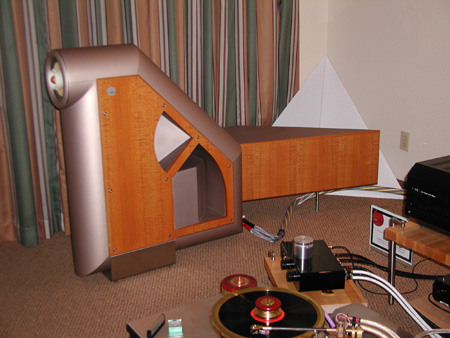 The Second Rethm with its bass-extension module to get more oomph into the room. It worked making this a way more of a full-range speaker than they have any notion of ever being. Not easy to fit into the normal decor, but very cool just the same.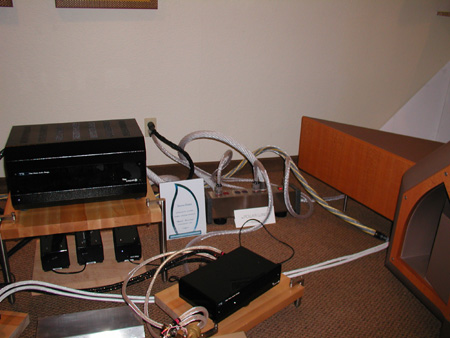 Another audioexcellence az Power Wing with Stealth cabling snaking around the Tom Evans Linear A amplifier and other electronics.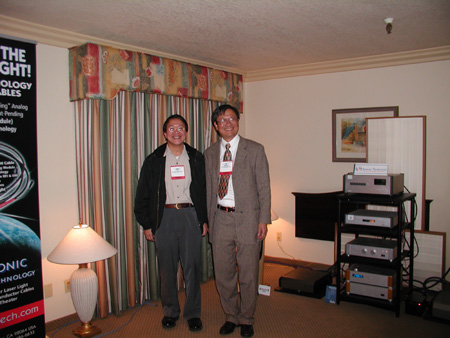 Jim Wang with Jimmy Ko Harmonic Technology cables. Nice people and a nice sounding room.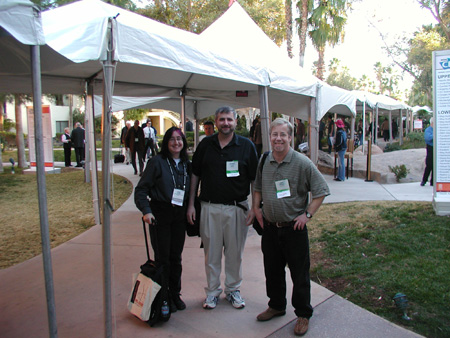 Carol Clark with Larry Fisher and Jeffrey Fox. Larry is an old friend from way back when we started this whole roller-coaster audio-ride. Thanks Larry... oh, and thanks for the scotch at Craftsteak! Delicious.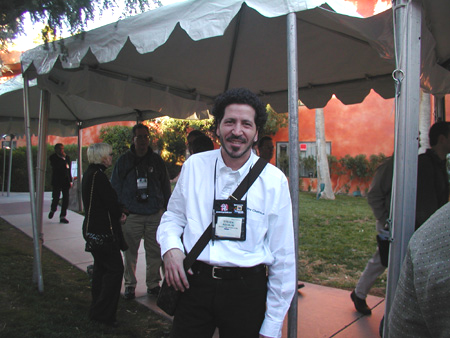 Steve Rochlin of ETM looking dapper and fresh.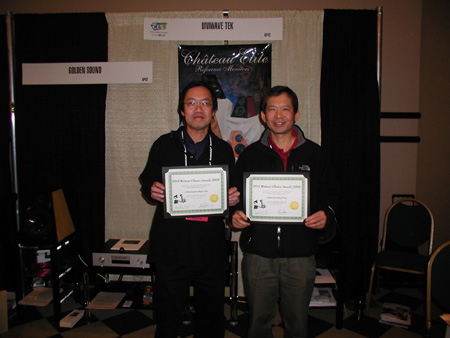 Allen Chang and Percy Deng of Golden Sound receiving their awards for the most controversial Intelligent Chip and Ring. Lots of new stuff coming from these madmen of audio...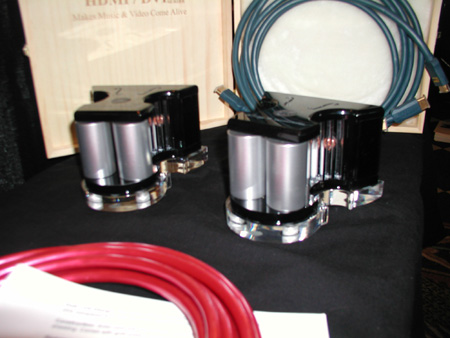 ...like the new Golden Sound Sound Stage Enhancer ($1200 pair) which works with their super tweeter to enhance the soundfield...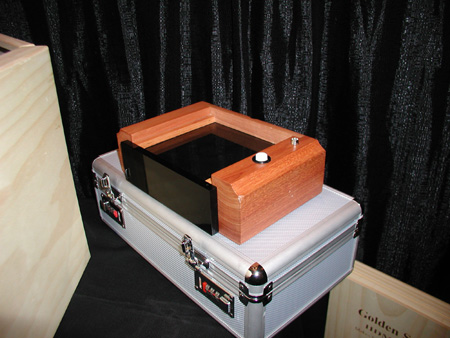 ...and the Golden Sound the Intelligent Card $300 (approx), which works with CDs and DVDs. With each $200 card you can treat 100 discs. Where is CJ when you need him?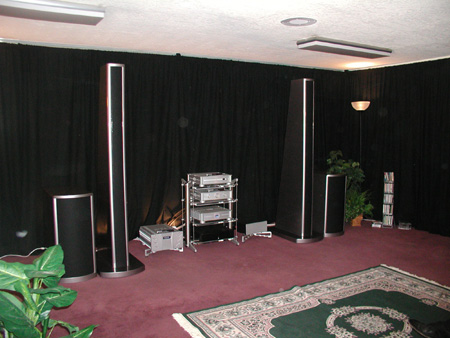 Edge featured Wisdom M75 loudspeakers ($52,000 pair) and the Edge ML12.1 laser biased amplifier ($18,300), the G CD player ($4450) and G2 battery preamplifier ($4450) to make music that was quite relaxing and easy to the ears. Very musical and big. Big seemed to be the theme this year.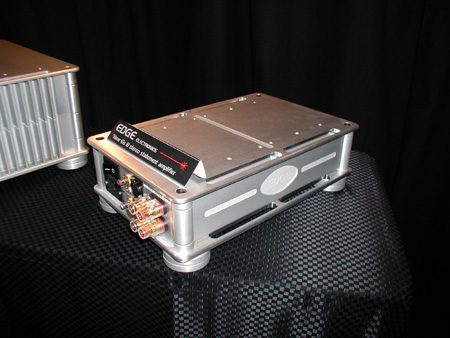 The new Edge G8 class D amplifier ($5500 stereo or $8500 mono). A pair is on their way for a review.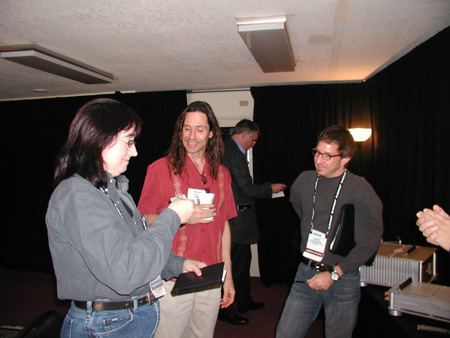 Carol Clark with Steve Norber and Bryan Gladstone. Good people those Edge. Steve is truly one of the dearest and sweetest people in this industry and is just plain fun to talk with about ...well, just about anything!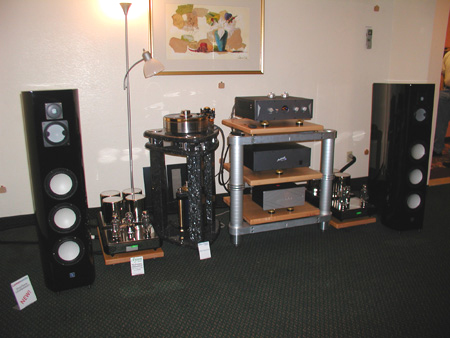 Acoustic Dreams (racks) showed Lumen White Silverflame Speakers ($30k), Ayon Reference monoblock amplifiers, Messenger Reference preamplifier ($16,000). This system had that clarity and presence that defied words. Always liked this stuff, but man is it $$$$$!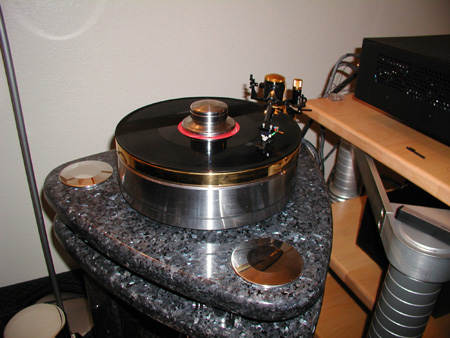 Blue Pearl Jem turntable ($82,000) including Graham tonearm magnetic bearing with a solid granite base and stand. WOW! Say no more...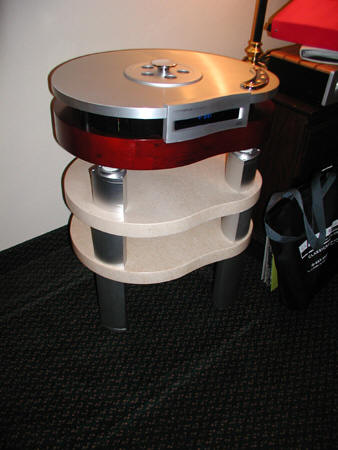 Consonance Droplet CDP 5.0 CD player ($3200) with dedicated stand.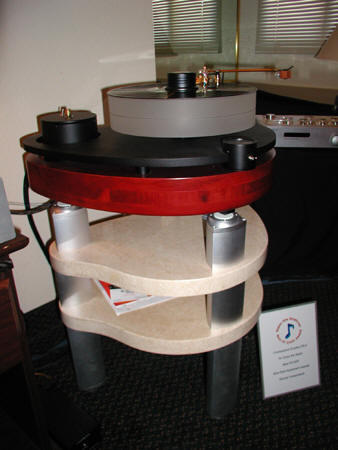 Consonance Droplet LP5 turntable ($4000) with dedicated stand. I think I see a trend here with the Consonance stuff... really cool idea, but not so sure I would want all these dedicated stands standing around...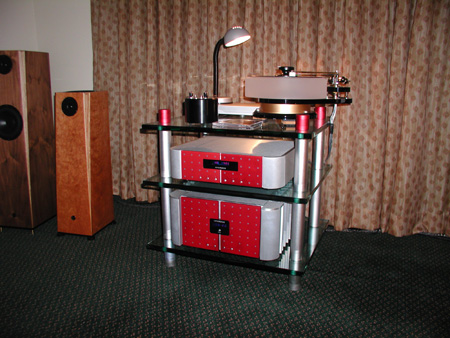 Forbidden City's The Calaf hybrid integrated amplifier ($3200), the Turandot CD player ($2400) a with Eurolab Premier MK II turntable ($2050) and FJ OM ($4000) pair and DUDE ($5200) loudspeakers. All sounded very sweet.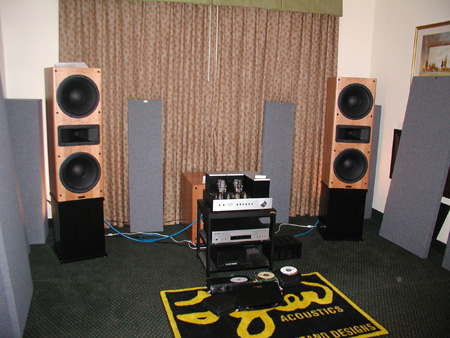 Tyler Acoustics showed the new Pro Dynamics Line speakers PD 20s ($1800 pair) with JoLida JD300B integrated amplifier. These REALLY, REALLY rocked and at that price could get a lot of people (young ones that like to rock) into audio. They sounded good too.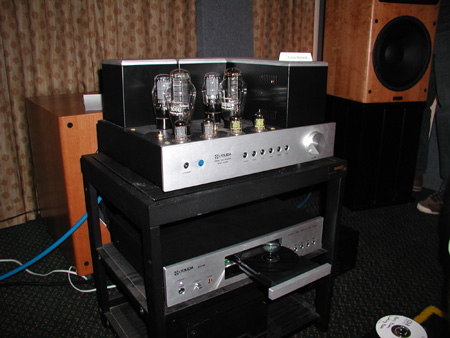 Jolida JD300B ($2250) integrated amplifier. Not a lot of power (9 watts), but enough for the PD 20s (101dB) to pressurize the room with a big sound. Refined and sweet.