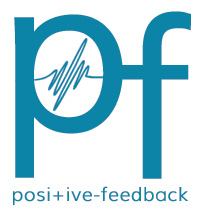 You are reading the older HTML site
Positive Feedback ISSUE 23
january/february
2006
CES 2006 - Part 2
by Dave and Carol Clark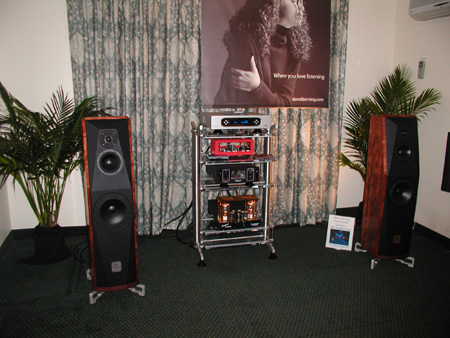 In the Stillpoints room was the Peak Consult Empress loudspeakers ($25,000 pair) on Component Stands ($1000 each, four leg).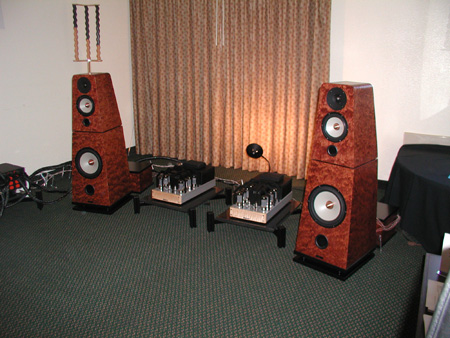 Marigo Audio Labs featured the Tyler Acoustics Taylo Reference III loudspeakers ($6200 pair) powered by the Almarro single-ended triode amplifiers, and naturally, Marigo cabling and accessories. Shakti Hallographs were used to very good effect, along with dots, dots, everywhere to fill the room with music.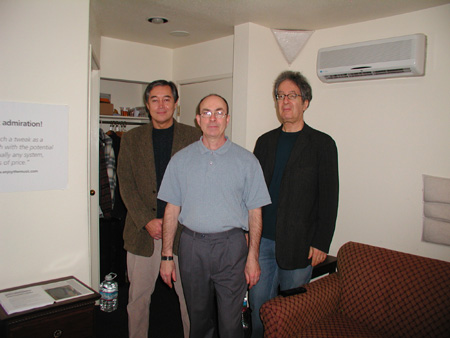 Ben Piazza of Shakti, Ron Hedrich of Marigo Labs, and Dave Caplan. Good guys one and all.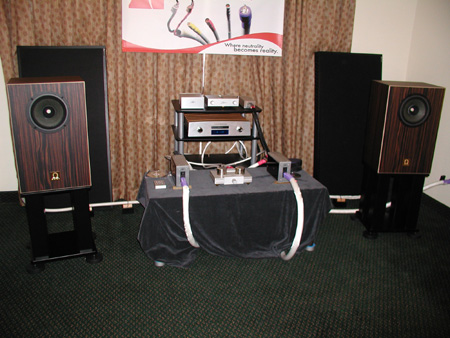 Omega Speaker Systems Super Hemp Monitor (95dB $1995) loudspeakers showed with Audio Zone.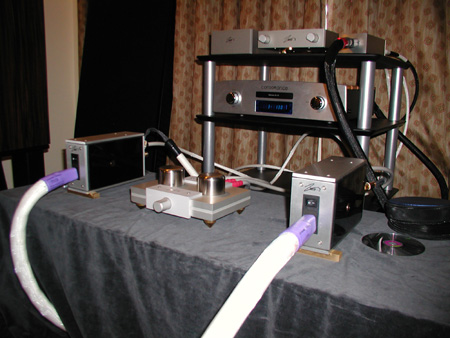 Audio Zone Amp2 ($2495 each), Pre-T1 passive preamplifier ($2395), and DAC-1 DA Converter ($1295). They used a Consonance CD player as a transport and all cabling was by Dynamic Designs. Very cool visually. Sweet and neat.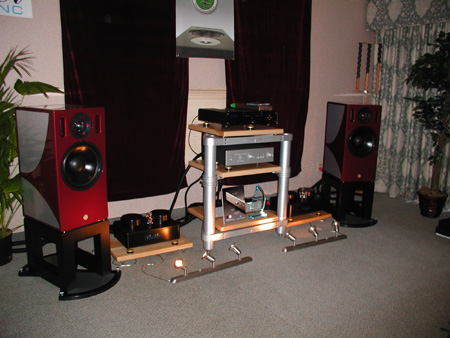 Escalante Design's Fremont loudspeakers, Butler Audio Monad Class A 100w amplifiers, Modwright SWL9.0 preamplifier, and an Elctrocompaniet EMC1 CD player in the Escalante room. Nice sound that was a bit too polite for us (no doubt a reflection on the music being played at the time). Greg Weaver loved this set-up, so it had to be good!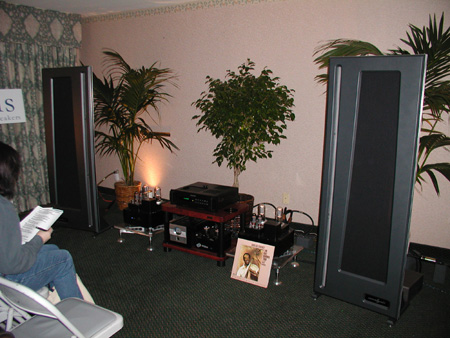 Analysis Audio Omega loudspeakers ($14,990) full range planar loudspeakers, HGA X32 speaker cables to tweeters ($1140 pair), X16 speaker cables to bass panels ($735 pair), DNA interconnects single-ended ($390 pair), and Bybee Power Golden Goddess power cords ($1250). Looked like Apogee, sounded sort of like Apogee ...but only better. Wish we had spent more time here (used to own a pair of Apogee Caliper Signatures), but too many rooms and not enough time.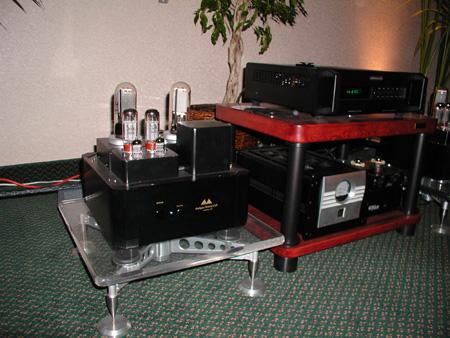 Ray Samuels Audio Emmeline XR-10B phono stage ($4500), Antique Sound Labs AQ 1009 845 DT Mono tube amplifiers ($5600 pair), and MK Audio racks in the Analysis Audio room.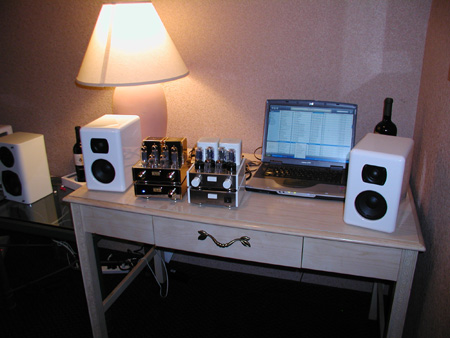 Gini Systems featured the Audio Space Mini-1998SE with a USB port that will list for approx $1300. This sounded fantastic playing off a laptop. Must have for any college bound kid!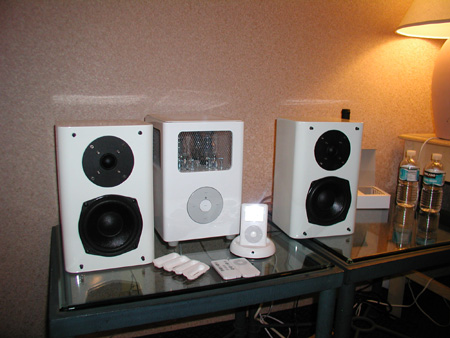 Also from Audio Space, a slightly bigger version of the desktop system. iPod generation take note!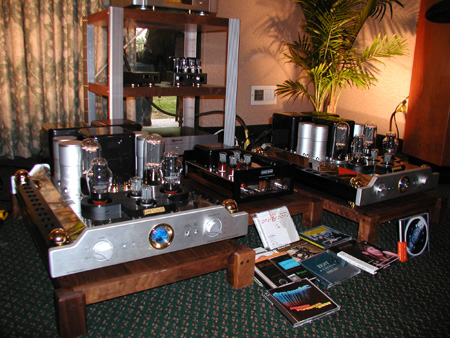 Audio Space Reference-1 mono block power amplifiers were matched to Dynaudio speakers. This system played loud and dynamic!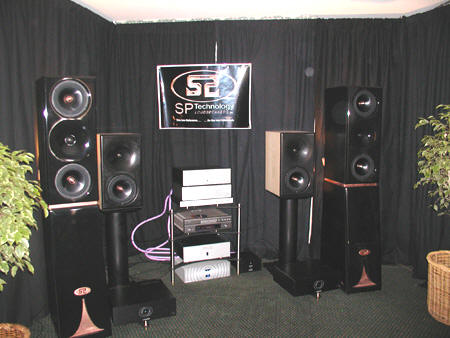 SP Technology S2 loudspeakers sounded like Victor wrote in his review, musical.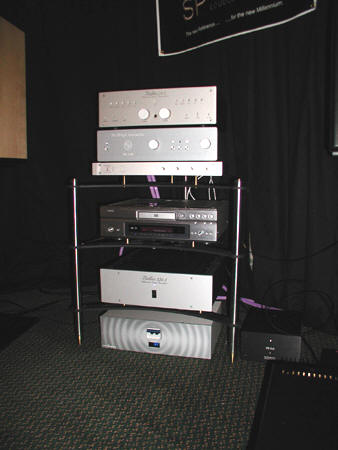 Belles 28A preamplifier, Modwright SWL9.0SE preamplifier, Denon CD player, Belles 350A amplifier, Audience Adept Response line conditioner, and an Orpheus One DAC in the SP Technology room. Also in evidence was Revelation Audio Labs' AC cords and their custom internal wiring (for the SP speakers).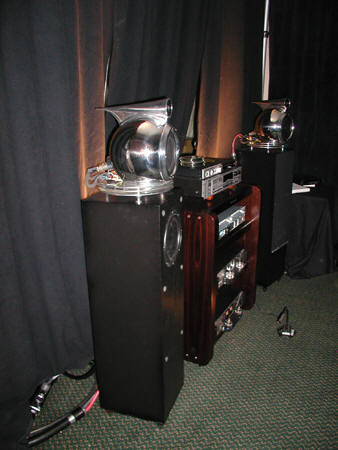 Showing with The Lotus Group was Studio Electric. Type One loudspeakers ($7950 pair) handcrafted from stainless steel and XLR-8 module ($3750 pair), essentially a speaker stand with integral 8" subwoofer.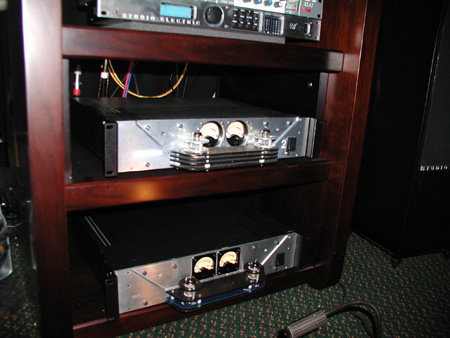 Also by Studio Electric was their Electrodyne hybrid amplifier ($6950). Studio Electric is a new company coming from the pro-side of the industry and as such, it has that look and feel. Good sound. Very promising.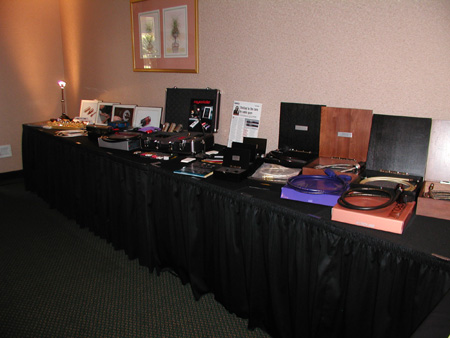 The Lotus Group featured products from Oyaide, Sound Mechanics, and Acrolink.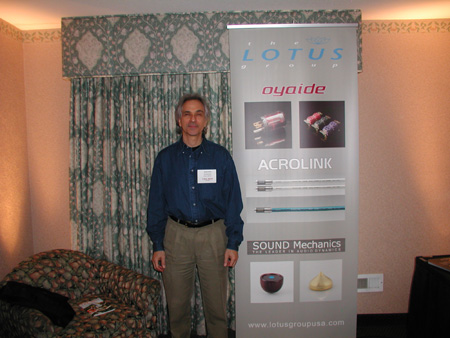 Joe Cohen from The Lotus Group/Prana Wire. Smile Joe, the show is almost over... how about coming by for some scotch and dinner?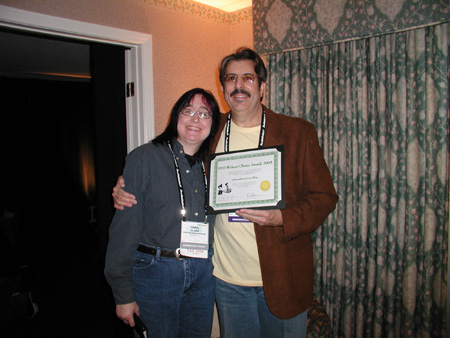 Carol Clark and Alan Kafton of audioexcellence AZ, that Power Wing guy!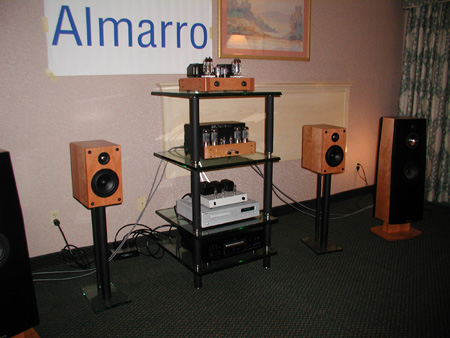 Almarro room sounded very sweet and natural. But not big.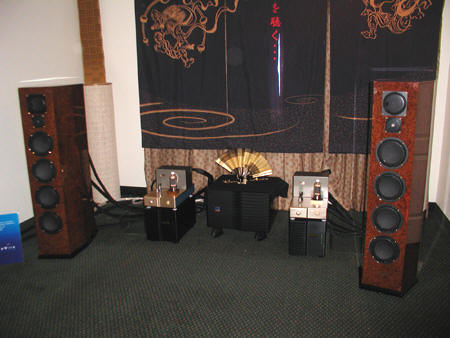 In the a different Wavac room was the MD-805 MK-II single ended triode power amplifiers being shown with Venture Grand Excellence Signature loudspeakers, with diamond tweeter ($87,000 pair).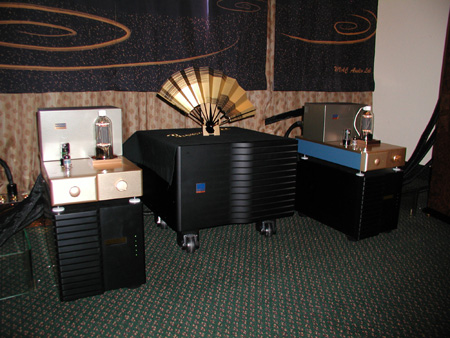 Wavac MD-805MK-II amplifiers and AC filtration. Gorgeous.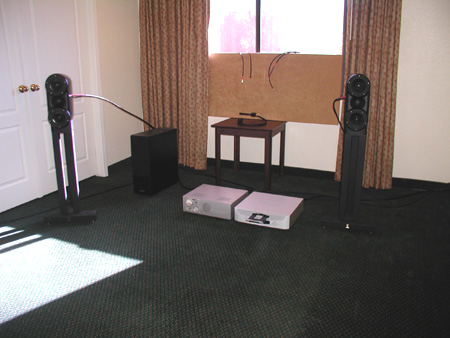 The Ultimate Monitor from Audio Machina with Nagra MPA amplifier and Audio Aero Prestige CD player and AbsoluteCables. Fast and clean. Mean and lean, though not the bass!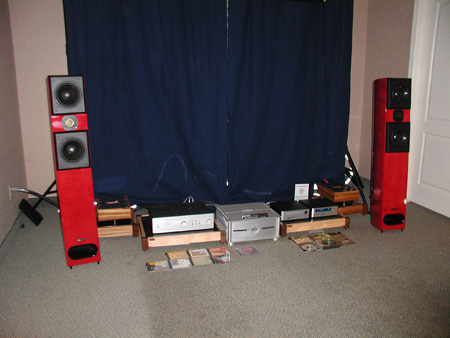 Acoustic Zen Adagio speakers ($3700 pair) shown with Acoustic Zen cables, Red Dragon Audio Leviathan amplifier, Edge GAV multi channel amplifier, and the Modwright SWL9.0SE preamplifier. Amazingly good sound fro so little money―the speakers that is! Killer product.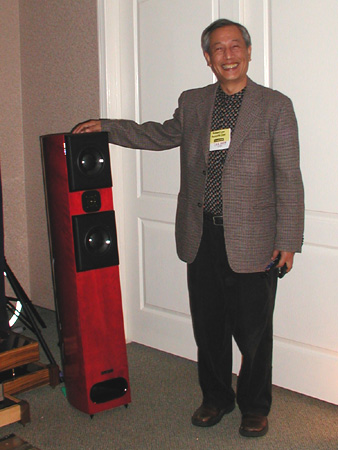 Robert Lee of Acoustic Zen.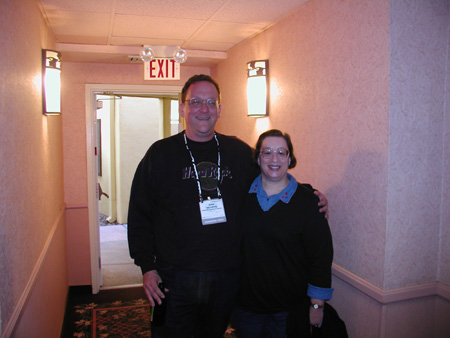 John Beavers and his better half.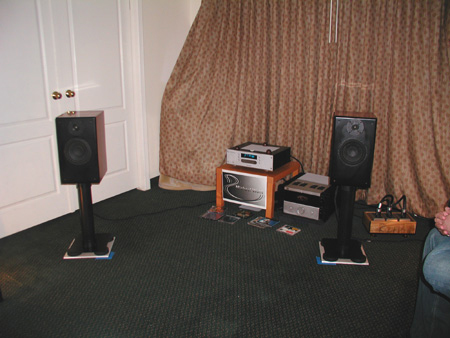 Olympic Audio OA-1 loudspeakers showed with Michael Wolff Audio. Very good sound from a new company.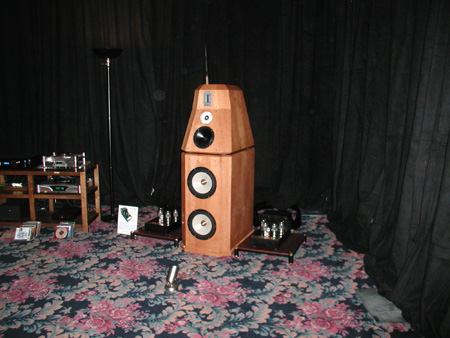 The new Von Schwiekert VR7SE ($36,000 pair), with Oracle Delphi Mk V turntable, DAC 1000, CD2500 transport, and VAC Standard Musicbloc amplifiers ($4000 each) and VAC Renaissance MK II preamplifier ($8000). Liked this room a lot! BIG sound that was very musical and ...musical!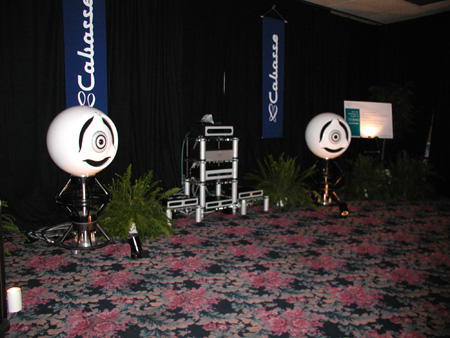 Cabasse La Sphere loudspeakers, the world's first 4-way active point source system powered with all Bel Canto electronics.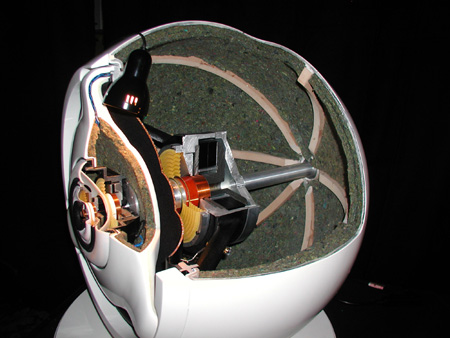 Inside the Cabasse La Sphere.