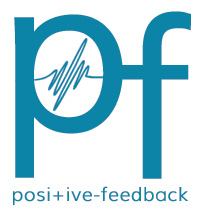 You are reading the older HTML site
Positive Feedback ISSUE 27

september/october
2006
Rocky Mountain Audio Fest - 2006
by Dave and Carol Clark

This is our third RMAF show (actually we have attended all three so far, so we be battin' a thousand here...) and, well... kudos to Al and staff. Once again a real winner of an event. If you missed it, consider a curse on your system.
We are going to hold back a bit on saying what the majority of the rooms actually sounded like (it is a show for ph*#cking sakes) and which, if any, sounded the best simply because few, if any, were playing music we had any interest in hearing, let alone had an inkling what it should sound like... but for those rooms that were playing something we knew ...consider yourself prime for a comment or two. There were also a few rooms we choose to play our stuff and well... we will comment on them too. On the other hand, if you find your room missing in the report altogether ...sorry we missed ya, but with over a 100 rooms and so little time to do what it takes to make this real... we are bound to miss a few.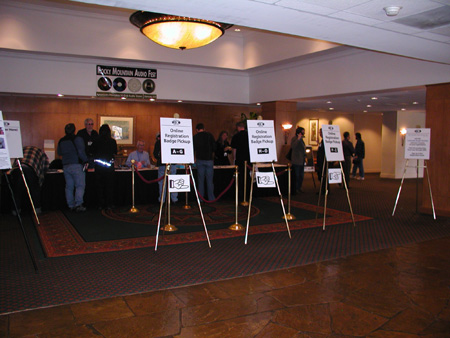 Waiting for the crowds... and they came too! This was a very well attended show on Friday and Saturday... the people I spoke to loved the show and found the atmosphere so conducive to music and what audio is really about... the people and having a good time. This is a very relaxed place to be...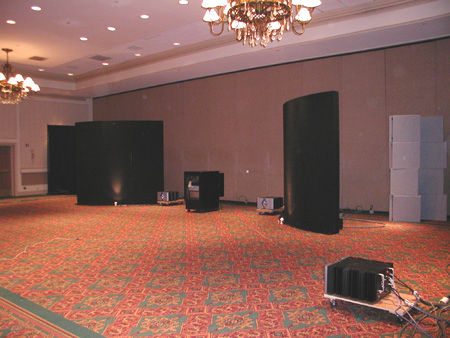 The Kimber IsoMike room being set-up... not for the faint of heart. Ray ...anything bigger for next year?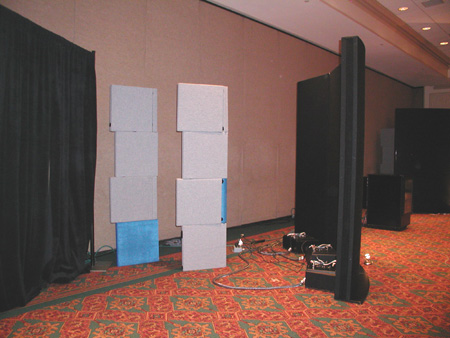 Room treatments... and lots and lots of top-o-the-line Kimber cables with Pass amplification.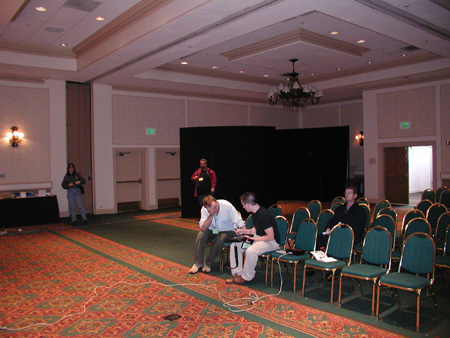 Carol Clark and Mark Wagner are both dwarfed by the speakers in the Kimber IsoMike room.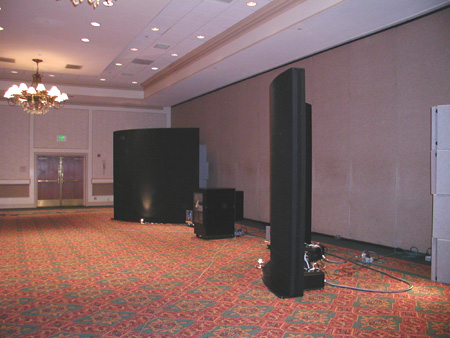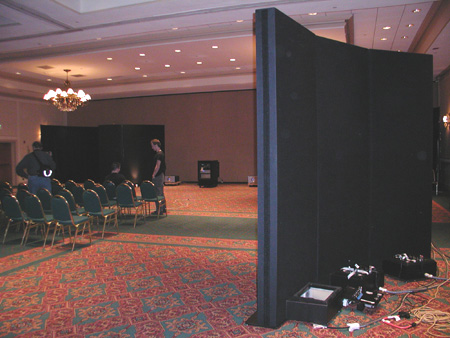 The backside of the rather large-ish SoundLabs. These things were monsters alright!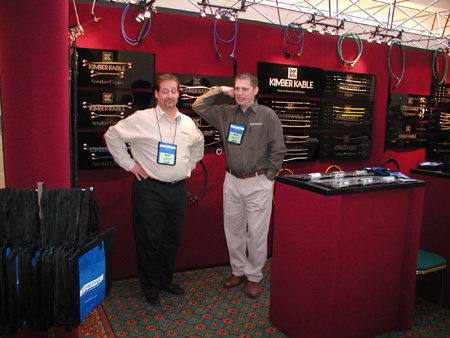 Dick Diamond and Todd Waldorf of Kimber... what have we got ourselves into here?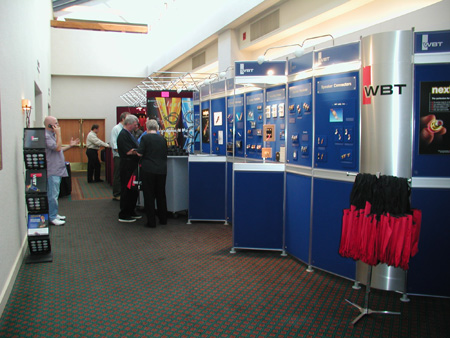 A shot of the WBT display leading down to the Kimber IsoMike room.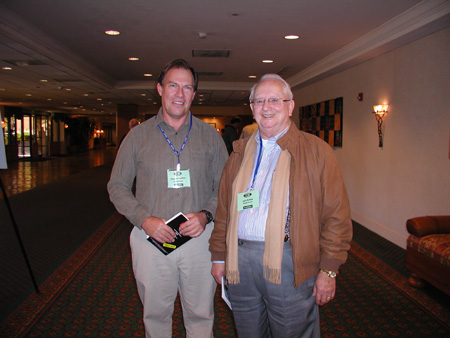 Stephen Balliet and Jack Bybee.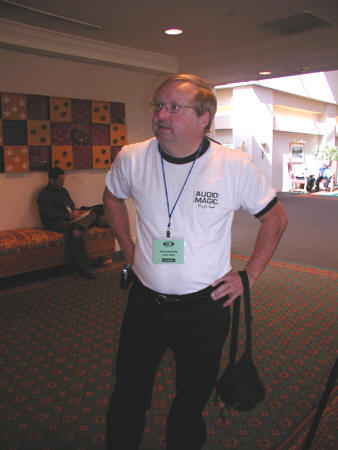 Jerry Ramsey of Audio Magic was giving deep muscle massages all weekend, and it felt very nice. De pain!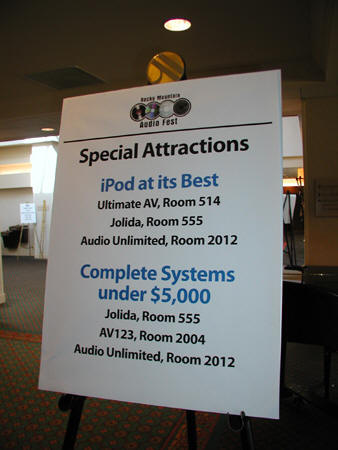 Now here is something for Carol, Danny, and Josh... neither of whom could make it ...well except Carol that is!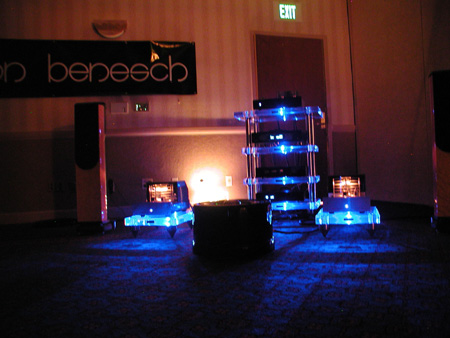 The Sounds Real Audio room was a bit too dark and blue... featuring deHavilland, Wilson Benesch, Cardas, Art Audio, and Nola... along with stands from the man below.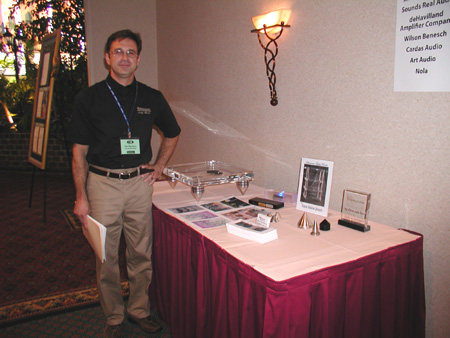 ...Tate Blanchard of Ultrasonic.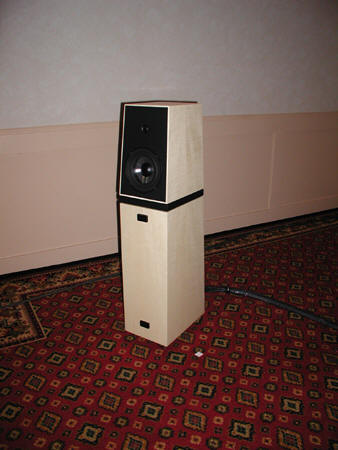 The new Verity Rienzi ...this speaker is a 3 way design very similar to the Parsifal... quite nice.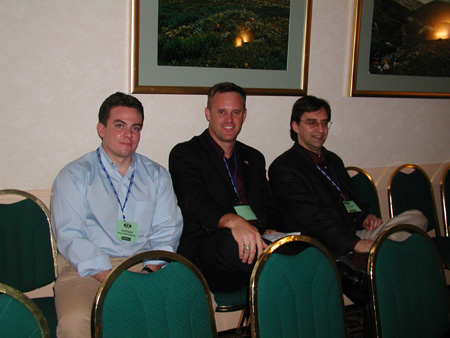 Jeff Smith of Silversmith flanked by John Quick (US Rep for Verity and Nagra) and Julien Pelchat of Nagra...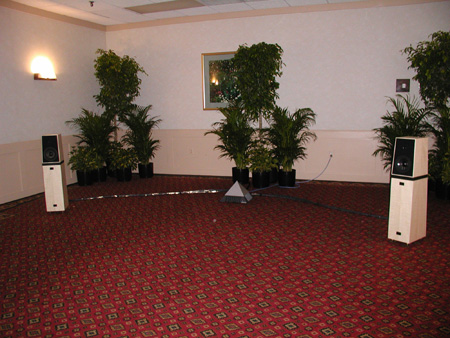 The Verity Rienzi flanking the Nagra PSA amplifier.. very nice with Silversmith cabling...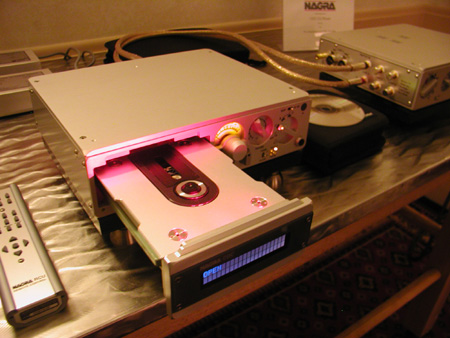 The Nagra "all-in-one" CD player ...it is even a preamp if one so chooses! The drawer is the key deal here as it houses the beef and brawn of the machine.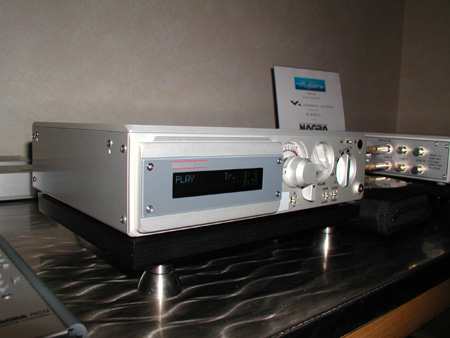 The CD-C CD player up closer a bit-ter...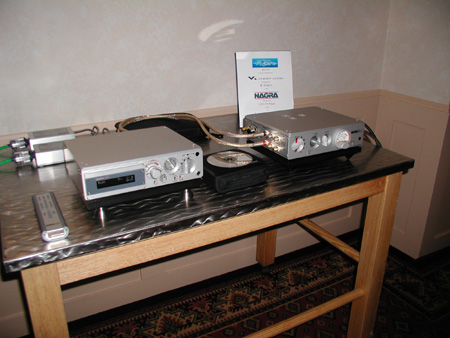 The CD-C CD player with the PL-L preamp off the side... really cool stuff and it sounded rather sweet!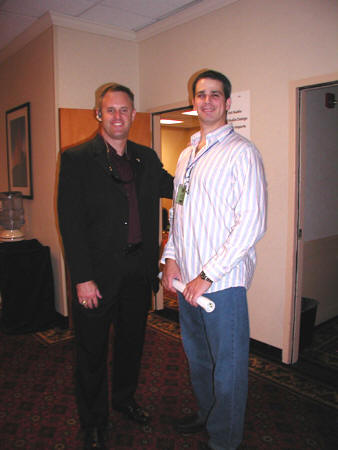 Jeff Smith and David Gill of Gill Audio.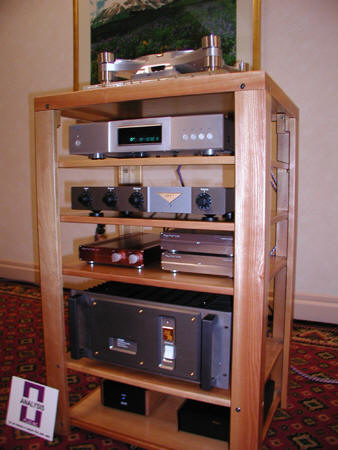 Usher and NuForce showed great value for the cash ...very musical. Usher had the whole lie here ...electronics and speakers!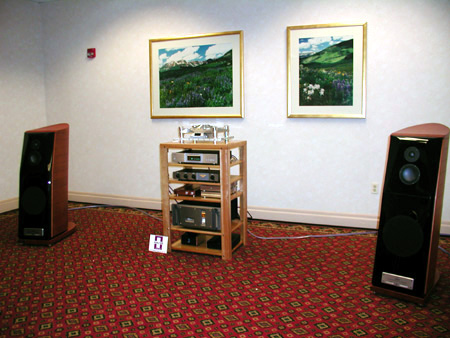 Big Usher...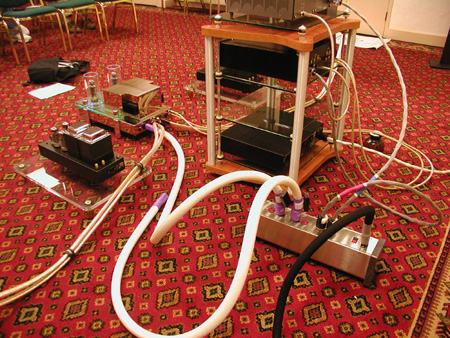 A bevy of cables from Silversmith and Dynamic Design (AC cords) along with a PowerWing from World Power of audio excellence az all connecting the very nice Art Audio and Gill electronics.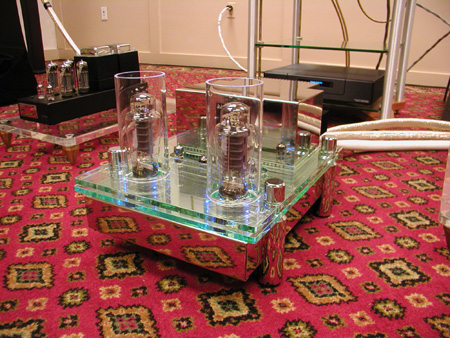 The Art Audio stereo amplifier based on the Adagio monoblocks. How cool is this?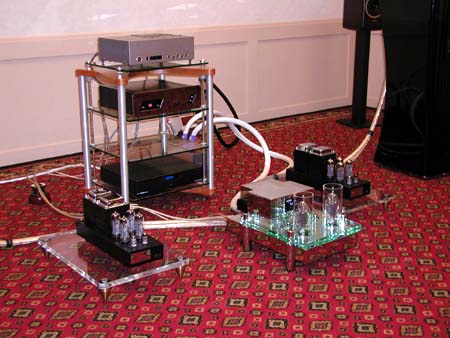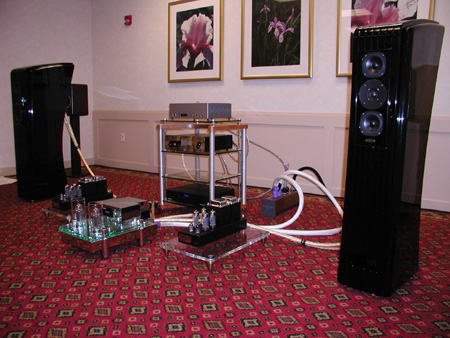 The ARS Aures loudspeakers. Always nice.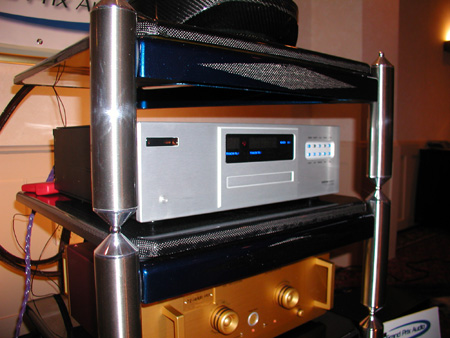 The new EMM one-box SACD/CD player ...on the way here for review! Yahoo!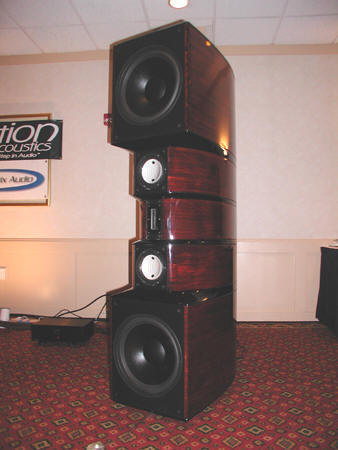 Evolution speakers make their debut... quite amazing for under $40k. I heard this and said no way... not at that price! Way good sound. Best of show. The him CD really moved on this system.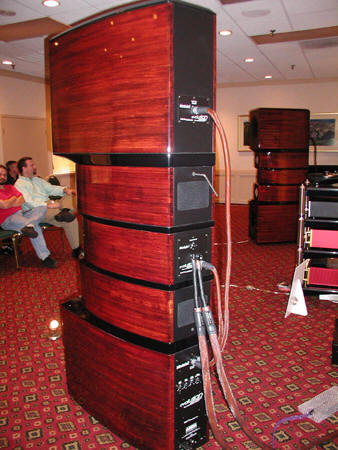 These speakers are modular with powered woofers (digital amps ...say ice, ice baby...) ...oh, but they not supposed to sound good... read that somewhere.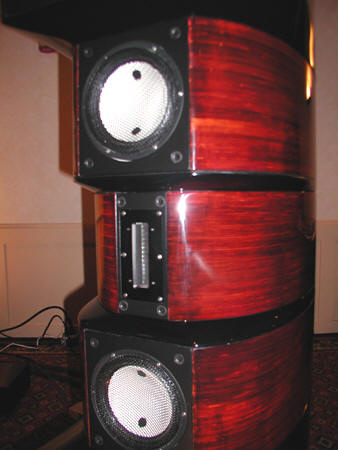 The "need their own power" mid/tweeter section.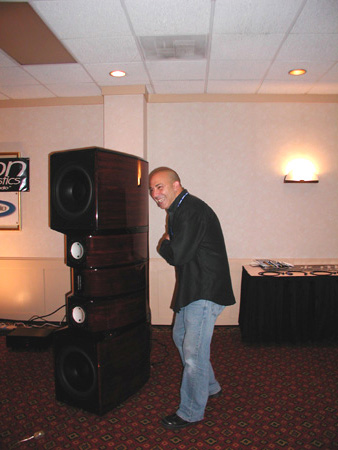 Jonathan Tinn being oh-so-coy about the speakers...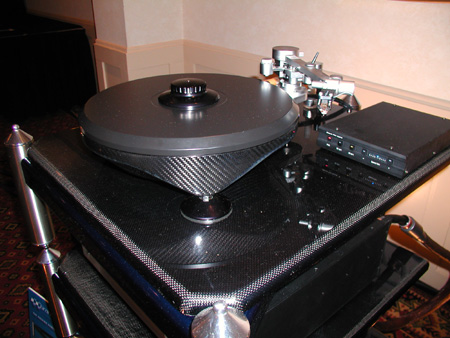 The Grad Prix carbon-fiber table... really, really cool stuff.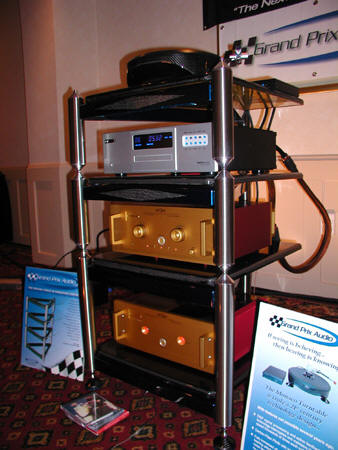 Dartzeel and EMM on the GP stand ...not priced for the teacher.