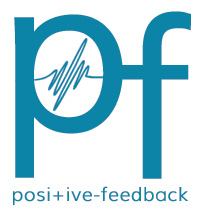 You are reading the older HTML site

Positive Feedback ISSUE

30
march/april 2007
AudioKarma Fest 2007
by John Acton

Attending the fourth annual AudioKarma Fest, held on March 24 - 25, 2007 at the Plaza Hotel in Southfield, Michigan, reinforced my feeling that the AKFest may just be the best two-channel audio show in America. Yes, there are bigger shows with more hardware on display, but none possess that close-knit sense of community so prevalent at the AKFest. The makeup of exhibitors at this year's Fest differed slightly from that of last year, with more dealers/manufacturers and proportionally less AudioKarma members. What didn't change, however, was the lack of pretension and pushiness. Across all aspects of the show, there was an atmosphere of camaraderie, and a shared commonality of interest in music and musical enjoyment that was truly refreshing.
This year, the AKFest organizers, led by Dave "Grumpy" Goldstein, augmented the impressive door and raffle prizes with a live musical performance by Paul Miles, "The Blues Man." Miles, an accomplished blues guitarist with seven albums to his credit, has received numerous awards in the Detroit area. By all accounts, Miles really stole the show on Saturday night, performing for more than three hours and demonstrating his sublime finger-picking playing style.
Attendance at the AKFest seemed to be up this year, and in some cases, this limited my ability to spend a lot of quality time in some of the more popular (and heavily populated) rooms. I tried to visit as many rooms as I could, and I apologize to those exhibitors I may have missed.
As always, I would like to thank all the great people I met at the show, especially Grumpy and all the other AKFest organizers and members.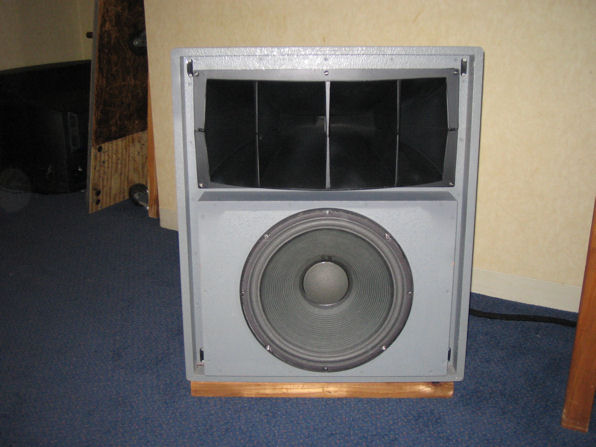 The first room I visited was that of Blue Circle. Gilbert Yeung, owner and head designer of Blue Circle, was showing off his newest line of electronics, the SB series. Considerably smaller than his full-size offerings, the SB series is designed for those music lovers with budget or size constraints who don't wish to compromise performance. The amplifier models, with their generally lower power output specifications, lend themselves well to systems with higher-efficiency speakers or where ultimate power is not required. First up was the SBH, Yeung's first commercial foray into headphone amplifiers. The SBH, which retails for $1095, features an outboard power supply and adjustable channel gain (balance) controls. In the speaker-based rig, Yeung drove AudioKarma member Punker's vintage Altec Lansing 9846-4A horn speakers with his 50 watt SBM monoblock amplifiers. The SBMs include balanced and single-ended inputs, and retail for $1998 per pair. Linestage duties were handled by the SPB (priced from $495, depending on options selected). The SPB comes standard with two line-level inputs and one line-level output, all single-ended. Also on display in another room was the SBT, a tube-based linestage ($1,695). The SBT makes us of two 6922 tubes, and includes an outboard power supply and the premium Shallco stepped attenuator as standard. Sources included a Sota Comet turntable with S300 arm, and a Blue Circle BC501 DAC driven by either a Sony Carousel transport or laptop computer files. Playing Yes' 90125 and Talking Heads' Fear of Music on vinyl, the sound was very dynamic and open. I found the system to be relaxed and musical, with excellent resolution.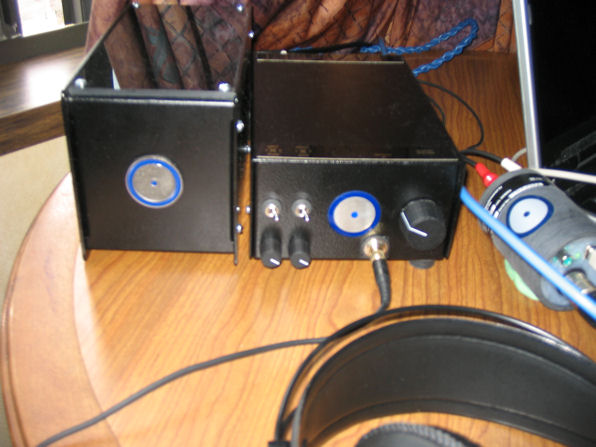 On static display in Blue Circle's room was the USB Thingee, a USB converter/DAC that converts USB output from computer sources for playback via one's stereo. Prices for the USB Thingee start at $169 and are dependent upon output connection options selected. Also on display was Yeung's prototype battery-powered linestage, dubbed the "Sandwich Spread" preamp, and you guessed it—the electronics were packaged in an empty (and presumably washed) plastic sandwich spread container.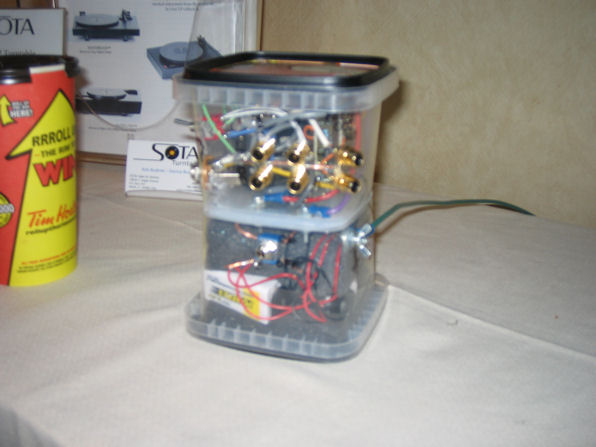 One last note—if you ever dine out with Gilbert Yeung, be aware that he will eat anything placed in front of him. Anything. You have been warned.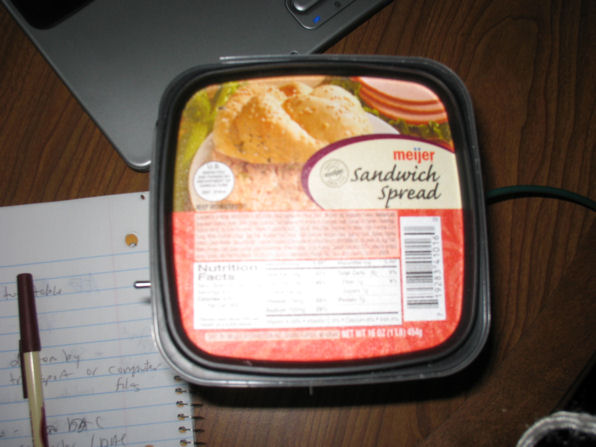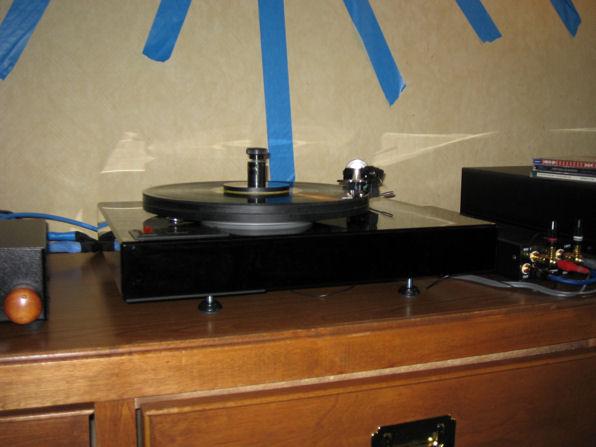 The second room I visited was that of Madisound. Madisound is a Wisconsin-based purveyor of raw speaker components and finished loudspeaker kits, and is probably the foremost source for speaker drivers and crossover components in America. Madisound's Larry Hitch brought numerous driver samples and several finished loudspeakers. One of the coolest things I saw all day was a prototype all-in-one system dubbed simply the Adam Prototype. This one-box solution contains one RCA source input, three channels of amplification, two full-range coaxial speakers and a 7" subwoofer. Included are several controls for volume, subwoofer level, frequency cutoff, etc. No pricing was available, but the Adam could represent an excellent alternative to other "lifestyle" products like Bose's Wave Radio.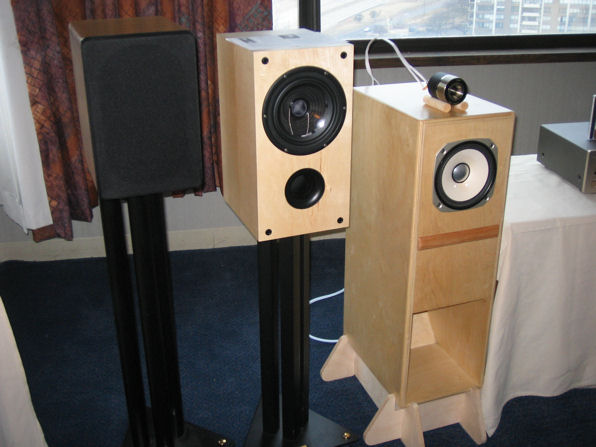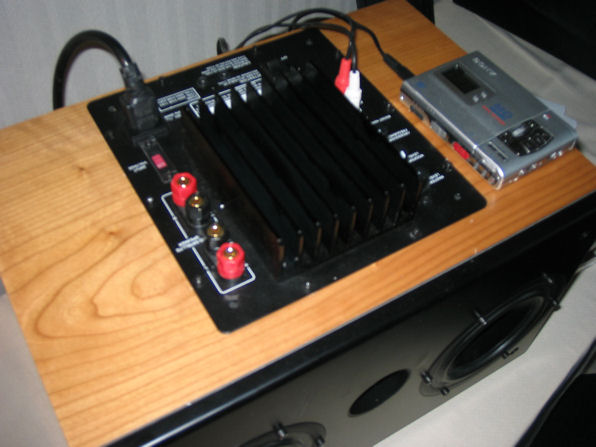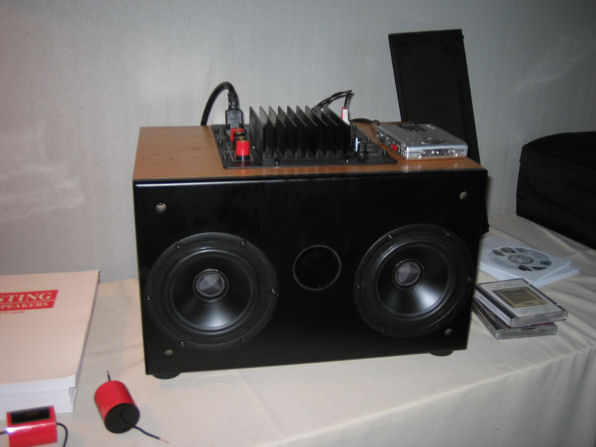 Madisound was showing off three of its loudspeaker kits. First up was the Vifa Studio. This smallish two-way speaker ($495 per pair in kit form with cabinets) includes a Vifa ring radiator tweeter and 5" woofer on the front of the cabinet, and a 6" factory-tunable passive radiator on the back. The Studio sounded quick and open playing kd lang, and the bass was surprisingly extended, considering the size of the speaker. Next was the Loki ($495 per pair with cabinets), which features a full-range 7" coaxial driver. Rounding out Madisound's lineup was the BK-16A kit ($650 per pair with cabinets), which mates a 6.5" full-range driver in a folded-horn configuration with an outboard horn super tweeter. Driving the Madisound speakers was a TEAC CD player and Fountek Altitude 3500 tube integrated amp. The Altitude 3500, which utilizes EL34 output tubes operated in Push-Pull Pentode to make 32-watts per channel, is offered by Madisound for $1350.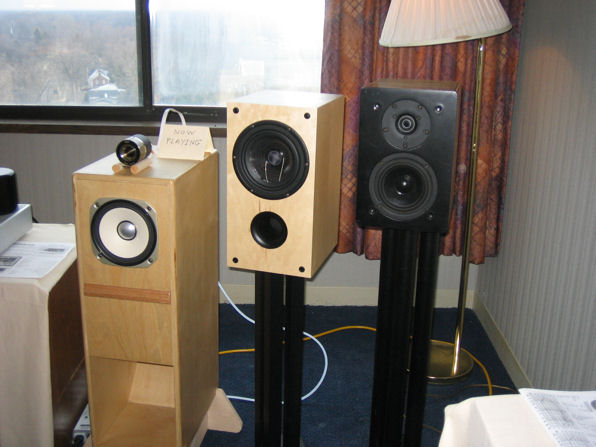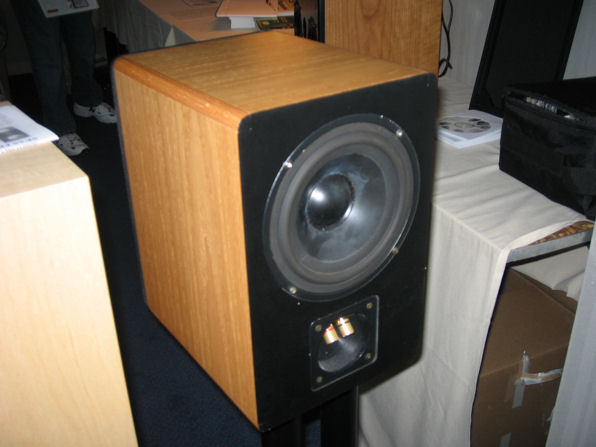 The next room represented KR Audio, Renaissance Audio and Escalante Design. The Escalante Fremont speakers ($18,990 per pair) were being driven by the mighty Renaissance Audio Opus 2 power amplifier ($25,000), which utilizes T100 output tubes in a push-pull configuration to produce 70 watts per channel in Class A. Dennis Dunseith and Bradley Smith of Renaissance Audio explained that the Opus 2 is fully-balanced with no phase splitter and no electrolytic capacitors in the signal path. A unique display on the front panel provides information to the user regarding internal temperature, AC line voltage and plate dissipation. A serial port on the rear of the chassis allows this information to also be displayed on a computer, if desired. A Theta DAC was used as source and preamp, with a modified belt-drive CEC transport feeding bits to the DAC. On static display was the KR Audio VA340 integrated amplifier ($6975), which combines a solid-state preamp and a KR300BXLS tube output stage to make 20-watts a side in Class A. Sitting and listening to the Theta/Renaissance Audio/Escalante Design system playing Rebecca Pidgeon, I noted a presentation that was very open and clear sounding. The sound was extremely uncompressed and immediate, with excellent soundstaging and portrayal of depth, especially considering the less-than-ideal hotel room setup.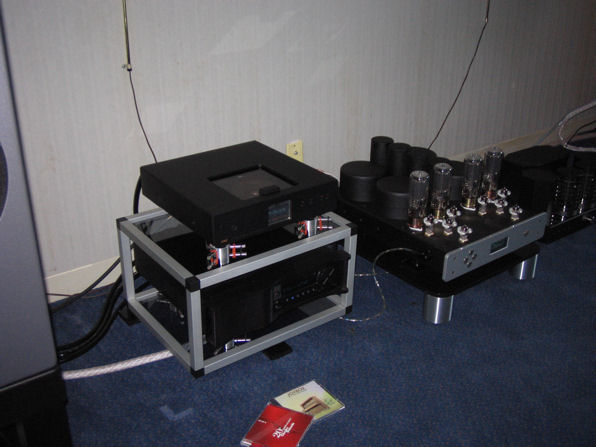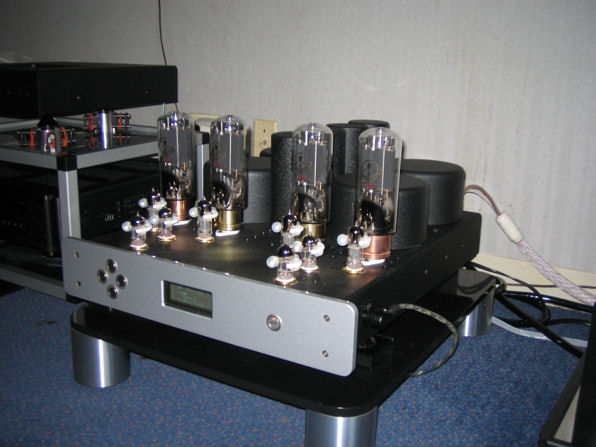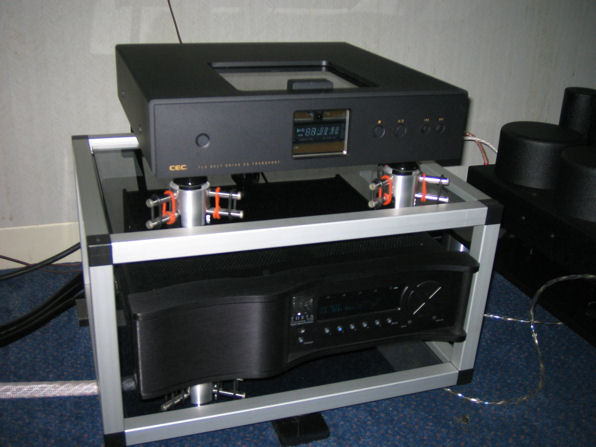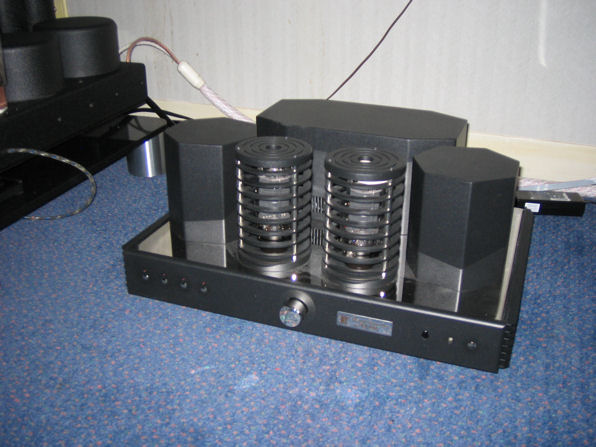 ADAM Professional Audio of Germany chose this year's AKFest to debut a new line of speakers in the USA. Well-known and respected for their professional monitor speakers, ADAM has turned its attention to domestic two-channel and home theater applications with its HIFI series of loudspeakers. Per Jim Latimer, national sales manager for ADAM, all models in the HIFI series feature Accelerated Ribbon Technology (ART) tweeters, HexaCone woofers and inch-thick aluminum front baffles for driver coupling. I listened to the ADAM Pencil ($6000 per pair), a floorstanding model with dual 7" HexaCone drivers and ART tweeter. The lower woofer plays up to 150 Hz, while the top driver plays up to 1.8 kHz, where it crosses over to the ART tweeter. Driven by a Bryston 4BSST power amp, Bryston SP2 preamp and Marantz SA-11 SACD/CD player, the Pencil impressed me with its excellent tonality, dynamics and soundstaging on Brubeck's "Take 5." I thought the ART tweeters did an excellent job reproducing the air and shimmer of the cymbal work. I'll be following ADAM's progress in the USA with great interest.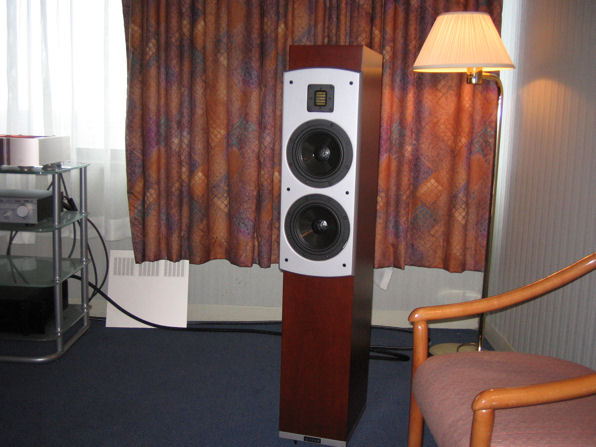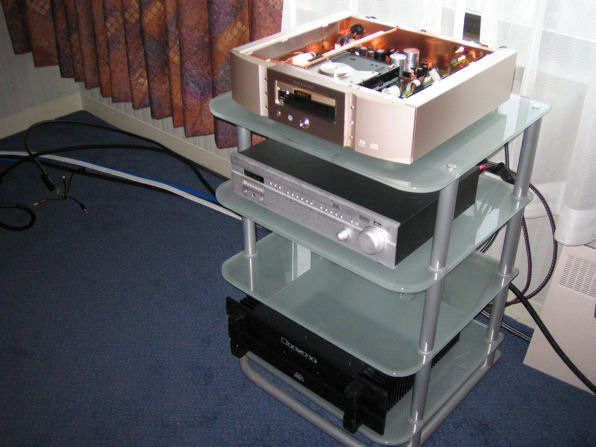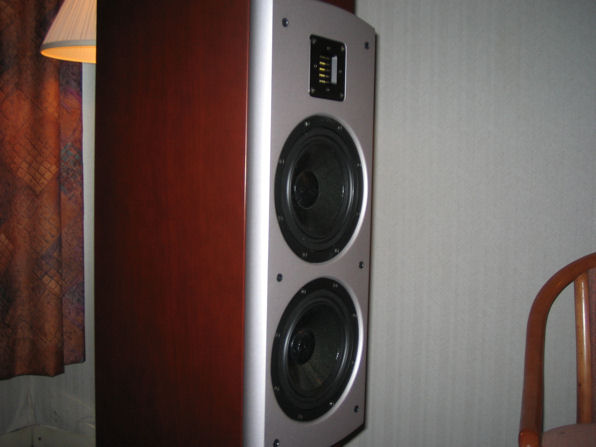 Walking into David Michael Audio's room, I was met with an onslaught of equipment. David Kasale and Paul Bittinger must have brought the entire store with them. I saw speakers by Mark & Daniels, Harbeth, Spendor, PMC, Sonics by Joachim Gerhard, and electronics by Creek, Unison, Belles and Rega. I listened to a system comprised of Harbeth's Super HL5 speakers ($4295 per pair) driven by a Belles 28A preamp ($4500), Belles 350 amp ($3895) and Rega Saturn CD player ($4295). Playing various XRCD sampler cuts, the sound was very smooth, possessing the liquid and natural midband for which Harbeth speakers are famous. The musical and lyrical presentation had me wanting to stay and relax for much longer than I was able to.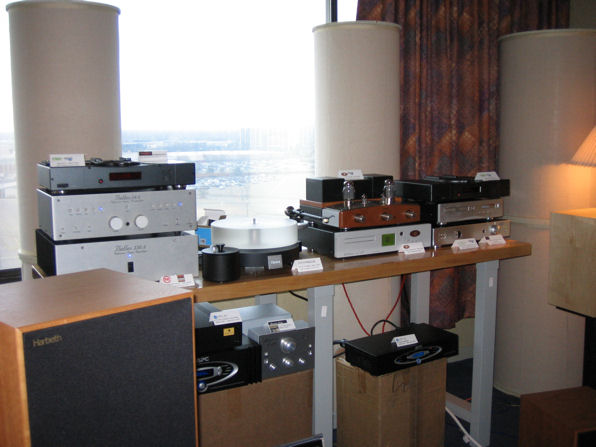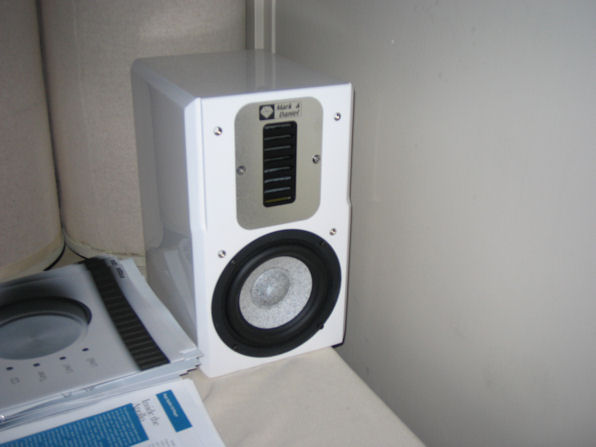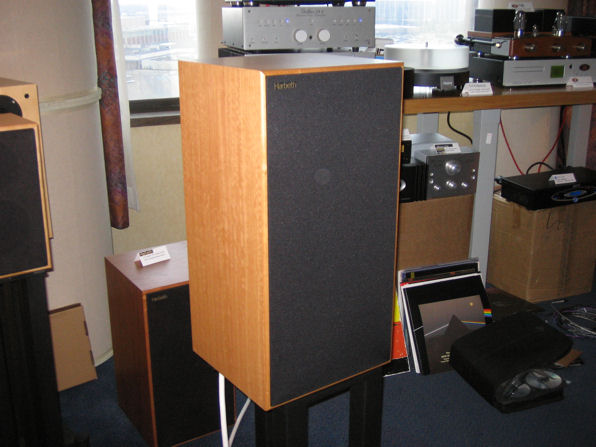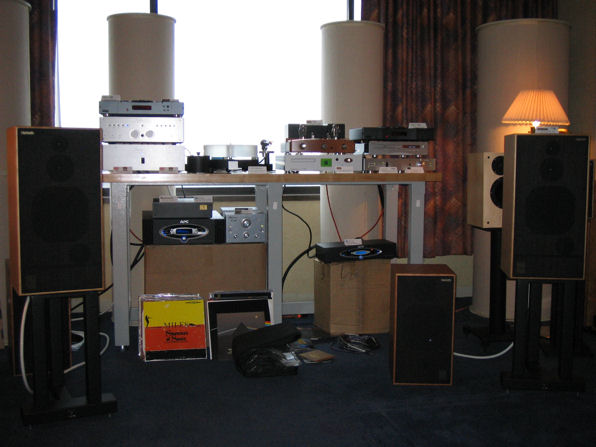 Audio Dimensions were showing off the venerable Magnepan MG 3.6 speakers ($4475 per pair). Jon Best and Jay Turner of Audio Dimensions demonstrated quite effectively that while Maggies like a lot of power, it doesn't necessarily have to be solid-state. The Audio Research Reference 110 power amp ($10,000) did an excellent job controlling the 3.6s with its 110 tube watts per channel. The LS26 linestage ($6000) and PH5 phono stage ($2000) completed the Audio Research package, while vinyl was spun on a VPI Scoutmaster turntable with a Dynavector cartridge designed expressly for VPI. As is the norm with Magnepan speakers, the 3.6s captivated me with their natural midrange and spacious, life-sized imaging. I was impressed by the sheer coherence and in-the-room presence of the system.
In the Audio Two room, I discovered what may perhaps be the smallest loudspeaker I've seen since Radio Shack's Realistic Minimus 7 of the 1980's. The Role Audio Sampan FTL ($900 per pair) contains a single full-range 3.5" aluminum driver with underhung voice coil, measures just 8" tall, 4" wide and 9" deep, and yet is rated to deliver 40 Hz - 20 kHz response. How does the Sampan FTL deign to make such claims? Well, for starters, the diminutive speaker incorporates a genuine folded transmission line for extended bass response. Driven by a Connoisseur CD-1 CD player ($3900 Canadian with 6H30 output tubes) and SE-2 single-ended tube amplifier good for 9 watts per channel of 300B goodness, the little Sampan FTLs were dynamic and surprisingly extended at both ends of the frequency spectrum. Playing Rebecca Pidgeon, the speakers sounded much bigger than they looked. Piano transients were just slightly anemic compared to larger speakers, but vocals and acoustic guitar sounded full-bodied and robust.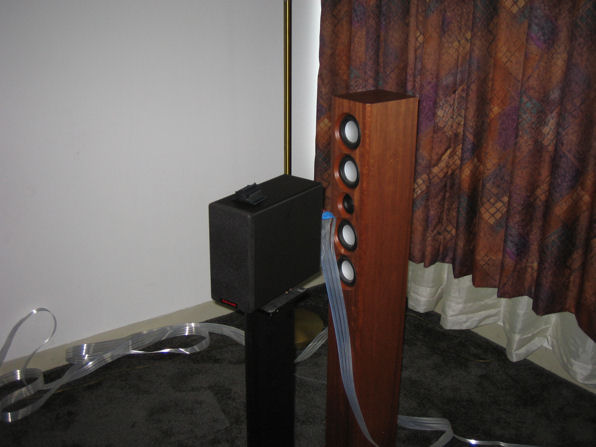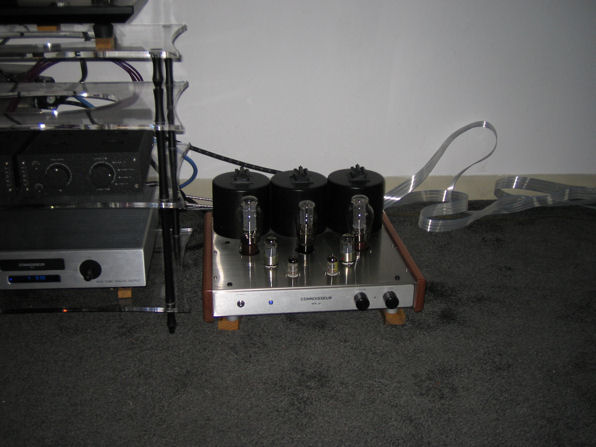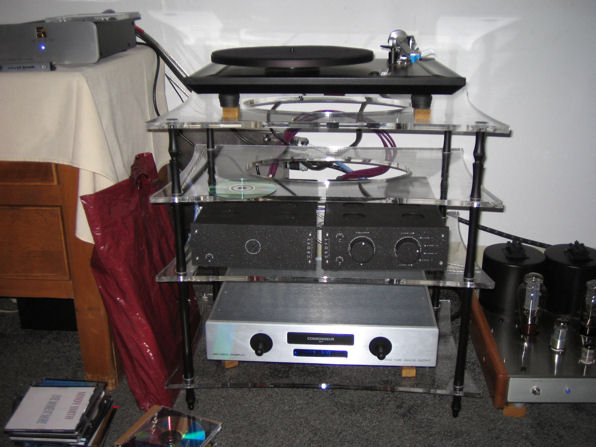 In the Selah Audio room, Rick Craig was showing off his Peridot floorstanding speakers ($4,400 per pair). Beautifully finished in real wood, the Peridots feature dual SEAS 8" aluminum woofers, a SEAS Excel 5" magnesium midrange and a Fountek ribbon tweeter. Driven by a Fountek Altitude tube integrated amp ($1350) and Music Hall CD25.2 CD player, the Peridots not only delivered outstanding bass extension and midrange purity, but they were very quick and resolving, with superb air around instruments. For the money, I was extremely impressed. On static display was the Selah MF7 standmount speaker ($495 per pair) with single full-range driver. Also displayed was a prototype floorstander dubbed the Tuline (approx. $600 per pair in kit form with cabinet plans), designed by Paul Kittinger.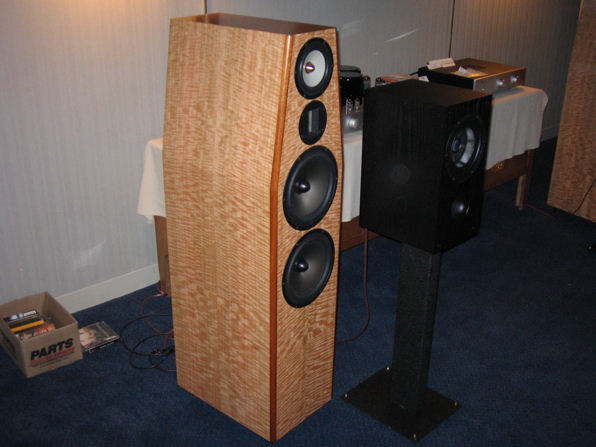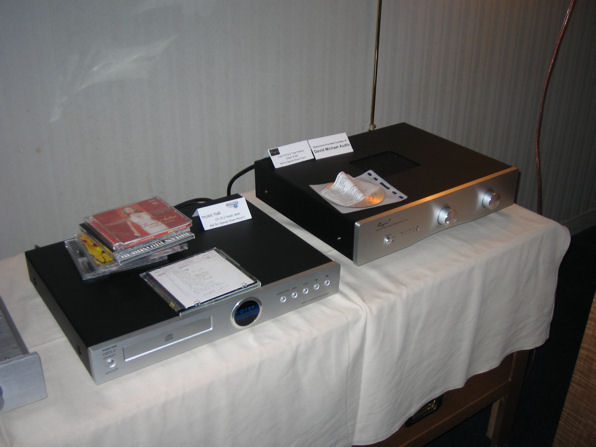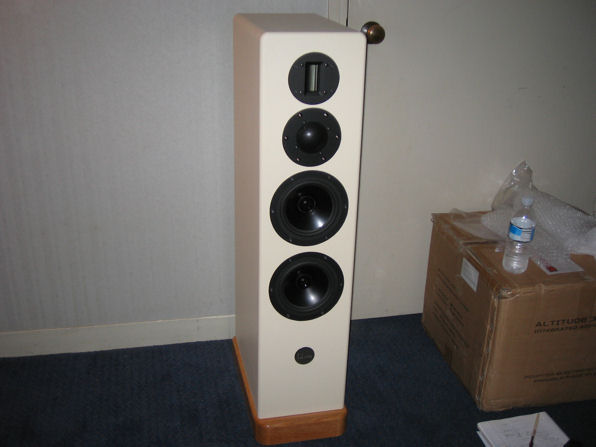 Arthur's Audio had a consistently packed room, and deservedly so, considering the wide range of speakers and gear they were demonstrating. Jeff Miller and Dirk Bakker brought the Final Sound 400i electrostatic speakers ($2990 per pair) and S220 subwoofer ($1000). In addition to the Final offerings, Miller and Bakker brought three Usher Audio speakers, the bookshelf S-520 ($400 per pair) and X-718 ($1300 per pair) models, as well as the floorstanding CP-6381s ($3400 per pair). Electronics included a VTL TL-2.5 tube preamp ($2250) and MB-450 monoblock tube amps ($10,000 per pair) matched with a Chord DAC64 ($3200). Due to the ever-crowded room, I was not able to listen critically, but what I heard from the Usher CP-6381 speakers playing a solo drum cut astounded me with its huge dynamic swings and sheer uncompressed power.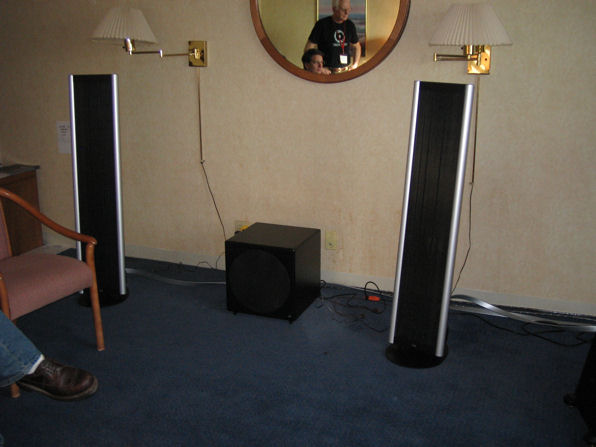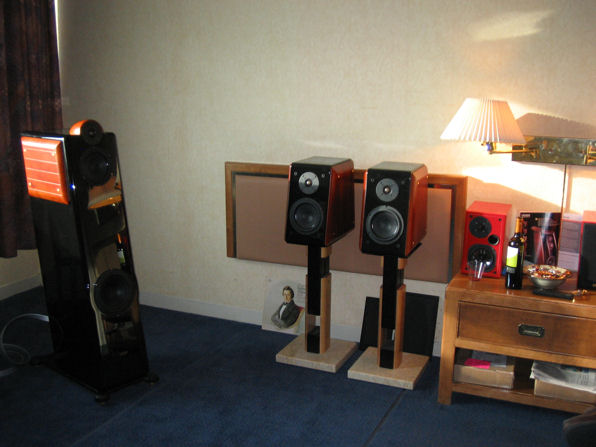 In the Marantz/Snell room, Scott Sefton was playing the Snell C7 towers ($6000). The C7 packs an awful lot into its narrow, floorstanding enclosure, including dual side-mounted woofers, a rear-firing tweeter, tri-wiring capabilities and room boundary switches for tailoring the frequency response to users' acoustic environments. Connected to the C7s was an all-Marantz system, featuring models from its upscale Reference line. The MA-9S2 monoblocks ($16,000 per pair) are rated at 300 wpc into 8 ohms and 600 wpc into 4 ohms. Driving the mighty MA-9S2 amps was the SC-7S2 linestage ($8000), and sources comprised a SA-7S1 SACD / CD player ($6500) and TT-15S1 turntable ($1600). I felt the Snell/Marantz system successfully captured the essence of Mark Knopfler's gravelly baritone, and the imaging was first-rate on a solo acoustic recording of Pete Townshend playing live.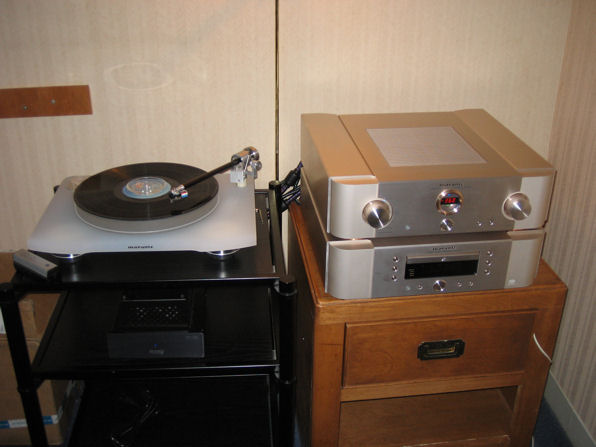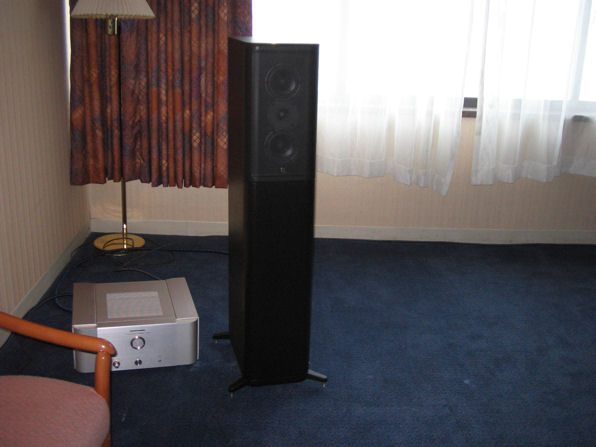 McIntosh and Audio Classics were showing off a complete McIntosh system including two enormous prototype tower speakers containing nearly a thousand drivers apiece. Chuck Hinton of McIntosh and Ryan Kilpatrick of Audio Classics paired the prototype speakers with a C220 tube preamp ($3300) and two 500 watt MC501 solid-state monoblock amps ($9400 per pair). The digital source comprised a MS330 music server ($5300) and MDA1000 DAC ($8000). Not surprisingly, the big McIntosh system sounded effortless and dynamic. What did surprise me, however, was the sheer coherency and natural timbre of the presentation, especially considering the unavoidable near-field placement of the speakers. Also, I commend McIntosh for playing their system at a refreshingly lower level than at previous shows I've attended. On static display were some vintage McIntosh pieces.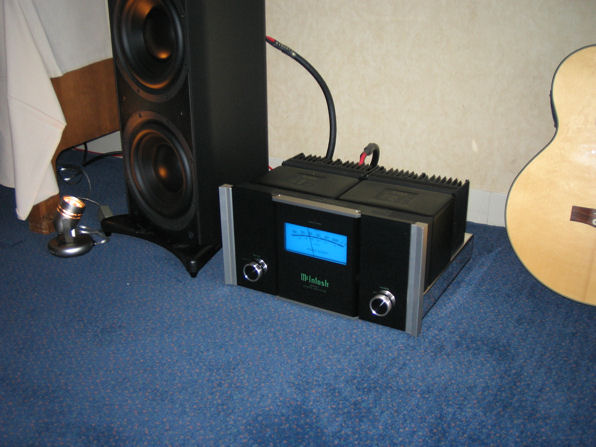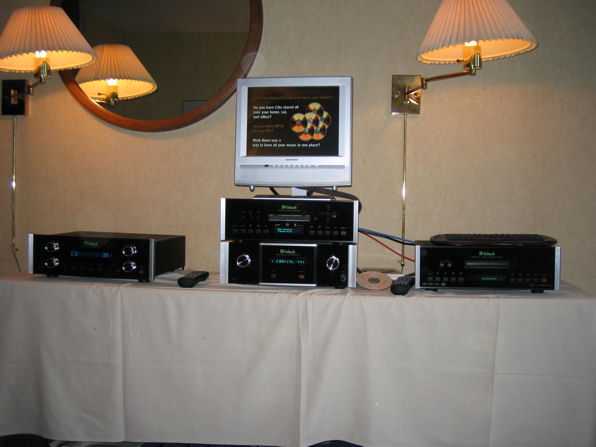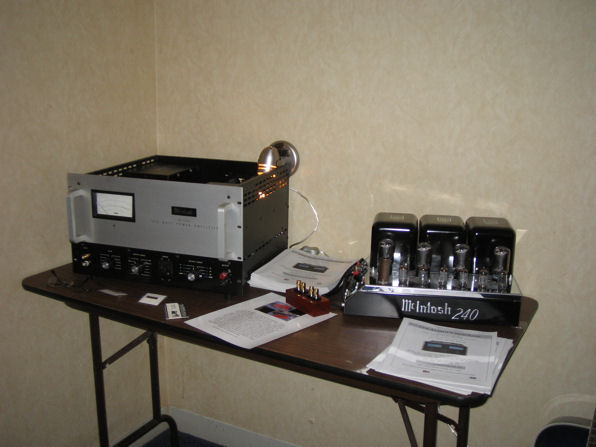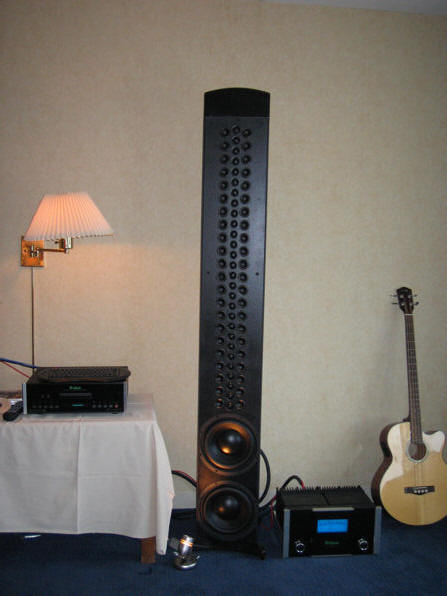 AudioKarma member Doc Brown (aka John Fallows) was displaying a mix of vintage and current gear in his room. Fallows drove Electrovoice Century 3 speakers with a pair of Red Rose Model 150 monoblock amps, an Amherst Audio P-2000 preamp and, alternatively, a Primare D30.2 CD player or Denon DP-51F turntable. Listening to UB40 on vinyl, I thought the system was very lively with good rhythm and dynamics.