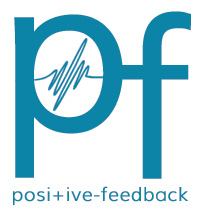 You are reading the older HTML site
Positive Feedback ISSUE
33
september/october 2007
Rocky Mountain Audio Fest 2007
by Dave and Carol Clark
Here we are and it is now four years and counting. We remember the RMAF being way less than a hundred rooms and now ...well this year saw about a 141 exhibit rooms! Yikes, what are two middle-aged audionuts going to do this time? No way we can get to all that in just three days ...so forget seeing every room or exhibitor being mentioned here. If you are missing, or someone you just loved is missing or whatever, well... sorry too much to handle in too little time. We got to those that we wanted to see and hear... and a few others that time permitted.
We will say that this year was a blast... but a very tiring blast and one that was quite special. See, we were able to spend a fair amount of quality time with Al and Marjorie who are two fantastic and loving individuals. Thanks for a great time and a wonderful show. Plus we had three great meals and lots of good times talking and visiting with old and dear friends.
We would also like to say that most rooms sounded quite good. There were also a lot of new-ish products that looked and sounded rather good for being shown at a show. We are going to avoid mentioning who sounded not so well as this is a show and things happen. Yeah, so some rooms did sound very poor and many played (for us at least) music that was either too loud, not loud enough, or well ...gee, why do have to play that?!
Anyhow off we go...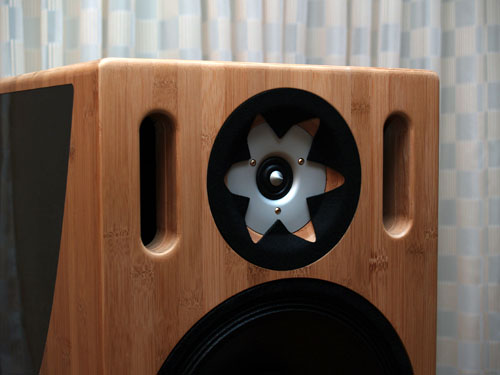 Escalante Freemont loudspeakers showed with Silicon Arts Design. Gorgeous stuff and it sounded mighty fine. Really liked the Escalantes...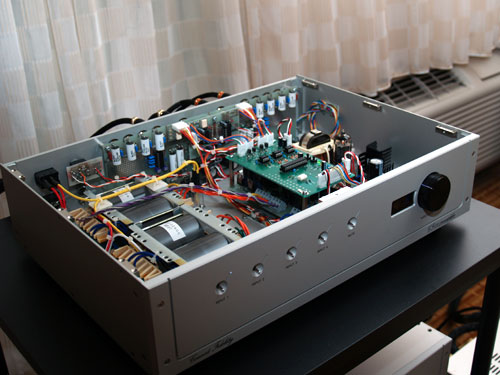 Silicon Arts Design. Nice stuff!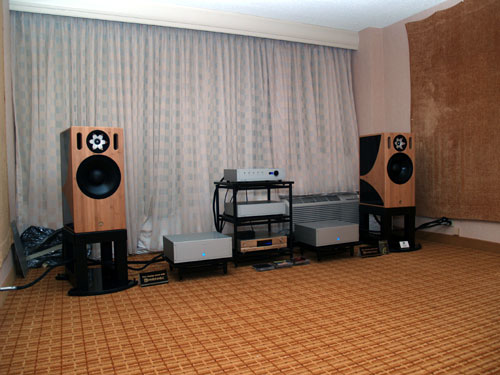 This system included Silicon Arts Design, Freemont loudspeakers, Concert Fidelity, and Chang Lightspeed, all wired with Kimber Kable.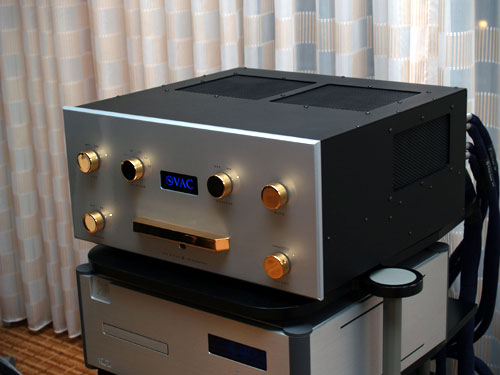 Shown in the Rives room (who now own Talon and have some great plans for the line) was the VAC Alpha Integrated amplifier. This is a prototype that will retail for $12,500. Nice to see Kevin and listen to what is going on with this new item... really cool!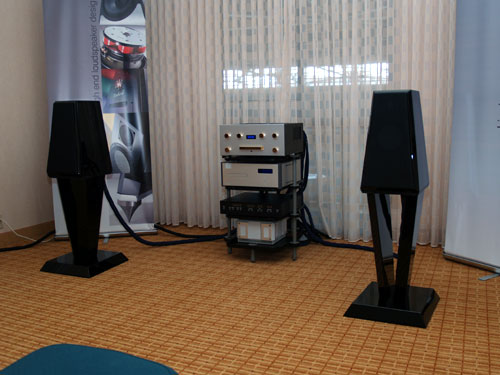 The Talon Hawk loudspeaker retails for $10,000 a pair, shown with a Wadia 581se CD player, $9950, and wired with Kubala Sosna Emotion Series cables.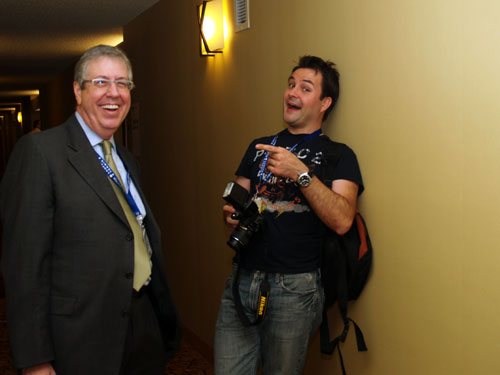 Jonathan Scull sharing a laugh with Danny Kaey.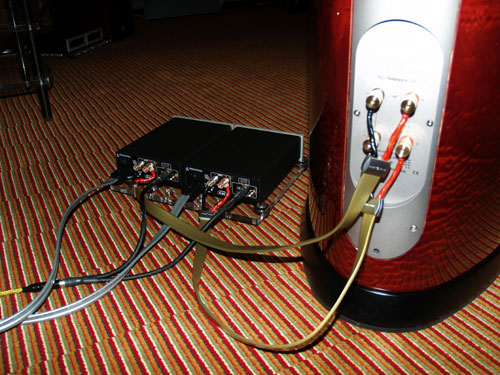 TAD Loudspeakers with Bel Canto amplifiers wired with Wire World cables in the TAD/Pioneer/Bel Canto room. Big, BIG sound that was extremely effortless and smooth ...lots of detail and dynamics with no hint of strain ...nothing to shake a stick at!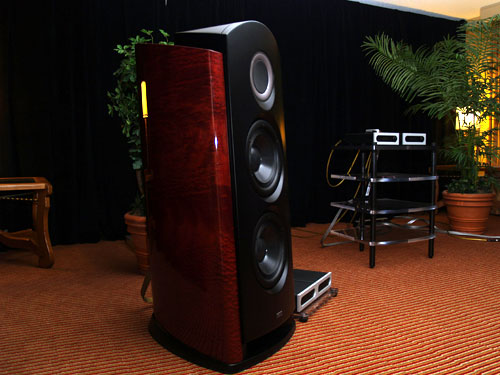 The TAD Loudspeakers with Bel Canto electronics.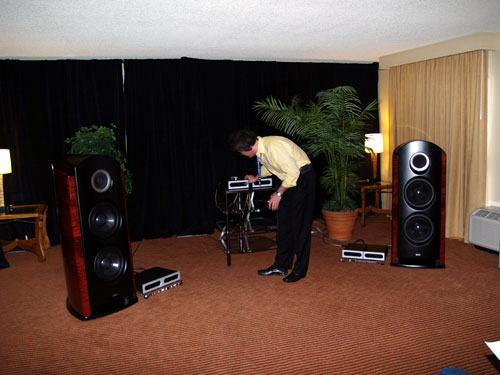 Andrew Jones adjusting the sound. A truly nice gentleman ...definitely one of the nicer people in audio with a great personality.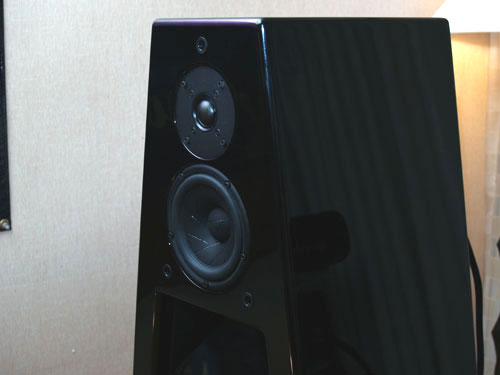 Gershman Acoustics Black Swan loudspeakers in the Gershman/Magnan room.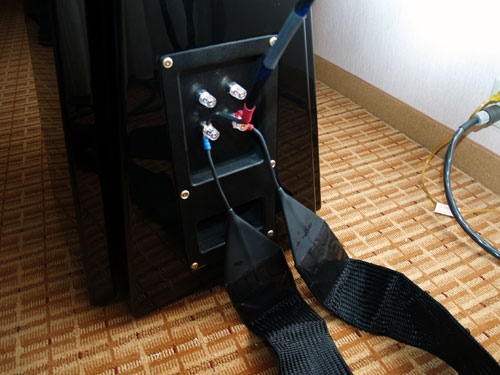 The back of the Black Swans wired with Magnan Cables.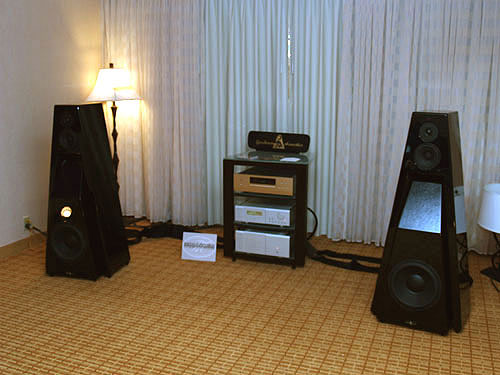 Gershman Acoustics showed with an Accuphase CD player and the "affordable" Boulder Electronics integrated ($8500).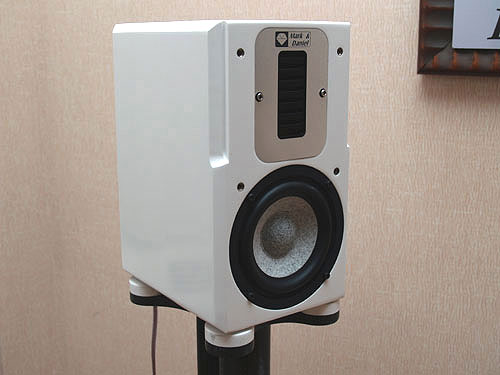 Mark & Daniel Audio Labs, The Topaz loudspeaker comes in a variety of colors, and sounds terrific!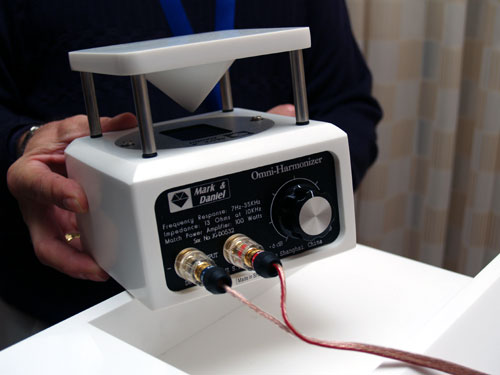 Mark & Daniel also showed the Aragon Sound System, featuring a super-tweeter ($950 pr).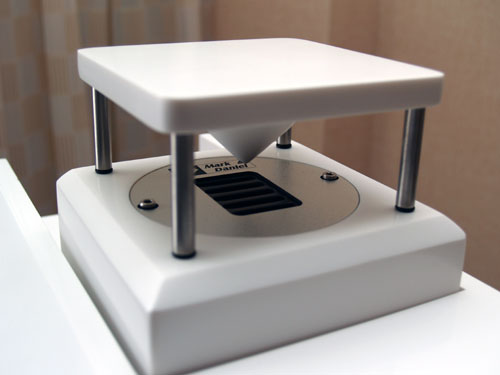 The Aragon Super Tweeter is removable.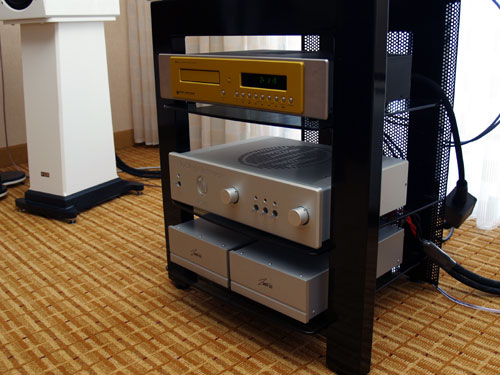 Mark & Daniel showed with a ModWright preamplifier, Audio Zen amplifiers from Canada, and a Sonic Frontiers CD Player. Also featured in the room were Dynamic Design cables.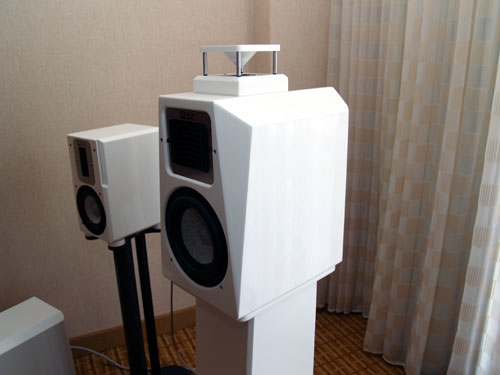 The Aragon Sound System also features the Monitor loudspeakers ($4950 pr) as well as the Bass Extender stand ($1700 pr).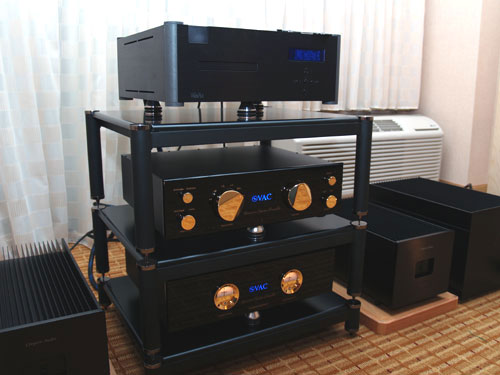 Clayton Audio M-300 amplifiers ($11,500 pr) with a VAC Renaissance Signature MkII balanced preamplifier ($14,000) and a Wadia CD/SACD 581 SE Player ($9950) in the Clayton room.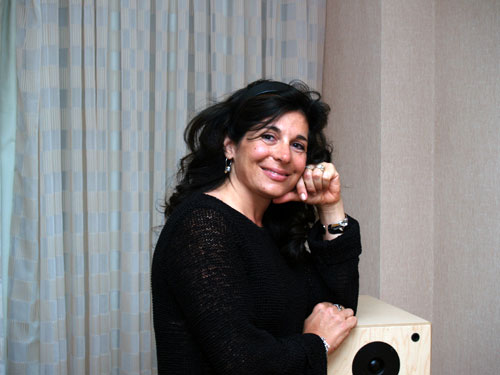 Always cheerful, Ofra Gershman shows their new loudspeaker, the Sonogram.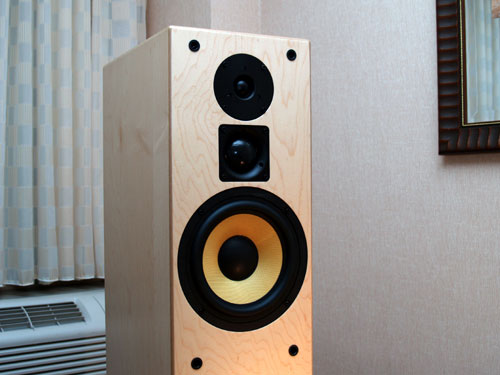 The Sonogram loudspeaker, new from Gershman sounded really, really good for $3600 a pair. Real wood and real nice.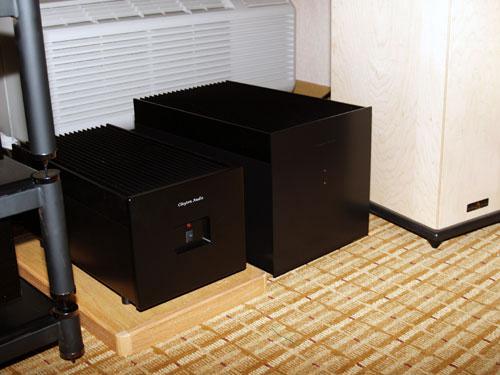 Clayton amplifiers from Wilson Shen are back!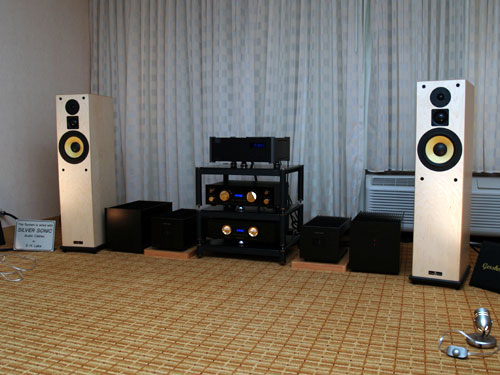 Gershman loudspeakers, Clayton amplifiers, VAC preamplifier, Wadia CD player, all wired with DH labs Silver Sonic Cables and Interconnects. This room was very nice to listen to... and yes, we own the M200s. Read the review in this issue. A truly stellar product.