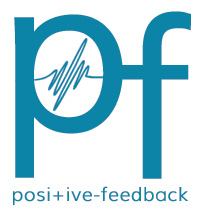 You are reading the older HTML site

Positive Feedback ISSUE

33
september/october 2007
RMAF 2007 - page 2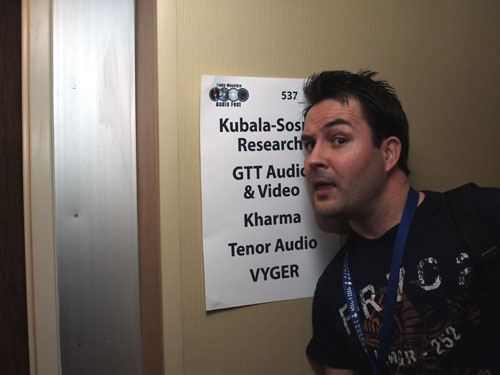 Danny Kaey, always on the lookout for the best sound. Hey I can hear Joe spinning some reel-to-reel tapes in that there room!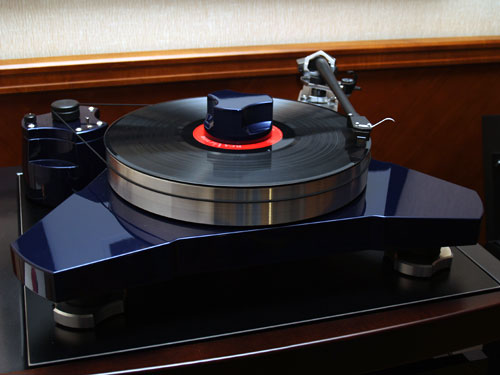 V.Y.G.E.R. Baltic turntable. We have a review in this issue. Really nice and not at all that pricey for what you get.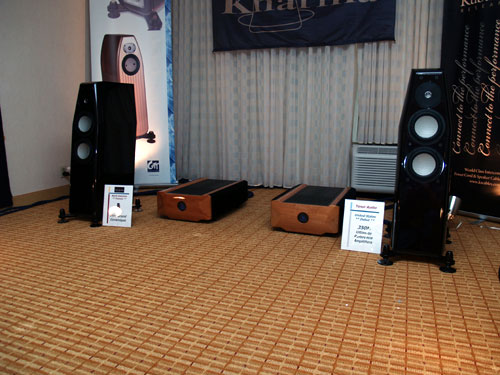 Kharma loudspeakers ($33.5 US) with Tenor amplifiers ($90K CDN) and Kubala-Sosna cabling. This room was a great place to sit and listen ...sorry we had so little time to do so. The KS cables and Kharma are a great match. Nice to see Tenor back in town. We meet Francois Lemay on our way out to dinner and he informed us that Tenor is back strong.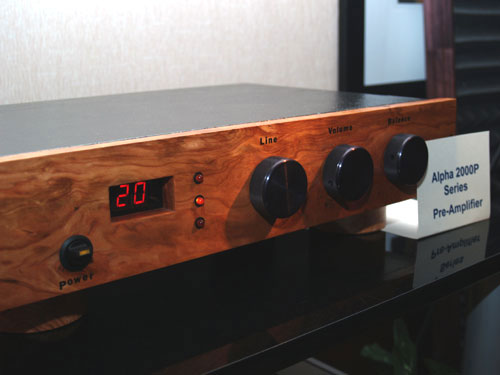 Rau Audio Alpha preamplifier.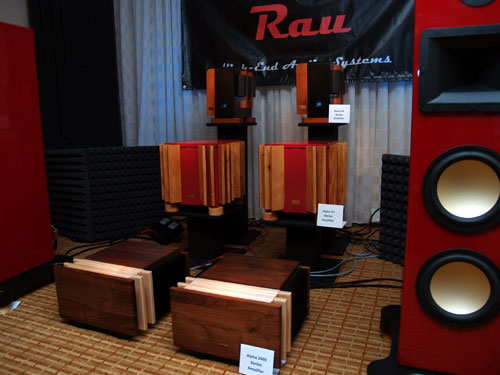 The Rau Audio line of products. These were all prototypes. Class-A amplifiers, speakers, and more. Looked cool, but it was obvious that the cabinets were not finished production versions... promising.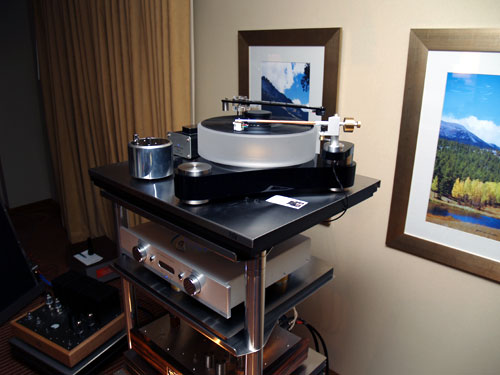 Scheu turntable in the Symposium/Emotive Audio Design/Essential Sound Products/Hudson Audio room.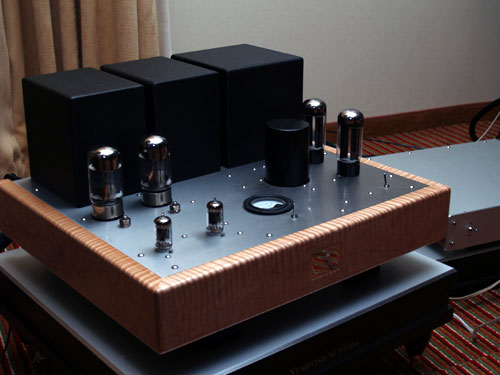 Emotive Audio Designs amplifier.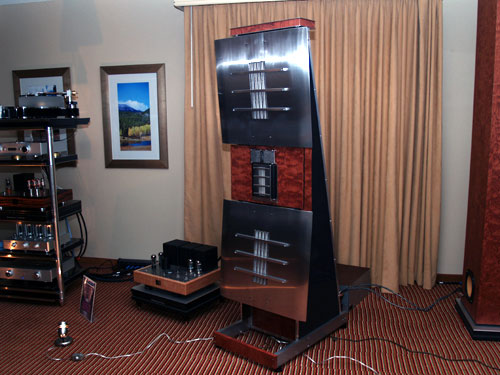 The Symposium Panorama Loudspeakers, you have to hear them to believe them!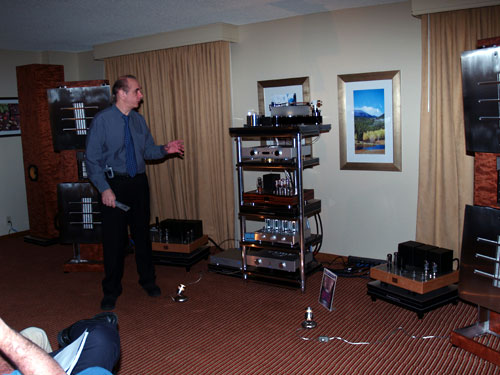 Symposium showed with Emotive Audio Designs and Essential Sound Products cables.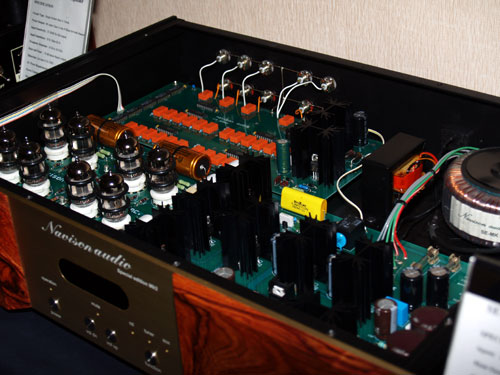 Navison Audio SE-MKII preamplifier.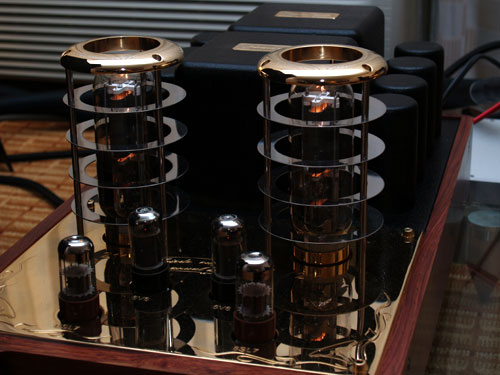 Navison NVS-211PSE amplifier. Drop dead gorgeous.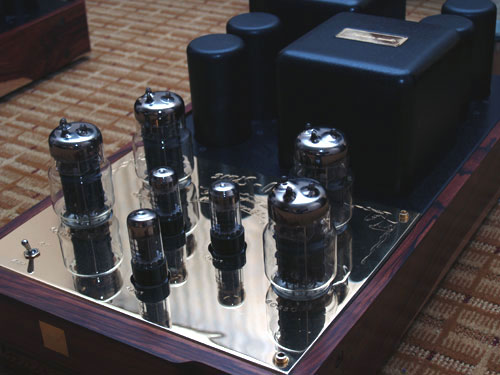 Another Navison amplifier, this time the OTL NVS-003G.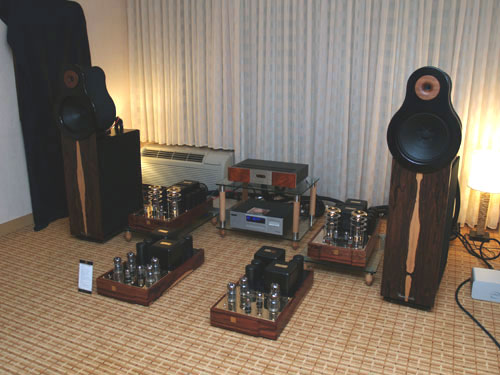 Navison showed with Bastanis loudspeakers. Yes, it sounded very musical and easy...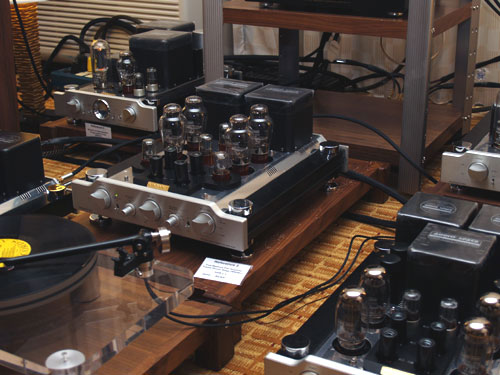 Gini Systems showed a plethora of products including Kuetech Cables. And we slept right next door... thanks for keeping it down too.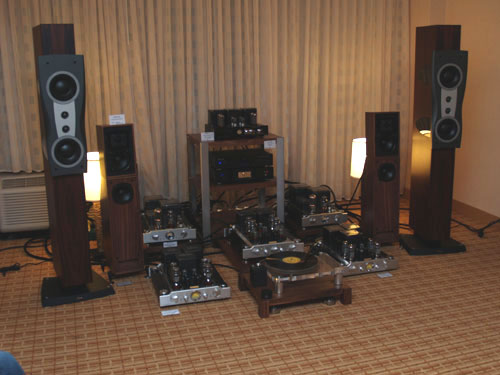 Gini Systems sounded good.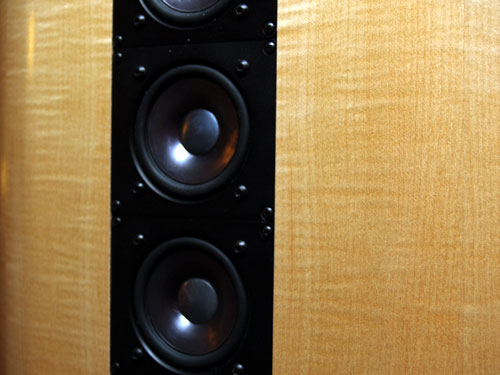 Loudspeakers by Audience.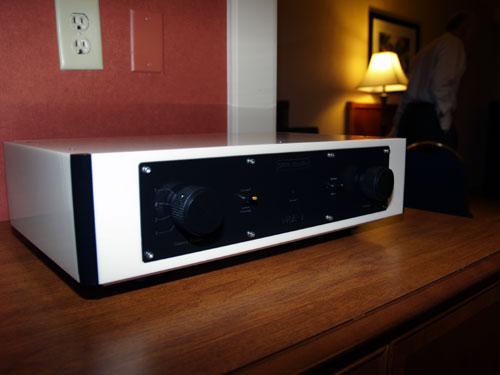 New preamplifier from Steve McCormack Audio (VRE-1)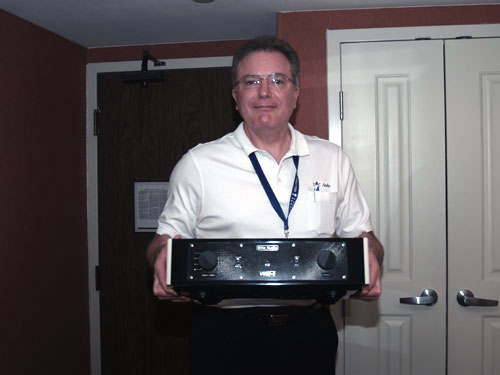 Steve McCormack shows off his new preamplifier.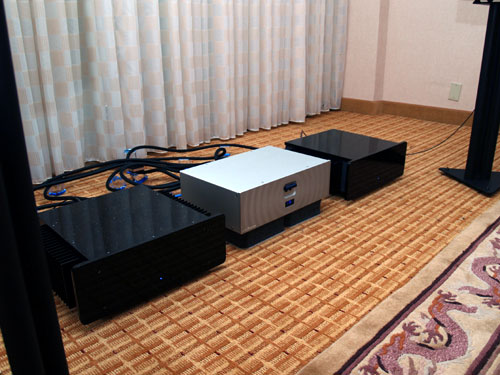 Steve McCormack Audio amplifiers powering the Audience loudspeakers with an Adept response cleaning up the AC. All cabling was by Audience of course.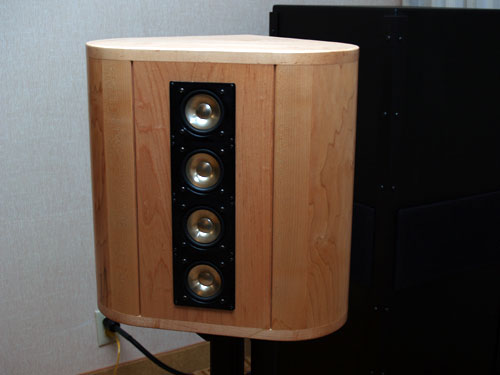 Audience stand mounted loudspeakers.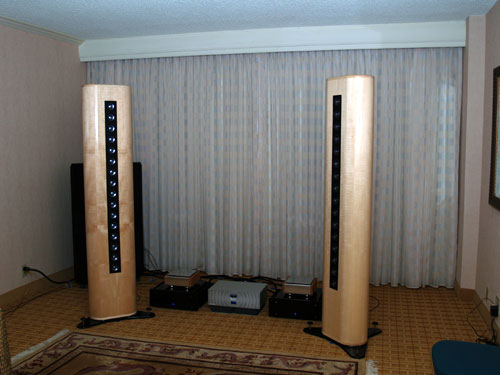 These floor-standing loudspeakers are brand new from Audience. Very linear and fast....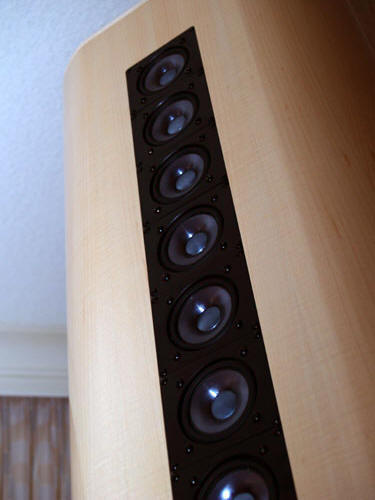 Another view of the Audience loudspeakers. The big ones have the same drives as the smaller ones ...just way less.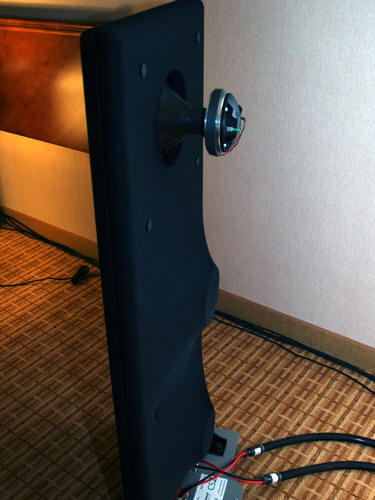 Emerald Physics CS2 ($2995) loudspeakers open baffle and all.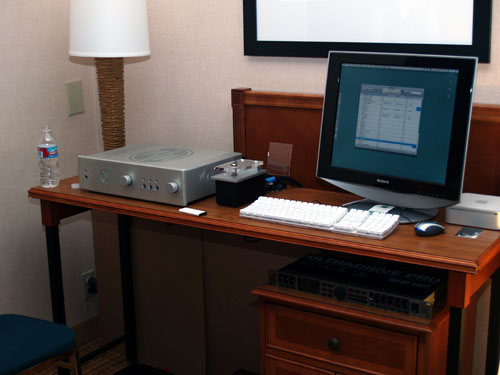 MP3 set up in the Emerald Physics room with the Wavelength Audio USB DAC.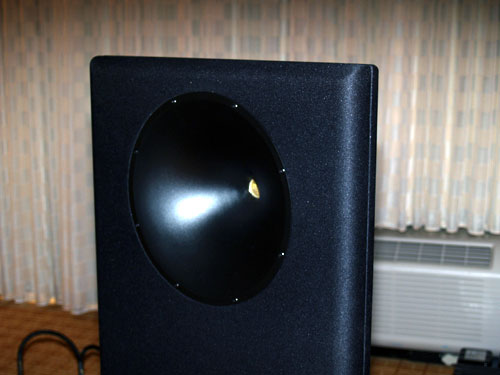 Close up of the Emerald Physics CS2 loudspeakers.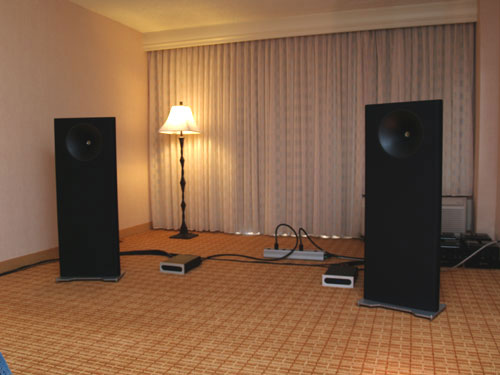 Emerald Physics with Bel Canto amplifiers.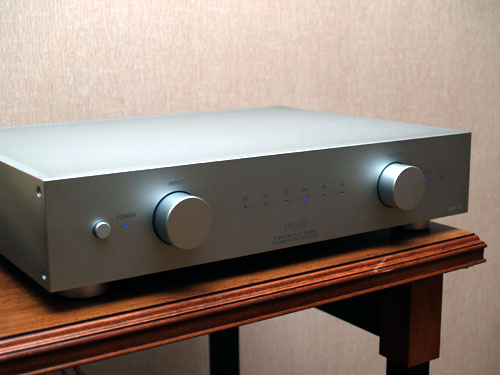 In the Premium Sound Designs was their new integrated and their...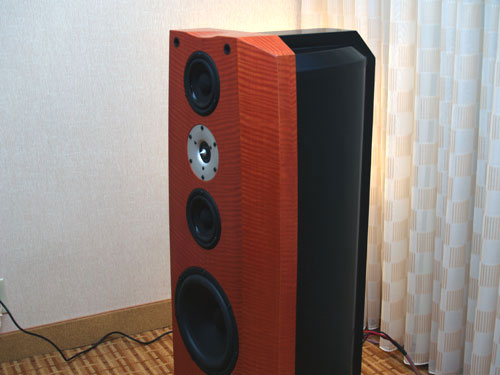 ...T3 loudspeakers.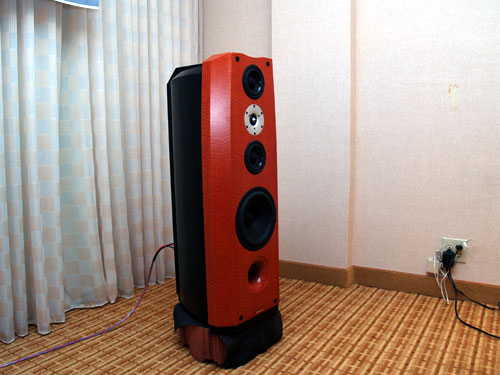 Premium Sound Designs T3 loudspeakers. Very cool looking. Sounded rather good too.