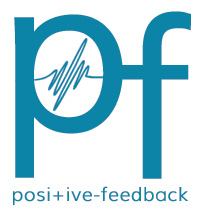 You are reading the older HTML site

Positive Feedback ISSUE

35
january/february 2008
CES 2008 - Part 4
by Dave and Carol Clark
And the show goes on...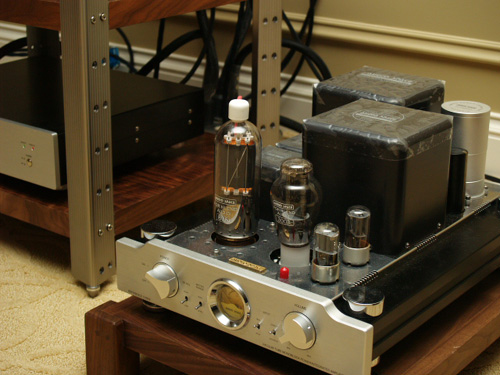 From Gini Systems, a new amplifier from Audio Space.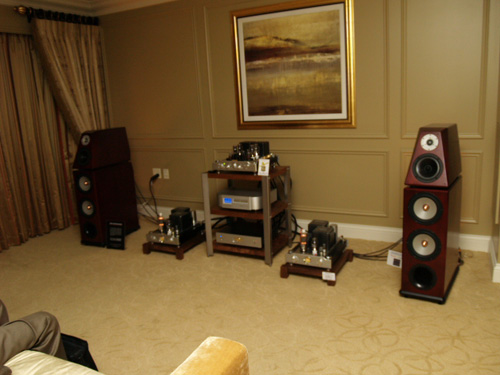 Gini Systems with Audio Space electronics and Von Schweikert loudspeakers.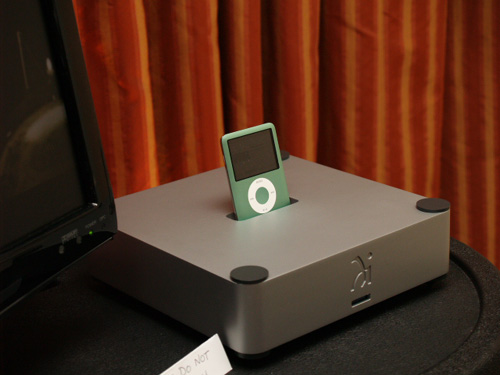 Wadia was showcasing the 170 iTransport, an iPod docking station that takes a direct digital out from the iPod.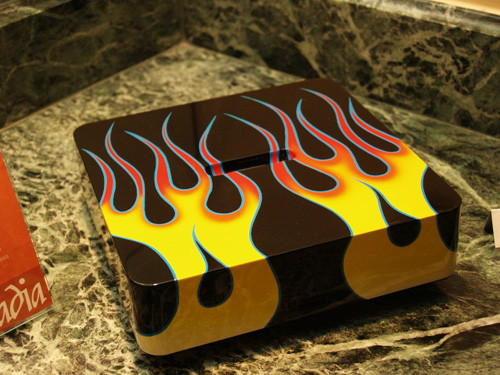 The new Wadia product is so hot, it's on fire!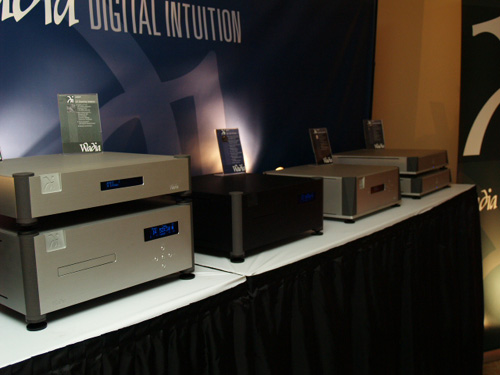 A showcase of Wadia products.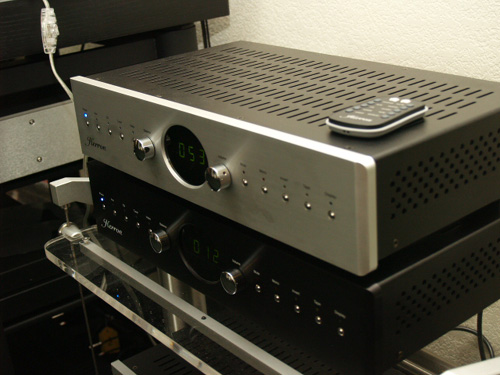 Herron Audio's new VTSP-3 tube preamplifier.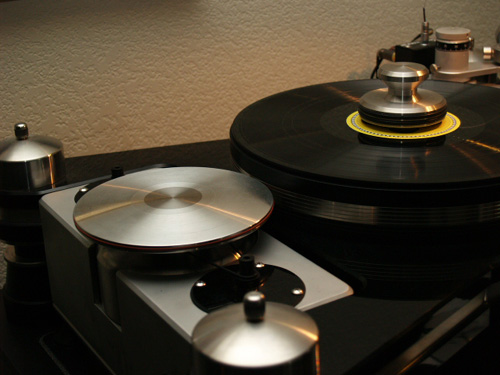 Herron was using a VPI TNT HR-X turntable with the new VPI Rim-Drive belt-less system and a JMW 12.7 tomearm.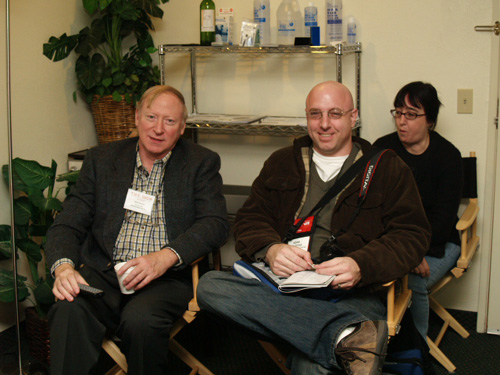 Keith Herron and Adam Goldfine.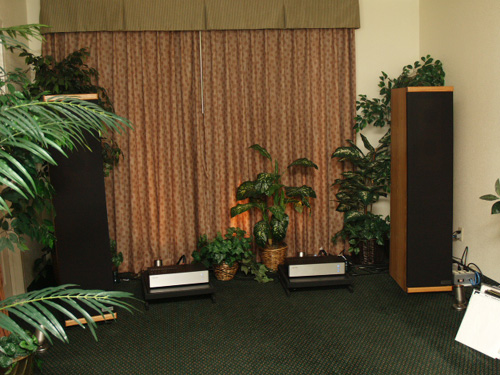 Herron 2104A loudspeakers, this room always sounds good.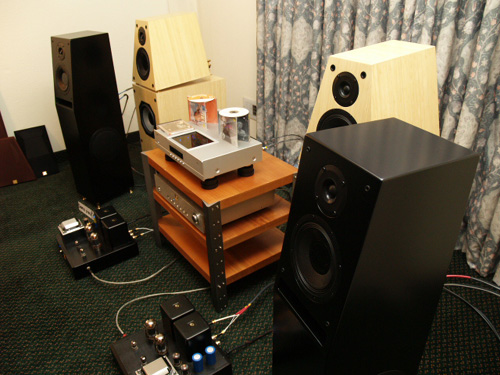 Hyperion Sound Design room, outside loudspeakers are the HPS-738 and the inside loudspeakers are the HPS-968.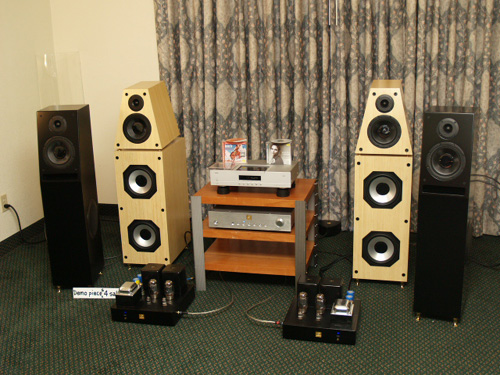 Hyperion HT88 amplifiers along with the loudspeakers and cabling from Hyperion.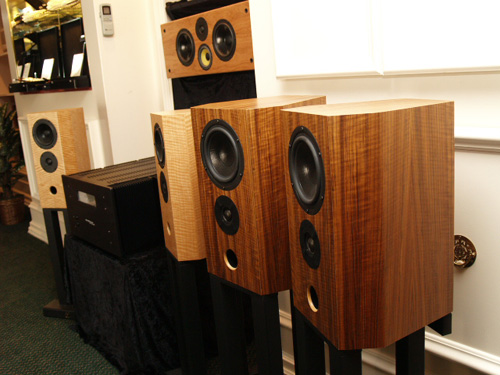 New Montana Mini Monitor Loudspeakers from PBN Audio.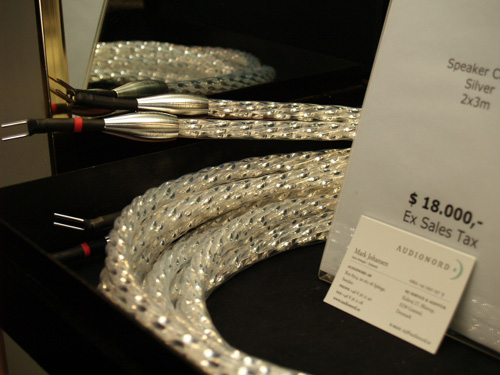 The Audionord line of cables, very pretty and very expensive.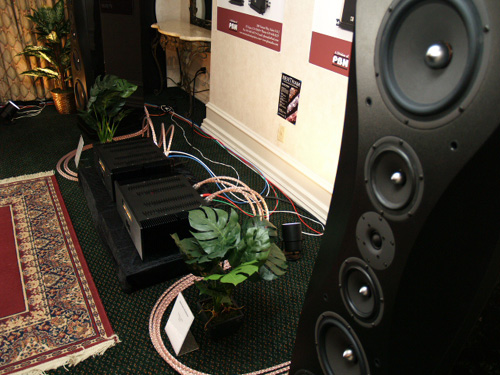 The new KAS2 loudspeakers from PBN Audio with their electronics and Audionord cables.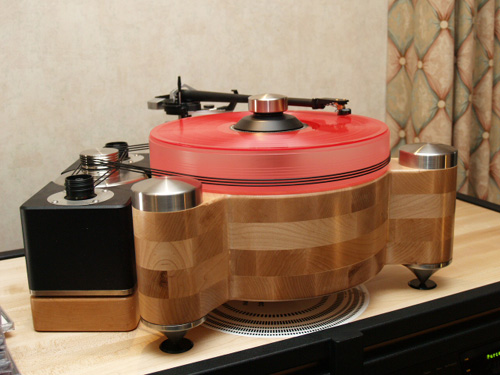 Gorgeous turntable in the PBN Audio room.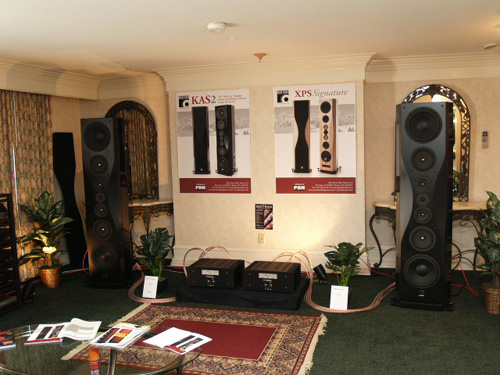 Another shot of the PBN Audio KAS2 loudspeakers.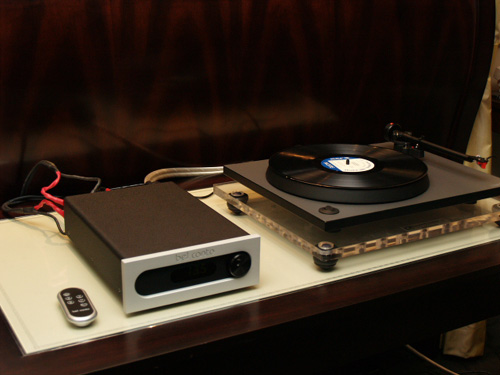 Bel Canto e.One S300IU integrated amplifier.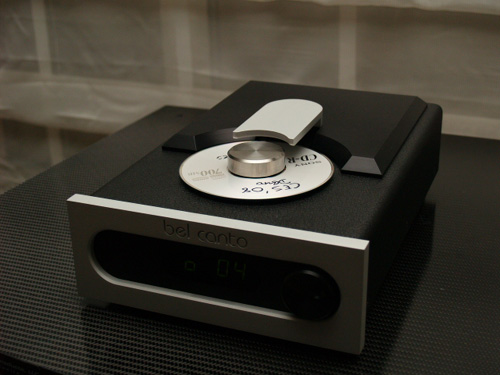 Bel Canto new high performance CD2 CD turntable with 24/96 digital and analog outputs.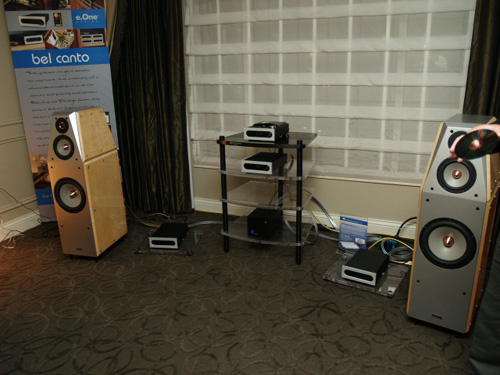 Bel Canto system with Jeff Joseph loudspeakers.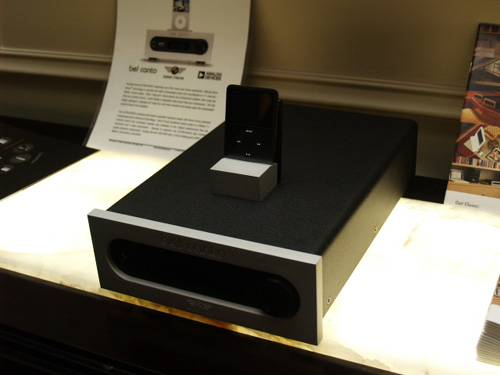 Bel Canto Ultra-Dock iPod dock takes compressed music to 96kHZ/24-bit quality.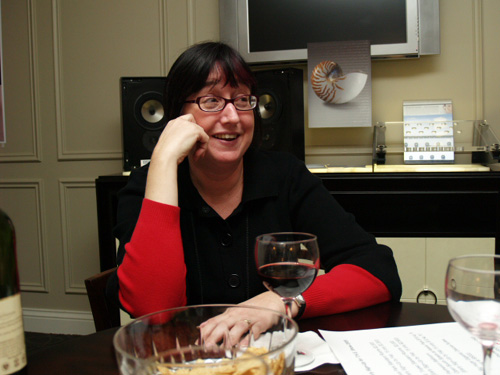 The end of a long day, Jeff Joseph and Dan Babineau know how to throw and impromptu party.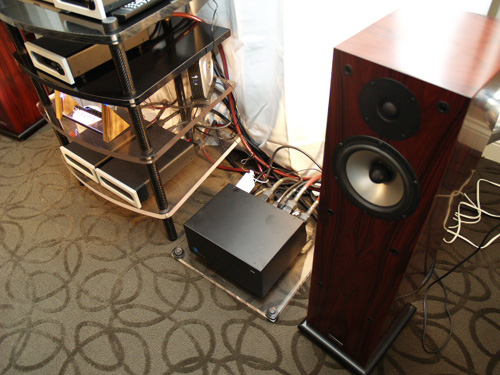 RM22 si Signature MKII loudspeakers from Jeff Joseph Audio.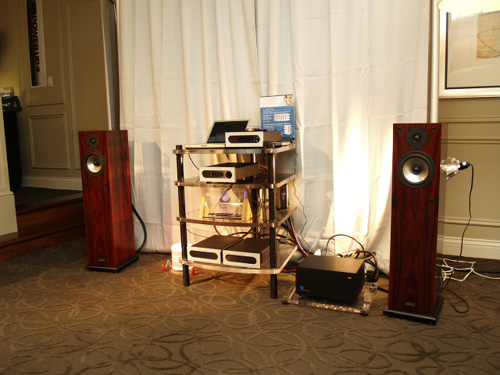 Joseph Audio with Bel Canto electronics and Cardas cabling.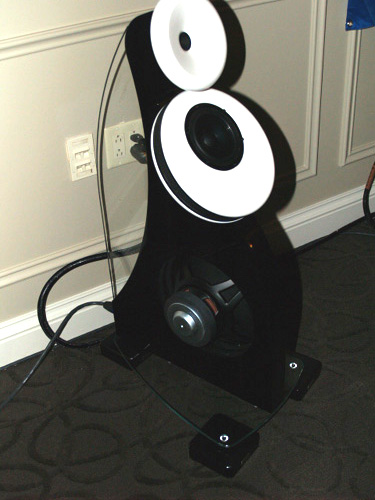 May Audio showed from Gradient, the Helsinki loudspeaker.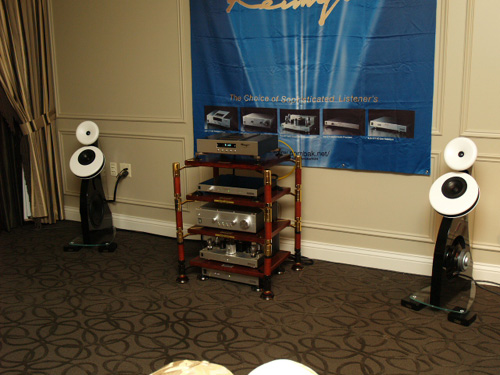 The Helsinki loudspeaker with electronics from Harmonix Reimyo.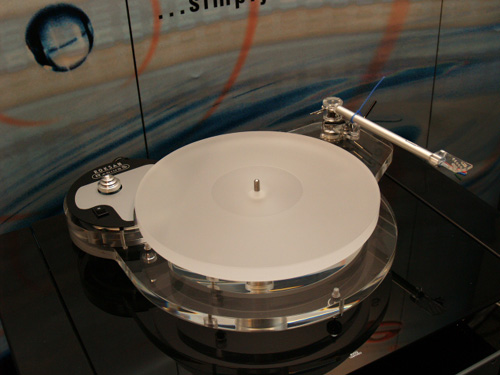 Roksan Radius5 turntable.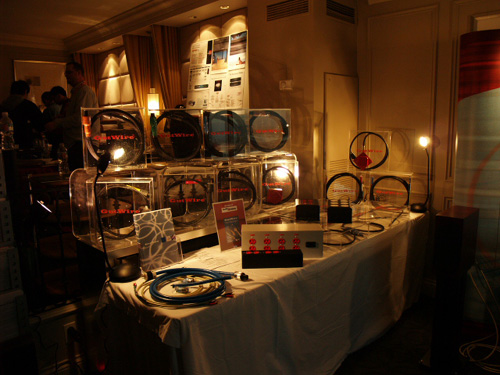 Gutwire Cables showed their entire line of power cords and cables.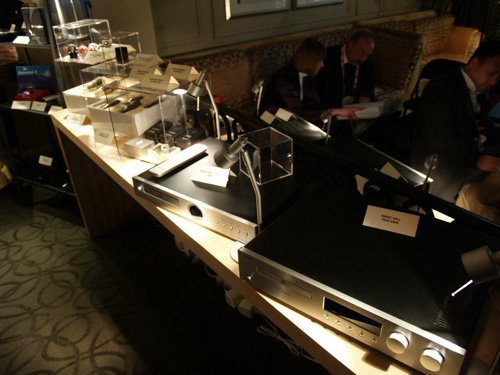 A collection of Music Hall products.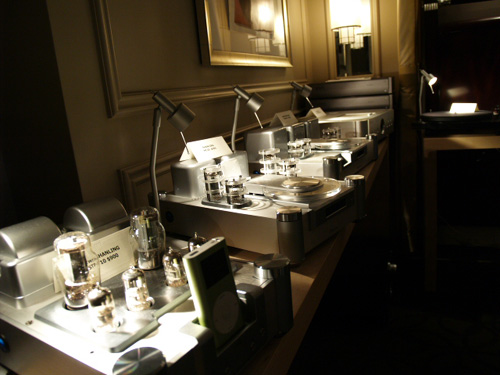 A lineup of Shanling products from Music Hall.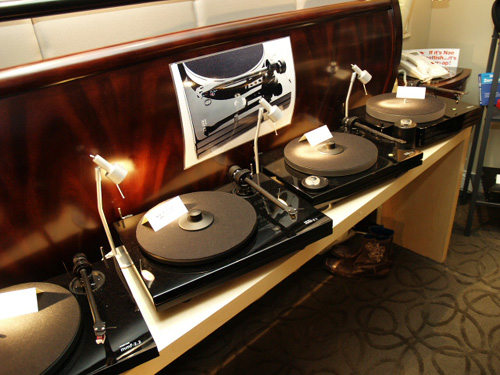 Music hall turntables.