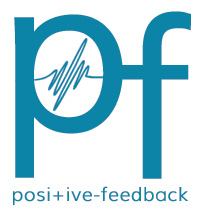 You are reading the older HTML site

Positive Feedback ISSUE

35
january/february 2008
CES 2008 - Part 2
by Dave and Carol Clark
And we continue onward.... lots to see, but if you plan it right... well, you can get it done, so more to see and report on.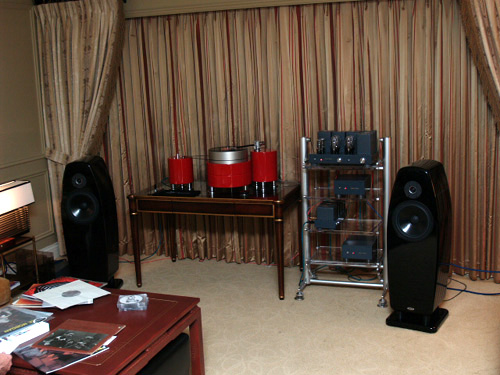 Tangram Audio had a wide variety of products from A.R.T loudspeakers, Audio Tekne electronics, and DaVinci Audio turntable.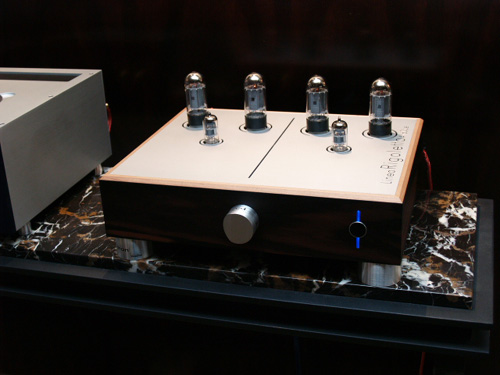 Tron Audio Linea Rigoletto tube linestage. Very cool stuff.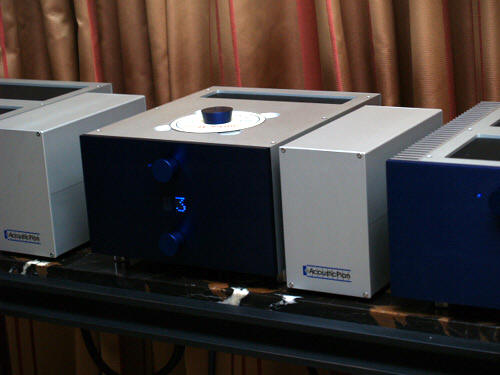 Acoustic Plan CD player flanked by other items from their line.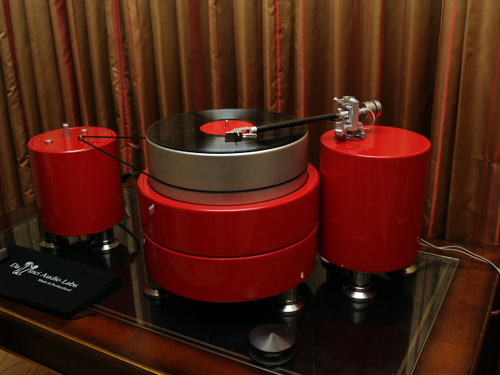 The DaVinci turntable in the Tangram Audio room. Way cool.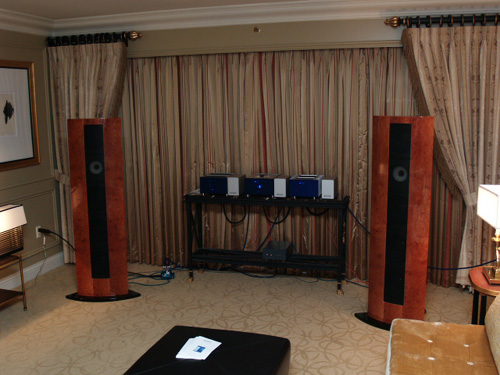 Acoustic Plan electronics and their own Veena loudspeakers.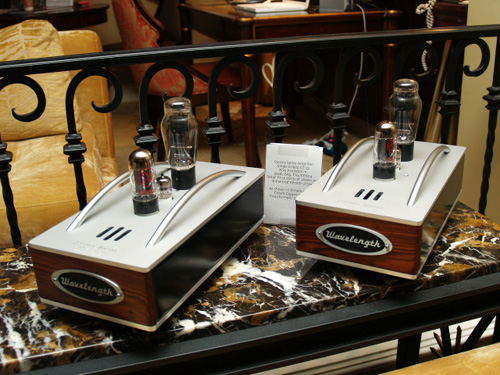 Wavelength Audio new Corona amplifiers come in a variety of ways: with 6B4G/6A3, PX4/RE604, or as shown here with VT52's.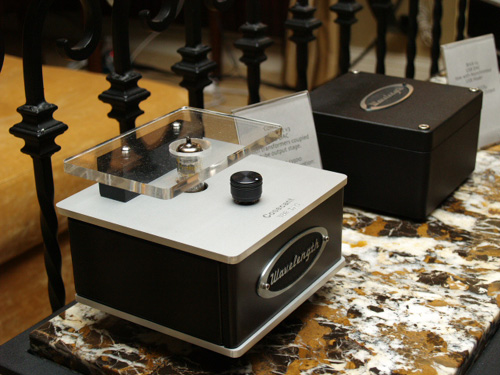 Wavelength Audio Cosecant V3 USB computer DAC with volume control, and to the right is the Brick V2.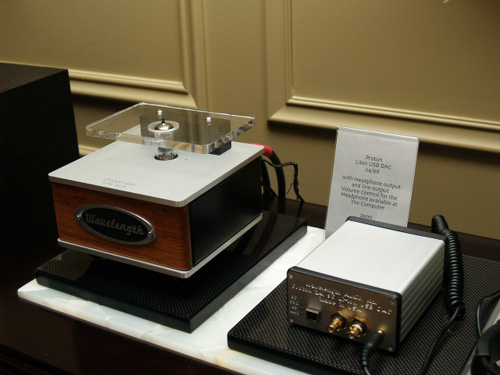 Wavelength Audio Cosecant V3 and the new Proton LiIon USB DAC with 24/96 and headphone output..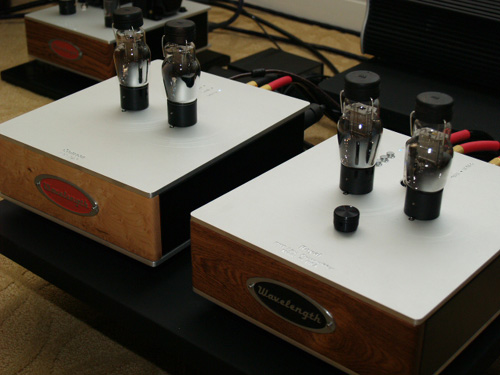 Wavelength Audio's Crimson USB DAC shown in Silver (represented by the red badge) and the new Royal Directly Heated Triode preamplifier driving the Silver Cardinal amplifiers.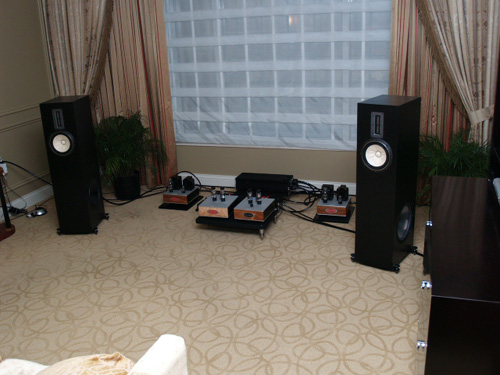 Vaughn Zinfandel loudspeakers with Wavelength Audio electronics.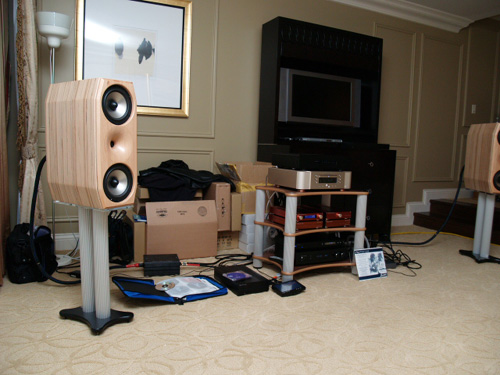 NuForce S9 loudspeakers wired with Stealth Audio cables.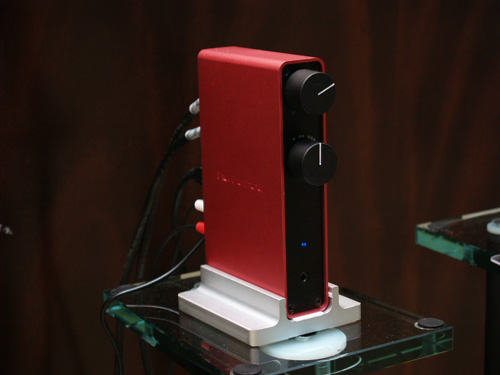 NuForce Icon-1 amplifier is a prototype, part of a desktop system pictured below.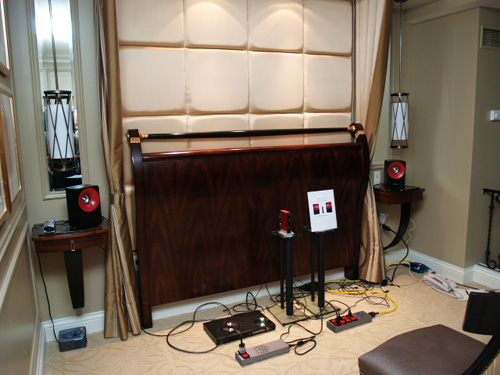 The S-1 loudspeakers and the Icon-1 amplifier from NuForce.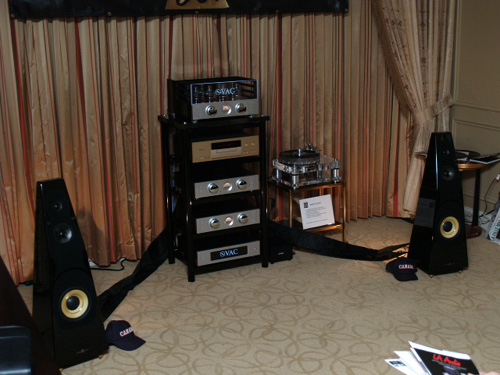 Gershman Avant Garde loudspeakers with VAC Phi 300.1 integrated amplifier, the new VAC preamplifier, and Magnan cables. Always sounding good here... even if the time was so too brief!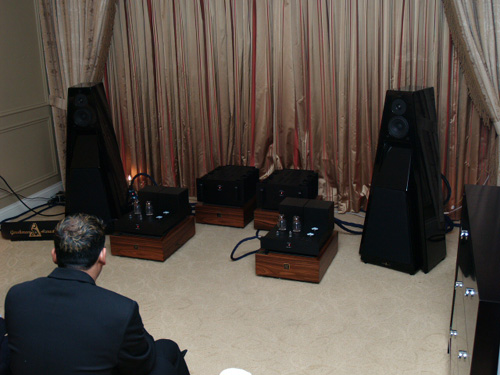 Gershman Acoustics Black Swan loudspeakers with Lamm Industries 1.1 amplifiers, and Kubala-Sosna cables.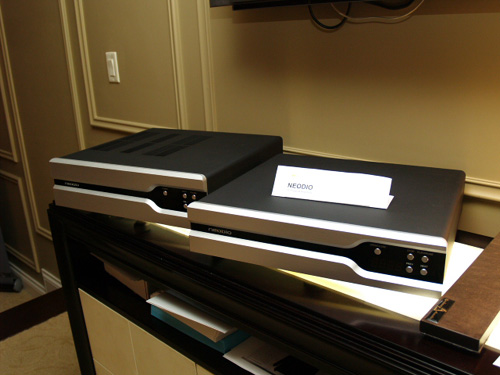 Neodio CD One CD player and amplifier.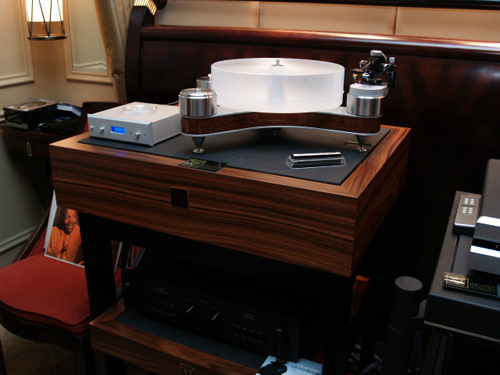 Critical Mass with a Clear Audio turntable.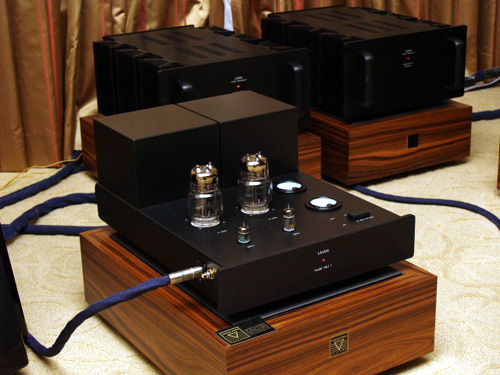 Lamm 1.1 amplifier on a Critical Mass stand in front, and the 2.2 amplifier behind it, with Kubala-Sosna Emotion cables.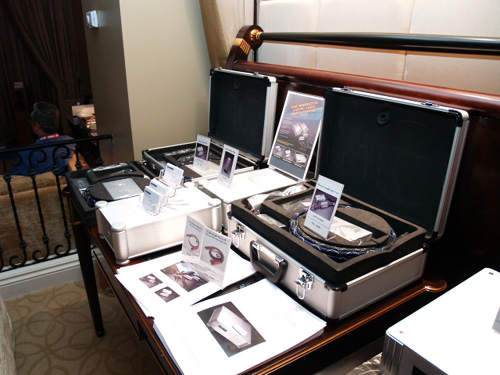 A bevy of new INEX Photon AmpliCables.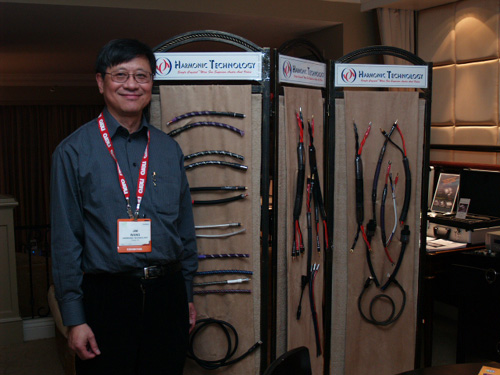 Jim Wang of Harmonic Technology with cables for every audiophile.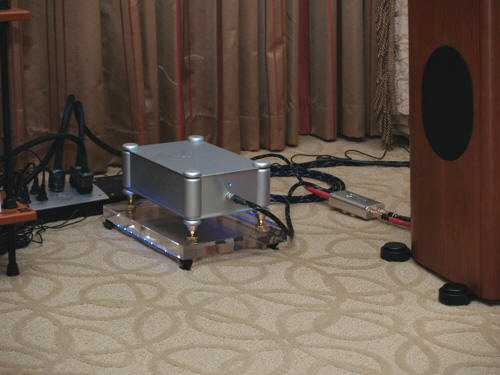 Close up of the INEX Photon AmpliCable Elite.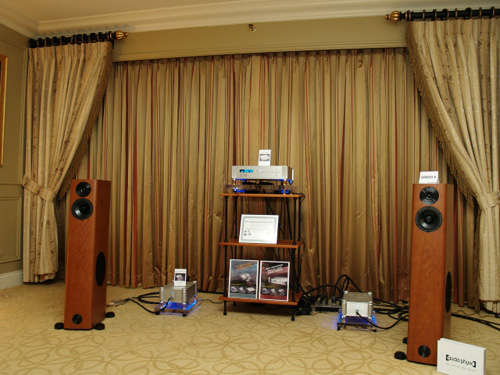 Another picture of the room with the Photon preamplifier A200 with Virgo V Kirsche loudspeakers from Audio Physik.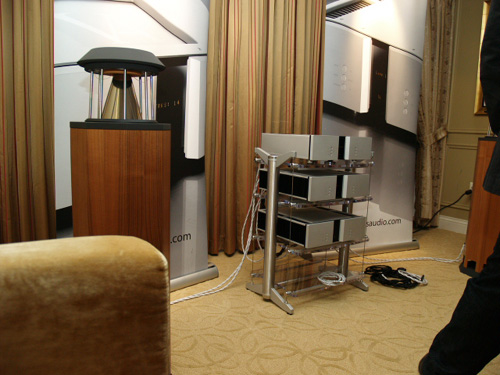 Vitus Audio electronics and cables with HRS 120 German Physiks loudspeakers.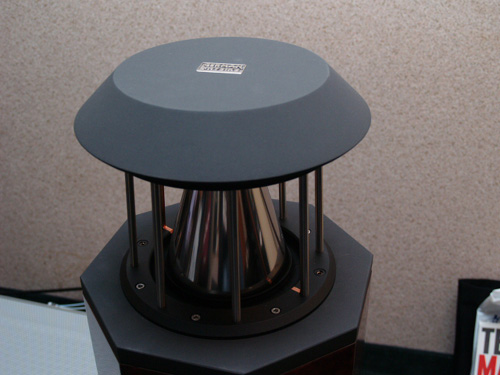 DDD omni-directional driver on the German Physiks loudspeaker.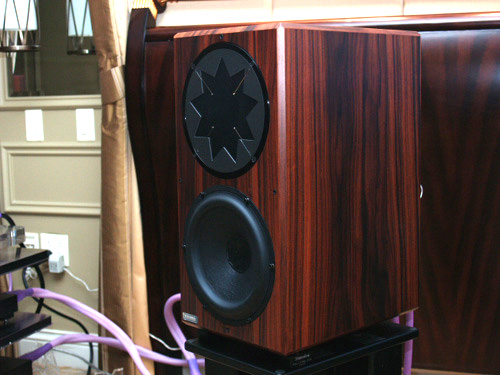 Manger Zerobox 109 loudspeakers in the tmh room.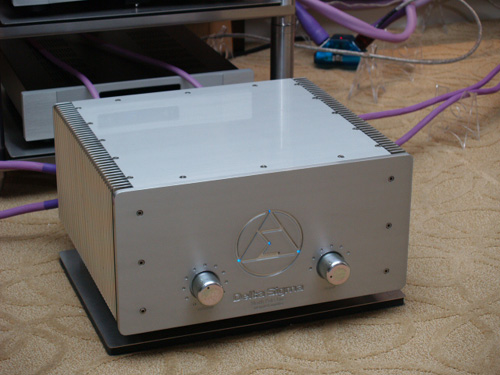 Delta Sigma integrated amplifier also in the tmh room.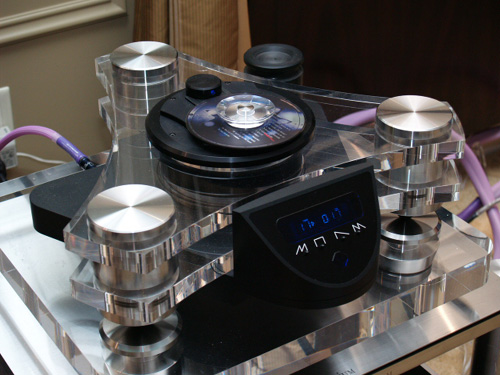 Metronome Kalista CD transport.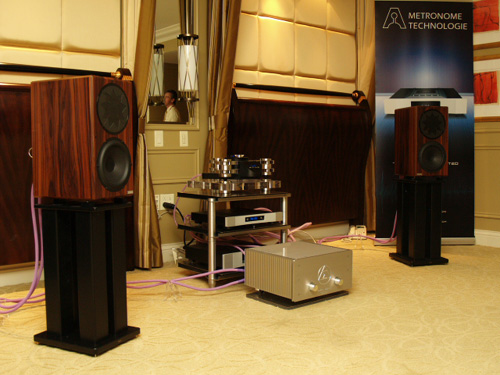 Manger, Metronome, Delta Sigma with Revelation cables used in the tmh room. Jim has always impressed us with his consistently great sound ...regardless of the brands he is carrying. Always at the top of the list for musicality!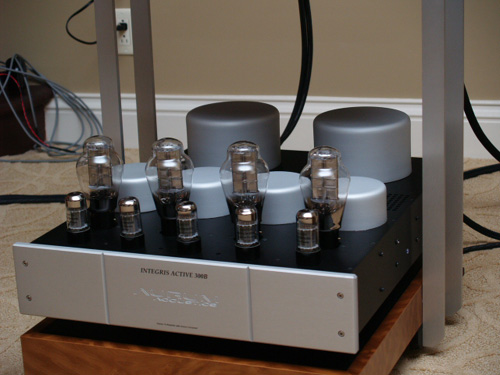 Arum Acoustics Integris Active 300B system amplifier.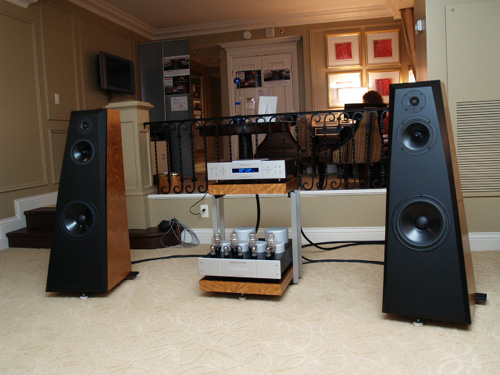 A shot of the Arum Acoustics Integris system, including CD player and loudspeakers. You get the whole system ...designed to work together.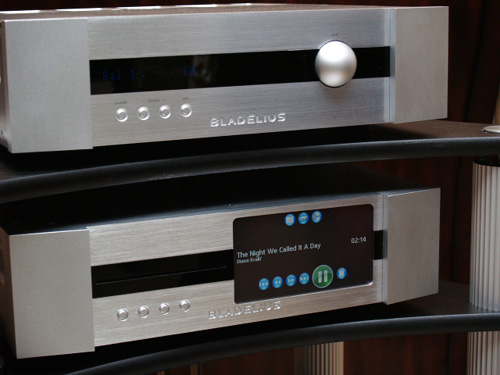 Bladelius Design Group launched a new silent replay system.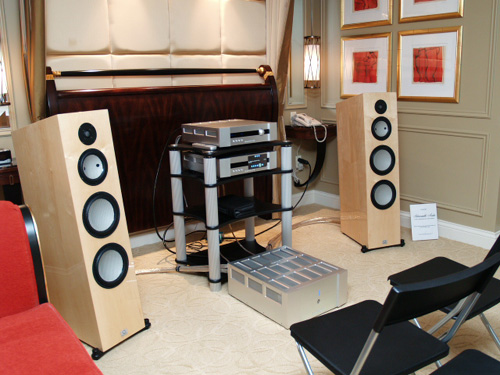 Marten Designs Bird loudspeakers in the Bladelius room with Silversmith Audio cables.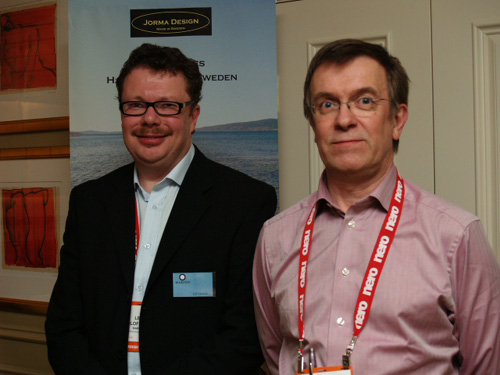 Lief and Jorma, makers of Marten Designs loudspeakers and Jorma Design cables.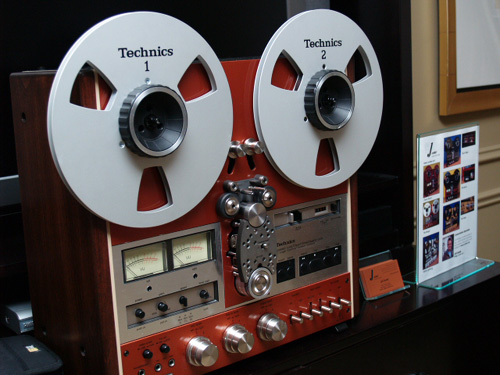 In the E.A.R. room was the Technics reel to reel fully restored and soon to be available.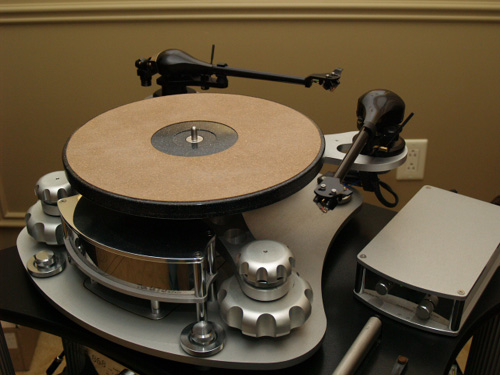 E.A.R. Disc Master turntable.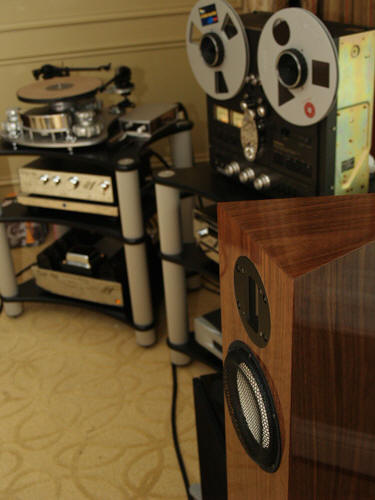 New loudspeakers from Marten Designs, the Form series.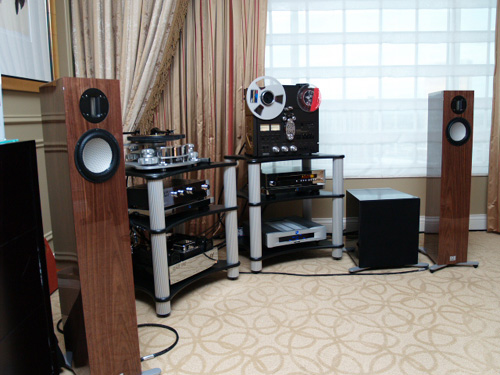 The sound in the E.A.R. room is always great.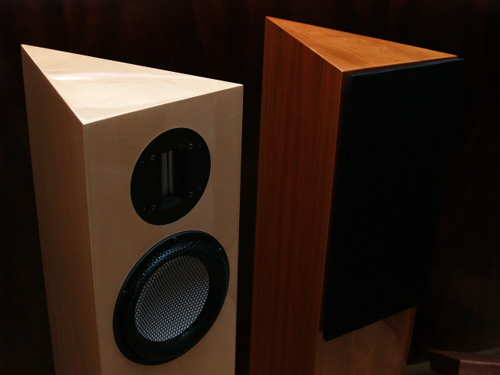 The new Marten Form Series loudspeakers.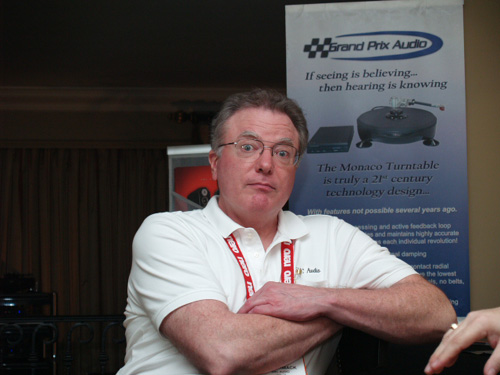 Steve McCormack says....you want to order how many preamps?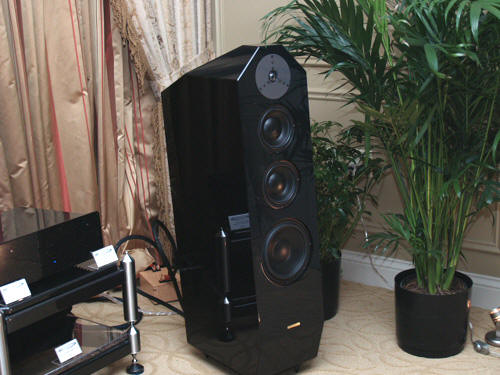 Eggleston Audio Nine Reference loudspeakers.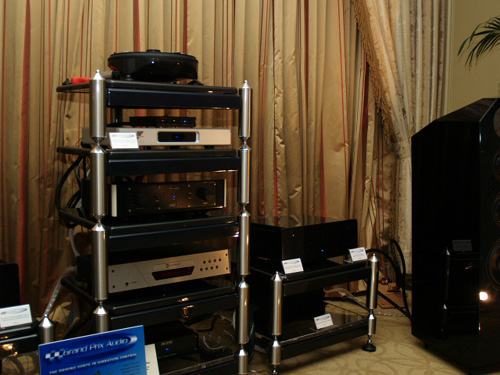 Grand Prix Audio Monaco Reference turntable and stand, SMC Audio VRE-1 preamplifier, custom amplifiers, and UDP-1 CD player..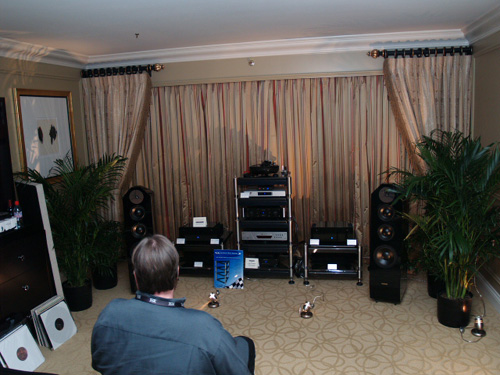 The Grand Prix, Eggleston, SMC Audio room with Stealth Audio cables.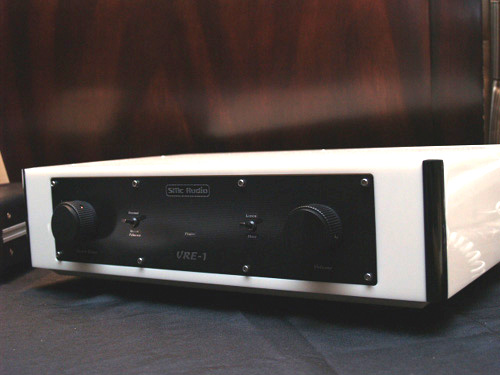 Steve McCormack's VRE-1 preamplifier.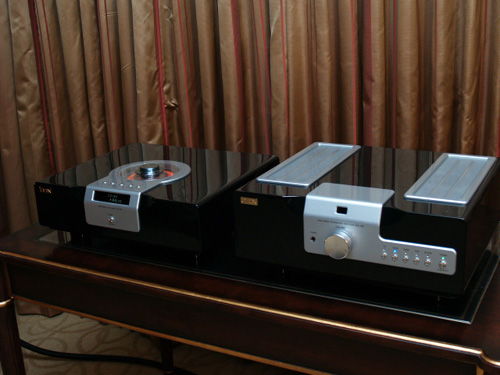 In the Sound Art room they featured the ONIX XCD-50 player and XIA-160 integrated amplifier.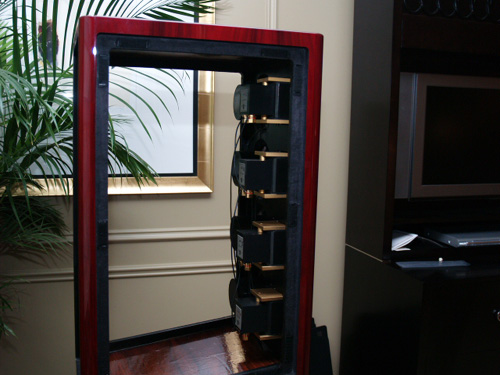 The open baffle of the Baby Grand featuring eight 4 1/2 inch mid-ranges and eight 4 inch true ribbon tweeters.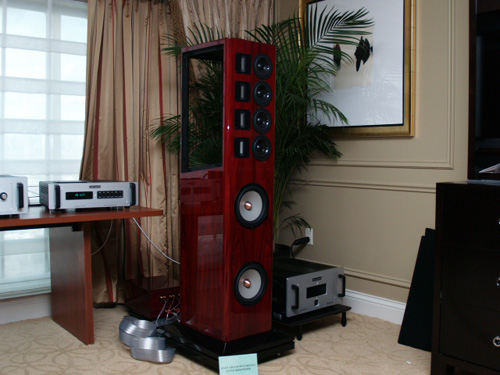 Nola Baby Grand Reference loudspeakers.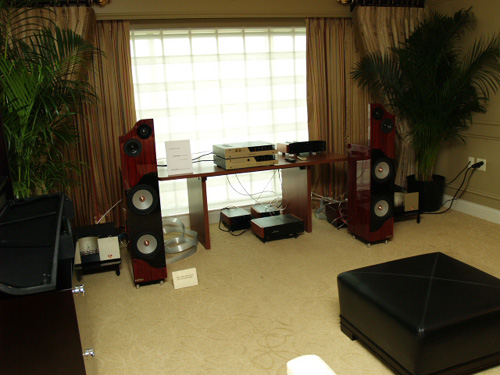 Nola had a second system featuring their Viper loudspeakers.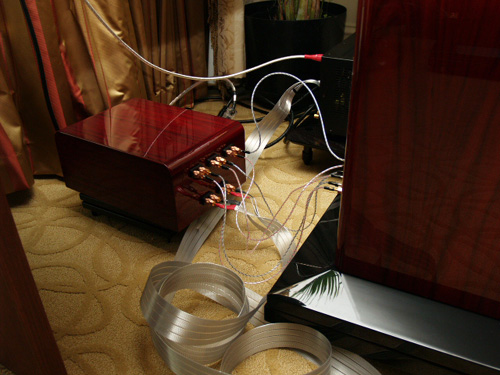 A tangle of Nordost cabling with the outboard crossover.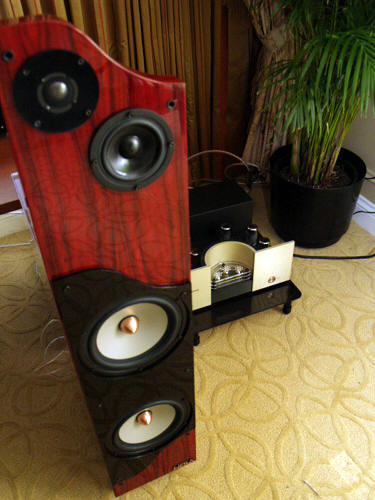 Nola Viper loudspeakers with Conrad-Johnson amplifiers.