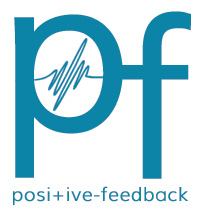 You are reading the older HTML site
Positive Feedback ISSUE
40

november/december 2008
RMAF 2008 Show Report
by Adam Goldfine
This being my second year attending the Rocky Mountain Audio Fest, I was excited to catch up with some new old friends and check out the cool technology I've been hearing about throughout the year. Last year I attempted to cover everyone and everything and ended up overwhelmed by the sheer amount of information and the process of trying to shape it into a show report.
This year I decided to take it easy, have some fun, skip a lot of the excellent gear I've already reported on and seek out what was new, excellent and unfamiliar to me. Even so, I ended up with tons of notes and information which is a testament to the innovation, creativity and commitment to excellence embodied by the majority of high end audio manufacturers and dealers.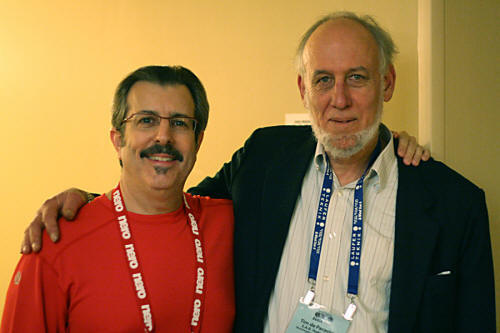 Highlights of the show included an enjoyable and eventful dinner with Alan Kafton of Audio Excellence AZ, Tim de Paravacini of Esoteric Audio Research and Dan Meinwald US importer for E.A.R. Other highlights included dinner with Dave and Carol Clark and the Positive Feedback staff and an enlightening set up demonstration by Roy Gregory, editor of the U.K.'s hi-fi+ magazine, details below. With no further ado, on to the show:
Audio Concepts, Inc.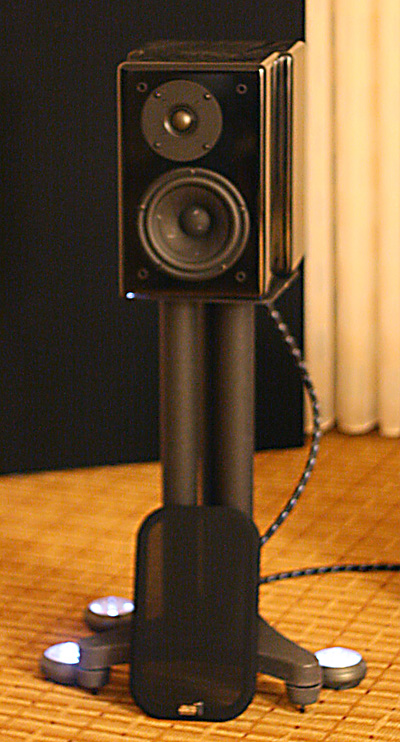 New to me where the Sapphire XL loudspeakers from Audio Concepts, Inc. Measuring just 12" high and 8.5" wide I could hardly believe the sound that was coming from these tiny stand mounted speakers. At $1700/pr in satin and $1850 in piano gloss they represent extremely high value for the money. You can buy them direct from the ACI's web site at www.audioc.com. The company also sells the cables, stands and accessories they feel best complements their speakers including other high value brands such as DH Labs for cables, Sound Anchor for stands, etc. They also maintain a forum on Audio Circle. All around I must say I was very impressed by the company and their products.
Acoustic Zen/DEQX
At last year's T.H.E. show I was sitting in the courtyard of the St. Tropez eating lunch, when I suddenly heard someone playing a live drum set in one of the surrounding rooms. I've played the drums for close to 40 years so I'm pretty familiar with the sound of a live kit. Turns out it was a pair of Acoustic Zen Maestro speakers ($36,000).
At the RMAF the Maestros were being driven quite effortlessly by six Halcro dm88 monoblocks, three per channel in a tri amp configuration! They had better get up and boogie with that kind of fire power. The amplifiers were being fed by the DEQX HDP3 room processor. With the included measuring microphone, the HDP3 first measures the anechoic phase and amplitude response of the speakers. It then measures the room response at the listening position and at various points throughout the room and calculates a phase and amplitude correct signal for up to three channels per speaker. It can be used to drive speakers plus two subs, two way speakers plus two subs or three way speakers (either active or with three amps per speaker) controlling each driver individually.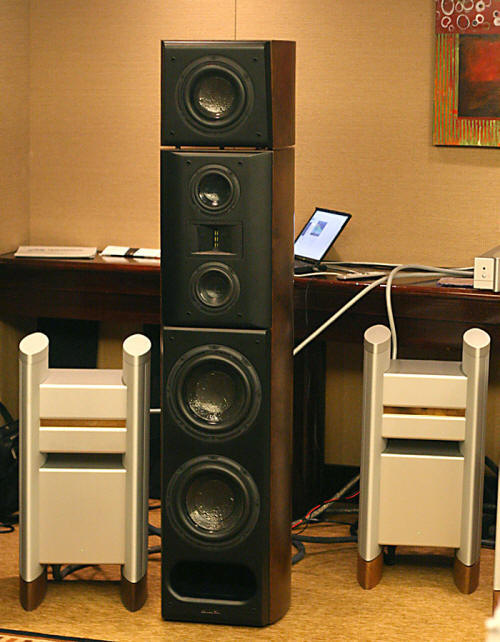 With AES/EBU or S/PDIF digital input from a transport or music server to the HDP3 analog to digital conversion is avoided. It also has single ended or balanced analog inputs with a high quality 96kHz 24 bit analog to digital converting providing DSP processing for your analog sources. The unit can be used as a full function preamp with an analog volume control and provides an active crossover. The cost is a not unreasonable $6000.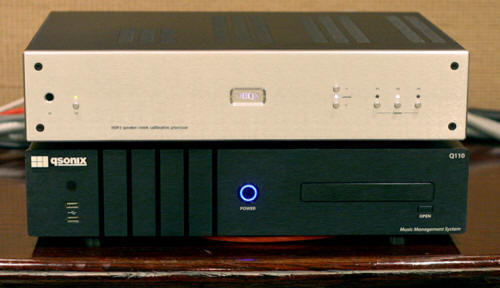 The sound was some of the best DSP room correction I have heard, though I have yet to hear a unit in my own system, and was excellent everywhere in the room. I think the dreaded analog to digital conversion has largely prevented DSP room correction from taking hold among audiophiles. But I predict that with the proliferation of music servers requiring an outboard DAC and the quality of ADC found in this and other units such as the Lyngdorf (see below), room correction will cease to be the pariah it has been and will be embraced as integral to achieving the full potential of high performance audio systems.
In addition DEQX introduced their Tikandi loudspeaker system consisting of a stereo three way, four driver speaker system, coupled with 8 channels (100wpc) of amplification and the HDP3 DSP system. Each driver is controlled and amplified individually and the speaker system was designed from the ground up to be processed this way. I'm guessing there is no crossover in the speaker at all allowing the HDP3 to completely control the crossover frequencies and slopes. Just plug in a transport or the digital output from your music server and you are ready to go. System cost is $30,000. The sound was quite promising though I must say that the Acoustic Zen Maestros with each of the six amplifiers and the speakers alone costing more than the entire Tikandi system was pretty hard to beat.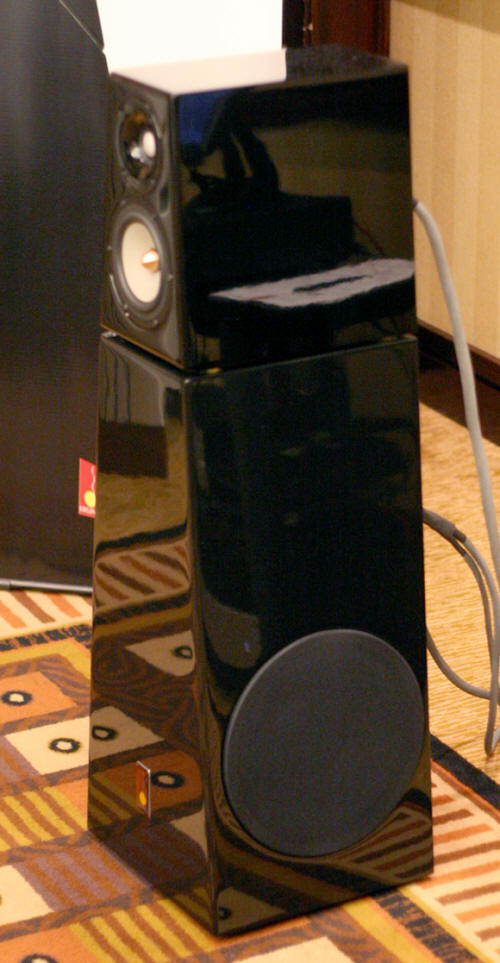 AIX HD Music Systems
AIX has become known as a record label offering high resolution 96/24 stereo and multi channel downloads through iTrax.com to be played over a music server. Problem is, there aren't any multi channel music servers, until now. AIX was demonstrating their Mozart Model 1750 HD Music Server which can output up to 8 channels of digital audio for 2.0, 5.1 or 7.1 recordings; ready to be connected to up to four of your favorite stereo DACs or a multi channel unit such as the Meitner.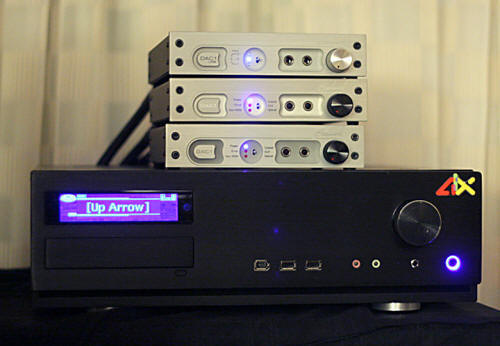 In addition the company is in discussion with Benchmark about including their DACs internally with a total projected price of $5,000. There was no release date but it should be sometime early next year. The unit will also include at least one terabyte of onboard storage, will have HDMI output and may or may not decode DTS-HD Master Audio and or Dolby True HD at some point down the line.
I heard the system in 5.1 surround through Benchmark outboard DACs, Classe amplification and B&W loudspeakers. Daddy like.
AV123
Another new company for me, av123, was demonstrating their x-statik Open Baffle Loudspeaker designed by Danny Richie of GR Research. The sound was, well, open and at $799/pr. direct from av123, they are another high end steal. They have a 30 day in home trial period so if you don't like them, just return them. I doubt they get any of these back.

They were also demonstrating their new top of the line LS9 line source loudspeakers. Featuring 9 planar tweeters, 12 6.5" woofers and standing over 80" tall with a shipping weight over 420 lbs they are a lot of speaker for $5999. And that's for the pair. The sound was big with no sense of compression or strain.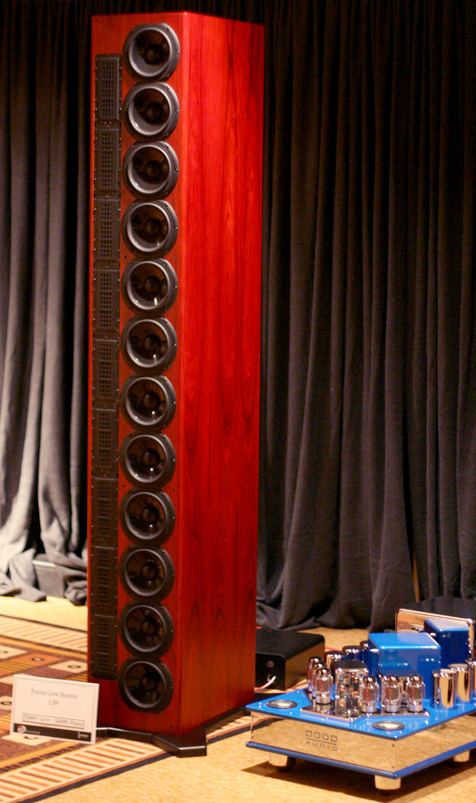 Bamberg Audio
Another new name for me is Bamberg Audio, a 14 year old company based out of Sandwich, IL. Their Series 5 TMW loudspeaker features a mid and tweeter module atop a powered bass module. It includes an outboard crossover allowing for tri amplification, treble contour adjustment and is said to be only 3dB down at 18Hz! They sounded dynamic with very tight, deep bass. And the best part is a pair will arrive for review in early December. It's going to be an early Christmas for me. At $8275 for the pair with a limited time introductory price of $5980 these are yet another high end bargain!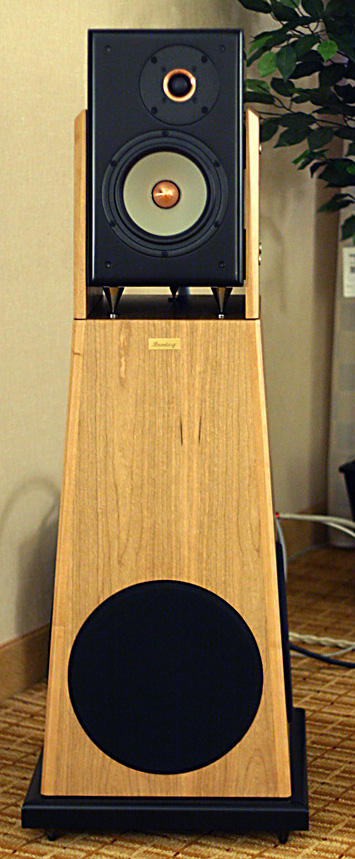 Da Vinci Audio Labs
New from Switzerland is the Unison Turntable, $27,000. Also on display was the Grand Reference tone arm (price not noted) available in 10" and 12" versions. The turntable seemed to be very solidly built with typical Swiss precision. The US importer for Da Vinci is Tangram Audio, www.tangramaudio.com.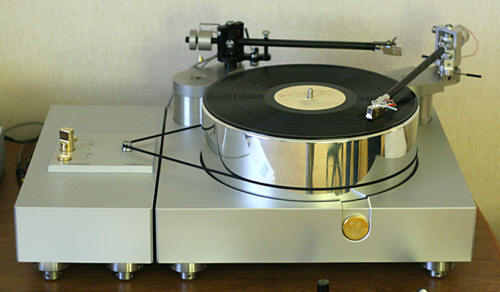 deHavilland
New from deHavilland is the Model 50A Triode Monoblock Amplifier. Outputting 40 wpc and featuring an interstage transformer driving a pair of KT88s in triode mode, the amplifier is based on the Fisher 50A updated with modern capacitors and materials. The 50As also feature tube rectification and a choke input power supply.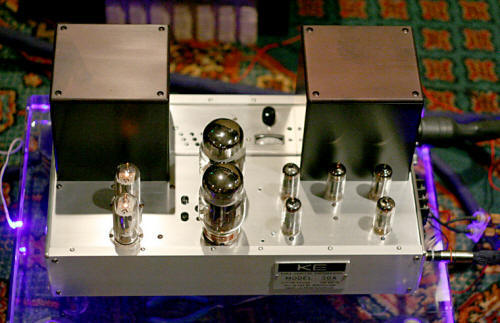 Driving a pair of Wilson Benesch Curves, the 50As were sweet, seductive, articulate and alive sounding producing the best sound I have heard coming from these speakers with which I'm fairly familiar. Though the total system cost was nowhere near state of the art, the sound was very close and was among the best at the show. The Playback Designs CD/SACD player didn't hurt either. The cost of the 50A is $7250/pair and I'm working on wearing Kara Chaffee down for a review pair sometime after CES.
Denon
New from Denon and available from HeadRoom are a line of sealed, over the ear headphones. Four models were on display, the AH-D1001k, $149.99; the AH-D2000, $349; the AH-DH5000, $699 and the AH-D7000, $999.99. Each one of them was balanced, articulate with tight, fast bass. The AH-D2000 really hit the sweet spot from a price/performance point of view. They were a significant improvement over the less than half the price D1001k and approached the performance of the 5000 and 7000 models. The HeadRoom electronics definitely helped them perform at their best.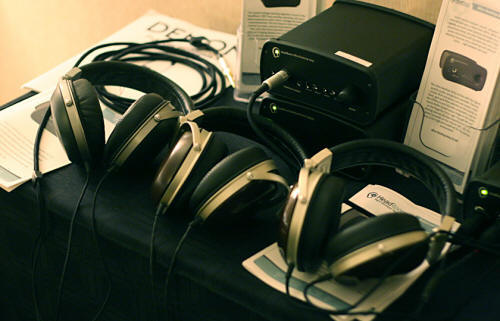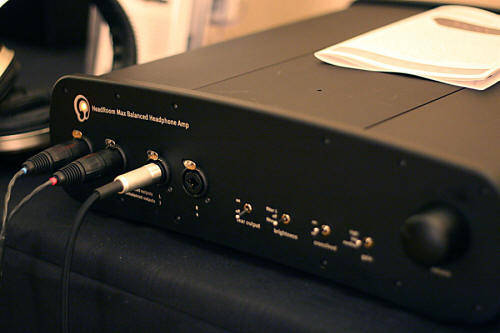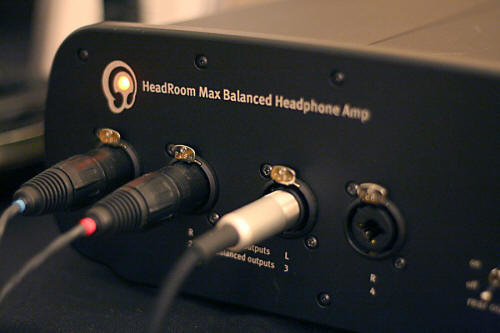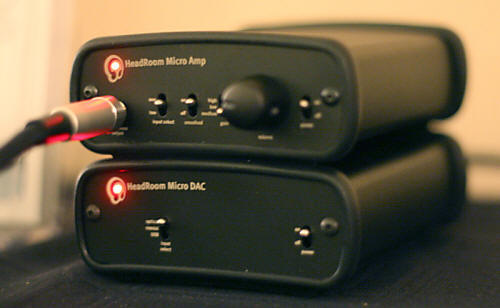 Emerald Physics CS1
Emerald Physics unveiled their CS1 loudspeaker system featuring an outboard digital crossover and DSP controller. The system is said to eliminate most of the problems associated with in-room response through controlled dispersion characteristics and digital signal processing.
Having become accustomed to the sound of a well treated listening room, it's easy to hear the contribution of a poor room to what might otherwise be excellent speakers. The CS1s sounded exceptionally free of room colorations and the bass was very tight with no evidence of room modes muddying the sound. The midrange was clear, balanced and musical and the CS1s were one of a handful of systems to pass the Marcus Miller test.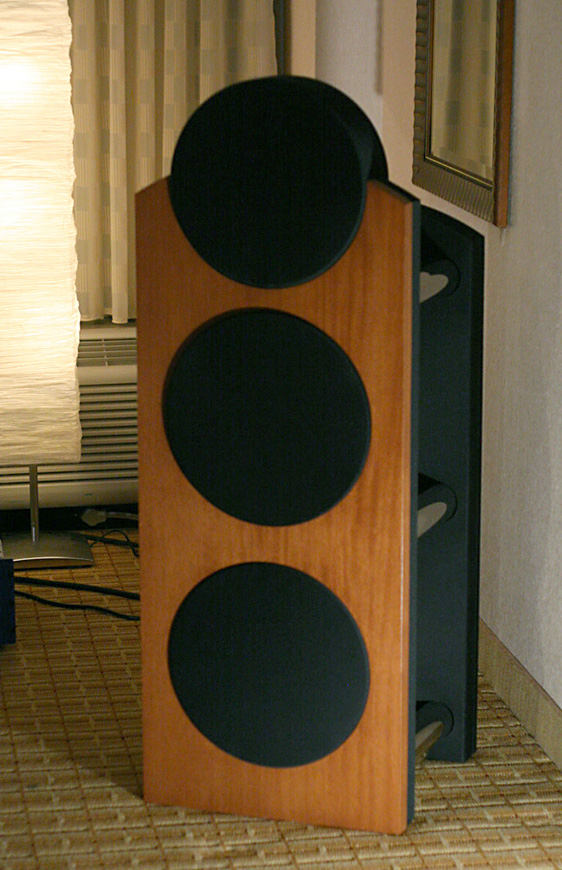 What is the Marcus Miller test you ask? I burned a copy of "Cousin John" from Marcus Miller's M2 CD on my show demo disc. Having only heard this disc at home (where it sounds fantastic) I became convinced that the recording quality wasn't nearly what I remembered it to be. It sounded so thick and muddy compared to the articulate guitar and vocal tracks most manufacturers were using to demo their gear. It wasn't until I heard it on a handful of systems (the CS1s included) that I realized that lesser systems can't articulate the dense, prodigious bass on this track making it sound congested and thick and the midrange muddy and indistinct. Only a top flight system can reproduce this track properly. Thus I dubbed it the Marcus Miller test and now use it to make my friends cry when I play it on their systems.
Needless to say I was very impressed with the CS1s and I wouldn't mind spending some time with a pair in my own listening room. At the price, $10,800 in fabric and $12,800 in upgraded finish they are a lot of speaker for the money.
Feastrex
Another new name for me is Feastrex, manufacturer of high quality and very expensive drivers featuring hand made paper cones, massive motors, and many unique materials and hand construction methods.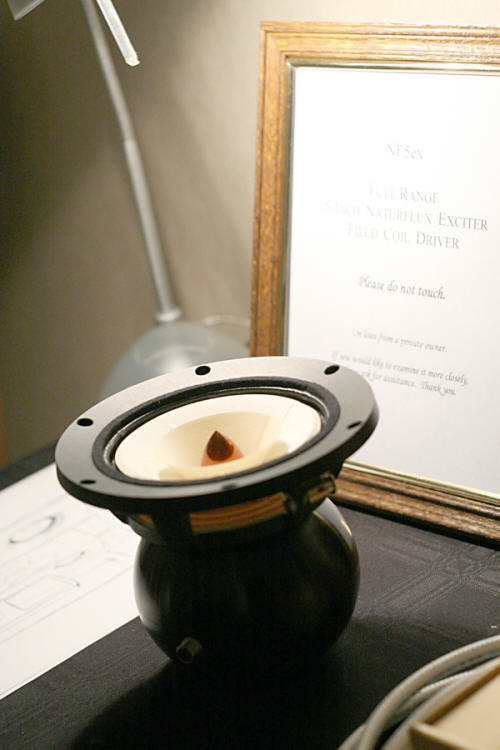 The drivers were mounted in Urushi lacquer coated enclosures built by Makoto Tanaka. Urushi lacquer is a prized substance which, once cured, is said to be among the most impervious finishes known, resisting acid, alkali, cigar burns and more. It can take years to fully cure and lasts centuries or longer. The cabinets are coated inside and out in a painstaking process that can take weeks or months to apply. Driven by Feastrex electronics, the single driver speakers were extremely coherent, fast and dynamic.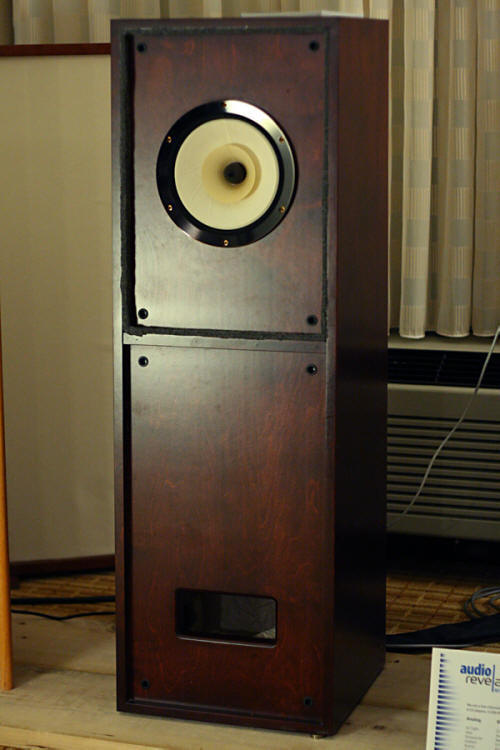 Gingko Audio
During my trip to New Jersey this summer I had the opportunity to visit Gingko Audio's Vinh Vu. There he demonstrated a prototype of the stand mounted loudspeakers he was developing to great effect. RMAF saw the official launch of the ClaraVu 88 Monitor Speakers. Available in any combination of three cabinet finishes and three baffle finishes, they sounded as dynamic and authoritative as the prototypes and looked a whole lot better. During an introductory period the speakers and stands are $3995. After January 1st, 2009 the stands will add an additional $750 to the price.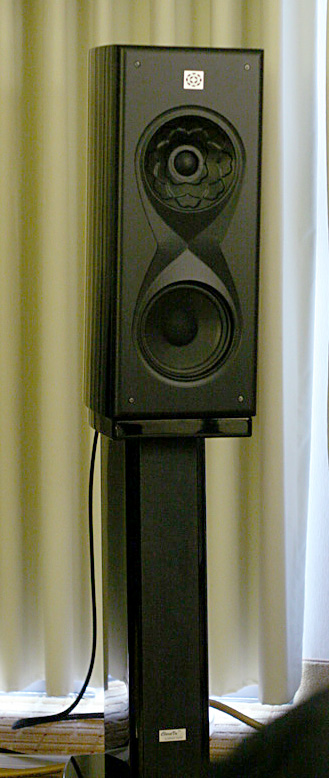 Halcro
On display in the Halcro room was the Enzo, an improved version of the dm38 stereo amplifier in Race Car Red and featuring carbon fiber feet. Only one is in existence at this point but a limited run of 12 units will be produced with a list price of $26,990.00. Get one while you can!