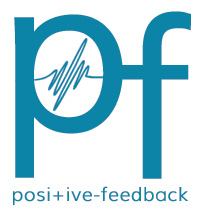 You are reading the older HTML site
Positive Feedback ISSUE
41

january/february
2009
CES and T.H.E. SHOW - 2009, Part 2
by Dave and Carol Clark
The rooms that we found to be safe-havens from the stress of the show—in that they sounded really good—are designated as being an Audio Oasis.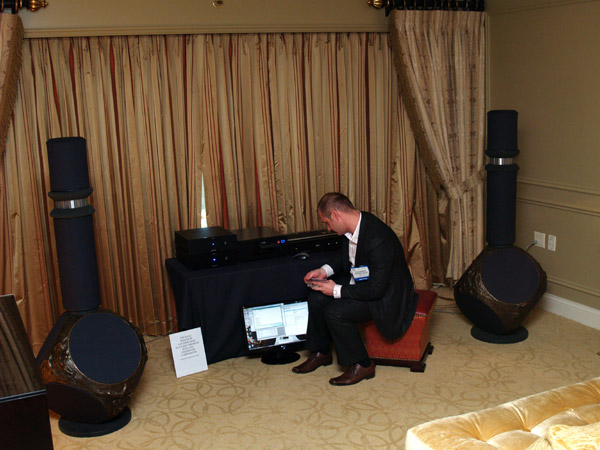 Solaja electronics with RAAL Advanced Eternity loudspeakers.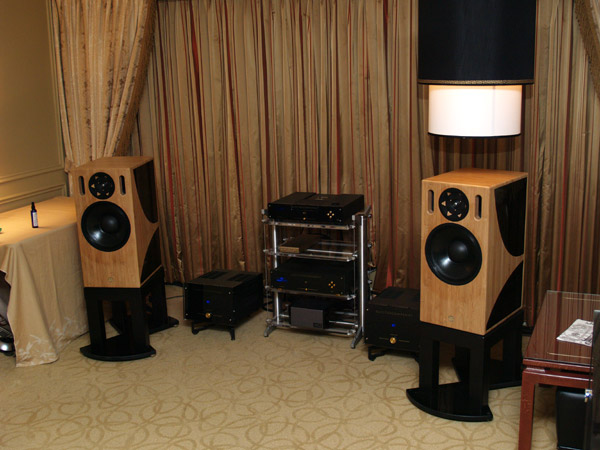 Escalante Design and Elctrocompaniet electronics wired with Clarity Cables.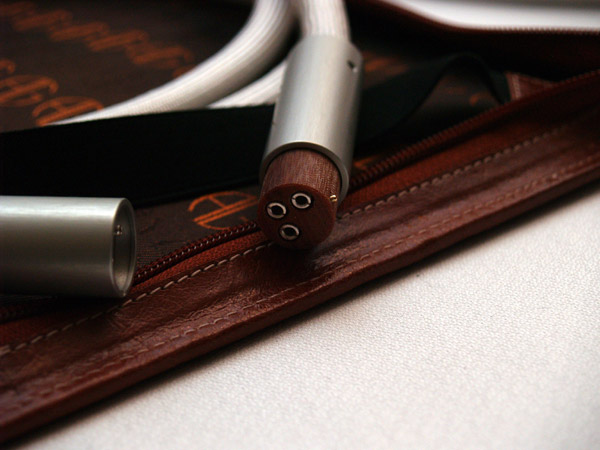 New from Argento Audio the Flow balanced cables with a connector made from composite materials. Pure silver all the way through.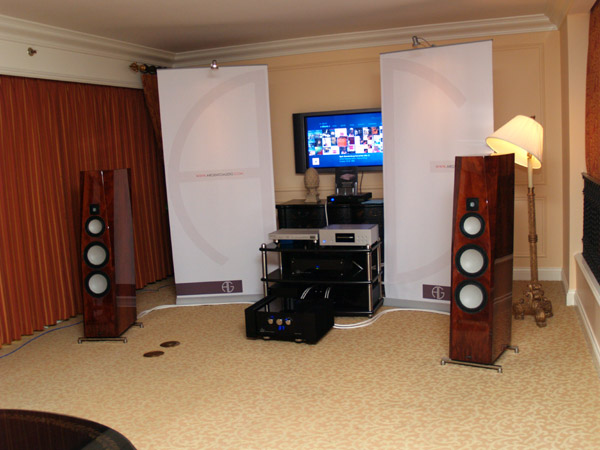 Audio Oasis. Half Note Audio with Tidal loudspeakers, ASR electronics, and Argento cables. Very nice sound. Ton's of ease and naturalness-ness to the muisc.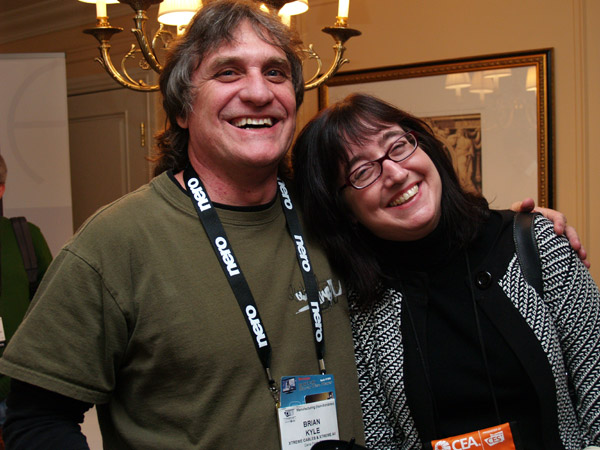 Brian Kyle of Xtreme Cables with Carol sharing a laugh.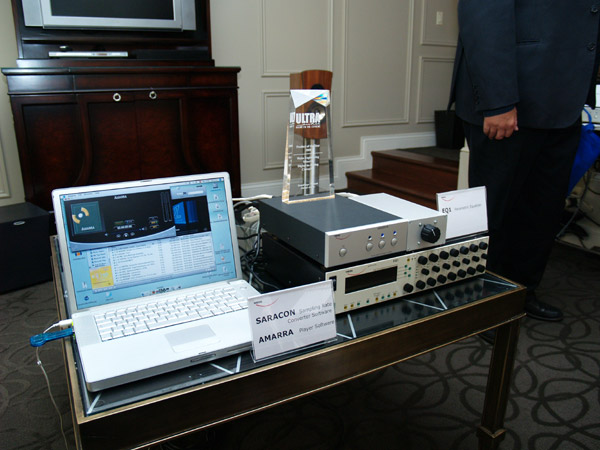 Weiss Engineering and the Minerva Firewire DAC and Amarra software.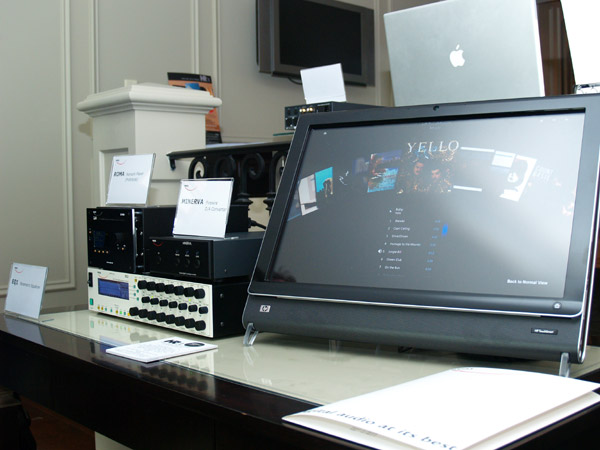 Weiss Engineering's system featuring the Minerva DAC and Roma Network player.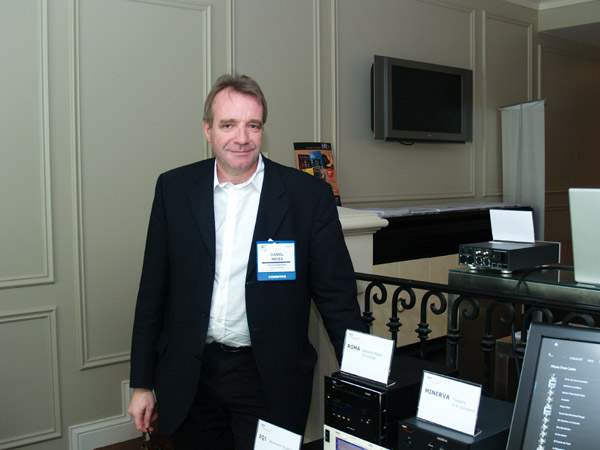 Daniel Weiss of Weiss Engineering.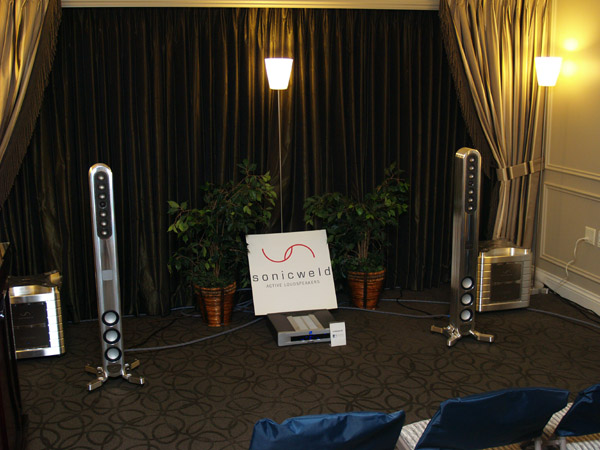 Audio Oasis. Pulserod and Subpulse loudspeaker system from Sonicweld $100,000 is an loudspeaker system.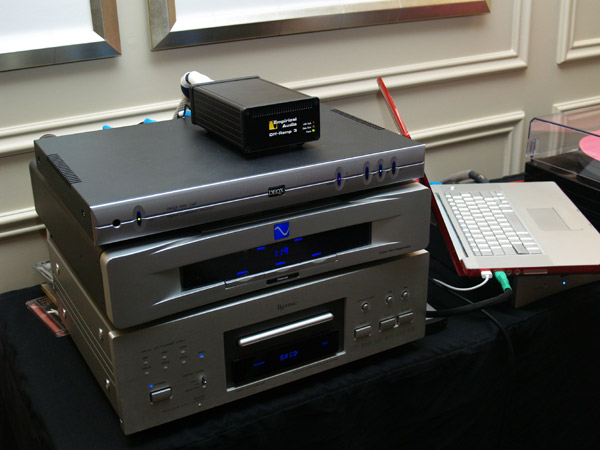 PS Audio power line conditioner, DEQX room correction, speaker correction, preamplifier, and DAC all in one. Empirical Audio Off Ramp USB convertor, all in the Locus Design Group room.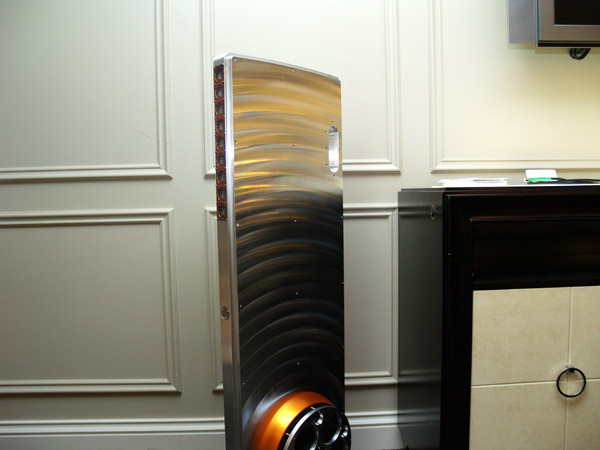 Brand new loudspeaker from Sonicweld, $20,000. This is the first one, it was a static display.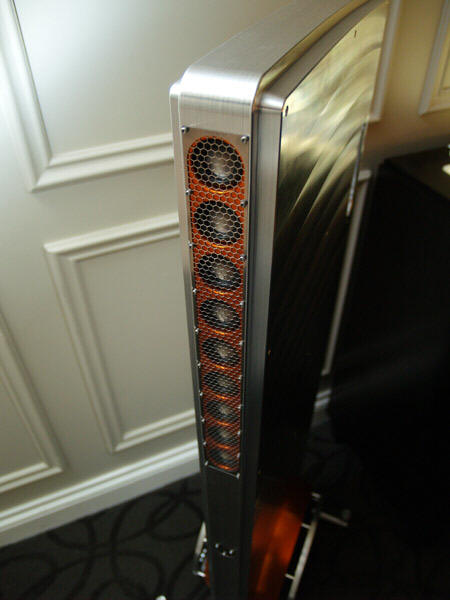 Another shot of the Sonicweld speaker includes built in amplifier, crossover, and comes with a DEQX unit included.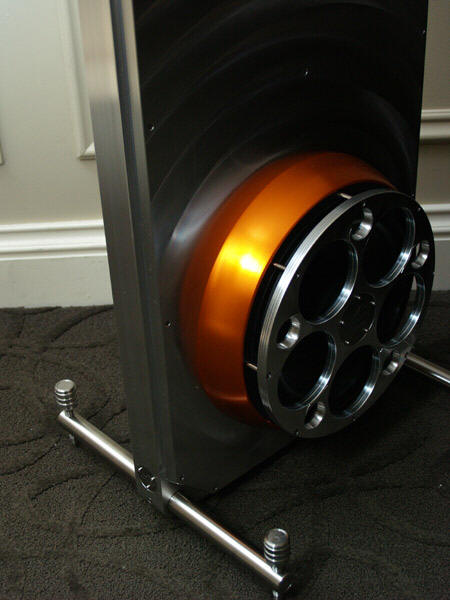 The woofer in the brand new Sonicweld loudspeaker. Way cool.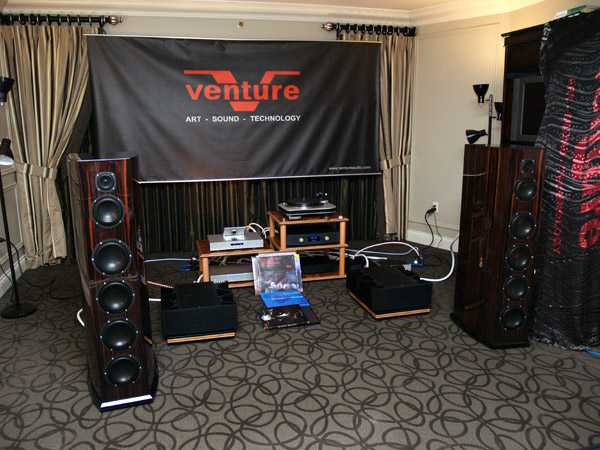 Venture loudspeakers, Precision Audio & Video with Weiss Engineering.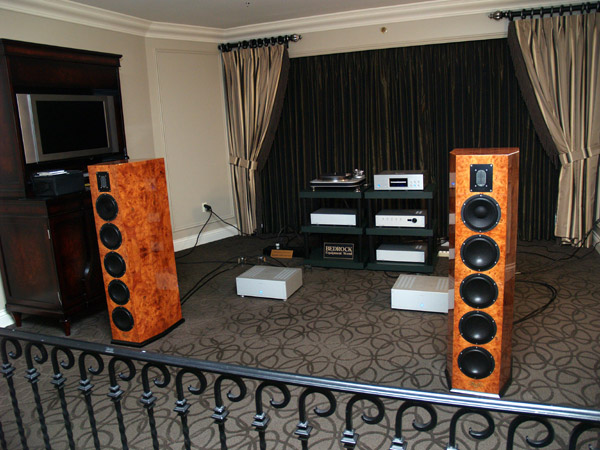 Audio Oasis. Silicon Arts electronics with Venture loudspeakers.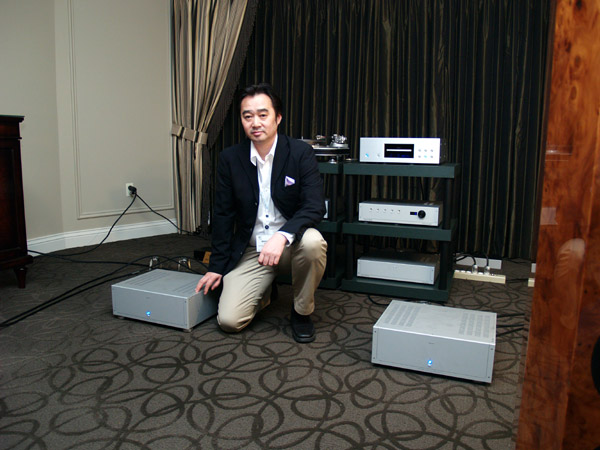 Masataka Tsuda of Silicon Arts Design.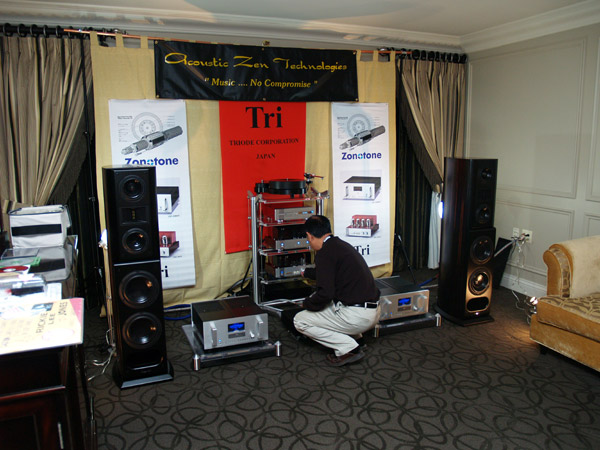 Audio Oasis. Acoustic Zen Technologies Triode Corporation electronics.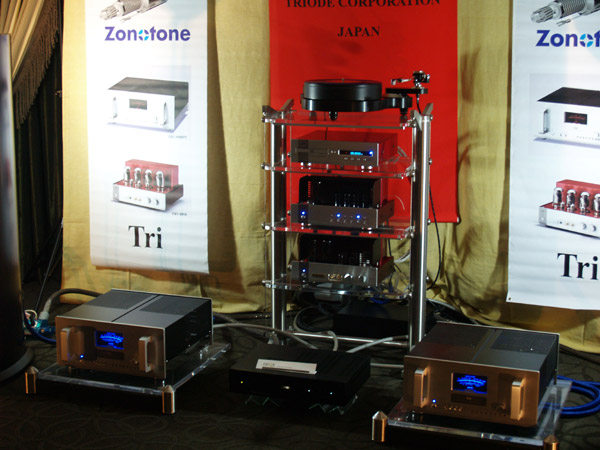 Triode Corporation electronics. Music sounded great here.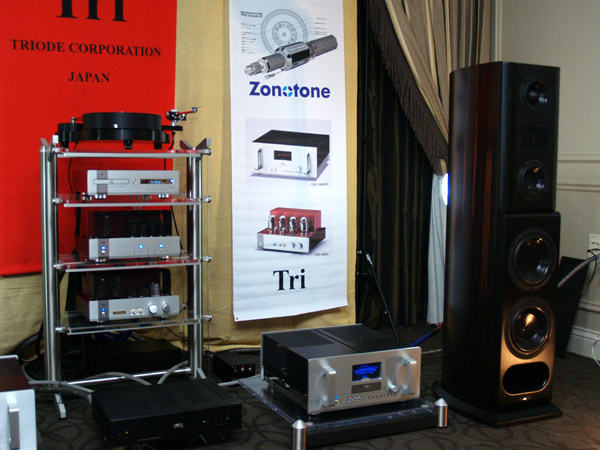 Acoustic Zen and Triode Corporation.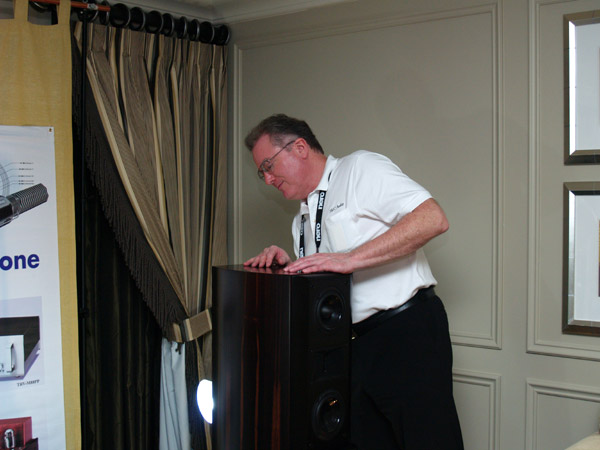 Steve McCormick checking out the Acoustic Zen loudspeakers. Ah... yes, I see now!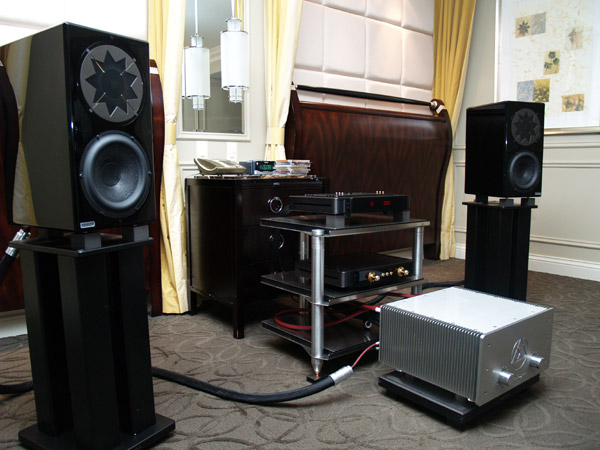 Audio Oasis. tmh audio always sounds delightful. Featured are a Bow Technologies ZZ-Eight CD player and ZZ-One integrated amplifier, North Pole amplifier by Delta Sigma, ZeroBox loudspeakers by Manger.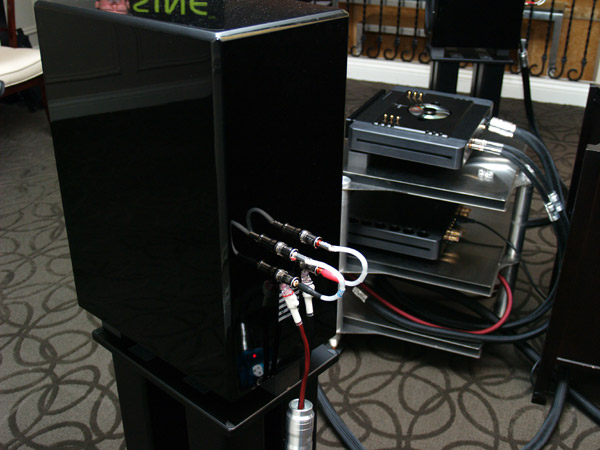 The Manger loudspeakers. Jim always has excellent sound regardless of what he is distributing. This year was not exception! Lovely as always.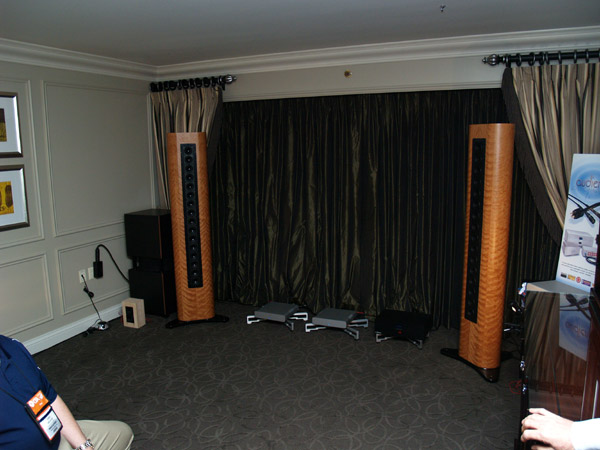 Audience loudspeakers with their new amplifier and preamplifier.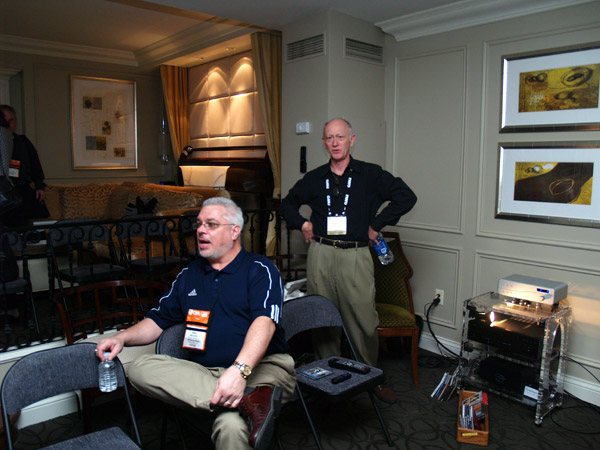 Greg Weaver can't believe his ears as John McDonald looks on.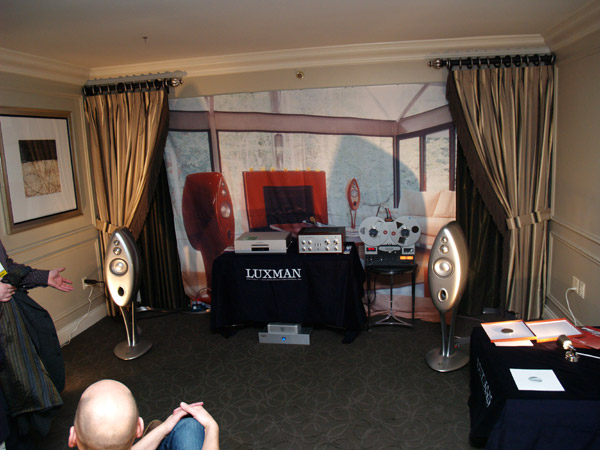 Audio Oasis. On A Higher Note featured Luxman electronics and Vivid loudspeakers.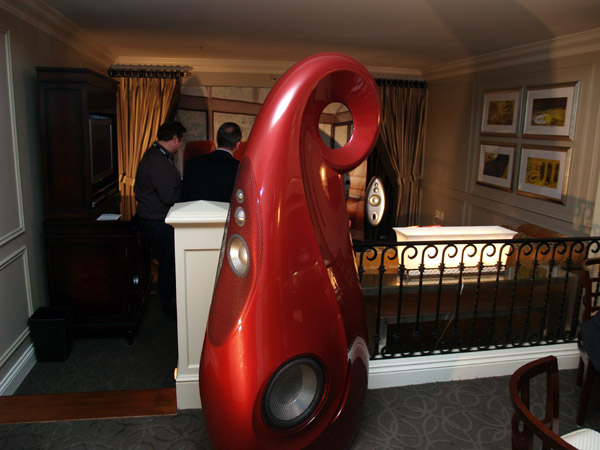 The Vivid Giya loudspeaker. Ready for delivery!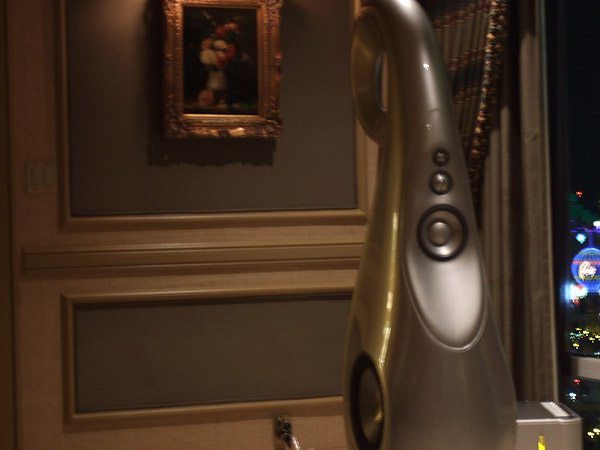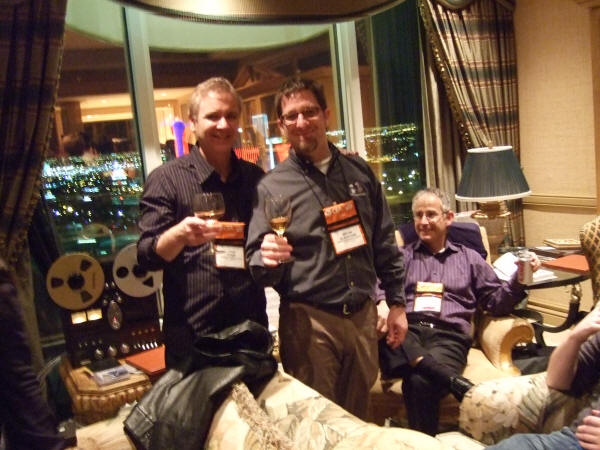 The gang over at the On a Higher Notes' party. Really excellent sound from the new Giya, Luxman electronics, and Nordost cabling system. Truly state-of-the-art! Thanks Philip! The room was way too crowded to get any decent images of the system... standing ..or sitting ...room only! And way too much of a good time!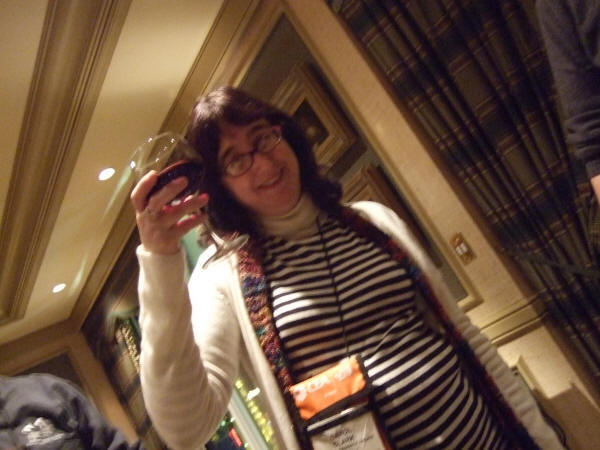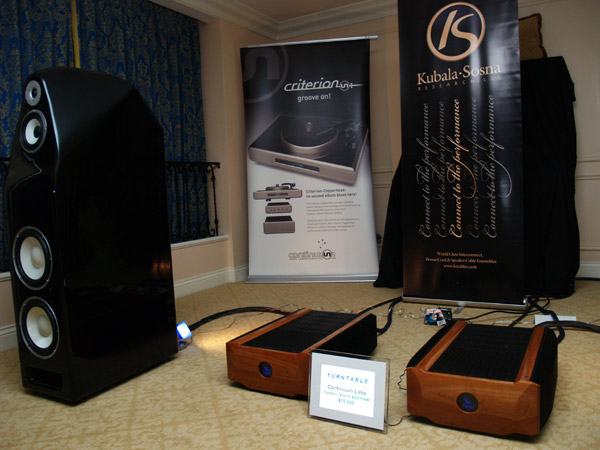 Audio Oasis. Kubala-Sosna Research cables with Tenor electronics, Hansen Emperor loudspeakers. Kubala-Sosna featured their brand new Elation interconnects, speaker cables, and power cords.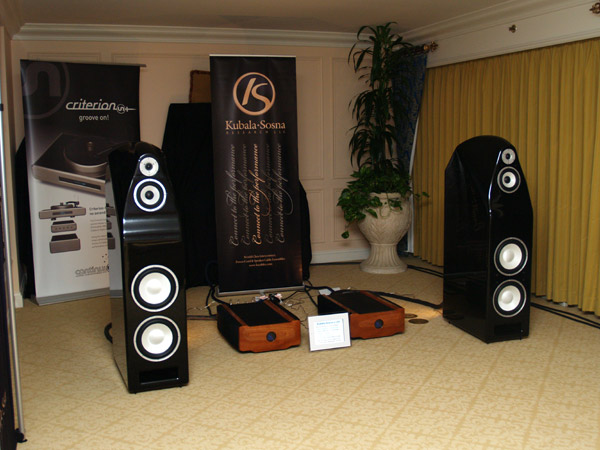 Also in the Kubala-Sosna room was a Continuum Criterion/Copperhead turntable with a Koetsu cartridge.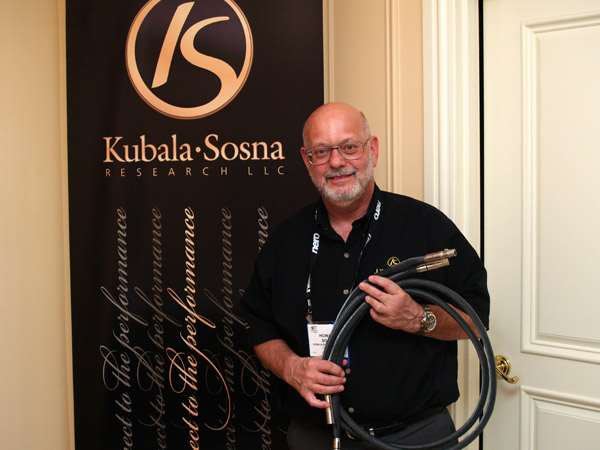 Harold Sosna with the new Elation cables.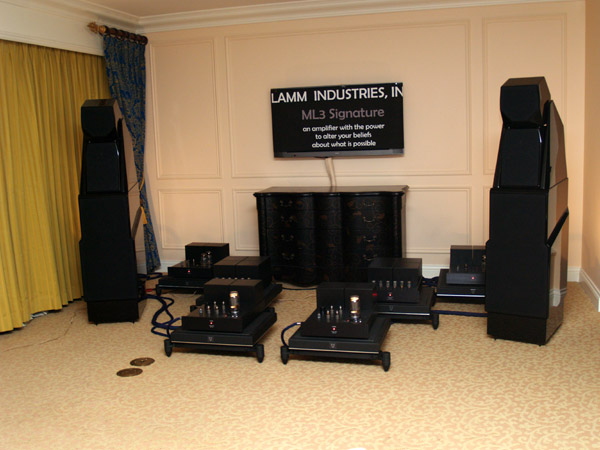 Lamm ML3 Signature single-ended triode power amplifiers, Lamm ML2.1 single-ended triode power amplifiers, Lamm L2 Reference preamplifier, Lamm LP2 phono preamplifier, Wilson Audio MAXX series 3 speakers, NeoDio NR Two transport and NR Two DAC, Clearaudio Innovation turntable, Universal tonearm with Titanium cartridge, Critical Mass Systems racks and stands, and Kubala-Sosna Emotion interconnect and speaker cables.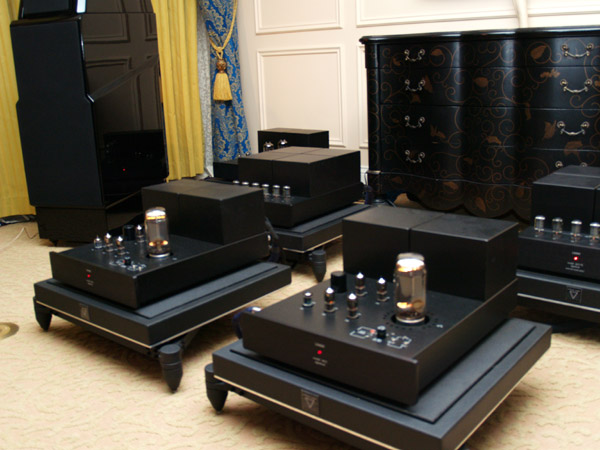 Lamm Industries ML3 Signature SE triode monoblock amplifiers on Critical Mass stands.