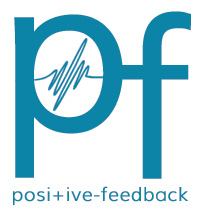 You are reading the older HTML site
Positive Feedback ISSUE 5
february/march 2003
Good Times at CES 2003: A Photo Essay, Part 3
by David W. Robinson
(All photographs and image processing by Robinson)
After a very pleasant chat with my friend Arnis Balgalvis (good to see you again, Arnie!), it was time to hit the show trail once more. Within a few minutes, I ran into...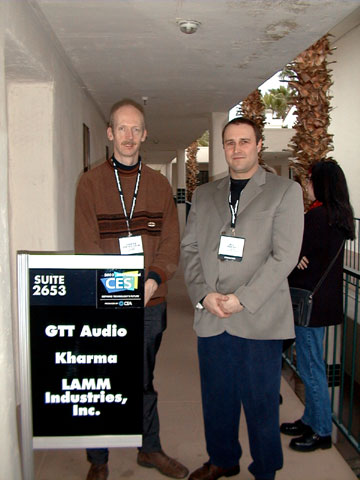 ...Charles van Oosterum, the remarkable designer of the Kharma loudspeaker line (http://www.kharma.com), together with Bill Parrish of GTT Audio (http://www.gttgroup.com), Kharma's American distributor. I am currently using the Kharma Grande Ceramiques in the Positive Feedback Online reference system here in River City, and freely confess in advance of review to being quite smitten by them. Beautiful to both eye and ear! Keep up the fine work, Charles! Bill is a very good fellow; pleasant, personable, and possessed of excellent audio sensibilities, which makes him a real pleasure to work with. Not everyone in fine audio is, you know? Kudos to both Charles and Bill for a productive partnership.
It was time to get back to the CES music pavilion…I don't like to go too long without browsing the recordings! Once there I ran into...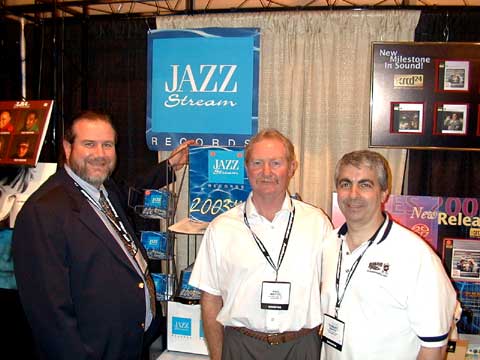 ... David Keefer and Paul Weitzel, partners in Jazz Stream Records, together with Bob Bantz of Elusive Disc, their exclusive distributor in this new venture. The standard Red Book CD sampler sounds promising (though typically "Red Book"); Paul says that the SACD version of their 2003 Music Sampler should be out in the spring—keep an eye on Elusive Disc for release details. Paul is also doing more work with DSD recordings these days; I'm looking forward to much more from Jazz Stream Records and Fidelis Records (http://www.fidelisrecords.com) in the future. (Note that Dudious Max reviewed the first three SACDs done by Paul Weitzel at Fidelis Records very favorably in PF Online, Issue 4... check out http://www.positive-feedback.com/Issue4/sacdmd.htm.)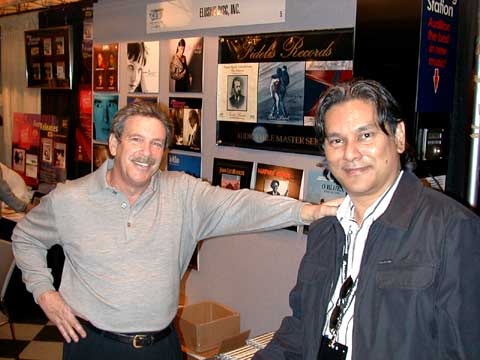 Right after my conversation with Paul Weitzel, I ran into another audio friend, Ying Tan of Groove Note (right) with Marshall Blonstein of Audio Fidelity. These gents are producing some exceptional SACDs! Ying has always impressed me with the quality and acuity of his work; he knows what the good stuff is, and Groove Note is one of those labels whose SACDs always sound terrific. Ying's reissues of Concord Jazz on SACD is likewise yowzah…the Ray Brown Soular Energy has already become a favorite reference of mine up here in River City. Keep 'em flying, Ying!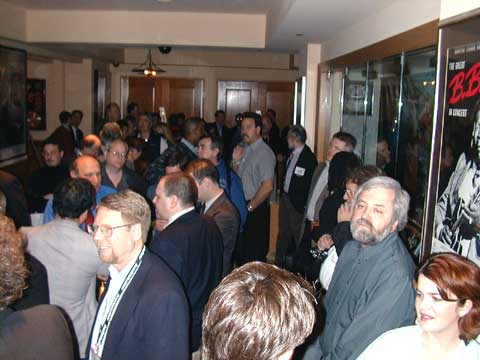 That night, a group of us from PFO were invited to attend the Sony SACD party at the Hard Rock. As you can see, the crowd was pretty heavy for this event...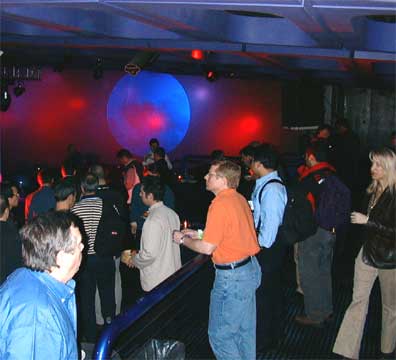 ... and the action was pretty heavy too! Lots of SACD music and mirrorball graphics…lots of food and drink…lots of fun. All courtesy of Sony... thanks, folks!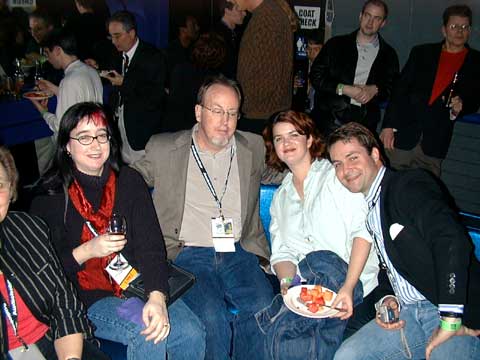 The Positive Feedback Online delegation got mellow in a hurry. Lila Ritsema (partial to the left), Carol Clark, Dave Clark (looking very mellow), Cathy Kaey, and Danny Kaey schmooze the camera big-time. Covering CES is a big job, and takes a lot of work... this was a time to relax!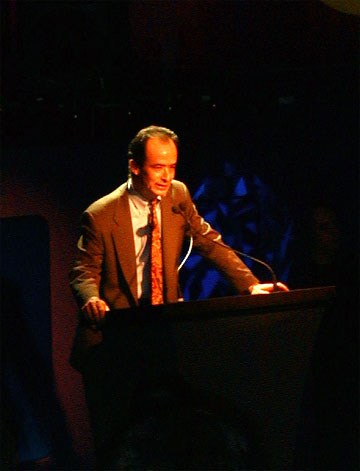 During the announcements, Sony's David Kawakami shared news about new SACD projects and releases in 2003. New hybrid pressing lines in the USA, Canada, Europe and Hong Kong were announced, including the new hybrid line that Sony Music will be opening in Terre Haute in May. Crest is already online in LA, and will be adding more capacity soon. Dark Side of the Moon will be out in March, and a number of UMG titles were announced, including titles from The Police and Peter Gabriel. Sony also intends to release 15 more Bob Dylan titles, good news to those of us who have been patiently waiting for more Dylan. (Now if we can just get some Leonard Cohen and Simon and Garfunkle to go with that…please?!) Overall, it was a great party, with a lot of good news for SACD lovers.
After the Sony SACD party, it was on to the Mobile Fidelity party...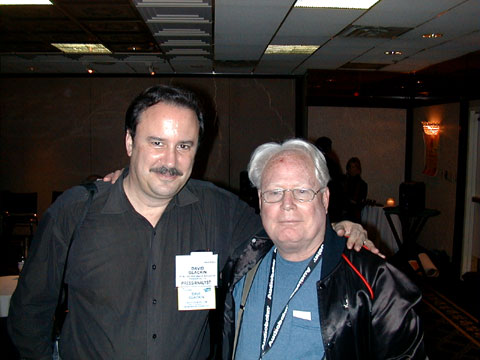 ...where we immediately ran into PF Online's CES reporter extraordinaire Dave Glackin, together with his inseparable friend, Stan Ricker, mastering engineer par excellence. Dave and Stan have been attending shows for PF for years now... and I wouldn't have it any other way. Dave writes the best CES reports in the biz, and Stan has forgotten more about recording/mastering than most people have ever learned. A tough combination to beat!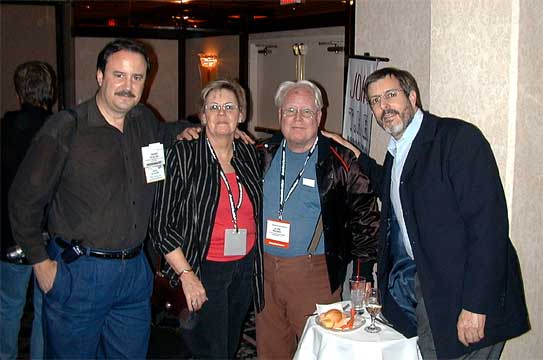 More friends at the MoFi party! Dave Glackin, Lila Ritsema, Stan Ricker, and long-time PF/PFO audio bud Alan Kafton of Audio Excellence (howdy, Alan!), share a moment together. What a great time we had!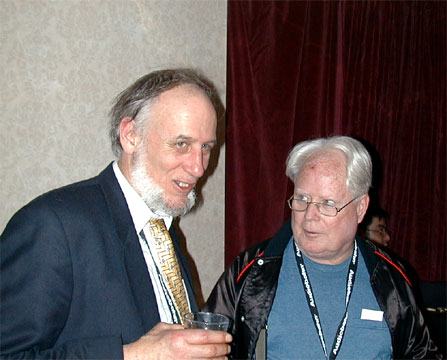 Now here's a fine moment—Tim de Paravicini and Stan Ricker, two masters at their respective audio crafts, chatting together at the MoFi party. It's people like this who help to advance the state-of-the-art in fine audio. You should know their faces.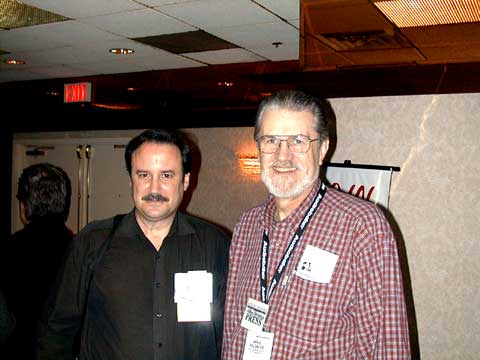 We ran into a lot of friends at the MoFi party; here, Dave Glackin and Arnis Balgalvis of The Audiophile Voice in mid-conversation.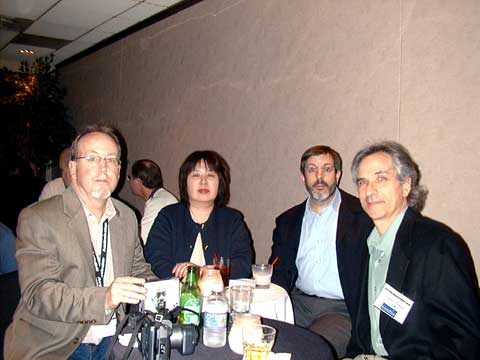 One of the many tables at the MoFi party: Dave Clark of PFO, Mrs. De Paravicini, Alan Kafton, and my old audio bud Joe Cohen of Pranawire. Dave's got the new Isaac Hayes Hot Buttered Soul SACD from MoFi; looks like there's no room for another round of drinks, bartender!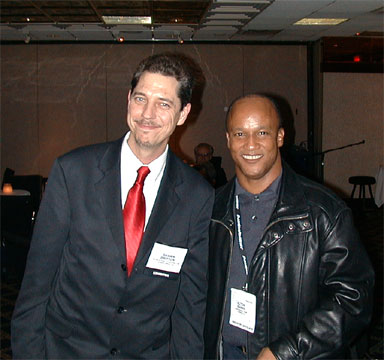 Another audio friend! Shawn Britten, mastering engineer for years at Mobile Fidelity (cf. my 1998 report http://www.positive-feedback.com/Issue1/MoFiDSD.htm) says hello. On the right is Elton Evans, an "industry consultant."
Had a fine (and all too brief) cigar with Dave Clark and my very good audio bud Steve Rochlin of enjoythemusic.com, a brief but spirited encounter between some roast beef and my trachea, and fine drinks. Overall, quite the good company, quite the fine time. So much for Friday... stay tuned for part 4!