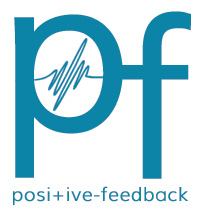 You are reading the older HTML site
Positive Feedback ISSUE 58
november/december 2011
RMAF 2011
by Dave and Carol Clark
The year, RMAF was a very mixed bag of emotions and stress. Our dear friend, Lee Weiland of Cryo-Parts and Locus Design, had recently passed away and so this would be the first time we were not only to be face to face with the many who knew him combined with his memorial, but we were to be part of a Hospitality Suite featuring the combined efforts of several manufacturers and distributors (Sonicweld, Colleen Cardas Imports, and Blackbird Audio), our publication, and the audioevo.org website. Lots to do, lots to set up, and lots to handle emotionally. Of course it is always nice to see everyone, especially those who we know via the net but have never met in person and especially those who consider us brothers and sisters.
So we arrived at around 5 on Thursday and hit the Hospitality Suite with high levels of anxiety and excitement... and while it was still in the process of being set-up, decorated, furnished... a thousand things that needed to be done... it was great to see dear friends and bask in the comfort and love that we all share for what we do and what we will miss.... music and special friendships.
For Carol and I, this pretty much sums up why we are so involved in audio... the people we have come to call our friends and the joy in sharing of music... oh and good food and drinks. The widgets and such have taken a second place for us. Sure, we still find enjoyment in seeing cool and interesting components and what not, but in the end it is the anticipation of spending time with those we hold dear to our hearts... laughing and talking about life, sharing a good meal and few a bottles of whatever...spinning the latest find, yeah, that is what this is all about.
But a show report is not a show report unless you report on the show... and RMAF is the standard by which all other shows should be judged. Marjorie and her staff are to be praised once again for putting on such a wonderful event. Kudos to you and you staff... you are all amazing! Love ya' all!
Carol and I found this year's RMAF to out do the previous in all respects: the number of exhibitors, the number of attendees, the hours of fun and... damn were we tired at the end of the day! Too much to cover and so little time. After all, we were looking to report on what we could while still hosting the Hospitality Suite... I think I am getting too old for all this! Previous years, we hit a good 90% of the rooms. This year we had to cut that down. Just no way to see them all. Even so, we feel that we did a decent enough job, so if you are missing from here, well sorry. Perhaps next.
Oh, a few observations about the sound and exhibits. We found that the rooms using smaller speakers sounded better than those using bigger speakers (bigger is clearly not better in this instance). That is, too many of the rooms were simply unable to handle the bass levels cleanly and articulately when big speakers were in use. Go small when you can and DSP rules in fixing room issues. Many rooms were playing 'real' music and not what we refer to as 'audiophile flavor of the month' music... which was nice as we find that those who play that sort of thing not to really care about the music as much as they care about the sound. Case in point, if someone was playing "Keith Don't Go", we went, as this track is used more often than not because it sounds soooooooo good—not cause they like it. It's just audiophile demo music. Reminds me of the rooms that have a ton of audiophile-approved music on hand to play for you and when you ask them what they like, they say that that have a lot of 'audiophile-approved' music on hand to play for you!
They say, "You'll like this, it sounds really good."
We say, "Really?!" "That is what this is all about?!" "Oh, we did not know that." "We thought it was about the music and not the sound."
I mean we get it, you want it to sound good, it is a demo and you are trying your best to show what the system can do, but clearly that is NOT the only reason one should be choosing to play what they play.... let alone what they buy!
Then there are the rooms playing 'popular' music by 'glorified cover bands'... just not our cup of tea. Which is cool if you like it, but we won't rag on yours it if you don't rag on ours. That is, we always find a few instances of where our choices in music are dismissed as not being 'music', so we make it a point to cross that room and person(s) off our list of being the sort of person we want to associate with... not cool in the least. Being rude and condescending combined with arrogance and an elitist attitude only makes you look rude and condescending combined with arrogance and elitist attitude! Sorry man, but bye. Music is personal, so if it ain't your cup of tea, smile, nod, and move on. No need to share your thoughts with the person enjoying it, let alone in front of a room full of people.
So here we go...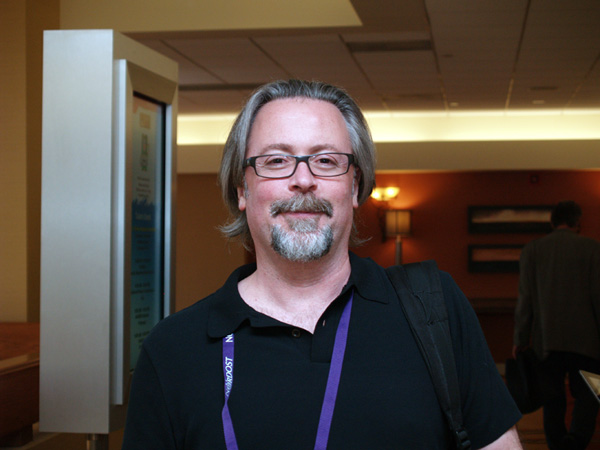 Michael Lavorgna, always a pleasure to see him. A wonderful person who is also a wonderful writer. And he is the sort of person I am happy to call a friend.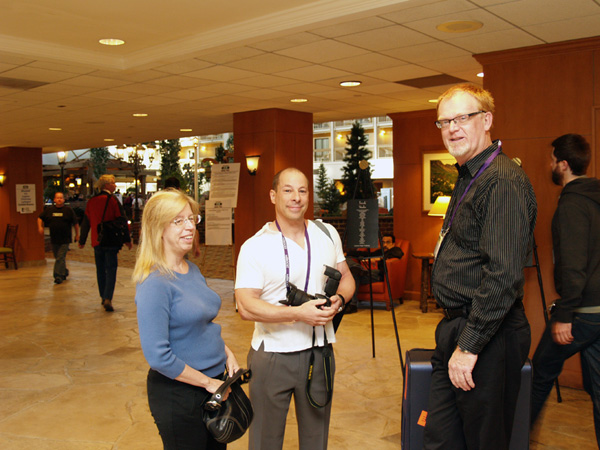 Myles Astor with Heidi, always good to see them along with the most affable Peder Beckman of Electrocompaniet. Also good friends and wonderful people. By the way, if you don't see your self here, and or, I don't mention you as being wonderful and a good friend, don't get your shorts in a bunch... we just missed you. Also, we do not want this to become a list of whatever.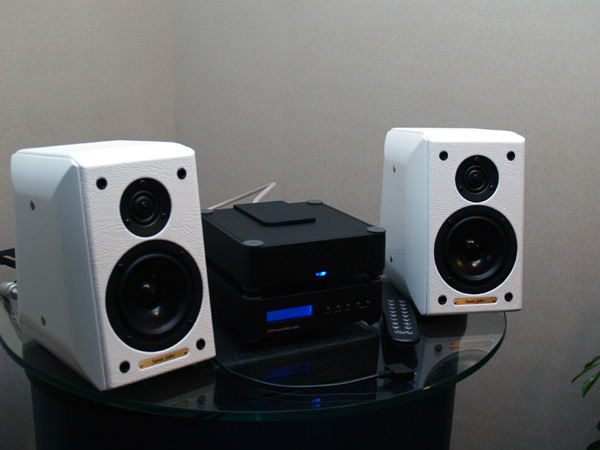 Wadia iDock with Sonus Faber loudspeakers. A great system that is small and not out to break the bank. Perhaps a bit more than what one would want as a desktop system... say for a small apartment or even a dormitory, though for the more affluent student!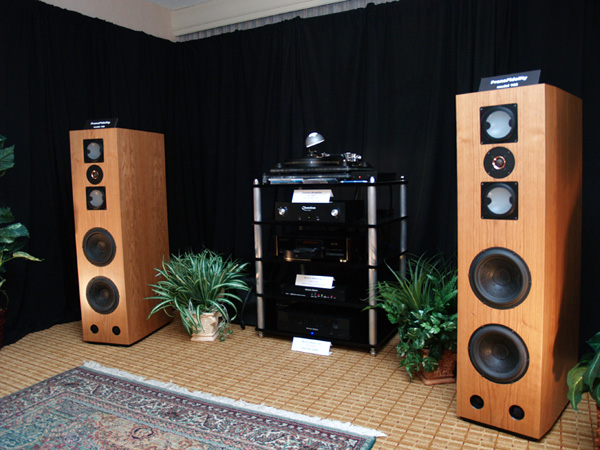 The PranaFidelity model 108 loudspeakers, new from Steve Norber. Big sound that unfortunately overpowered the room. Choosing the music and the listening position was paramount here, but these speakers show amazing potential when set loose in an appropriately sized room! This was also the Al Stiefel legacy room, and Steve was kind enough to let Carol play "Peace Be With You" by Mike Martin as a tribute to those we have lost over the past few years.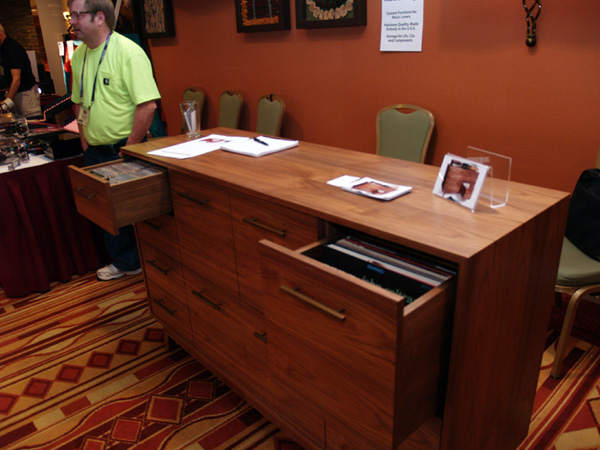 Atocha Design featured customizable cabinets to store CDs and LPs. Very nice looking, the fit and finish was impeccable.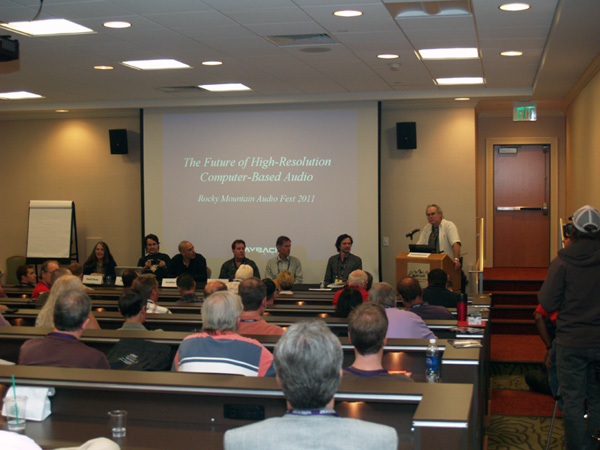 David Robinson on the panel, The Future of High-Resolution Computer-Based Audio. Great stuff and the room was packed. The content under question was seen as being WAY more than an hour could manage, so this panel lasted a good two hours.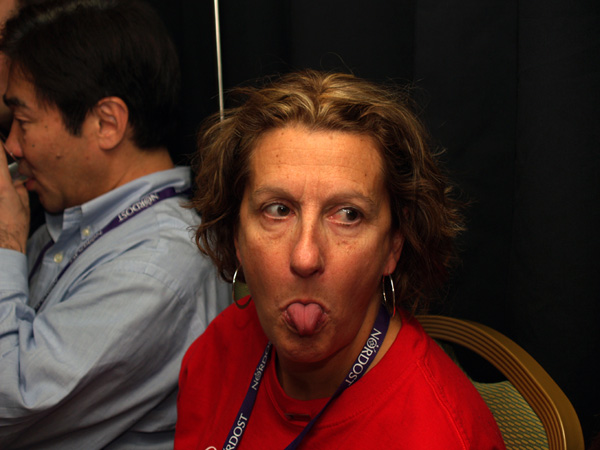 Marjorie doesn't look pleased with having her picture taken, though the word was that RMAF killed it as a show this year... great crowds and more rooms than last year. Love ya' Marjorie!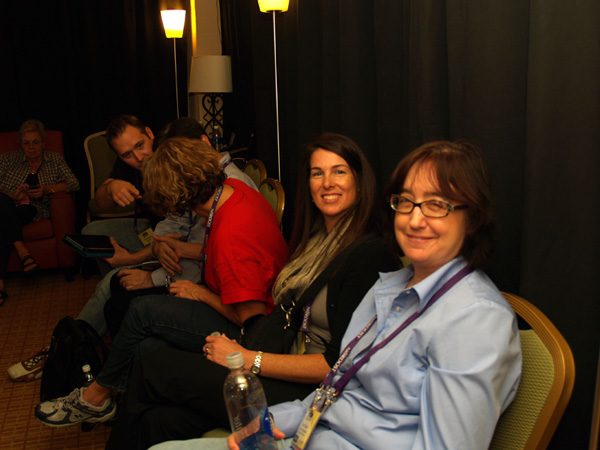 In the Positive Feedback/Audio Evo Hospitality Suite, Carol shares a moment with Kelly of Prana Fidelity.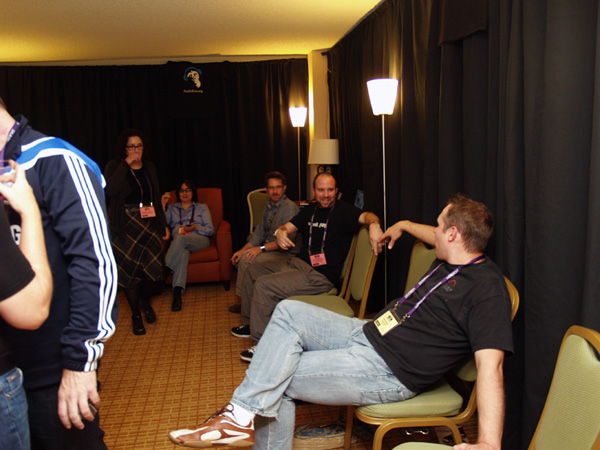 Josh Heiner relaxing with the PF crew, Michael Mercer, Bryan Gladstone, and Carol, in the Positive Feedback/Audio Evo hospitality suite.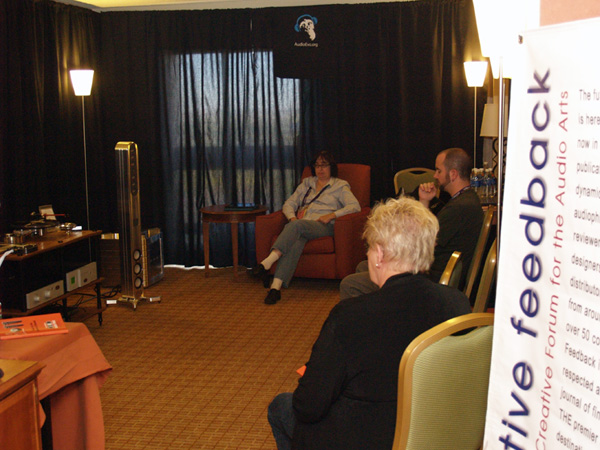 The nice thing about having a hospitality suite is that there's a ready place to go sit and cool your jets for a bit. The room featured the Pulserod system from Sonicweld, electronics from Unison Research (Colleen Cardas Imports), analog from Blackbird Audio, and more. I, and many others, found this to be the best sound at the show... by a fair margin. Of course I am biased here, but what worked here is that use of DSP via the DEQX preamps that is a part of the Pulserod system. Complete integration with no room issues.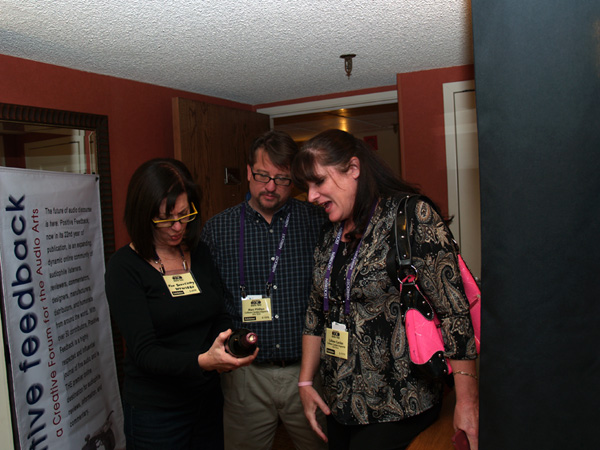 Nina Sventitsky of WyWires checking out the wine from Texas that Marc Phillips and Colleen Cardas brought.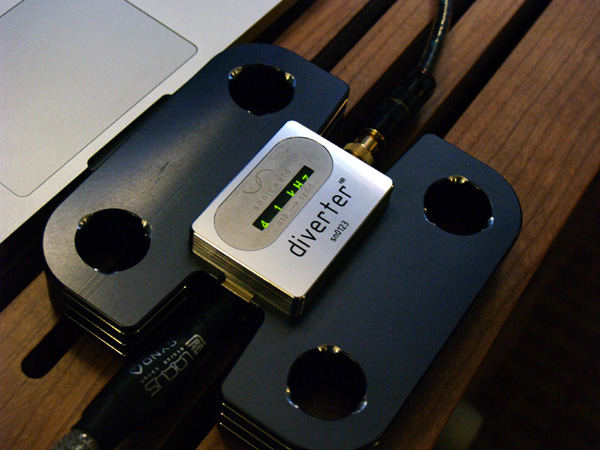 Brand new upgraded Diverter by Sonicweld. Hey, that is actually my unit waiting to get home so I can give it a spin. Have to say, that after it ran for a week or two... wow, this thing really is few steps beyond anything I was hoping for. Sure, the original Diverter was the champ of USB to SPDIF converters, but Josh has taken that design to a level that boggles the mind. The soundstage is huge... wide, deep and oh so 3D. Harmonically rich and truthful and oh so musically engaging, if you are heading in this direction, or already on the road to having the best in computer-based audio, then this is the way to go. Not cheap, but then the best never is!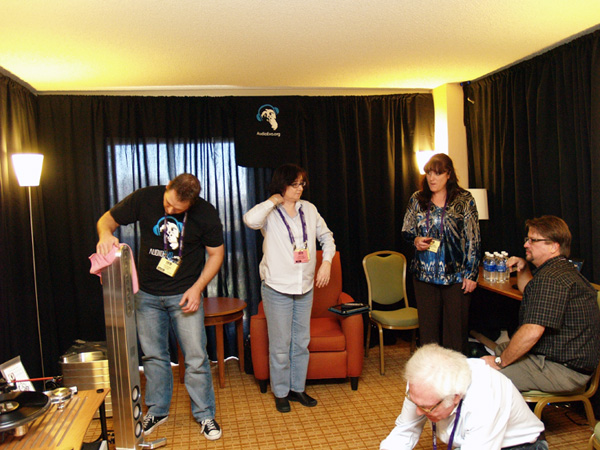 Josh shining up the Pulserod loudspeaker system, getting all ready for the hospitality suite.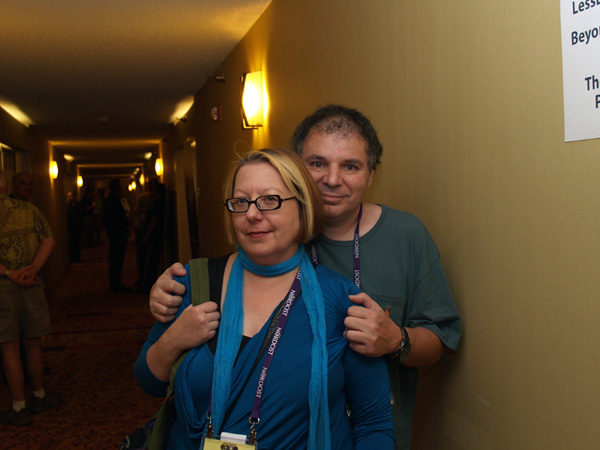 Mark Porzilli and his wife... such a nice and sweet couple!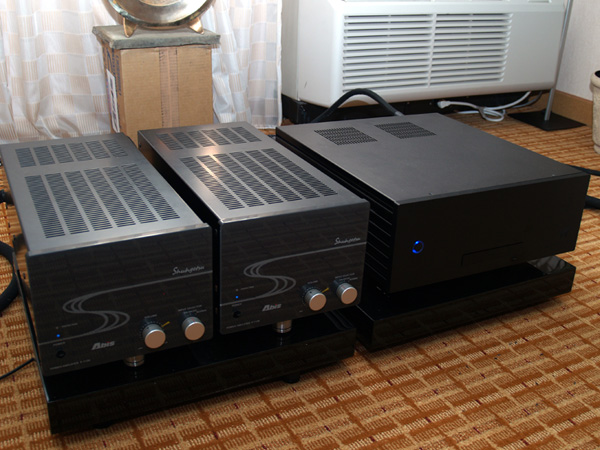 Abis Shuhgetsu amplifiers and the Nova Physics Memory Player in one of the Laufer-Teknik rooms. All of their rooms made music and sounded very well suited to the space meaning that the system was chosen well for the event.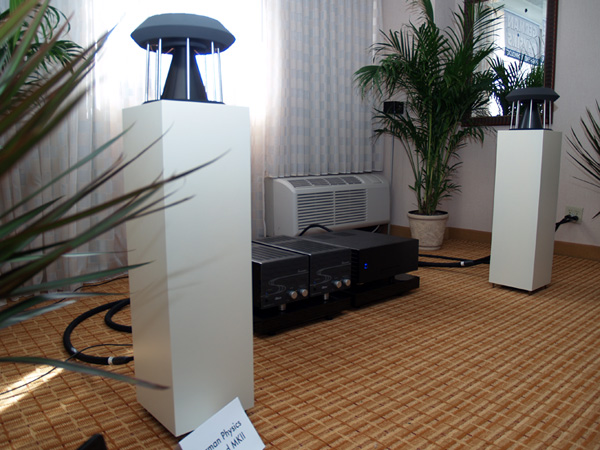 German Physiks Unlimited MkII loudspeakers. These are the smaller ones and filled the room with a very captivating sound.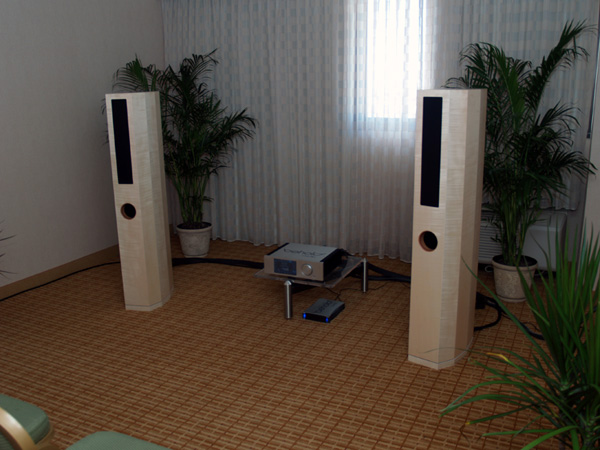 Another of the Laufer-Teknik rooms with Behold electronics and speakers from Audiomanufacture Boenicke.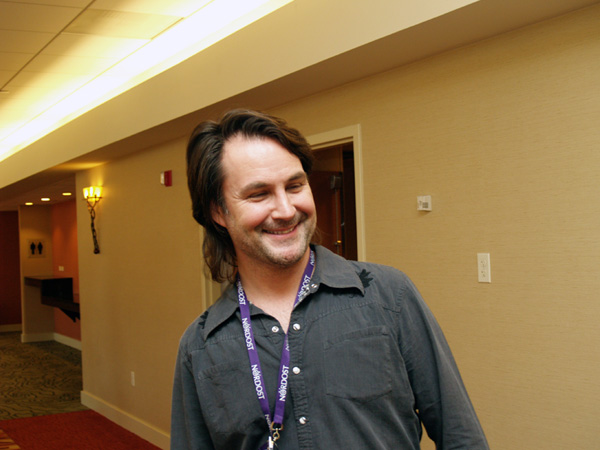 The affable Danny Kaey pf PFO who also sat on the panel for music downloading.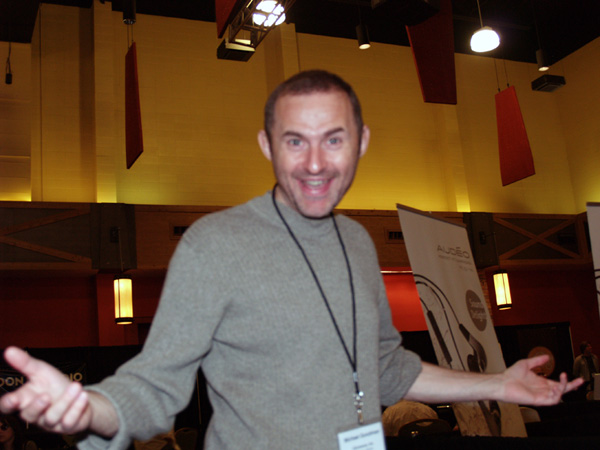 Michael Goodman of Centrance, hanging out in the Can Jam.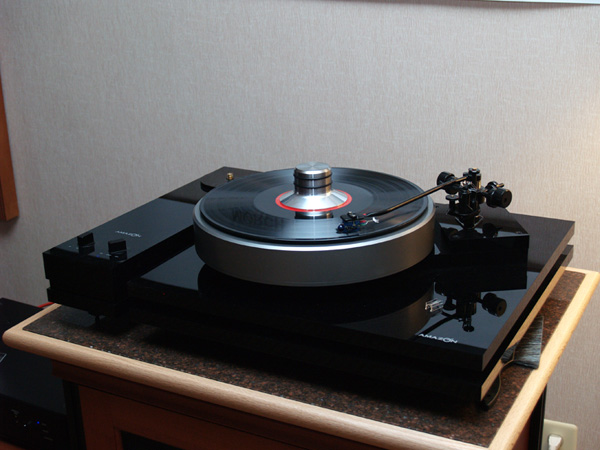 Amazon turntable with Moerch tonearm.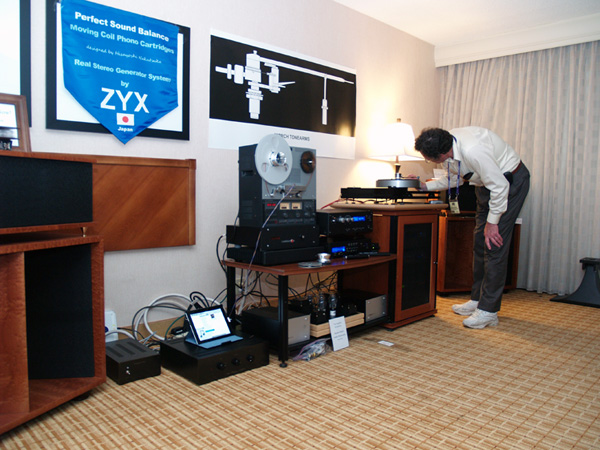 SORAsound, Dynamic Sounds, ZYX Cartridge, Volti Audio Horn Speaker, Lampizator DAC, and Sonore Music Server.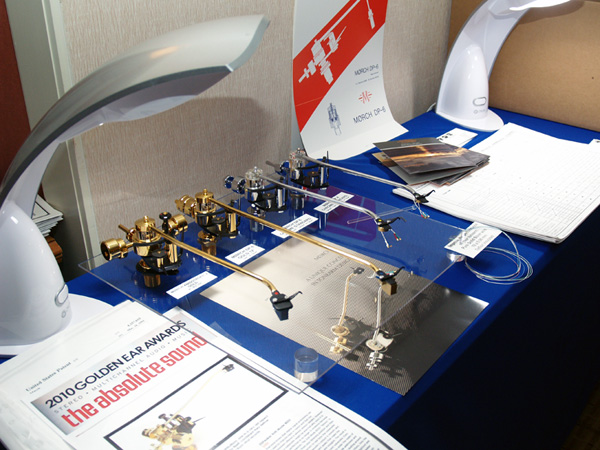 Beautiful Moerch tonearms and ZYX cartridtes.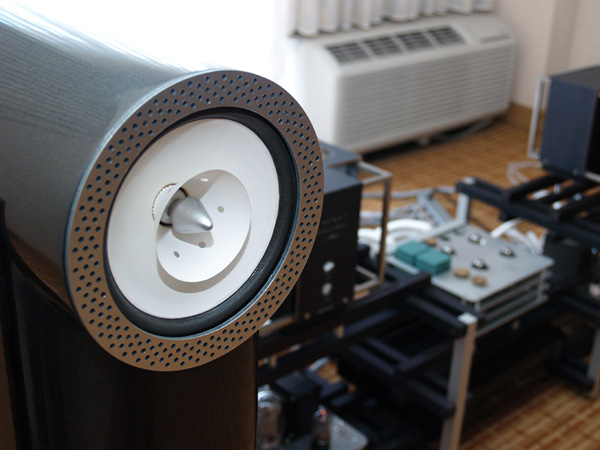 Rethm Maarga loudspeakers. Love the design and attention to detail... true industrial design times 17!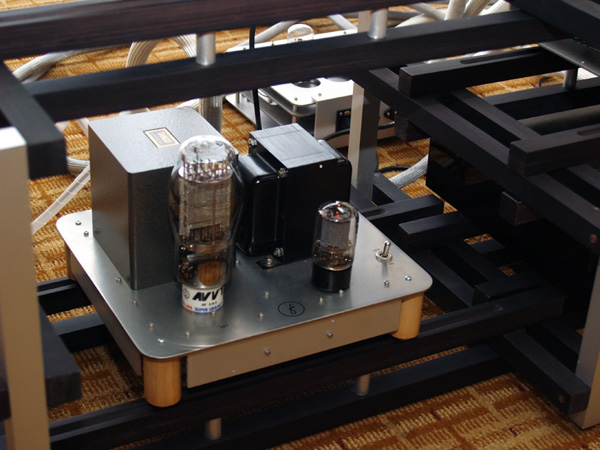 Fi amplifier. Way cool. Ditto on the design!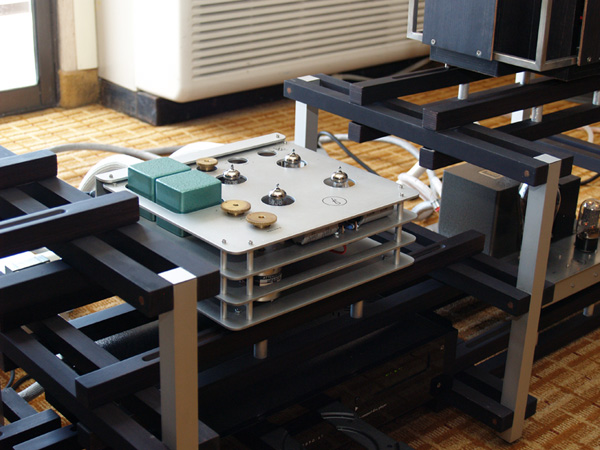 Fi preamplifier. Also way cool. Ditto again ditto.
Zu loudspeakers with Spatial room correction.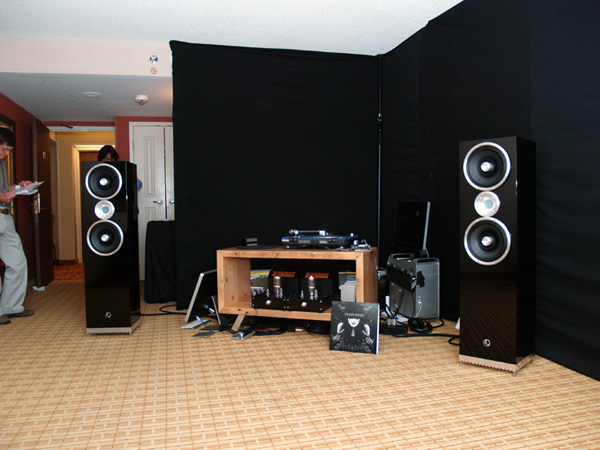 Good music in the Zu room as always.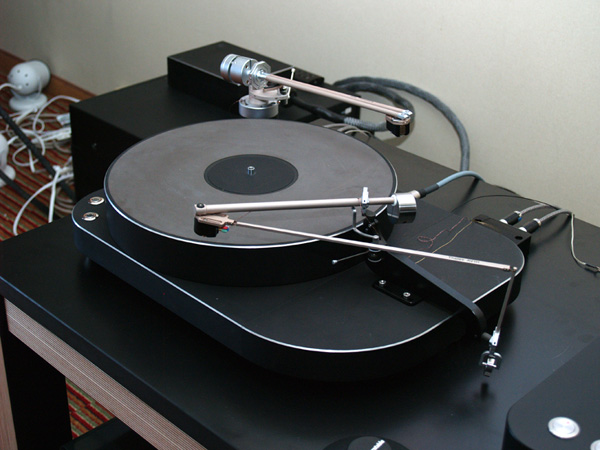 TW-Acustic, Tron Electric, Cessaro Horn Acoustics, Thoress, Thales, Prana Wire, Miyajima Labs, and Silent Running Audio.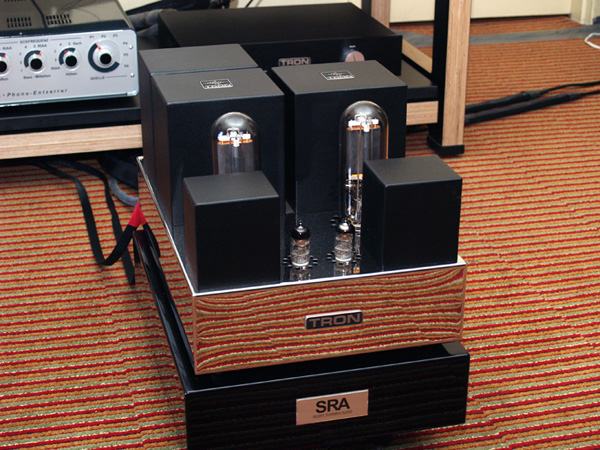 Tron amplifier.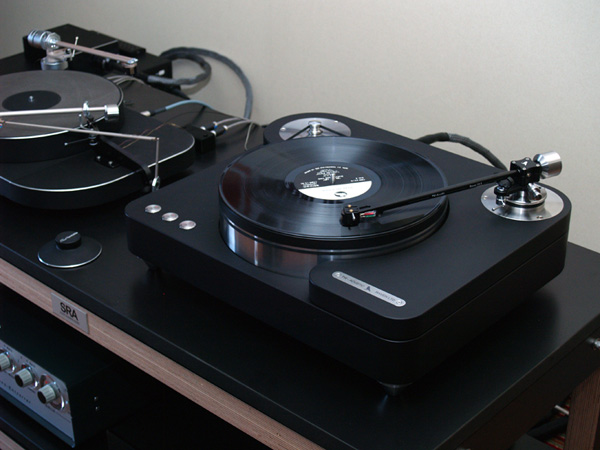 TW-Acustic Raven Ltd.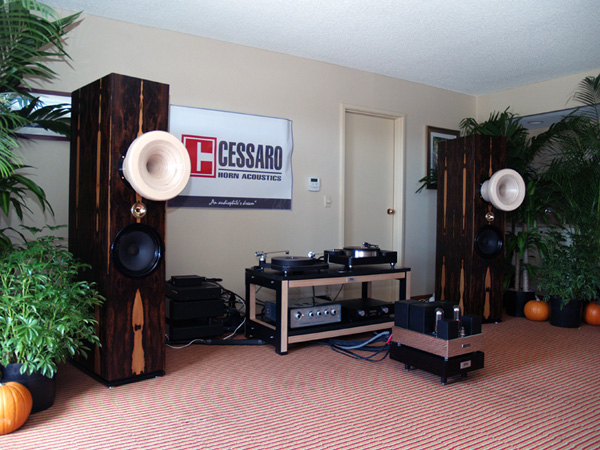 Cessaro Horn Acoustics.