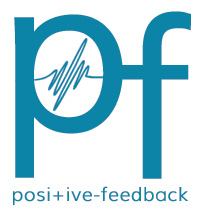 You are reading the older HTML site
Positive Feedback ISSUE 58
november/december 2011
RMAF 2011 - At a Snail's Pace
by Mike Wechsberg
Some audio magazines give you real time blogs from the floor of a show like the Rocky Mountain Audio Fest, while others rush to publish as soon as the show is over. Well, here at PFO we writers are not paid to be fast, just accurate and interesting. So, here I am more than a month after the show writing yet another article about some old news. Editors David Robinson and Dave Clark have already posted the definitive PFO articles in pictures and words about this year's "fest" (just click their name's to read the reports). My motivation in writing this article is to convey some impressions about audio equipment, audio shows and the audio industry in general, that I hope give you something to think about.
Audio shows like RMAF have become very important to the high-end audio industry. For years the number of outlets that an audio enthusiast can visit to hear the latest gear has been declining. In addition, more and more excellent audio equipment is sold only over the internet so showrooms for sampling their sound are non-existent. Visiting a show like RMAF is a great way to hear a wide spectrum of audio equipment available in stores or over the web in a fairly comfortable way to help narrow down the choices. This year, of course, has seen more high-end audio shows around the country (including nearby Canada) than ever before so if you were shopping you did not have to go too far. Even if you are not in the market for something new, these audio shows allow you to keep up with new developments as well as hear hideously expensive gear that only someone in that top 1% can afford.
I have attended all but two RMAF fests since they started in 2004. Each one has been better than the last in some way. This year I heard fewer mediocre sounding rooms than in the past. As these annual get-togethers continue in the same venue (Denver Marriott Tech Center) I think the returning exhibitors "figure out" the exhibit rooms and how to get decent sound in a small rectangular hotel room. Even on the first afternoon of the show, when the time to experiment with setup is short for everyone, I heard excellent sound virtually everywhere I went. There were a few rooms that had the door closed well past the show start time as they continued to get the bugs out of their setups, but this was a small minority. I'm not saying that you can hear things in an optimum way in any of the exhibit rooms at a show like RMAF, most audio salons have better rooms as do many audiophiles, but at least it is gratifying that the sound one does hear at these shows can be a good facsimile of the experience one can expect in the home. The use of good demonstration material is also a factor in this and I feel that exhibitors with more experience attending shows have learned what music to play to give the public a positive impression of the equipment in play. This has not always been the case at previous shows, whether at RMAF or elsewhere.
Over the three days I got to spend quite a bit of time in a few rooms. One of these was the room shared by Von Schweikert Audio and Jolida, Inc. I haven't been a fan of Von Schweikert speakers over the years, but the combination of VR-5 Anniversary Edition Loudspeakers with Jolida tubed electronics playing the Beethoven 9th Symphony on a United Home Audio open reel tape machine was spectacularly realistic and involving. The sound had great dynamic range and just the right blend of tonality, detail and spaciousness. I was exhausted at the end of the recording, just like I am whenever I hear this music in a concert hall. The equipment in this room was not cheap, but the cost was far from the most expensive setups at the show yet this room left me with one of the strongest impressions. Bravo to the folks who put this room together.
I also dawdled a long time in the VTL room that featured the VTL Siegfried Series II Reference Monoblocks all lit up and glowing. The Siegfrieds were driving a pair of TAD Reference One Loudspeakers, a truly glorious speaker. I probably spent 45 minutes in this room listening to presentations by Luke Manley of VTL and Anthony Jones of TAD and listening to a variety of music played on a dCS Paganini Digital Playback System and on a Otari MTR-20 tape machine. Wow! The Siegfrieds provided plenty of punch into this fairly large room that was crowded while I was there. The speakers were smooth and detailed and delivered outstanding nuance for such a large system. I was sitting in a good spot to hear all the bass this system could deliver and I heard a pretty good rendition of the power of a real orchestra on the classical pieces. At the same time on simpler recordings solo vocalists had just the right image size with realistic timbres and micro dynamics. This room held one of those systems most of us can only dream about but one that gives meaning to the high-end.
I spent the most time Sunday morning in the Concert Fidelity-Kaiser Acoustics-Fono Acustica room hosted by my friend Hajime Sato who sits with me on the board of the Los Angeles and Orange County Audio Society. I have reviewed several Concert Fidelity components in the past for PFO and I was interested in hearing the fairly new SPA-4C solid-state, moving coil-only phono stage that was introduced earlier this year. In my home setup I recently switched to the London Reference cartridge that has an output too high for this phono stage so the show was my best opportunity to hear this limited edition unit. Electronics included the Concert Fidelity CF-080LSX2 tube hybrid line stage and the ZL-200 solid state monoblock amplifiers playing through the outstanding Kawero loudspeakers from Kaiser Acoustics. A custom Denon turntable was used with the Shelter 501 cartridge. Cables were by Fono Acustica from Spain. This is another system costing north of $100K so most of us can only dream. My time listening to this setup was well spent and validated my desire to hear the SPA-4C phono stage. Marshall Nack has written a full review of this phono stage in Issue 55 of PFO and he was lucky enough to spend quite a bit of time with it so I direct you there. The sound I heard in my brief demonstration at RMAF was amazingly liquid and smooth. The music had outstanding flow and pace and emerged from an eerily quiet background. There was not a hint of harshness, just correctness in tone and spatiality. I was initially impressed by solo vocals (Eva Cassidy and Frank Sinatra), especially their naturalness and ease, but then I was blown away by the recording of Louis Armstrong playing St. James Infirmary on a Classic Records 45 rpm single. Here, the rendition of the trumpet and other instruments was so lifelike that I'm reduced to platitudes in trying to describe the sound. The players were in the room and the mood conveyed by the recording was spot on. What a tremendous achievement. It's hard to judge a component in a single short listening session like this with unfamiliar equipment, but I have enough experience to say the SPA-4C is way up there in quality with the best. Too bad that only a few units will be produced since the phono stage uses a pair of rare Japanese JFET transistors that have been out of production for 30 years. The rest of us can only hope some previously unknown hidden supply of these transistors comes to light so more of us can share in the glorious sound from this phono stage.
I could go on for many more pages about special moments in my journey through RMAF this year, but let me touch on just two more topics this time. First, I have read little so far in the audio press about the various seminars held during RMAF. I know these are very hard to pull together and I believe many of them were well attended. I took time to sit through just one of the seminars and I'm very glad I did. It was entitled "The Future of High-Resolution Computer-Based Audio" and was chaired by our own Dr. David Robinson. I wish there was a recording of this discussion for all to review (maybe there is one as it appeared the event was recorded) as I learned quite a bit during the almost two-hour session. It focused not just on audio downloads, but specifically on downloads of high-resolution formats and where that technology is likely to go in the future. Suffice it to say there is a lot more going on than I was aware of and I think that is just terrific. Speaking as someone who hasn't graduated past the iPod in digital downloads yet I'm looking forward to hearing a wealth of music in the future in high resolution formats. Audio seminars are yet another RMAF feature that started with the earliest fests and that is being copied by most other audio shows. They provide additional reasons to visit if you can.
Finally, I have seen nothing in the audio press so far about the live entertainment at RMAF. I have always felt that presenting live music at an event like this, even if amplified, is an important part of the experience of attending an audio show. Seems to me there was more live music at previous shows and that it was offered both during and after normal show hours. I think some exhibitors don't like having live music during show hours as it draws away some of the crowd from the exhibit rooms, but I believe that is churlish. I attended the concert Saturday evening by Lori Lieberman, who is best known for writing the song "Killing Me Softly", but has a rich and varied repertoire. There have been several LPs of her work released on audiophile labels so she was appearing to acknowledge her place in the high-end audio world. Ms. Lieberman gave a wonderful performance that was appreciated well by the crowd in the Atrium Area of the Marriott. The hotel staff had about 100 seats set out before the concert started but had to add almost that many seats again to accommodate the large group that wanted to hear her sing. I was only disappointed that her performance was so short, but very grateful to hear such a top rank singer and at no charge above the cost of admission to the audio fest. I happened to fly home to Los Angeles on Sunday on the same flight as Ms. Lieberman and noticed that, although she put her two prized guitars in checked baggage, she carried on a pair of Lori Lieberman LPs that she picked up at the show.