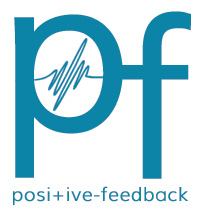 You are reading the older HTML site
Positive Feedback ISSUE 6
april/may 2003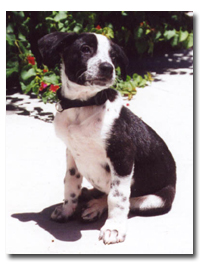 Dog Yummies - TOP DAWG
by Chip Stern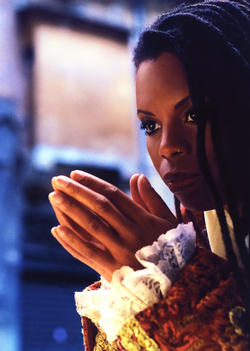 Featured Artist: Regina Carter, violin
Back at the end of January, during a bitter cold spell of weather, I had occasion to visit one of my favorite jazz venues in Manhattan. Birdland (www.birdlandjazz.com) began on upper Broadway in the 100s, but has since settled comfortably into their capacious new midtown digs at 315 West 44th Street (just off of Eighth Avenue by the A Train). It is a very large rectangular room, more in scale with the Golden Age of Manhattan nightclubs than your garden-variety jazz dive-o-rama, and with good natural acoustics and a tastefully deployed sound system, Birdland is ideally configured both for big gesture and moments of deep intimacy.
Violinist Regina Carter (www.vervemusicgroup.com/verve/artist.asp?aid=2956) was the featured artist that evening. Regina is not only one of the most gifted young musicians to emerge upon the modern jazz scene in quite some time, but is her growing mastery of the jazz/blues vocabulary and the art of improvisation is commensurate with her mastery of the violin itself. An earnest, good-natured type with a refreshingly candid, self-effacing sense of humor, Carter has been garnering the kind of media attention that usually sets off alarms of suspicion amongst seasoned jazzbos—as in, "Oh, no, the next big thing. "So when correspondent Charlie Rose inquired in their 60 Minutes interview (www.cbsnews.com/stories/2003/01/28/60II/main538281.shtml) as to whether the greater challenge had been being a black woman playing the violin or being a black woman in jazz, Regina smiled and allowed as how playing the violin well was challenge enough.
Which is a roundabout way of telling you not to get caught up in the hype and media feeding frenzy regarding Regina Carter, because she is the read deal. What's more, she is doing it on an instrument, which despite a host of great historical antecedents (Joe Venuti, Stephane Grappelli, Eddie South, Stuff Smith, Ray Nance) has never quite captivated listeners as a vehicle for modern jazz expression in quite the same manner as the trumpet or tenor saxophone. Oh, sure, virtuosos Jerry Goodman and Jean-Luc Ponty made exciting inroads during the ascendancy of jazz-fusion bands in the '70s, and adventurous players such as Leroy Jenkins, Billy Bang, John Blake, Mark Feldman and Mat Manieri have created provocative strains of modern chamber music with their asymmetrical lines and glacial tone. Likewise, there are any number of players I can think of who while they have superb facility, and an improviser's sensibility, have more in common with European/third stream classical players than jazz musicians. And of course there are any number of superb violinists such as Mark O'Connor, Vassar Clements, Clarence "Gatemouth" Brown and L. Shankar, who bring provocative elements of bluegrass, western swing, blues and Indian Classical music to bear on the improviser's art. Unfortunately, there are also a number of string players (who shall remain nameless if not blameless), whose ambitions are undercut by a brutal tone and wavering intonation.
I'm not here to tell you that Regina Carter represents the last word in jazz improvisational feeling or refined classical finesse, but she is exceptionally well versed in the historical antecedents, and brings a more authentic command of the instrument to bear on the jazz vocabulary than any of the younger generation of violinists I've heard in the past 30 years. She has learned her lessons well, and stands poised on the brink of greatness.
Her set at Birdland was a case in point. From the outset, Carter displayed a simply ravishing tone—exceptionally warm, dark and full-bodied, with a predilection for the violin's lower registers. On this particular evening Regina was most focused on the lyrical aspects of her conception. On a moving rendition of "Spring Can Really Hang You Up The Most," Carter had the courage and conviction to play simply, soulfully and expressively—to sing on her instrument—rather than try and dazzle the crowd with her footwork, although it was plain to this listener from her coy, funkified variations on—of all things—Claude Debussy's "Reverie" (where she evoked the soaring fluidity of Eddie South and the bluesy glissandos of Stuff Smith) that she had plenty of Tabasco in reserve, and could really swing. She also had the good sense not to make things ponderous by taking herself too damn seriously—as a closing nod to the Kingsmen's "Louie, Louie" demonstrated.
However, the blues and a beat were not to be the focus of this evening's reveries. Instead Regina chose to showcase her superb working band in material drawn from her upcoming release Paganini: After A Dream (due out April 22 on Verve) where she addresses the formal side of her training as a violinist in tightly crafted arrangements that recall the iconic Fritz Kreisler's approach towards melding classical and popular forms at the dawn of the recording age. The inception of this particular dream came upon receiving an invitation to perform on "The Cannon," the famous Guarneri instrument that the legendary violinist Nicoló Paganini bequeathed to the city of Genoa upon his death in 1840—Regina thus becoming both the first African-American and the first jazz musician to be so honored. Regina's touch and conception are more than equal to the task, and great care has been take to render the violin sound in as pure and direct a manner as possible...the recording quality is dead on, from the subtleties of Mayra Casales' percussion and Alvester Garnett's drum kit, to the rich articulation of Chris Lightcap's bass and the expansive dimensionality of arranger Werner Gierig's piano—a classy, sensitive band. Needless to say the elemental richness and complexity of this sacred sonic relic is given special attention throughout, showcased to particular effect on an arrangement of Gabriel Fauré's "Aprés un rêve" where Carter engages in sweeping exchanges with cellist Borislav Strulev, and through the sweetly vocalized phrases and intervallic leaps with which Regina heralds the thematic material from her own "Alexandra." Gentle Afro-Cuban, Brazilian and jazz overtones enliven the rhythmic treatment of classical themes by the likes of Ravel and Piazzola, and the love Carter has for the instrument, her band and this project is apparent throughout. Such a delicate balancing act involving multiple genres could easily have proven unsatisfying to fans of any and all genres, but Carter's relaxed sense of swing, lyric grace and self-effacing good humor (such as the little "Eleanor Rigby" aside with which she tempers the melodic sentimentality of Fauré's "Pavane") help carry the day, while imparting a measure of quiet fire to Paganini: After A Dream that should broaden this musical gumbo's popular outreach without unduly inciting the ire of hardcore types.
Still, if you want to share an audiophile experience with Regina in loftier, no-holds barred jazz settings, her duets with the great pianist Kenny Barron on Freefall (Verve) are a terrific showcase for her range and sensitivity as a jazz improviser, and her growing mastery as a violinist. Freefall was beautifully recorded by Joe Marcianao at System Two Studios in Brooklyn, and mastered with tasteful restraint by Allan Tucker at Foothill Digital, which is worth mentioning because I've noticed a tendency for Verve to hot rod some of their sessions in the mastering phase. On Sting's "Fragile," an unusual but effective choice in modern standards, her golden tone and nuanced touch perfectly exploit the violin's capacity to emulate the human voice; likewise in her use of airy, whistling harmonics on "Phantoms" and the jagged, asymmetrical lines and edgy percussive bowing effects with which she responds to Barron's dissonant changes and disjunctive rhythms on the title tune. Elsewhere Carter dark tonality and relaxed sense of phrasing bring a devoutly Ellingtonian air to their balladry on "Shades Of Gray," as Barron tolls away suggestively beside her. But for this listener, the real fireworks occur on the bluesy riffing of Johnny Hodges "Squatty Roo," the vamping syncopations to "What if" (where composer Barron borrows the opening figure from the legendary Philadelphia pianist Hasaan Ibn Ali's "Almost Like Me" for some dancing byplay with Carter) and on the familiar changes to two great jazz standards, Wayne Shorter's "Footprints" and a wonderful arrangement of Thelonious Monk's "Misterioso." On the latter, Barron and Carter paraphrase the theme before modulating back into key to enunciate the tune's melodic intervals (sixths) and blow on the blues changes in an understated but intense brand of give and take that pays fealty to the structural exigencies of Monk's form. Carter's saucy bends, coy glissandos and bluesy shouts are never showy, but serve to echo Barron's ideas in a fervent yet coherent conversational style, all the while extending upon the melody with fresh, swinging syncopations of her own.
And while it may seem premature to draw comparisons between the likes of a Johnny Hodges or Clark Terry and this jazz tadpole, Regina Carter's lyric approach and aesthetic inclinations seem analogous to these ears. Like these venerable masters she eschews an athletic approach to the instrument, and seeks instead to elicit the most beautiful sound possible, imbuing each and every note with emotional significance. As a result, you'll never hear Regina Carter play ten notes where one would suffice, a decidedly mature approach from such a relatively young musician—and which speaks volumes as to Regina Carter's artistic ascendancy as both a violinist and a jazz musician (www.vervemusicgroup.com).
[c]HIPSTER[n]
See also:
Dog Yummies - PICK OF THE LITTER
by Chip Stern
Dog Yummies - LETTING THE DAWGS OUT
by Chip Stern
Dog Yummies - TOP DAWG
by Chip Stern
Dog Yummies - GRAVY TRAIN
by Chip Stern
Dog Yummies
by Chip Stern
Dog Yummies - PUPPY CHOW AND DAWG POUND
by Chip Stern
Dog Yummies - WALKING THE DOG
by Chip Stern