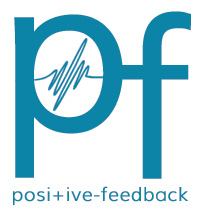 You are reading the older HTML site
Positive Feedback ISSUE 23
january/february
2006
Our readers respond… we respond right back!
Vacuum State Electronics, Inc. - the Level 5+ Upgrade for Sony SCD-777ES and SCD-1 players
by Karl Lozier
Recording the Michael Green Way - The SUNY Studio
by Sasha Matson
The Wild, Wacky World of Walker: 'Toons With an Edge!
by Bruce Walker and David W. Robinson
The Return of Dr. Sardonicus ...My Manifesto ...Convergence ...and the BAT VK-600SE!
My Audio - The "Gestalt of James Brown" Part One: A New Way of Thinking
by Gary Beard
No Gain, No Pain - The Superphon Revelation III preamplifier and Reality Cables
by Bruce Kinch
Audio Ramblings - Why we can't make new friends, Audio Art cables, and the Artemis PL-1 phono stage
by Dave Clark
Hiroyasu Kondo - Founder of Audio Note and often referred to as Mr. Japanese Audio
by Karl Lozier
Max Audio: HeadRoom's Desktop Millett Hybrid Amp and Desktop Power Supply, & Grado's 325i Headphones, with Some Reflections on Tubes vs. Solid State Amplification
by Max Dudious
Dr. Sardonicus Ponders the Issue of Expectations - The ACI Sapphire XL loudspeakers, a preview
From Clark Johnsen's Diaries: A Letter to Harry
by Clark Johnsen
Sex, Drugs and High-End Audio - Part 1: The Good Fight
by Josh Ray
Dr. Sardonicus and the Pantheistic Journey - The Cardas Heart MC cartridge, BAT VK-P10SE phono preamplifier, and some initial thoughts...
Concierto de Aranjuez: A Bit of Mysticism?
by Max Dudious
Tweaks from the other side - A tag-team approach to the Clever Little Clock and the Nanotec Nespa #1
by Dave and Carol Clark
My Audio Experience: A Valuable Experience?
by Gary Beard
Reality Check - Digital Systems & Solutions' RealityCheck™ CD Duplicator
by Bob Neill
Dr. Sardonicus on the Mysteries of Fine Engineering, Nonsense …and the Age Old Question - Does Wire Really Matter? The JENA Labs Pathfinder Speaker Cables

Pathos Acoustics Logos integrated
as reviewed by Lester J. Mertz
Nuforce Reference 9.02 amplifiers
as reviewed by Robert H. Levi
Walker Audio Impressions: The Walker Audio Proscenium Gold Signature Turntable System, a Photo Essay, Reflective Digression, & Review
as reviewed by David Robinson
My Take on the Walker Audio Proscenium Gold Signature Turntable System
by Rick Gardner
Cary Audio CD-306 SACD player
as reviewed by Dave Clark
Vacuum State Electronics Sony DVP-S9000ES SACD/CD player - Level 5 mod
as reviewed by Karl Lozier
Grand Prix Audio Monaco Modular Isolation System - Elegant Engineering
as reviewed by Greg Weaver
Firestone Audio Korora phono stage
as reviewed by Roger Gordon
Audio Magic Clairvoyant 4D SE interconnects
as reviewed by Marshall Nack
Phase Tech P1 cartridge
as reviewed by Danny Kaey
Furutech e-TP80 AC power filter
as reviewed by Robert H. Levi
Dual Connect DC-100 gold interconnects
as reviewed by Robert H. Levi
Cary Audio 303/300 CD player
as reviewed by John Brazier
VH Audio AirSine AC cords
as reviewed by Fown-Ming Tien
Acrolink and Oyaide AC power cables
as reviewed by Victor Chavira and Danny Kaey
Jasmine Audio the Piano EL-34 integrated
as reviewed by Francisco Duran and Lester J. Mertz
AcousticPlan Santor amplifier
as reviewed by Brad Morrical
Audio Physic Tempo loudspeakers
as reviewed by John Acton
Zu Cable Tone loudspeakers
as reviewed by Gary Beard
Headroom Millet hybrid headphone amplifier
as reviewed by Ed Kobesky
Quantum Physics Noise Disruptor
as reviewed by Robert H. Levi
ART Audio Jota High Current Amplifier
as reviewed by Marshall Nack
PS Audio Power Director 3.5
as reviewed by Larry Cox

Srajan Ebaen, 6moons.com
by Austin Jackson of Boston Audio Design
Conversations with Michael Green and Paul Geluso: Recording the Michael Green Way
by Sasha Matson
Tchaikovsky, Symphony No. 6, Op. 74
by Karl Lozier
the absolute sound SACD sampler
by Karl Lozier
Classic Records: The Who - My Generation, and Neil Young - Greatest Hits
by Greg Weaver
Fernando Landeros - Piano Recording, the Michael Green Way
by Sasha Matson
The Next 5 Mercury Living Presence SACDs: Vol. 3
by Robert H. Levi
MORE VINYL
by Roger Gordon
After-Thoughts, 2006
by Bob Neill
Concord Jazz - A Re-birth of Sorts, Live at the Golden Dragon in San Francisco
by Frank Federico
CES 2006 - Part 1
by Dave and Carol Clark
CES 2006
by Roger Gordon
CES 2006 - Part 2
by Dave and Carol Clark
Impressions: CES 2006 & The PFO Audio Oasis Awards
by David W. Robinson
Impressions: Vignettes from CES 2006 - a Photo Essay by David W. Robinson
CES 2006 Show report
by Danny Kaey
The Agony, Odyssey, Ecstasy, Meandering and Wandering at the CES and T.H.E. SHOW 2006
by Karl Lozier